Eagles and Vultures in Casares Municipality in Málaga Province
By Nick Nutter | 24 Jan 2018 | Walking
Eagles and Vultures Walk
A circular walk starting and finishing at Casares. It takes you below the crags of Crestellina, the nesting site for a colony of Griffon Vultures, to a mirador from which you can see to Africa and most of the Costa del Sol before descending back to the village.
Start and Finish: Casares Village
Distance: 8 kilometres.
Difficulty: Low if you go there and back, Medium if you return via the steep track.
Essential: Boots for the round trip, walking shoes would be suitable if you follow the there and back route. Food and water.
Eagles and Vultures Walk
The Route: Take this track up the valley, passing farms and fincas. You will pass a fountain and shortly afterwards the tarmac ends and the track becomes unmade. The views of Casares behind and down are stunning. On a clear day you can easily see the African coast.
You are now on an old smugglers track used to take contraband from the coast into the interior via La Puerta de las Vinas. Keep on the track until you reach the saddle that marks the top of the pass. You are now overlooking the Valley of the River Genal and opposite, on the north side of the valley, Benarraba and Algatocin. Closer is the village of Genalgaucil on the south side of the valley. The land below is part of the Monte del Duke estate, given to the family by Franco and now owned by an Italian family. It still has its own private police force.
Eagles and Vultures Walk
On your left is a barrier that can easily be bi-passed to continue up a track leading along the crest of the wooded ridge. Do not take any of the paths that lead to the right. Keep your ears open for snuffling pig like noises. There are a few wild boar here although you are unlikely to see them.
Eagles and Vultures Walk
Emerging from the woods the path starts to descend slowly on the Crestellina side of the valley. Above, on your right, are the crags of Crestellina. Within one hour Julie and I had seen any number of Griffon Vultures (Gyps fulvus), a Bonelli's Eagle (Hieraaetus fasciatus) and two Peregrines (Falco peregrinus). Julie is becoming a bird watching snob saying things like 'Oh its only another griffon'.
Depending when you do this walk you may also see some butterflies. We saw a Speckled Wood (Pararge Aegeria, normally April to Ocober), a Wall Brown (Lasiommata megera, normally May – August), and a Brown Argus (Aricia agestis, normally May – August) enjoying the mid October warm sunshine.
Eagles and Vultures Walk
Retracing your steps to the sign post turn right and descend to the group of buildings just below. This is a new refugio. The path continues beyond the refugio and descends very steeply until you reach, at the bottom, a broader track where you turn left and immediately right to shortly emerge on the main Casares road. Turn left and walk back to your car.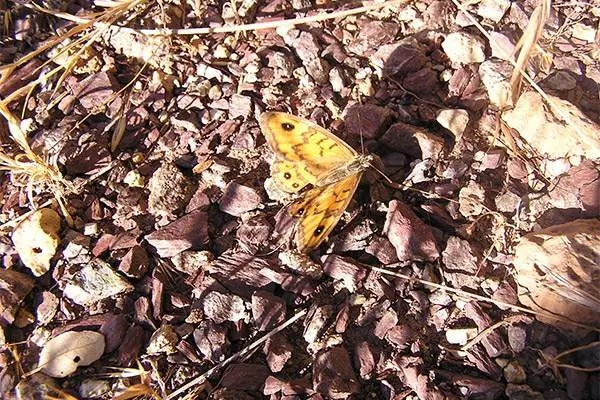 Eagles and Vultures Walk
How to get there
Drive to Casares village and park in the car park at the top of the village between Restaurant Mi Cortijo and Villas and Fincas. Leave your car and walk towards Villas and Fincas. On your right you will see two map boards with a tarmac track leading up the hill.
Since you are here ....
we have a small favour to ask. More people are reading Visit Andalucia than ever but advertising revenues across the media are falling fast. And unlike many organisations, we haven't put up a paywall – we want to keep our articles available to as many people we can. So you can see why we need to ask for your help. The Visit Andalucia articles take a lot of time, money and hard work to produce. But we do it because we believe in the future of Andalucia – which may well be your perspective, too.
If everyone who reads our articles, who likes them, helps fund them, our future would be much more secure.
For as little as 1€ you can support Visit Andalucia – and it only takes a minute.
Thank you.
We Welcome Your Comments