Córdoba Patio Festival (6th to 19th May 2024)
The Córdoba Patio Festival or Flower Festival is known in Spanish as La Fiesta de los Patios Cordobeses or Los Patios de Córdoba and is Córdoba's most colourful, annual event.
By Nick Nutter | Updated 25 Jul 2023 | Córdoba | Events | Login to add to YOUR Favourites
or Read Later
This article has been visited 11,935 times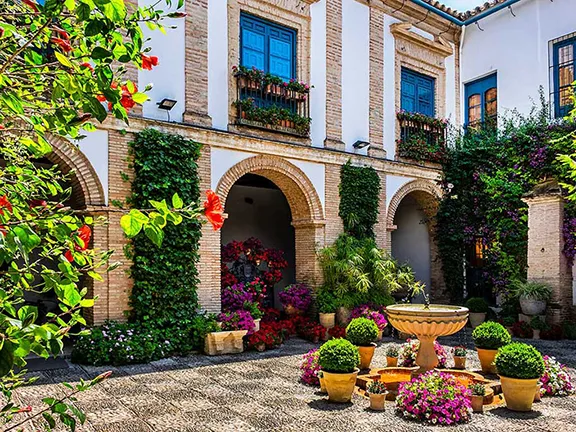 Córdoba Patio Festival
Cordobans celebrate the annual Patio Festival and Flower Contest by opening their beautiful courtyards of their homes to the public. Many house owners in Córdoba's traditional neighborhoods join the contest and open their doors. So everyone has the chance to see the architectural treasures that are typical for Córdoba - the so called Patios. During the festival, people are welcome to enjoy courtyards of incomparable beauty, packed with trees and flowers, fountains and accessories.
Throughout the old town, the Cordobeses open the gates and doors to their private patios and reveal the secret floral delights within. You can tell which patios are open by the presence of plant pots on either side of the street door.
Intangible Cultural Heritage of Humanity
The Córdoba Patios Festival is a celebration that has been declared an 'Intangible Cultural Heritage of Humanity' by UNESCO. The Patios have become true works of art, an explosion of colour with the interior flowerpots, railings, wells and balconies. The visitor is overwhelmed by a sea of flowers and aromatic plants, sweet fragrances and colour. Each patio vies with the others and the challenge, to have the most attractive patio in Córdoba, is hotly contested.
Patios of the Palacio Viana
The patios of the Palacio Viana are regular winners of the Córdoba Patio Festival, they have been developed over hundreds of years, but the best, non commercial patios, are found in the private homes. There the patios are, quite simply, works of art. Designed, arranged and grown throughout the year, they are romantic oases of cool and colour, where the placement of every bright-red pot of geraniums has been carefully thought out. Owners are often on hand and delighted to talk to you about the species of flowers and plants adorning the courtyards' walls. True artists also incorporate ornaments, statues and wall art.
Respite from the Burning Sun
The tradition of opening up the patios started in 1918, but the concept goes back much further, to Roman times when the larger houses were built around a central, shaded, courtyard called a peristylium. The Moors, who called their courtyards riads, took this to a whole new level by introducing water features and more formal planting, essentially mini oasis, in their houses in the centre of their towns. In cities such as Córdoba, where in summer the temperatures can reach the mid 40s, they offered respite from the burning sun. Surprisingly it works, the patio can be 10 or 15 degrees cooler than the street.
Walking Tours of Cordoba's Patios
While you can definitely DIY your Cordoba Patio Festival experience, a great way to discover some hidden local gems is on a walking tour with a local guide.
Can't visit during the Patio festival? Well, you can still get a glimpse of this beautiful tradition even during non-festival times!
More on Córdoba
Cordoba's patios are just one facet of this beautiful, history city. Read our Cordoba visitor's guide to learn more about what to see and do here.
Here are other Cordoba attractions that you shouldn't miss:
Where to Stay in Córdoba
Cordoba's Patio Festival is one of the most anticipated events in the city and it draws thousands of visitors. It's highly recommended that you book your accommodations in advance if you're attending the festival.
Or find the latest deals in Cordoba below.
For dates of the Fiesta de los Patios de Córdoba and a map, click here
Note: This article may contain affiliate/compensated links. That means that if you book through our link, we may earn a small commission (at no extra cost to you). For full information, please see our disclaimer here.
---
---