Fiesta of San Antón de Jaén
On the evening of the 16th January bonfires are lit all over the city and a religious blessing of animals takes place on the steps of the cathedral
By Nick Nutter | Updated 15 Jan 2023 | Jaén | Events | Login to add to YOUR Favourites
or Read Later
This article has been visited 3,032 times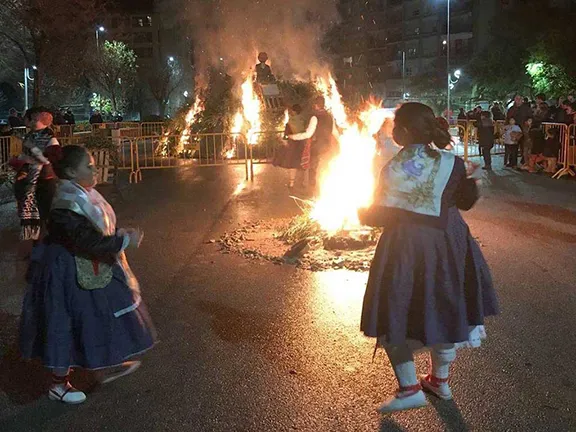 Jaén has celebrated San Antón de Jaén since the 13th century. In 1246, Jaén was reconquered from the Moors. In their attempts to retake the city they were thwarted thanks to the excellent marksmanship of the Christian crossbowmen. In honour of those men, a chapel was built in the cathedral, dedicated to San Antón. The night of the 16th and 17th January has been a celebrated ever since.
Las Lumbres de San Antón (the fire festival)
On the evening of the 16th January, bonfires are lit all over the city. A religious blessing of animals takes place on the steps of the cathedral. Children from all over the city bring their dogs, cats, hamsters, birds and other pets to be blessed. Following this ceremony, about 9pm, the first bonfire is lit in the main square. Beer and roasted sausages and cuts of pork are distributed to the crowd. Other stalls hand out chorizo, roast pumpkin and popcorn. Similar parties are going on all over the city. Many bonfires burn effigies made from old clothes, straw and sawdust. The party lasts until dawn.
On the 17th, the crowds re-assemble about 10am in Plaza de la Constitución where a band entertains them until it is time for a procession. The ritual is repeated at 12 noon after which people pack into the cathedral for mass.
San Antón Night International Urban Race
In 1984, an addition was made to the traditional San Antón celebrations, the San Antón night race. There are two races, both of which attract international athletes. One is 4 kilometres in length and is for ages 9 to 14 years, the second 9 kilometres for adults. Both races start and finish in the Glorieta de Blas Infante, at the end of Avenida de Andalucía. The first race starts about 7.30pm and the second about 8.30pm. The prizes are a little unusual. The male and female winners of the first race is awarded his or her weight in trinkets whilst the male and female winners of the second receives his or her weight in olive oil.
Other Towns in Andalucia that celebrate San Antón on the 16th or 17th January
Almeria
Chirivel
Granada
Armilla (17th January)
Monachil (17th January)
Orce
Huelva
Alonso
Jaen
Arquillos
Jodat
Ubeda
Malaga
Cuevas Bajas (17th January)
Cuevas del Becarro (17th January)
Nerja (17th January)
Sedella (17th January)
Note: This article may contain affiliate/compensated links. That means that if you book through our link, we may earn a small commission (at no extra cost to you). For full information, please see our disclaimer here.
---
---