Mojacar: One of the Prettiest Villages in Spain
Mojácar is a not-so-typical Andalucian white village on the Costa de Almeria.
By Nick Nutter | Updated 7 Aug 2023 | Almería | Villages | Login to add to YOUR Favourites
or Read Later
This article has been visited 17,089 times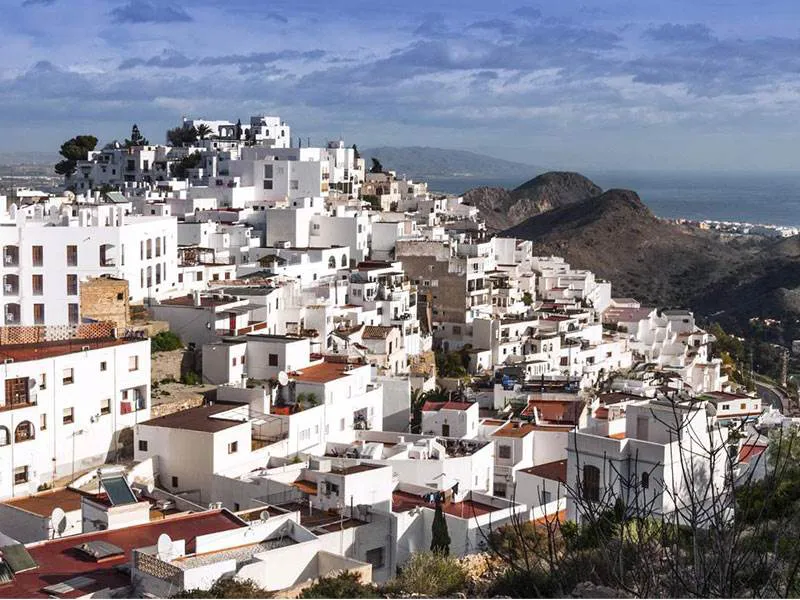 Mojacar cascading down the hill
Indalo Man
About 2500 BC, in Los Letreros cave near Vélez Blanca, a Neolithic cave dweller painted a stick figure of a man with arms outstretched holding each end of what has since been interpreted as a rainbow in each hand. To a literal person, it could just as easily be a bow or even a skipping rope.
In the early 1960s, a group of Bohemian hippies, who had taken over the largely abandoned hill town of Mojácar, named the figure Indalo and endowed him with the power to ward off evil spirits. Reproductions of the figure started to appear on houses, in sculptures, on public buildings and guard rails over bridges.
Indalo Adopted by Almeria
Indalo Man
Nobody now knows what those Bohemians were on, but something remarkable has happened over the last 60 years. From being an impoverished population of fewer than 1,000 people, Mojácar now has a population of over 6,000 and is a thriving town whose economy depends on the tourist trade and a large expat population.
In the meantime, the provincial government of Almeria adopted Indalo as their emblem, perhaps hoping that his spirit would do for Almeria as a whole what it had done for Mojácar. Leaving fantasy and all hallucinators aside, it is time to take a sober look at Mojácar.
Mojácar on the Edge of the Cabo de Gata-Níjar Parque Natural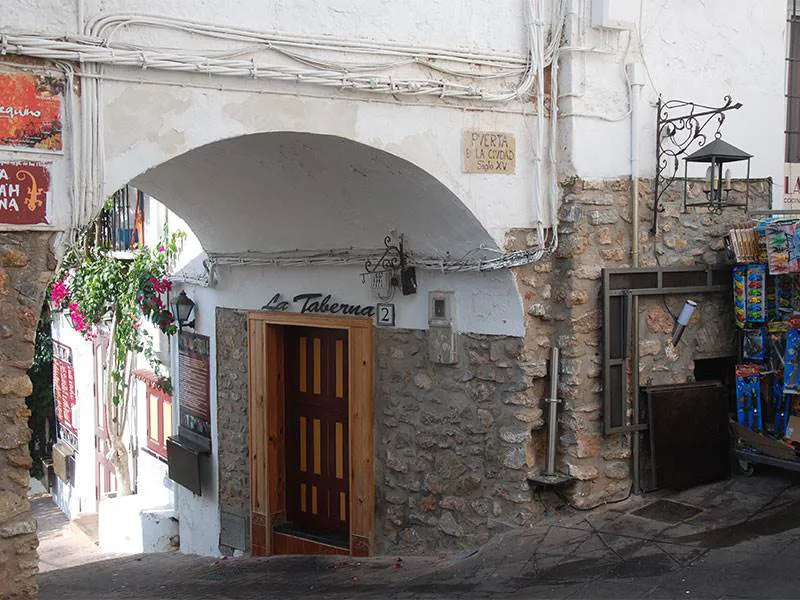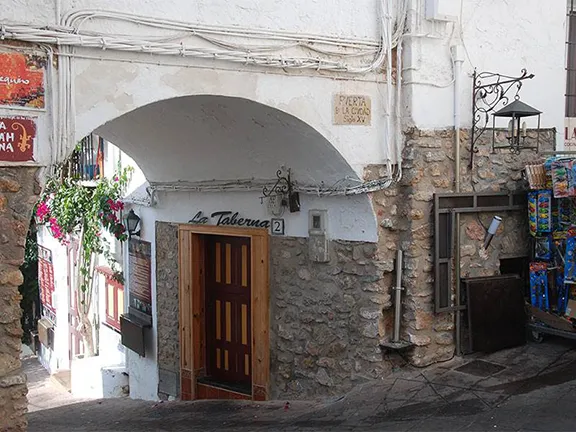 Puerto de la ciudad
Mojácar is twice blessed. As well as being one of the most beautiful white villages in Spain, it is also on the coast just north of the border of the Cabo de Gata-Níjar Parque Natural, the southernmost desert in Europe.
From Iberians to Greeks and Moors
Moorish Fountain
Mojácar is situated on a hill about 2 kilometres from the coast in the far northeast of Almeria and Andalucia itself.
Its history goes back over 2000 years. Unusually for coastal settlements in Andalucia, during the 1st millennium BC, it was the Greeks that came to dominate the town, displacing the Phoenicians and Carthaginians. They established a trading post there and called it Murgis Akra.
There is little evidence of any Roman occupation, but the place must have been known to them because they Latinised the name to Moxacar. The Moors came along and the town experienced another name change, to Muxacra from which the modern name Mojácar emerges.
Mudéjar Architecture in Mojácar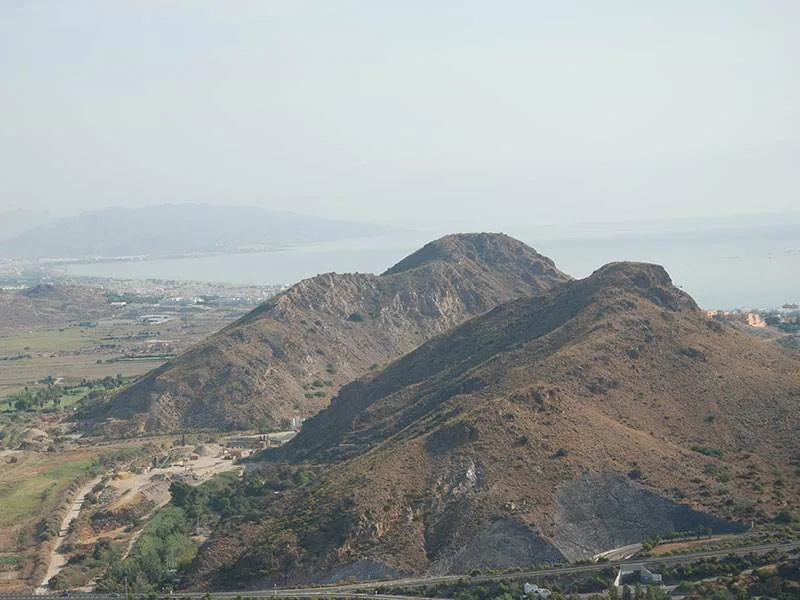 Valley of the Pyramids
The architecture and town plan of Mojácar is recognisably Moorish or Mudéjar. Very narrow, often stepped, streets, between square-built houses, crammed into a limited area surrounded then by a wall. Windows and doors are small and the ornate balconies on the first floors afford a degree of intimacy with neighbours across the street.
Since the reconquest in 1488, the same style of building has cascaded over the wall, almost to the foot of the hill. Today the only evidence of the Mediaeval wall is the gate through which pedestrians and donkeys entered the fortified town. It is appropriately called Puerto de la Ciudad and leads from Plaza Flores, outside the fortifications, into the very confined Plaza del Cano within.
An Impudent Mayor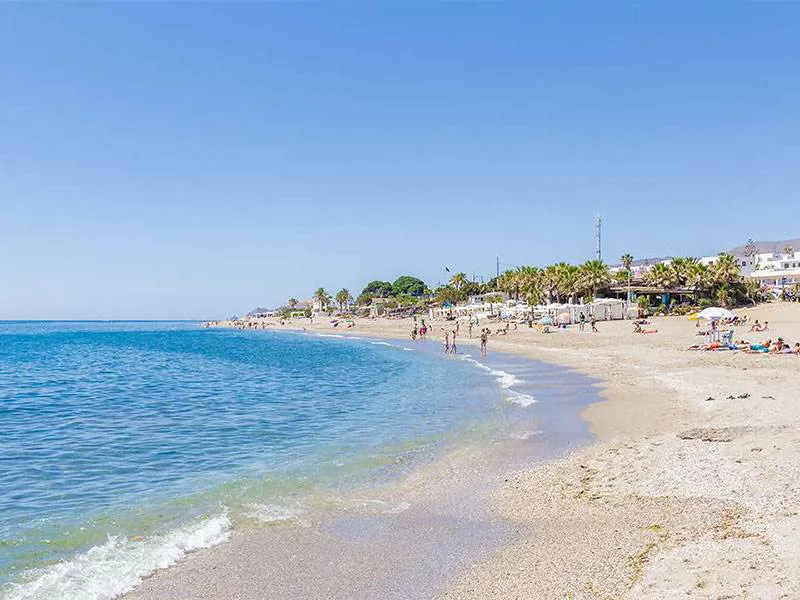 Mojácar Playa
Following the uncontested reconquest of the town, the local mayor refused to attend a meeting at the Moorish fountain where local leaders were to pledge their allegiance to the Catholic Monarchs, Ferdinand and Isabella, and where a pact was to be made allowing free association between Jews, Christians and Moors.
When questioned by the Monarchs as to his non attendance, the mayor stated that there was no need for him to attend since, although he was a Muslim, generations of his people had been born Spanish and should be treated as brothers rather than enemies. He considered himself, and by association, the town, to be, already, Spanish.
Perhaps even then Indalo was keeping a watchful eye on Mojácar and its impudent mayor. The Monarchs accepted his pledge of allegiance and took no action against the town or its occupants.
Walt Disney Was Not in Mojácar
The town prospered for four hundred years until, in the 19th century, a series of droughts caused crops to fail. Much of the, by now 10,000 population, emigrated to other parts of Spain and the Americas. A local legend insists that Walt Disney was one of the emigrants, although officially he was born in Chicago in 1901.
Free Land
Mojácar is now on the edge of the last semi-arid zone in Europe. It is blessed by over 3,000 hours of sunshine per year, a benign temperature in winter and rainfall of less than 40 mm.
By the 1960s, the population was down to fewer than 1,000 people. In a spark of genius, the local politicians realised that the only things going for the town were its climate and the spectacular scenery surrounding the area, including the Cabo de Gata just a few kilometres south-west. They decided to award free land to anybody that would build on it.
The offer was eagerly taken up by the afore-mentioned artistic types who established an artist's colony. The houses were painted white, flowers of every hue appeared in tubs, growing up walls and on balconies. Artisan shops flourished, and Indalo arrived. It was not long before expats from all over Europe and large numbers of tourists started to descend on the town.
Mojácar Thrives
Within Mojácar, a fantastic array of restaurants, most with spectacular views from their terraces, opened to cater for the hungry hoards. Two kilometres away, hotels and holiday accommodation sprang up just behind the long, sweeping beach, that runs 10 kilometres all the way to the industrial town and port of Garrucha. The coastal strip became known as Mojácar Playa.
Mojácar Today: An Excellent Holiday Destination
Today Mojácar is, justifiably, an excellent holiday destination. The town itself is best explored on foot.
There are plenty of places for the weary to pause, to sit and have some refreshment, before ploughing on to the highest point of the town, the Mirador del Castillo. From there the view is across a flat plain, known as the valley of the Pyramids. It would have been, during the Greek era, an estuary.
Today the sea is on the horizon. High outcroppings of tough, volcanic rock would have been islands then are now lonely anomalies in a vast landscape. To the south-west is the rugged, remote, beautiful wilderness of the Cabo de Gata.
Mojácar Playa
On the coast, a rash of hotels and apartments provide accommodation to sun worshippers who can enjoy an extensive beach that is rarely crowded. Mouthwatering aromas of barbequing fish, huge prawns, Padron peppers and pork loins swirl from the Chiringuitos.
On the inland side of the coast road, restaurants and bars of every nationality offer enough choice that would not be exhausted even by those on an extended stay.
The Most Beautiful Towns in Spain
The transformation of Mojácar has been so successful that it joins towns such as Zahara and Grazalema on the exalted list of 'Los pueblos mas bonitos de Espana', the most beautiful villages of Spain many of which are in Andalucia. Long may the Indalo rainbow shine over Mojácar.
Where to Stay in Mojácar
You have plenty of choice when it comes to places to stay in Mojacar. Here are some recommendations:
Casaflor - Charming beachfront hotel that offers great value for money.
Parador de Mojácar - Splurge on a unique stay at this modern parador with seaviews.
Hostal Arco Plaza - Simple and comfortable rooms in a central location, great for budget travellers.
Or check out the latest deals in Mojacar below.
More on Mojacar
Check out our other articles on Mojacar:
Recommended Spain Travel Resources
Travelling to/around Spain and need some help? Here are our favourite travel resources.
We usually use Booking.com to look for hotels or apartment rentals. Lots of choice & you can unlock more discounts with their Genius loyalty programme!
To research transportation options around Spain, we like using Omio. It's an easy way to compare different modes of transport and prices in one place.
For last-minute holiday deals, check out Expedia UK.
Looking for things to do? Viator has a huge catalog of activities and tours across many cities in Spain. We also love Get Your Guide!
Guruwalk is our favourite platform to find the best free walking tours in a city.
For money transfers or spending overseas in foreign currency, Wise is our favorite borderless banking service.
Travel insurance is a must to protect against emergencies and unexpected incidents. Get a quote from SafetyWing here.
Note: This article may contain affiliate/compensated links. That means that if you book through our link, we may earn a small commission (at no extra cost to you). For full information, please see our disclaimer here.
---
---