Celebrating Tradition and Culture: Fiestas Colombinas in Huelva 1st - 6th August 2023
Absorb yourself in the lively Fiestas Colombinas in Huelva, declared a Festival of Tourist Interest in Andalucia, where history and culture intertwine. Experience a week-long extravaganza of music, dance, fireworks, and community spirit, as Huelva pays homage to its connection with Christopher Columbus. Join us at this colourful spectacle that promises an unforgettable experience for all.
By Nick Nutter | Updated 7 Jul 2023 | Huelva | Events | Login to add to YOUR Favourites
or Read Later
This article has been visited 6,740 times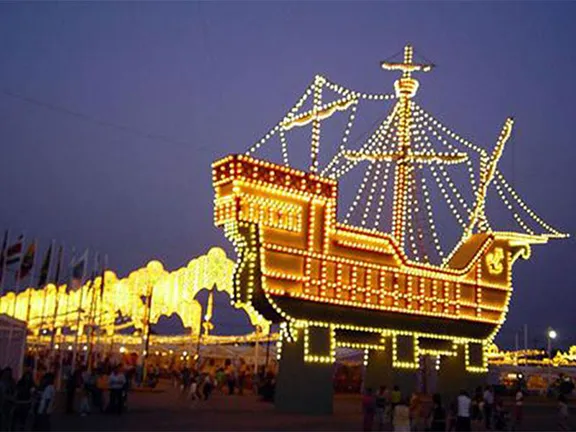 Visit the historical city of Huelva, and you will discover a fascinating celebration that blends history, culture, and a spirit of celebration. Welcome to the Fiestas Colombinas, an annual extravaganza that pays tribute to the city's historical connection with the renowned explorer Christopher Columbus.
A Historical Connection
The Fiestas Colombinas, also known as the Columbus Festivities, holds deep historical significance for Huelva. On the 3rd of August 1492, Columbus set sail from Palos de la Frontera at the mouth of the Rio Tinto, a few kilometres southeast of Huelva city, with just three small caravels, the Santa Maria, the Pinta and the Niña. As we all know, he bumped into America on his way to India, China, Japan and the Spice Islands, forever changing the course of history.
To honour this pivotal moment, the Fiestas Colombinas were established as a testament to Huelva's role in Columbus' journey and to commemorate the cultural exchange between Europe and the Americas.
A Week-Long Extravaganza
The Fiestas Colombinas take place over an entire week, typically taking place in late July. The festivities kick off with a lively opening ceremony to prepare you for the main events. The entire city comes alive with an explosion of music, dance, parades, and traditional costumes. Huelva's streets and squares are transformed into bustling hubs of activity, an open invitation to everybody to participate in the festival.
Music, Dance, and Performances
One of the highlights of the Fiestas Colombinas is the incredible array of musical performances. Talented artists and musicians from Spain and beyond gather to entertain the crowds with their soulful melodies, foot-tapping rhythms, and diverse genres. From flamenco to jazz, rock to traditional folk music, there's something for everyone to enjoy. Dance troupes take the stage, captivating spectators with their graceful movements and colourful costumes, adding an extra layer of enchantment to the festivities.
Fairground Delights
No celebration in Andalucia is complete without a fairground, and the Fiestas Colombinas certainly deliver on that front. The Recinto Ferial Columbino becomes a focal point of excitement, offering an assortment of thrilling rides, games, and mouthwatering food stalls. Take a turn on the Ferris wheel, make your heart race on the roller coasters, or taste local delicacies such as churros, tapas, and seafood dishes.
Spectacular Fireworks
As the sun sets over Huelva, the sky transforms into a canvas of exploding colours. The Fiestas Colombinas culminate in breathtaking firework displays that light up the night and leave spectators in awe. Find a spot along the Odiel River near the Muelle del Rio Tinto or in one of the city's parks to see this dazzling spectacle, as fireworks dance and sparkle against a backdrop of Huelva's historic landmarks and the black night sky.
A Sense of Community
The Fiestas Colombinas is not just about music, dancing, and exhilarating attractions. The Fiestas Colombinas foster a sense of community and togetherness. Locals and visitors are all invited to celebrate a shared heritage, forging new friendships and creating lasting memories.
Save the Date
If you are looking to immerse yourself in Spanish culture, history, and a whole lot of fun, mark your calendar for the Fiestas Colombinas in Huelva. It is a unique blend of tradition, entertainment, and cheer that will leave you with a deeper appreciation for the city's historical significance, where the spirit of Christopher Columbus and the dynamic culture of Huelva combine in an unforgettable spectacle.
¡Viva las Fiestas Colombinas!
For programme and dates of the Fiestas Colombinas
Note: This article may contain affiliate/compensated links. That means that if you book through our link, we may earn a small commission (at no extra cost to you). For full information, please see our disclaimer here.
---
---