Gibraltar, the Gateway to Freedom during WWII
With the fall of France in June 1940, Gibraltar became the only allied territory on mainland Europe. It became the 'Jewel in the Crown' for escapers and evaders from German occupied territories in Europe. Gibraltar was the 'end run' for many of the escape lines that were set up after the evacuation at Dunkirk including the Pat O'Leary and Comet escape lines.
By Nick Nutter | Updated 13 Jun 2023 | Gibraltar | History | Login to add to YOUR Favourites
or Read Later
This article has been visited 1,694 times
Gibraltar - Gateway to Freedom 1942
The Escape Lines to Gibraltar
Comet was an overland route from northern France and Belgium that crossed the western Pyrenees near San Sebastian and then headed south to Gibraltar. The Pat O'Leary line collected escapers and evaders from all over Occupied France and took them through Vichy France to Marseilles and from there to Beziers and Perpignan. Here the route divided, the first, went overland via Barcelona to Madrid and thence to Gibraltar, the other was a sea journey of over 1500 kilometres from Perpignan to Gibraltar. These voyages to and from the Mediterranean coast of France were made by a flotilla of small boats based at Gibraltar and their operations were controlled by MI9.
Vichy France
Vichy France and the occupied territories
Following the French capitulation to the Germans in 1940, the zone libre, or free zone, was established by the Second Armistice, signed at Compiègne on 22 June 1940. The free zone occupied all of southern France and much of the southwest, about 45% of the total land area of France until November 1942 when, following the allied invasion of North Africa, the Axis forces moved into and occupied the whole of the free zone.
The free zone, along with the zone occupée to the north, were governed by Marshal Philippe Pétain based in Vichy, hence the oft used term Vichy France. Vichy France was an authoritarian regime that collaborated with the Axis (after the war, Pétain was tried and convicted of treason. He was originally sentenced to death but, due to his advanced age, 88 years, and his service during World War I, his sentence was commuted to life imprisonment. The premier of Vichy France after 1942, Pierre Laval, was also tried and was executed on the 15th October 1945). In the occupied zone, the German Reich exercised the rights of an occupying power and all authorities and administrative services in the occupied territories had to conform to the regulation of the German military authorities. Although the free zone was not under direct Nazi control from 1940 to 1942, many of the laws made in those years mirrored the policies of Nazi Germany and German-occupied France despite their completely French origin.
Between 1940 and 1942, the free zone was policed by the mainly pro-Nazi Gendarmerie and defended from allied attack by the Vichy French Metropolitan Army whose members were all volunteers. Much of the population were also collaborationists, sympathetic to the German regime or Pétainistes, supporters of Pétain and his pro-Nazi policies. There was also the Milice, a paramilitary body of Fascist Frenchmen. In other words, allied escapers and evaders, allied spies and radio operators and members of the underground were in almost as much danger of capture or recapture in the free zone as they were in the occupied zone.
The Seaman's Mission, Marseilles
Escape Lines Occupied France to Gibraltar
After the fall of France, hundreds of evaders from all branches of the Allied forces had managed to trek through France to the port of Marseilles. Many of them were housed at the Seaman's Mission, a safe house set up by the Reverend Donald Caskie.
The Rev Donald Caskie had left his Scottish Church in Paris just ahead of the Germans, who were not impressed by his sermons, and taken over the Seaman's Mission at 46 Rue de Forbin in Marseille, on the understanding that it was only to be used for civilian refugees.
The Seaman's Mission became the largest safe house in France. Food and funding came in from anonymous individuals. Food was left in the doorways of the mission at night, and anonymous telephone calls gave notice of police checks. Uniforms were collected by Caskie, placed in a sack with rocks, and dropped into Marseille harbour at night. The Mission became an important hub in the Pat O'Leary escape line.
Military Intelligence Section 9 on Gibraltar
Frontier Today Spain - Gibraltar
Britain's MI9 (Military Intelligence Section 9) was established on 23 December 1939. Its mission was to facilitate escapes of Prisoners of War and the return to the UK of evaders thereby getting back service personnel and forcing the enemy to use manpower that could have been used at the front on guard duties.
MI9's representative on Gibraltar after January 1942, was Donald Darling (codenamed 'Sunday'). All the officers working for MI9 had codenames. 'Monday' was a man working in the Embassy in Madrid, 'Horse' worked at the British Consulate in Barcelona. 'Saturday' was Airey Neave, the first British escapee from Colditz and later an MP until he was assassinated in 1975 by the Irish National Liberation Army.
Lieutenant Airey Neave of the Royal Artillery, was the first British Officer to make a 'home run'. On his return to London in 1942, he was interviewed over lunch at Rules restaurant in Convent Garden by Jimmy Langley and Major Norman Crockatt, the commander of MI9, and recruited into MI9 with the codename 'Saturday'.
After his recruitment into MI9, Neave's role was supporting underground escape organizations, such as the Pat O'Leary Line and Comet Line in occupied Europe, with equipment, agents, and money and assisting downed Allied airmen and other Allied military personnel evade and escape capture by the Germans. In Western Europe before D-Day, about 5,000 British and American military personnel were rescued by the escape organizations and repatriated to the United Kingdom, mostly through neutral Spain.
On one occasion, 'Saturday' signed a message to the field using the false name 'Albert Hall'. An airman, debriefed in Gibraltar by Sunday, reported that he had been told to report to the Albert Hall when he arrived back in Britain. Saturday was told to stick to procedure.
Donald Darling
Donald Darling
Donald Darling had been sent out to Spain in August 1940 to organise and coordinate an escape line from Marseilles into Spain. The Ambassador to Spain, in Madrid, was Sir Samuel Hoare, a man easily panicked and who nervously endeavoured to maintain a relationship with Franco. Hoare refused to allow Darling to work in Spain or to deal with 'any enemies of the regime'. Darling was forced to set up shop in Lisbon where the ambassador, Sir Walford Selby, welcomed him and said he 'would ask no questions'. By the end of 1941, the numbers of escapers and evaders arriving in Gibraltar made it operationally essential that Darling be closer to the action. Donald Darling arrived in Gibraltar on the 5th January 1942 and took a flat in Main Street, Gibraltar.
Donald Darling was appointed the civilian assistant to the Governor on intelligence matters working under Colonel John Codrington, the head of station for SIS - the Secret Intelligence Service which covered MI6 and MI9. Darling's main role was in the reception, supervision and interrogation of escaping allied personnel who arrived in Gibraltar as well as organising the infiltration of agents into Spain. He and his sidekick, Brian Morrison, were basically in charge of all MI9 activity on the Rock.
Darling and Morrison, debriefed every returning escaper and evader after 1942 and it is from those debriefs that much of the detail, some of it verbatum from the reports, is gleaned
The Secret Flotilla based at Gibraltar
Fishing boats, sometimes called fellucas, a converted motor trawler and a 'Q' ship, operated out of Gibraltar, landing agents and rescuing returning agents, escapers and evaders. The exploits of this 'secret flotilla' have not yet been fully revealed and their work deserves much wider recognition.
HMS Fidelity
HMS Fidelity
In June 1940, some Free Frenchmen, under her commander, Lieutenant de Vaisseau Claude Andre Peri, had sailed a 2,400 ton cargo vessel called Le Rhin from Marseilles into Gibraltar. It was sailed to the UK were it was refitted as a 'Q-ship', or camouflaged merchantman, and renamed HMS Fidelity. Peri renamed himself 'Jack Langlais' and was given the rank of temporary Lieutenant Commander RN. Fidelity returned to Gibraltar in April 1941. Included in her crew as First Lieutenant was a Belgian doctor named Albert-Marie Guerisse who had changed his name to 'Patrick Albert O'Leary' and also given the temporary rank of Lieutenant Commander RN. He was later to give his name to the escape line running through Marseilles. Another crew member was Madeleine Gueslin who changed her name to 'Barclay' and was appointed First Officer WRNS, the only woman engaged in active service during the war on a Royal Navy fighting ship.
HMS Tarana
HMS Tarana
HMS Tarana was a 347 ton motor trawler that had been involved in the evacuation of her home port, Boulogne in 1940. She was requisitioned into the Auxillary Patrol and refitted with her holds converted into living quarters and fitted with concealed weapons in the form of a 3 inch gun mounted where her trawl winch had been and which could be disguised as a winch with the addition of wooden ends, and two 2 pounder guns mounted beneath her forecastle, hidden by drop screens. She was also fitted with a variety of light automatic weapons.
Tarana was skippered by Lieutenant Commander E.B. (Nobby) Clark RNR and was crewed by three fishermen from Lowestoft, Douglas Sowden, Dickie Draper and Dierks Morris.
Tarana's routine was to leave Gibraltar in the evening as a British naval vessel with black hull and grey upper works and flying a White Ensign. Once at sea her crew would discard their uniforms, paint the upper works in the fashion of local fishing vessels, alter the funnel outline, distribute gear about the decks "in a casual fashion" and hoist an "appropriate" national flag (their best time for this transformation was six hours - in darkness). Mission over, she would spend her last night at sea being reformed into a British warship once more with both crew and passengers busy with the paint pot ready for her early morning return to base.
Seawolf
Seawolf was a Moroccan fishing boat, sometimes called a felucca, 47 foot long, commanded by Lieutenant Marian Krajewski, whose real name was Marian Kadulski. Krajewski (aka Kadulski), in addition to being Captain and navigator of Seawolf, was head of the Polish Mission in Gibraltar, responsible for all the Polish seagoing activities in the area. Working with two other fishing boats, Seagull which was on loan from Special Operations Group, and Dogfish, she had been landing agents and evacuating mainly Polish personnel from North Africa for the Polish Mission since August 1941. Seawolf began regular runs to France in April 1942.
Seadog
In June 1942, Seawolf was joined by Seadog, a Spanish fishing boat of similar size, captained by Lt Jan Buchowski who had already worked with Krajewski during the North Africa operations.
Special Operations Group Missions
All the fishing boats formed a Special Operations Group that was incorporated into the Coast Watching Flotilla along with Tarana and a fast escort vessel called Minna, a bureaucratic exercise that allowed them to be supplied from the submarine depot ship, Maidstone, berthed in Gibraltar harbour.
Operation Relator - 20th April 1941
HMS Fidelity returned to Gibraltar from her refit in the UK. On board were nineteen officers and seven signallers recruited for the Special Operations Executive who were to take part in Operation Relator. Operation Relator, that ran from 1941 to 1943, was the name given to the training of a party of area commanders to be used in Spain. They were also known as "Ali Baba and the 20 thieves". Their purpose was to delay the enemy in any advance into Spain.
Operation Relator was a British intelligence operation that carried out preparations in Gibraltar for guerrilla warfare in Spain in the event of a German invasion. However, as the potential of a German invasion became increasingly unlikely, some officers requested their men's return from Gibraltar due to them being "rather bored". SOE records show the abandonment of the Relator scheme since "the Relator project in its original form could never be put into operation". Instead, an alternative plan using the remaining Relator officers was devised, which would consist of "a small highly trained commando for use in ... attacks on shipping, raiding parties, and other local operations based on Gibraltar", known as Operation Goldeneye. However, with Hitler's invasion of Russia the threat to Spain receded, and Operation Goldeneye, like Relator was also abandoned.
25th April 1941
Fidelity was sent from Gibraltar to land agents and bring off Polish evaders from southern France. The first operation was on the 25th April when she landed Egbert H. Rizzo, a Maltese civil engineer and Bitner, who was previously the Polish Consul at Toulouse, at Canet Plage. Both men were sent to establish SIS/SOE escape routes out of France across the Pyrenees to Spain.
The following night Fidelity took part in an aborted operation to embark Polish servicemen from Cerbere and it was then that Pat O'Leary and three other crew members, Fergusson, Rogers and Forde, were left behind and all but NCO Forde subsequently arrested by French officials. As 'Canadians' they were sent to St Hippolyte du Fort. Fergusson was the first to escape and then Rogers, with O'Leary's help, went over the wall. O'Leary himself, helped by Lieutenant Richard Parkinson, Lieutenant Winwick Hewit and prison guard Maurice Dufour, finally escaped one night in early June 1941.
August 1941
In the first of many excursions to Morocco, Krajewski and Seawolf sailed 190 kilometres to Casablanca to land agents and rescue 24 Polish servicemen who had been detained by the Vichy authorities.
On his fourth trip, Krajewski had to shelter in the Spanish port of Tarifa. On this occasion he was commanding the fishing boat, Dogfish. He had to explain away his fifty passengers and explained they were survivors from a torpedoed ship, SS Kirken. The following day, Dogfish sailed into Gibraltar with its full complement of passengers.
In total, Krajewski rescued 78 of his fellow Poles from the Vichy concentration camp in Morocco.
Operation Autogiro – 19th September 1941
Fidelity again sailed from Gibraltar and landed four SOE agents at Barcarès on the night of the 19th/20th September 1941.
This was Fidelity's last operation with SOE at Gibraltar. She returned to England where she was refitted for work in the Far East.
Operation Jasmine - 14 April 1942
Lieutenant Marian Krajewski took Seawolf out of Gibraltar on her first mission to the southern French coast. The combined Polish, Special Operations Executive and Political Warfare Executive mission began with Seawolf delivering Polish Captain Jankety Roehr to the small, rocky inlet of Port Miou, near Cassis, just a few miles south-east from Marseille on the night of 18/19 April.
Roehr's mission was to go to Marseille to collect Polish servicemen escapers and evaders They were to be the first such party to be evacuated from France by sea.
On the way out from Port Miou, Seawolf accidentally encountered HM submarine P42 on her way to deliver SOE agents Victor Gerson (who ran the 'Vic' escape line) and radio operator Marcel Clech at Miramar, just south of Cannes on a mission codenamed Operation Delay II.
Operation Abloom - 18th April 1942
During the night HMS Tarana delivered Pat O'Leary and his radio operator, known as Drouet, to the beach near Port Vendres.
Tarana was commanded by Captain Edward Clark. His boating party were Sub Lieutenant Whiting and Seaman Stephens. They were instructed to 'wear nothing that could connect you with the Royal Navy and take no guns'. They were each issued with a survival tin that contained raisins and chocolate, and a quick acting suicide pill. If the mission was compromised and they found themselves evading capture they were instructed to make their way to the Hotel du Tennis at Perpignan.
After landing Drouett decided he did not like the idea of being behind enemy lines and ran back down the beach shouting to be taken off. His cries were ignored, and he was left behind. Drouet subsequently became a liability and he was replaced in June.
21st April 1942
Seawolf delivered three SOE agents to Antibes. Jean Menesson was an F Section agent who ran the clandestine newspaper "Le Coq Enchaine" (F Section consisted of the personnel recruited and trained by SOE who were assigned to underground networks), twenty year old Maurice Pertschuk was on his way to Toulouse, and Henri P. Le Chêne on his way to Lyons before setting up the Plane circuit at Clermont-Ferrand.
22nd April 1942
Seawolf returned to collect the forty four Poles Captain Roehr had collected for evacuation, this time from Port d'En-Vau, another inlet next to Port Miou. Seawolf then returned to Gibraltar, arriving safely on the 27 April.
What Happened to the Agents?
Jean Menesson returned to England via Spain following the arrest of his secretary in July 1943. He made his second trip to France by Hudson on the night of 15/16 November 1943. The landing was arranged by Henri Dericourt and Menesson was one of the four arriving agents arrested shortly afterwards. Jean Menesson was hanged at Flossenburg on the 29 March 1945.
Martin Pertschuk was arrested in April 1943 and hanged at Buchenwald on the 29 March 1945. Fellow SOE agent Christopher Burney was to say of Pertschuk that "He fought more gallantly than any of us, and died more sadly".
Henri Le Chêne's Plane circuit faded quite quickly and Le Chêne returned to England via Spain in 1943.
Operation Mimosa – 5th May 1942
Seawolf under Lieutenant Krajewski and HMS Tarana left Gibraltar on a combined Polish/SOE mission. The SOE part of the operation was to land radio operator Denis Rake and Charles Hayes at Antibes on the night of 13/14 May.
Seawolf then collected thirty one Poles from En-Vau (including Captain Roehr) and transferred them to Tarana, and after landing the two SOE agents, collected another 30 Poles from the Rhone delta who also transferred to Tarana before the two ships returned to Gibraltar.
Rake says in his 1968 book "Rake's Progress" that he went out on a ship (Tarana), was transferred to a Polish submarine (memory plays strange tricks, no Polish submarines were operating in the Mediterranean at this time) before moving on to a felucca (Seawolf) that put him into a rubber dinghy so he could row himself ashore at St Juin les Pins - he makes no mention of Hayes.
What Happened to the Agents?
Hayes made his way to Virginia Hall in Lyons who passed him on to Philippe de Vomécourt. Hayes soon concluded that SOE operations in the Lyons area were too insecure, and on learning from Victoria Hall that the Gestapo had a full description of him, returned to England via the Pyrenees in August. Hayes returned to France in November but was arrested and badly injured during a shoot-out on the 13 October 1943 at one of the many addresses betrayed by André Grandclément. Victor Charles Hayes was executed at Gross Rosen on the 1st August 1944.
There may have been a third agent landed with Rake and Hayes. Jean Marie Emmanuel van Haellebroucq was meant to join Ben Cowburn's Tinker circuit but, through his own indiscretion, was arrested two months later. Haellebroucq was one of the agents who escaped from the French concentration camp at Eysse (Lot-et-Garonne) on the 5th January 1944.
Operations Goblin, Sardine and Lucalite – 4th June 1942
On 4 June, Seawolf commanded by Lieutenant Krajewski left Gibraltar for a combined Polish, SOE and SIS(MI9) operation The first Goblin operation brought out three Polish servicemen from En-Vau the night of the 9/10 June. Originally, there had been many more, but most had been arrested by local police and the group was forced to disperse on the afternoon of the 9th June.
The following night, Seawolf returned to En-Vau and landed Polish courier Lieutenant Biczysko.
The next night, Operation Goblin II saw Seawolf landing three SOE agents, saboteur Alan Jickell and one other at Antibes, and sabotage instructor Ted Coppin, at Cap d'Ail for Operation Sardine.
On the night of 14/15 June, Seawolf evacuated a mixed group of nine agents and refugees plus sixty-two Poles from Port Miou. Passengers included Claude and Denise Lamirault and Emile Champion and his wife and son, Henri Frager and Pierre Fourcaud (one of de Gaulle's first emissaries to return to France). It also included the failed Pat Line radio operator Drouet, who had been landed from Tarana with O'Leary in April. This was the SIS(MI9) Operation Lucalite I with Lucalite II being an SIS operation to land stores at the same time. All passengers were transferred to the destroyer HMS Middleton, that Seawolf met at sea off Capo de la Gata, and taken to Gibraltar.
What Happened to the Agents?
Alan Jickell returned to the UK via Spain the following year. Ted Coppin was captured in Marseille with his courier "Giselle" on 23 April 1943. He is believed to have died in German hands that September.
Operation Nettletree – 30th June 1942
On 30 June, Seadog commanded by Jan Buchowski, collected an agent named Auguste Floiras who had been distributing clandestine newspapers in Marseille, and delivered stores to Cap d'Antibes for the SOE.
Floiras was later arrested in France on 14 July 1942 'for complicity in the distribution of clandestine tracts'. He was released the same day through lack of evidence and later that month, asked to work for the Carte network as a radio operator.
Floiras was later trained in England as a radio operator and returned to France by Lysander on the night of 26/27 October 1942. He first worked with the Carte circuit but later went to ground at Montelimar. He joined Francis Cammaerts in May 1943 and sent a record number of radio messages to London over the next fifteen months.
Operations Lucile, Mandarin I & II, Peppertree and Postbox - 7 July 1942
Seawolf under Lieutenant Krajewski and Tarana left Gibraltar on a series of missions for the SIS, the Bureau Central de Renseignements et d'Action, Central Bureau of Intelligence and Operations, (abbreviated BCRA, was the World War II era forerunner of the SDECE, the French intelligence service), the Polish Mission and SOE.
Operation Lucile landed a Mr Alvast (at the request of the Polish liaison in Marseille) at En-Vau and collected two men and one wife the night of the 13/14 July. The man and wife may have been the Pat Line agents Leoni Savinos and his German-born wife Emy.
The following night, the 15th July, in the Polish Operation Mandarin I, Seawolf collected fifty two Polish servicemen from En-Vau.
On the 17th July, Seawolf rendezvoused with Tarana south of Cassis. The passengers were transferred to the larger vessel and six agents and military stores were taken on board.
Either that same night, or the next, Seawolf landed four of the agents from Tarana at Cassis Bay for the SOE Operation Peppertree. She also landed Emilio and Joyce Lussu at Port Miou for the Italian SOE Operation Postbox.
On the night of the 19th/20th July, as a continuation of Peppertree, Seawolf landed more SOE agents at Antibes. The agents included Richard Heslop and R. Leroy, Lieutenant Krumhorn and Captain Barnard.
The final Mandarin II operation brought fifty three Polish servicemen from En-Vau the night of the 22nd/23rd July. These men were also transferred to Tarana before both ships returned to Gibraltar.
Operation Bluebottle – 13th July 1942
While Seawolf was carrying out Operation Lucile, on the night of the 13th/14th July, Tarana was busy collecting a party of eight escapers and evaders (including Whitney Straight, Anthony Deane-Drummond and SOE agent André Simon) from St Pierre Plage near Narbonne for the SIS(MI9) This was the first such operation conducted specifically for the Pat Line.
What Happened to the Agents?
Richard Hislop and Denis Rake were arrested on the 15th August. They were two of the nine men released from the Vichy French prison of Camp de Chambaran (along with Pat Line radio operator Alex Nitelet) by the pro-allied governor following Operation Attila - the German invasion of southern France in November 1942.
Denis Rake was taken across the Pyrenees by the Pat Line in December 1942. He got back to England to become an SOE training officer. He returned to France by Lysander on the night of the 9th/10th May 1944 as radio operator for Nancy Wake.
Richard Harry Heslop made his way to Angers before leaving France by Lysander on the night of the 23rd/24th June 1943. He was returned by Hudson on the night of the 21st/22nd September 1943 along with Jean Pierre Rosenthal. This second mission was to survey the Jura and see if it was practical for them to set up their Marksman circuit there. Three weeks later they returned to England by Hudson on the night of the 16th/17th October to report, before going back once more, along with their new courier Elizabeth Devereux-Rochester and American radio operator Denis Johnson, by Hudson on the night of the 18th/19th October. By 1944 Heslop was in command of a particularly aggressive force of Maquis fighters in the Ain and Haute Savoire regions which he maintained until the end of the war.
Operation Sassafras – 30th July 1942
Seadog, commanded by Buchowski, landed SOE agents Nicholas Bodington, Henri Frager, Harry M. R. Despaigne and Yvonne Rudellat at Cap d'Antibes.
Nicholas Bodington was there to report on André Girard's Carte, which Bodington enthusiastically supported on his return to London in September, and Philippe de Vomécourt's activities with the Ventriloquist network.
What Happened to the Agents?
Philippe de Vomécourt was arrested in October 1942 by Vichy police (for his own protection from the Germans, he was assured) and held in a civil prison at Lyons. On the 3rd January 1944, he was one of nearly fifty men who escaped from the French concentration camp of Eysse. Philippe got back to England via the Pyrenees and then returned to France by Lysander on the night of the 9th/10th April 1944 with Lise de Baissac. His Ventriloquist network was one of the several groups that mauled the SS Panzer Division Das Reich on its way from Toulouse to the northern landing areas following D-Day.
With the demise of the Carte network towards the end of 1942, Henri Frager was flown back to England with Peter Morland Churchill (no relation to Winston) by Lysander on the night of the 23rd/24th March 1943. He returned to France the same way on the night of the 14th/15th April, along with radio operator, J R A Dubois, to set up the Donkeyman circuit with Roger Bardet.
Frager returned once more to England, this time by Hudson on the night of the 20th/21st October 1943 and was brought back to France for the last time via the DF Var Line to Beg-an-Fry, where he was picked up by MGB 502 on the night of the 29th February 1944. He moved to Paris to try and rebuild his faded circuit until arrested by Hugo Bleicher on the 2nd July 1944 and sent to Buchenwald. Henri Frager was shot at Buchenwald on the 5th October 1944.
Harry Despaigne was sent in as an extra radio operator for Peter Churchill, which meant involvement in the failing Carte network. Despaigne soon made his way back to England via Spain. He returned to France by Lysander on the night of the 17th/18th September 1943 as radio operator for Henri Severnet, an operation organised by Henri Dericourt (who also betrayed the landing on the 15th/16th November mentioned above). The landing was witnessed by the German SD however Harry Despaigne managed to evade capture.
Yvonne Claire Rudellat had the distinction of being the first female F Section agent to be landed in France. She was captured on the 21st June 1943 and died at Belsen in April 1945.
Operation Bluebottle II – 15th August 1942
HMS Tarana evacuated eight people, including Henri Dericourt and at least three evading airmen, from Canet Plage near Perpignan the night of 15/16 August 1942. That same night Tarana also landed six SOE agents, including Charles Claser, near Agde.
Operations Watchman, Vagrant, Kumel and Leda – 26th August 1942
On 26 August, Seadog, commanded by Buchowski left Gibraltar and on the 1st September landed Blanche Charlet, a courier for Brian Stonehouse and some 600 kilos of military stores at Rade d'Agay.
Seadog then collected Nicholas Bodington, Andre Gillois and his wife and daughter, and two Belgian agents.
On the 2nd September, Seadog evacuated a mixed party of five, including General Juliusz Kleeberg, the head of Polish forces and a former Military Attaché, from the same area (Operation Vagrant).
Operation Kumel was due to take place the night of the 3rd September but despite landing a shore party, no reception party was found. The operation was repeated the following night with the same result and so abandoned.
SIS/BCRA Operation Leda took place on the night of the 5th/6th September when Seadog landed an agent known as "Porthos" at Narbonne Plage, and collected Pierre Brossolette, Charles Vallin, Denis Cochin, Dutrex, and evading Lysander pilot Guy Lockhart. Kradewski reports that there should have been more passengers, but the police arrived during the operation and the remainder had scattered.
What Happened to the Agents?
Blanche Charlet was arrested with Detective network radio operator Brian Stonehouse near Lyon on the 24th October 1942. She escaped from prison at Castres on the 16th September 1943 and was brought back to England on the last Var Line Operation from the Brittany beach of Beg-an-Fry on the night of the 15th/16th April 1944, along with former Pat Line courier Suzanne Wharenghem. Brian Stonehouse survived Mauthausen, Natzweiler and Dachau with Pat O'Leary, Tom Groome and Johnny Hopper.
Pierre Brossolette went to London after two years working in underground propaganda and joined BCRA. He returned to France by Lysander on the night of the 26th/27th January 1943. He was brought out again by Lysander on the night of the 15th/16th April 1943 with Yeo-Thomas. He returned once more, with Yeo-Thomas, by Lysander on the night of the 18th/19th September 1943 following the arrest of Jean Moulin.
Brossolette was due to be brought back to England on the 10th or 11th December 1943 but the Lysander was shot down and Flying Officer Jimmy Bathgate and his two passengers were killed.
Brossolette tried to leave France by sea the following January but the boat was wrecked and he was arrested. Taken to Avenue Foch, he died during an escape attempt, 'falling' from a fifth floor window.
Operations Falstaff, Orlando, Mullet, Nectarine I & II, and Titania – 11th September 1942
SIS Operation Falstaff was to land two agents, one of which was female, at La Ciotat, just east of the inlets of Port Miou and En-Vau, on the night of the 17th/18th September.
The following night, the 18th September, Seawolf landed an SIS agent and stores at Morgiou, another inlet, west of En-Vau, for the SIS Operation Orlando. The original landing site was to have been just around the headland at Sormiou but the reception party signalled from Morgiou and were only spotted on the way out from Sormiou. A heavy consignment of watches and stop-watches (made in Switzerland and smuggled through France) for the RAF, was collected at the same time.
That same night, Seawolf went to En-Vau to collect two agents for the SOE Operation Mullet. Possibly Henri Frenay and Emmanuel d'Astier de la Vigerie. On the 19th September, Seawolf was back at Sormiou where she collected thirty-one evaders, mostly Polish but including three British, for the Polish Mission Operation Nectarin I. Next night she went to En-Vau, and collected another twenty five Poles for Operation Nectarine II.
Seawolf then sailed south to Canet Plage, Perpignan, on the night of the 21st/22nd September on the SIS(MI9) Operation Titania, where she evacuated five aircrew who had escaped from Fort de la Rivere on the 23rd August and seven servicemen who had escaped in the mass break-out of the 5th September, thirteen evaders plus at least five Pat Line personnel and SOE agents and French Colonel Pierre Fourcade.
The escape from Fort de la Revere, near Nice, through the fort's sewer system, had been masterminded by the resourceful Reverend Donald Caskie. All the passengers from the heavily overloaded Seawolf were transferred to HMS Minna the following day before returning to Gibraltar.
This was Kradewski's last mission in Seawolf. He returned to England for three weeks' leave before rejoining his ship, Blyskawica, as First Lieutenant.
Operations Silkworm, Watchman II and Chub I & II – 23rd September
On 23 September, Seadog, commanded by Buchowski, sailed from Gibraltar. By early evening of the 29th September, Seadog was in position off La Napoule (Cannes) for the Polish/SIS Operation Silkworm but received no reply to their signals. Bad weather prevented her from going on to her second rendezvous point so she hove to. Continuing bad weather and a broken engine meant she stayed in the area until the 1st October, by which time the engine was repaired and she returned to La Napoule on the evening of the 2nd October. There was still no reply to their signals but Buchowski decided to put General Kleeberg and two agents (for Operation Chub I) ashore at the town of La Napoule, 200 metres from the railway station, half an hour before their train for Nice was due to leave.
SOE Operation Watchman II, the landing of stores, was due to take place two miles south of La Napoule at Cap-de-l'Esquillon. The rendezvous was set for 03.00 on the 3rd October but Buchowski began his signals at 23.30 on the 2nd and received an immediate reply. Two more agents for Operation Chub I were delivered by Seadog's dinghy, but the intended equipment was not landed as the promised motor boat did not appear.
Three of the agents landed were John Goldsmith and Chalmers-Wright of the Polish Warfare Executive (PWE) and Sidney Jones.
After a day at sea, Seadog returned to land the stores for Watchman II but again received no reply to their signals. Seadog moved on to Rade d'Agay to collect six passengers for the SOE Operation Chubb II. As they reached the bay, two women approached them in a rowing boat and warned them that the French police had seen them and that they should return to their first position, off La Napoule.
There was again no reply to their signals, but on the 5th October, Buchowski finally managed to land the SOE stores using the ship's dinghy. There were no passengers to embark but the shore party told him that General Kleeberg and the agents were all safe.
Seadog finally returned to Gibraltar early in the morning of the 10th October, after a voyage of 2,300 miles, with just five gallons of fuel left in her tanks.
What Happened to the Agents?
Goldsmith was due to work with the failing Carte network before moving on to set up a sabotage circuit in the Pas-de-Calais but instead spent his time giving sabotage lessons in Nice and Juins-les-Pins whilst discussions continued about his future. Realising that Carte was little more than a talking shop, he left France via the Pyrenees. Goldsmith returned to France by Lysander the night of the 17th/18th March 1943. He was taken back to England by Lysander with Ben Cowburn of the Tinker circuit on the night of the 17th/18th September 1943.
Chalmers-Wright soon moved on to Grenoble where he spent the winter writing reports for PWE that he was unable to transmit.
Sidney Jones arrived to establish the Inventor sabotage circuit in Marseille. By the time the Germans invaded southern France in November 1942, the circuit was well established but too remote to be resupplied from England. Jones was returned to the UK by Hudson on the night of the 20th/21st February 1943.
Jones returned for his 2nd mission, by Lysander on the night of the 14th/15th May 1943 to be liaison officer and arms instructor for the Inventor and Donkeyman circuits. Jones was arrested on the 20th November 1943 following the arrest of his courier Vera Leigh and "Jacky" his bodyguard. They were betrayed by Roger Bardet from the Donkeyman circuit. None survived the war.
Sidney Charles Jones was executed at Mauthausen on the 6th September 1944. Vera Leigh, together with Andrée Borrel, Diana Rowden (see below) and Sonia Olschanesky, were murdered at Natzweiler on the 6th July 1944.
Operation Rosalind – 30th September
Seawolf, now commanded by Lieutenant Lucasz - real name Marian Michalkiewic, left Gibraltar on the SIS(MI9) Operation Rosalind, whose sole purpose was to collect evaders for the Pat O'Leary escape line. After various delays, the pick-up was finally made the night of the 11th/12th October from the beach just north of Canet-Plage, near Perpignan. The Abbé Josef Myrda and thirty-two allied servicemen, including eighteen escapers from the French prison of Fort de la Rivere, were delivered back to Gibraltar. They had spent the days waiting for pick up in the Hotel du Tennis which is on the beach just north of Canet Plage.
Operations Watchman III, Overgrow, Dubonnet and Portia – 29th October
Seadog commanded by Buchowski, departed Gibraltar. Seadog reached her position off Port Miou the evening of the 3rd November, and despite the shore party being at the wrong place, made successful contact. Lieutenant Jan Buchowski went ashore in the ship's dinghy. Nine agents were landed and six collected. Next evening another landing was prevented by bad weather and the ship moved out to sea for the day. Continuing bad weather and an engine break-down prevented any further operations and Seadog returned to Gibraltar the morning of 13 November.
Agents landed for SOE Operations Watchman III, Overgrow and Dubonnet included George Starr, Marcus Bloom, Mary Herbert, Marie-Therese Le Chêne, Odette Sansom and Gracomino Galea for the Italian Section, and possibly Alfred Schouten of DF Section (SOE DF section was established and managed escape lines for British and British-controlled SOE agents in France). SIS(MI9) Operation Portia, which was combined with Watchman, landed Tom Groome as radio operator for Pat O'Leary.
What Happened to the Agents?
George Starr had intended to go to Lyons but by then the Spruce circuit there was falling apart. Starr went on to Gascony instead where he set up his very successful Wheelwright circuit. Starr's organisation remained active until the war in that area was effectively over. He was ordered to leave France by de Gaulle in September 1944.
Marcus Bloom was sent in as radio operator to Tony Brooks in Toulouse. Brooks was however appalled at Bloom's lack of security on arrival and so Bloom became radio operator for his friend Martin Pertschuk instead. They were both captured in April 1943. Marcus Reginald Bloom was executed at Mauthausen on the 6th September 1944.
Mary Herbert was on her way to work with Claude de Baissac (whom she subsequently married) and stayed in France until over-run by the allies in 1944.
Marie-Therese Le Chêne (the oldest Englishwoman sent on active duty to France) arrived as courier to her husband Henri, delivered by Seawolf in April. She was returned by Hudson in a party of ten on the night of the 19th/20th August 1943.
Odette Sansom was captured with Peter Churchill (who she later married) in April 1943 but survived Ravensbruck.
Alfred Schouten was captured and survived Oranienburg.
Tom Groome was arrested with his courier Danielle "Eddie" Reddé along with Pat Line agents Charles and "Pat" Cheramy at the Cheramy home in Montauban on the 11th January 1943. Taken to Gestapo HQ at the Hotel Ours Blanc in Toulouse, Tom tried to escape by jumping from a window. He was soon recaptured but Eddie got away in the confusion. Tom survived Mauthausen, Natzweiler and Dachau with Pat O'Leary, Brian Stonehouse and Johnny Hopper.
Danielle Reddé escaped and crossed the Pyrenees with Nancy Wake and others in March 1943. In England she joined SOE and was parachuted back into France in January 1944. After the war in Europe ended, she went on to serve for many years as a parachutist and radio operator in the Far East.
Elenor Maud "Pat" Cheramy survived Fresnes, Ravensbruck and Mauthausen and was liberated on the 22nd April 1945. Her husband Charles also survived.
Agents collected included John Starr (brother of George Starr), Isadore Newman, a radio operator with Peter Churchill, a person with the field name "Richard" (aircraft engineer Charles Roubier according to Odette Sanson) and his son, and "Quintet" (PWE Radio Patrie).
John Starr had parachuted into France on the night of the 27th/28th August to investigate Carte but after ten weeks of insecurity and wasted effort he came back on Seadog.
In May the following year, he returned to France, again by parachute, with radio operator John Young, to set up Acrobat. Starr was betrayed by a double agent (later hunted down and killed by Eric Cauchi) and arrested in July 1943. He was shot and injured during an immediate escape attempt and taken to Dijon prison. Starr was transferred to 84 Avenue Foch in September 1943 where, following a failed escape attempt with Noor Inayat Khan and Commandant Léon Faye on the night of the 24th November, he gave his parole and cooperated with the German SD to a limited extent. His presence was used to demoralise subsequent captured agents, some of whom he knew by sight.
Starr was finally sent to Mauthausen, where, unlike Noor Inayat Kahn (who died on the 13th Sep 1944 at Dachau) and Léon Faye (who died on the 30th January 1945 at Sonnenburg), he survived.
John Young was arrested on the 18th November 1943 with Diana Rowden following the capture of André Maugenet who had arrived by Hudson with Jean Menesson, after having been sent to join them. John Cuthbert Young was executed at Mauthausen on the 6th September 1944.
Isadore Newman returned to France by Lysander on the night of the 19th/20th July 1943 as a radio operator to Philippe Liewer. The landing was arranged by Henri Dericourt, who used the return flight for a one day visit to England. Newman was captured on the 25th February 1944 and executed at Mauthausen on the 6th September.
Following the German occupation of the unoccupied zone in France in November 1942, making regular trips to the coast of France became more problematic and the emphasis moved to overland routes that delivered escapers and evaders to holding centres in Madrid, Barcelona and Seville. From there they were taken to Lisbon or Gibraltar. Agents and radio operators tended to be flown into occupied territories rather than risk a long dangerous overland journey from southern France to their operational areas.
The Special Operations Group of small ships, continued operating from Gibraltar throughout 1943, with missions to the south of France and Corsica.
Escaping Occupied France by Land
Following the Dunkirk evacuation and subsequent fall of France, many allied troops were abandoned in France. British military personnel had started to drift into Spain and from there to Gibraltar in August 1940, before any of the formal escape lines were established, using their own initiative. There are some remarkable stories.
Three men from the 51st Division (Highlanders), tramped through France to Spain. On the journey, they only spoke Gaelic. They were stopped in France by a German patrol who could not understand a word they spoke. The Germans produced a world map and indicated the Highlanders should point to where they came from. They pointed to Russia, then an ally of Germany, and were allowed to proceed.
Two men from Yorkshire, with not a word of French or German between them, managed to walk through France and Spain being passed on from household to household. 'People were very kind', reported one during his debrief.
Spanish Concentration Camps
Whilst many of the early evaders were arrested in Marseilles and taken off to prisoner of war camps in the occupied territories, some managed to make it into Spain where they had to evade the Spanish police. The Civil Guard arrested many evaders who were then held in one of Franco's notorious camps.
Figueras prison was in northeast Spain. British prisoners unlucky enough to find themselves there were crammed thirty to a cell with one latrine bucket and a six inch square window their only light.
The prisoners were treated brutally, Sergeant Jack Horsman of the Durham Light Infantry was almost blinded by the beatings he received. One prisoner managed to smuggle a piece of paper out of the prison that eventually landed on the desk of ambassador Samuel Hoare. Eventually, after considerable diplomatic protest, some prisoners were repatriated.
At a prison in Burgos, men were beaten with rifle butts for refusing to give the fascist salute.
About fifty British soldiers ended up in the most infamous concentration camp in Spain, Miranda de Ebro, originally built for Republican prisoners of war. The camp also held Polish, Belgian, French and Yugoslav inmates and twenty German deserters.
Diplomatic negotiations secured the release of the British troops but not before they were starved to the point of emaciation, infested with lice and suffering from dysentery. They were taken to the embassy chapel in Madrid and then hidden in the back of a food supply wagon to be transported to Gibraltar. Driver W. Gaze, who had driven an ambulance helping the wounded left behind at Dunkirk and Private Gordon Instone, who had lost 50lbs in weight whilst at Miranda de Ebro, found themselves in paradise with unlimited food and mugs of tea.
Crossing the Pyrenees
Until April 1941, when the Special Operations Group started to evacuate escapers and evaders by sea and the escape lines were becoming more formalised, intrepid troops left behind after Dunkirk, and an increasing number of fighter and bomber aircrew depended on local civilians in France and Spain for shelter and food. To cross the Pyrenees they had to use local guides who were often on missions of their own, smuggling tobacco and luxuries into and out of France. Eventually a system of payment was set up by MI9, by which for each officer escorted into Spain, the guide received £40 and for each other rank, they received £20.
After mid July 1940, the Seaman's Mission in Marseilles was open for business and word rapidly spread through Vichy France and the occupied territories. A sign outside the mission proclaimed ''NOW OPEN TO BRITISH CIVILIANS AND SEAMEN ONLY''. Of course, the Reverend Donald Caskie was taking in any allied troops and airmen that turned up on his doorstep, not to mention secret agents and civilians persecuted by the Germans or Vichy French. In total Caskie, also known as the 'Tartan Pimpernel' saved more than 2000 men during World War II.
As we saw above, Donald Darling, responsible for prisoners of war and the coordination of escape lines, arrived in Gibraltar on the 5th January 1942.
Crossing the Frontier to Gibraltar at La Linea
The escapers and evaders that did make it to Gibraltar, travelled the last few hundred yards in many ways; in the boots of diplomatic cars or hidden in supply lorries. Many, in disguise, strolled across amongst the daily throng of Spanish workers that flooded into Gibraltar each morning.
Once in Gibraltar the aircrew were billeted at the RAF Coastal Command depot, SOE and senior escape line organisers were accommodated in Darling's flat on Main Street, Gibraltar (after January 1942) whilst other evaders who arrived by sea, usually by HMS Tarana, were met at the Mole in the harbour and taken to hotels or flats on Main Street.
From Gibraltar, the way home varied. Some escapers were billeted on merchant ships returning to the UK, some were flown out. A few were smuggled to Lisbon to be flown home from there.
Within 2 days of his arrival in Gibraltar, Darling had his first customers, among them Sergeant Jack Newton, a rear gunner in a Wellingon bomber shot down over Aachen. Newton was fortunate to make contact with the new Comet line and had successfully made it to Gibraltar. He and two companions were kept isolated on the airstrip because Darling did not want any information regarding their escape to feed back through one of the many German and Spanish Fascist agents that infiltrated themselves into Gibraltar, who would pass the information on to the Abwehr agents in Algeciras. Jack Newton worked his passage home in the rear gun turret of a Short Sunderland flying boat after the previous gunner had been shot up.
At the end of the war, Donald Darling estimated that over 3000 escaping or evading allied airmen passed through Gibraltar on their way home. That number did not include the hundreds of allied troops that also used Gibraltar as a 'Gateway to Freedom'.
References
First of all, I am indebted to the work of a fine organisation, the WWII Escape Line Memorial Society (ELMS). They provided details of the escape lines and agents involved. https://ww2escapelines.co.uk/
More information, particularly about the operations of Seawolf and Seadog, has been researched at http://www.conscript-heroes.com/
I also had lots of reading material:
Brooks, R. (1996) Secret Flotillas HMSO
Caskie, Donald (1957) The Tartan Pimpernel Oldbourne Press
Ellison, K. 'Special Counter Intelligence in WW2 Europe' (Revised 2021)
Foot, M.R.D. (2004) SOE in France
Marcel, Jullian. (1957) HMS Fidelity Souvenir Press
Gibbs, Patrick (1961) It's Further via Gibraltar Faber and Faber
Rankin, 'Defending the Rock: How Gibraltar Defeated Hitler' (2017)
Richards, Sir Brooks. (1996) Secret Floitilla
Verity, Hugh (1998) We Landed by Moonlight
West, Nigel (1992) Secret War Hodder & Stoughton
Notes
The paragraphs 'What Happened to the Agents?', although not strictly relevant to goings on in Gibraltar, emphasises the importance of the work done by the small flotilla based in Gibraltar. Without those agents, the immense flow of escapers and evaders through Gibraltar would not have happened. Unlike their compatriots, the Special Duties aircrews, who also went into occupied territories, secretly, at night, unarmed and defenceless, these agents have had far less recognition. There is scope for further research and not a few stories.
Note: This article may contain affiliate/compensated links. That means that if you book through our link, we may earn a small commission (at no extra cost to you). For full information, please see our disclaimer here.
---
Next in the The Unseen War In Gibraltar series
Operation Relator
Operation Falaise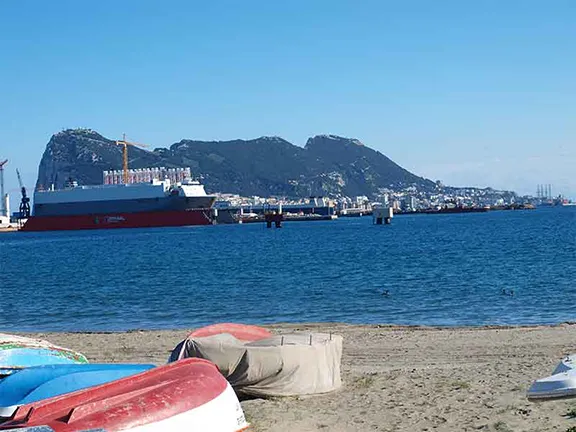 Operation Algeciras
---