Guide to Ojén
Ojén is a white village a few kilometres from Marbella on the Costa del Sol in Malaga province, Andalucia
By Nick Nutter | Updated 29 Aug 2022 | Málaga | Villages | Login to add to YOUR Favourites
or Read Later
This article has been visited 4,778 times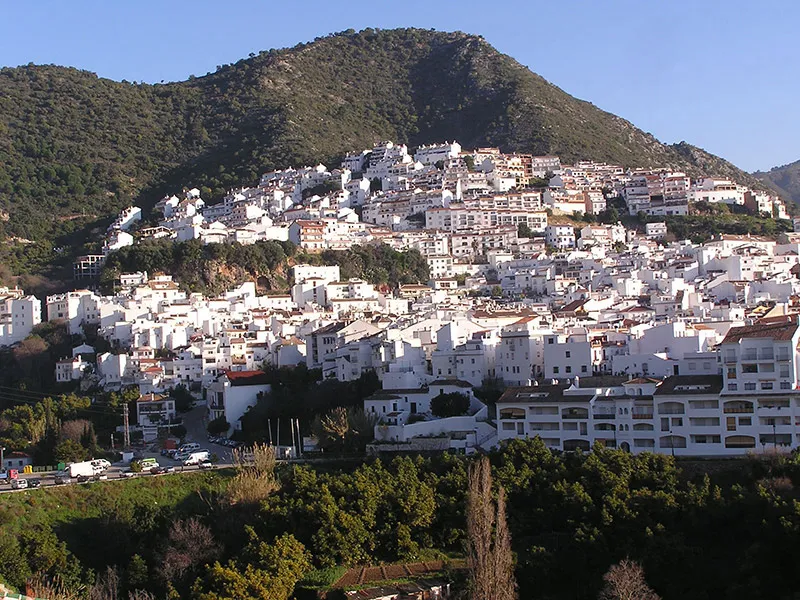 Ojen
Calling a town 'rough' or 'bitter' is not very complimentary, but that is what the Muslims called, a white village just a few kilometres inland from Marbella. The name is derived from the Arabic word, 'hoxan' and may refer to some of the spring water in the vicinity which is 'bitter' as a result of flowing through the magnetite veins in the mountains, a valuable source of iron and one reason Ojén is where it is today.
Ojen church
This area of Andalucia also has lead and talc, if you know where to look for it. These were all commodities valued at the time so Ojén developed from Muslim times. The totally ruined castle is surrounded by small cottages, all cheek by jowl, tumbling down the hill with the newer properties on the outer edges. Streets are narrow and cobbled relieved every now and then by a small plaza with a fountain.
Ojen street scene
Ojén has two claims to fame.
Back in the 9th century, the rebel leader Umar ibn Hafsun was born somewhere nearby and managed to motivate disaffected muwallads and mozarabs in the Serrania de Ronda to take a number of towns and villages and hold them against the Muslim occupiers of al-Andalus. He moved on to expand his territory to include parts of the provinces of Cádiz, Seville, and Jaén.
The second is a potent anise liquor called aguardiente. Locals drink it with their morning coffee, the quality of the various brands and its town of origin is hotly debated. The distillery is on the main street through the upper part of town. When we first went to Ojén in 2004, the distillery had been turned into a shop and wine museum. The owner specialised in rare and unusual wines and liqueurs and had impromptu free tastings. I remember wandering out of there one afternoon clutching two bottles of an orange liqueur. Sadly, on a return visit in 2014 the museum had gone. There were signs that it may re-emerge in the old olive oil mill but that hadn't happened, but who knows what will happen in the future.
Ojén had a brief period, during the 19th century, when the town boomed. First Spanish and then British miners arrived to exploit the rich veins of magnetite, iron ore, found in the hills behind the town. Those enterprises went away during the 1920s and Ojén became the sleepy village it is today.
The town deserves to be more popular than it is. Situated only 8 kilometres from Marbella it is only minutes away from the Costa el Sol and being in the foothills of the Serrania de Ronda it is a great base for walking and cycling.
Note: This article may contain affiliate/compensated links. That means that if you book through our link, we may earn a small commission (at no extra cost to you). For full information, please see our disclaimer here.
---
---