La Herradura, a seaside town and Marina del Este on the Costa Tropical
La Herradura, on the Costa Tropical, in Granada province, Andalucia, Spain is a peaceful seaside town, perfect for a relaxing beach holiday
By Nick Nutter | Updated 25 Aug 2022 | Granada | Villages | Login to add to YOUR Favourites
or Read Later
This article has been visited 13,587 times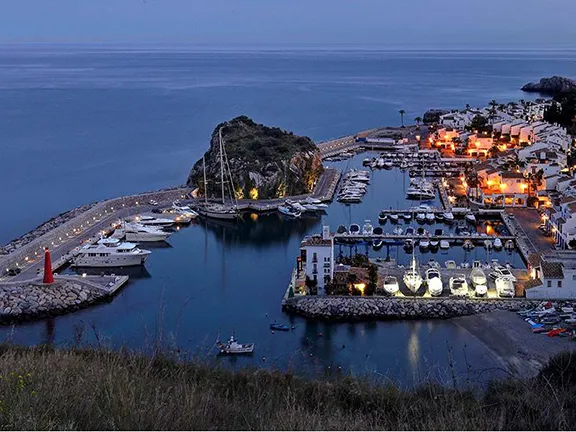 Marina Del Este - Image by tripadvisor.es
If you were looking for a peaceful seaside holiday then La Herradura is for you. The village, just one headland and 4 kilometres west of the large town of Almuñécar, has only one purpose, to satisfy the visitor that wants peace and quiet.
La Herradura Seafront
La Herredura
With only about 4,000 residents, 9 Hotels and a couple of Pensions the small village backs onto a 2 kilometre long beach made up of sand and pebbles. Two headlands provide shelter, to the north west is Cerro Gordo and to the south east Punta de la Mona. Off the latter the snorkelling and diving is very good. All the action is on the seafront with restaurants, bars and occasional shops. You will not find a night club or disco but with the resort facing south west all the bars are 'sundowners'.
Chambao
The beach has five chirinquitos, all serving food and drinks. Every drink is accompanied by a tapas. At each extremity of the beach there is a chambao. A chambao is a sort of semi permanent structure that resembles a huge Arab tent under which you can shelter from the sun. The eastern Chamboa de Joaquin includes a chirinquito that specialises in paella and barbequed sardines on a skewer at lunchtime. The food must be good, the place has been frequented by the rich and famous and there are photographs above the bar to prove it.
Marina Del Este
Sheltered by the headland of Punta de la Mona is the Marina Del Este development. The marina provides the centre for the apartments and villas built into the headland. In winter, the marina, with its bars and restaurants is quiet, during the summer it is a hive of activity. The marina is one of the prettiest on the coast.
Note: This article may contain affiliate/compensated links. That means that if you book through our link, we may earn a small commission (at no extra cost to you). For full information, please see our disclaimer here.
---
---