August in the Kitchen Garden - Figs
August in the Kitchen Garden in Andalucia Figs
By Nick Nutter | Updated 5 Mar 2022 | Andalucia | Gardening | Login to add to YOUR Favourites
or Read Later
This article has been visited 4,626 times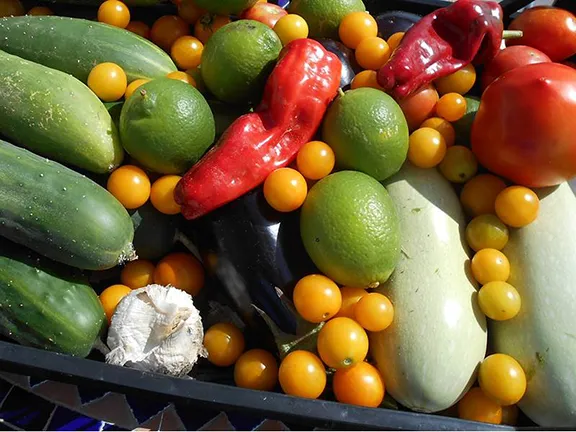 August produce
Be prepared for a last blast of heat as the summer supposedly comes to an end, though I do not think it will be as bad as last year. The fig trees I planted last spring are fruiting for the first time. The ripe fruits are highly valued by many birds, parrots, blackbirds, tits, as well as ants because they are packed full of sugar. It is a daily job picking fruit as it becomes ripe to beat the birds and ants to the bounty.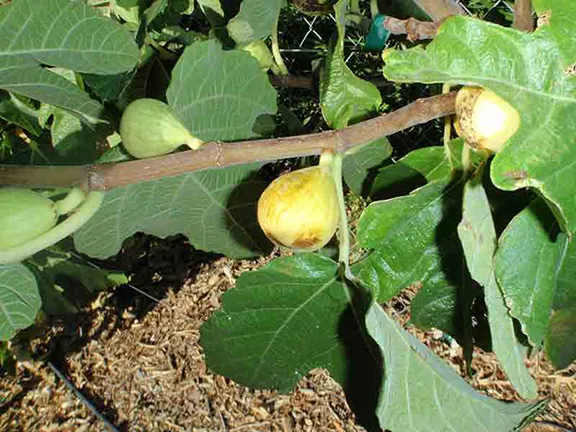 White figs
I planted two figs, a black fig that appears to be the more vigorous of the two and a white. Both will need pruning this autumn to keep them under control. The flavour of the white fig is more subtle than that of the black.
I am already thinking ahead to the autumn planting season, clearing and tidying rows as they become available. Dig in as much well rotted garden compost as you can at the same time. Fresh manure should be going on the compost heap at this time of year to rot down. We will not be planting anything that appreciates fresh manure until next spring. I intend to plant brassicas, cauliflower, cabbage, brocolli and romanesco. They will do best in ground that has grown peas or beans earlier in the year. They like the nitrogen that those plants introduce to the ground.
I will also be putting in plenty of onions and leeks. This year I am trying some white onion sets that came from Morrisons in Gibraltar as well as white onion plants from the plant supplier. Let's see which do best. Onions like a well drained soil with plenty of garden compost added.
One of the problems with being able to plant or sow as soon as a previous crop is over, unlike the UK where you tend to get one crop per year with some intercropping if you are lucky, is that it is difficult to break the planting area into three distinct zones for crop rotation so each row here has to be treated as a zone and prepared for the next crop.
Note: This article may contain affiliate/compensated links. That means that if you book through our link, we may earn a small commission (at no extra cost to you). For full information, please see our disclaimer here.
---
---