Montoro: A Hidden Gem in Cordoba, Andalucia
Discover the captivating blend of history, culture, and natural beauty in Montoro, Andalucia. Explore its medieval streets, immerse in vibrant traditions, and indulge in Andalucian cuisine while surrounded by breathtaking landscapes. Unveil the hidden gem of Montoro and create unforgettable memories in this enchanting town.
By Nick Nutter | Updated 1 Aug 2023 | Córdoba | Villages | Login to add to YOUR Favourites
or Read Later
This article has been visited 962 times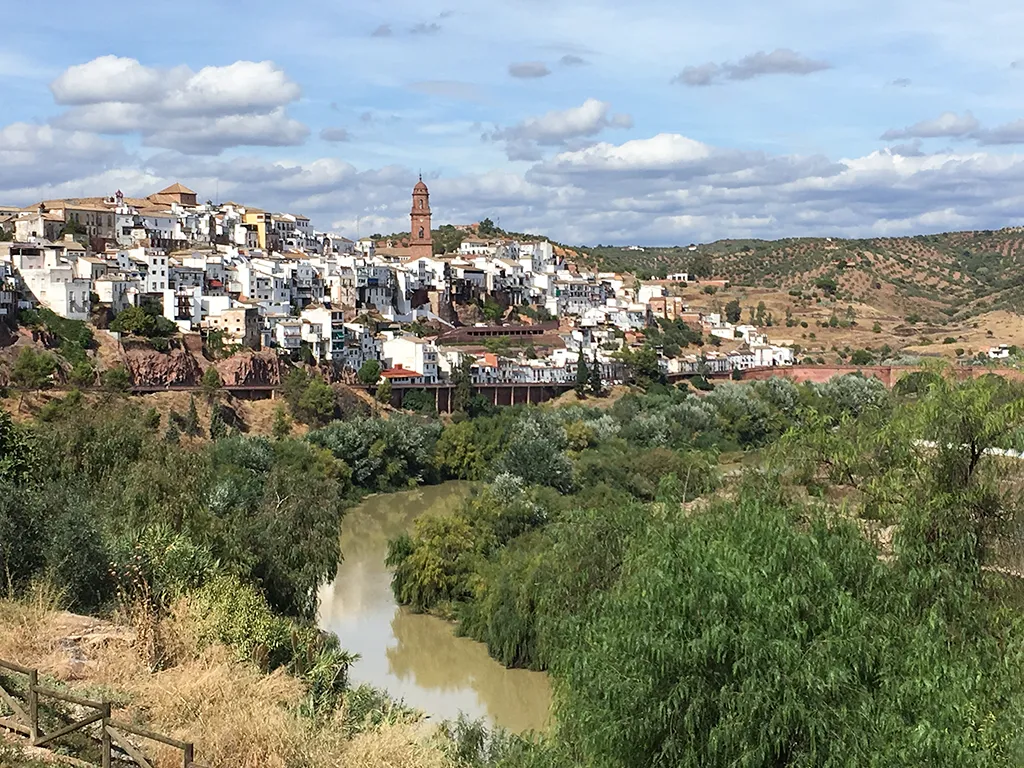 Montoro in a meander of the Guadalquivir
Nestled amidst the picturesque landscapes of Andalucia at the heart of the Parque Natural Cardeña-Montoro, the charming town of Montoro stands as a testament to the region's rich history and breathtaking beauty. Situated on the banks of the Guadalquivir River, this hidden gem offers a captivating blend of architectural wonders, cultural heritage, and natural splendour. From its medieval streets to its panoramic viewpoints, Montoro invites visitors to explore its enchanting charm and immerse themselves in the authentic essence of Andalucia.
A Journey Through History
Montoro's history dates back to ancient times, with traces of Roman, Moorish, and Christian influences evident throughout the town. During the Roman period, Montoro was known as Epora, and its roots may extend further. Some historians suspect Epora was originally a settlement established by Greek traders called Aypora. Walking through its narrow cobblestone streets, visitors are transported to a bygone era, where centuries-old buildings adorned with wrought-iron balconies and colourful facades create an unforgettable ambiance. The historic quarter, declared a Site of Cultural Interest, is a treasure trove of architectural wonders, including the Church of San Bartolomé, and the Town Hall, each showcasing unique architectural styles and historical significance.
Two structures you must see are the Casa de los Palcos and Puerta de la Torre Mocha.
Casa de los Palcos
The Casa de los Palcos is a seventeenth-century building has viewing boxes that were once used to watch performances held in the square below. The balconies were accessed via two separate staircases, one for women and one for men. The building can be seen on Plaza de España.
Puerta de la Torre Mocha
This gate was used to link the interior of the walled town with the Guadalquivir River through the Vaguada de la Paloma. It is of Roman origin, but underwent medieval alteration, and can be found today on Calle Santos Isasa.
Puente de las Doncellas o de las Donadas
Puente de las Doncellas o de las Donadas roughly translates to 'Bridge of the Donating Maidens'. An unusual name for a bridge that happens to be one of the most beautiful bridges in Córdoba province. Construction started in 1498 on a bridge across the Guadalquivir. The local women donated their jewellery to help cover the cost of its construction. In return King Ferdinand II of Aragon (he of reconquest fame along with his wife Isabella), granted the people of the town the privilege of not having to shelter or supply food to his troops.
Cultural Heritage
Beyond its architectural marvels, Montoro boasts a vibrant cultural heritage that is deeply rooted in its traditions and celebrations. The annual Holy Week processions, featuring elaborate floats and passionate displays of faith, captivate locals and visitors alike. The Festival of the Crosses in May brings the town to life with vibrant floral decorations and traditional music, while the Feast of San Bartolomé in August showcases lively street performances, gastronomic delights, and fireworks. These cultural events offer an immersive experience into the heart and soul of Montoro.
Natural Splendour
Surrounded by breathtaking natural landscapes, Montoro is a paradise for nature enthusiasts. The Guadalquivir River provides a serene backdrop, offering opportunities for river walks, boating, and fishing.
For the more adventurous, the nearby Sierra de Cardeña y Montoro Natural Park is a haven for hikers and nature lovers, with its rugged mountains, dense forests, and diverse wildlife. From the park's highest peaks, such as the Sierra Madrona, visitors can savour panoramic views that stretch as far as the eye can see. Read more about the natural park here.
If you have some horseback riding experience, this 3.5-hour horseback riding excursion through the mountains in Montoro is an awesome way to experience the natural beauty of this area.
Culinary Delights
No visit to Montoro would be complete without indulging in the delectable Andalucian cuisine that the town has to offer. Influenced by its geographical location, Montoro's gastronomy boasts a fusion of Mediterranean and traditional Andalucian flavours. From mouthwatering tapas and hearty stews to fresh seafood and renowned olive oil, the local cuisine tantalizes the taste buds and leaves a lasting impression.
Traditional dishes include ajo sopeao (tomato, pepper, onion and garlic pisto), tortilla de faisanes (bean omelette), arroz con zorzales (rice with wild thrush), perdices en salsa (partridge in sauce), conejo al ajillo (garlic rabbit) and papas en coña con sopeao (stewed potatoes). Desserts include tortas de manteca, soplanos and mazapanes de La Logroñesa (marzipan shapes).
Visiting Montoro
Montoro, with its rich history, cultural heritage, natural splendour, and delightful cuisine, offers a truly immersive experience in the heart of Andalucia. Whether you are a history enthusiast, a nature lover, a culinary explorer, or simply seeking a peaceful escape, this hidden gem is sure to leave you captivated. So, embark on a journey to Montoro, and let the town's timeless charm and warm hospitality create memories that will last a lifetime.
Where to Stay in Montoro
Looking for a relaxing retreat in the countryside? Montoro is a great place to unwind and enjoy the beautiful nature in Andalucia. There's a small number of places to places to stay in Montoro so you may want to book your stay in advance!
Molino La Nava - For an unforgettable rural retreat, check out this property housed in an old mill in olive groves. They offer a range of modern and well-decorated rooms that promise a comfortable stay.
La Plazuela - Located in Montoro, his traditional Andalucian house comes with your own private patio and all the comforts of home. With 5 bedrooms, this is the ideal holiday home for families or groups.
Olivetum Colina - This hotel in Montoro offers beautiful views of the surrounding countryside and simple but comfortable double rooms. Enjoy the infinity pool and a hearty breakfast on their breakfast terrace.
Or check out the latest deals in Montoro below.
Note: This article may contain affiliate/compensated links. That means that if you book through our link, we may earn a small commission (at no extra cost to you). For full information, please see our disclaimer here.
---
---