End of September in the Organic Garden
The great potato experiment, strawberries for next spring and protecting peas from the sparrows
By Nick Nutter | Updated 30 Sep 2022 | Andalucia | Organic Garden | Login to add to YOUR Favourites
or Read Later
This article has been visited 2,864 times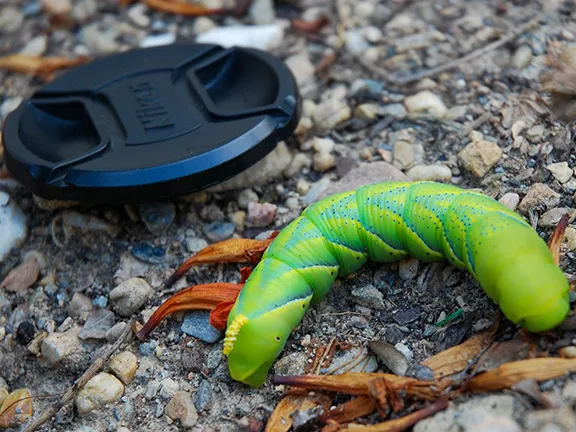 Tomato Hornworm Caterpillar
At first I thought it was a piece of hosepipe that had somehow ended up in the flower garden. Then I saw that the 'hosepipe' was moving. My (he sort of became part of the family) tomato hornworm caterpillar is about 13 cms long and the same diameter as a hosepipe and bright green. Or at least he was. After traversing the garden, he climbed into a trumpet vine plant and promptly started to change colour. Now he cannot be spotted at all, he looks just like one of the branches. He is probably responsible for the defoliation of our leafy greens bed earlier this month. The whole patch was eaten to the ground whilst we were away for a couple of nights. Even though he had been a bit naughty, I still could not kill him, so I am going to have to look at ways of netting vulnerable plants next year. The moth is easy to spot, it is about the same size as the palm of my hand.
The Great Potato Experiment Update
The chitted seed potato I planted in a large tub last month has now grown over the top of the tub. I have been earthing up with compost every week. Now it is just a matter of keeping the compost moist until the flowers appear and die down. It looks as though we are still on track for new potatoes at Christmas.
Onions and Leeks
The onions were all lifted this month and put onto wire mesh racks for a few days to dry off. Now they are in a box in a dark shed. I check them every week just to make sure they are all still firm. Any that start to go soft have to be either eaten straight away or composted. They quickly spread the rot to neighbouring onions. Quick tip in the supermarket. Summer grown onions do not keep as well as winter grown so the onions you are buying now were grown over summer. Check them for any softness, particularly around the stalk, before you buy them.
The leeks are, in the words of Duff Cooper to Lady Diana Manners in 1914, who was by the way referring to something else entirely, 'small but perfectly formed'. Lack of compost in the soil is the reason they have not grown to full size. Anyhow, 3 per person is about right and they are tender and delicious so I cannot complain.
Peas
Last month I mentioned that, as the ground was being cleared of tomatoes, courgettes and squash, I would be digging in as much compost as I could lay my hands on and planting a range of vegetables, including peas. Well, the peas have all sprung up, dark green, healthy plants, just right for another bunch of residents in the garden, the sparrows who seem to like their greens as well.
Chilli
Cayenne Chilli Plant
We were late sowing the chilli seeds this year but they are now in full production. It will be interesting to see how long they survive now that the nights are getting cooler. I am picking them as they ripen and putting them straight in a bag in the freezer. These are cayenne peppers, quite hot, and do not seem to lose any flavour or heat from being frozen.
Strawberrys
In April, Julie sowed some strawberry seeds in one of the raised beds. This month she thinned them out and split them where necessary, still in the raised bed. During October they will be transplanted into strawberry pots and we should have strawberries next spring. If the sparrows don't eat them all that is.
Well, that is all for this month. I have to get out there and net the peas or I will not have any left at all and I do like fresh peas at Christmas.
Note: This article may contain affiliate/compensated links. That means that if you book through our link, we may earn a small commission (at no extra cost to you). For full information, please see our disclaimer here.
---
---