Palacio Abacial Archaeological Museum
The most interesting part of the museum is a huge collection of photographs and postcards depicting scenes from Andalucia over 100 years ago.
By Nick Nutter | Updated 8 Sep 2022 | Jaén | Museums | Login to add to YOUR Favourites
or Read Later
This article has been visited 1,043 times
Roman faun, Alacala la Real
In 1781, abbot Esteban Lorenzo de Mendoza y Gatica abandoned his by now crumbling palace on La Mota, the fortified town overlooking Alcalá la Real and knocked three houses together in the developing town on the plain. The resulting Palacio Abacial served its purpose until 1851 when it became a victim of the 'Spanish Confiscation': a government initiative, that started in the late 18th century and continued until 1924, to expropriate land and wealth held by the Catholic church to pay off the national debt. The building passed through a number of municipal hands until it was restored between 1995 and 1999 and opened as the Municipal Archaeological Museum of Alcalá la Real.
Rocks from the Creation
Igneous Rocks
The museum has its plus points and its minus. On the plus side there is a very good display of minerals and crystals created at various times over the last 4.6 billion years, since the Earth formed, with decent descriptive text.
Stone Age
The early period of human activity in the area, the Stone Age, although well represented with examples of stone and flint implements lacks any provenance. You are left wondering where the artefacts came from and some of them look suspiciously new.
Iberian and Roman Period
Iberian Anthropomorphic Relief
There is little evidence of an Iberian presence in Alcalá la Real although it is suspected that there was an Iberian oppidum on La Mota. Part of an Iberian anthropomorphic relief, possibly a wall decoration, has been found
Moving on to the Roman period. Although not well explained, the statue of Hercules is a modern reproduction of the statue discovered in the Domus Herculana, a Roman religious site discovered in the town of Alcalá la Real itself. The original is in the National Archaeological Museum in Madrid. In 2007, the head of a faun; in Roman mythology, a creature that is part human and part goat, akin to a Greek satyr, was discovered along with another, smaller statue of Hercules accompanied by Cerbus; the monstrous three headed dog with the tail of a serpent, guardian of Hades. The originals can be seen in the Palacio Abacial museum.
20th Century Flour Mill
Flour Mill
Beyond that, the museum has very little from the Muslim period or the Christian period that followed but devotes a room to an admittedly interesting collection of early 20th century flour milling machinery.
Old Images of Andalucia
Scenes of Andalucia, Malaga and Cadiz
Perhaps the most fascinating room in the museum contains a huge collection of postcards and photographs dating to the late 19th, early 20th centuries. They display scenes of the provincial capitals of Andalucia, Almería, Cádiz, Córdoba, Huelva, Jaén, Málaga and Seville plus Gibraltar. I could easily have spent a couple of hours just in that room.
A Missed Opportunity
Given the important site of the Mediaeval fortified town of the Fortaleza de la Mota that overlooks Alcalá la Real, it seems as though the town museum missed an opportunity.
For opening times and prices to the Palacio Abacial Archaeological Museum, click here
Note: This article may contain affiliate/compensated links. That means that if you book through our link, we may earn a small commission (at no extra cost to you). For full information, please see our disclaimer here.
---
Do not miss visiting
Alcalá la Real
Places to go in Alcalá la Real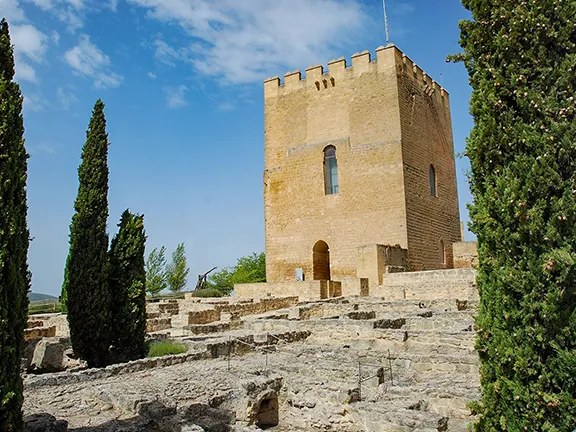 Fortaleza de la Mota
---