Playa de los Cocedores
Playa de los Cocedores at San Juan de los Terreros in Pulpi municipality is the easternmost beach in Almeria province. A perfect semi-circle of golden sand.
By Nick Nutter | Updated 23 Apr 2022 | Almería | Places To Go | Login to add to YOUR Favourites
or Read Later
This article has been visited 5,996 times
Weird sandstone erosion at Playa de los Cocedores
This beach is as far east as you can travel along the coast in Almeria. It is properly called Cala Cerrada, Closed Cove, due to the small, charming bay being almost enclosed by headlands. The locals however have known it as Playa de los Cocedores, Beach of Cookers, for generations. Cookers is not a reference to barbecues or even the chiringuito, it refers to the cauldrons that were set up on the beach to cook esparto grass until at least the latter half of the 20th century.
Esparto Grass
Petrified sandstone Playa de los Cocedores
Esparto grass has been grown for thousands of years; the earliest baskets made from esparto date back to the Neolithic period. But it is not just baskets. Sandals, umbrellas, place mats, hats, furniture, even personal ornamentation and body armour can be made from this versatile plant. Just behind the beach, in summer, is a Centre of Interpretation at which you can see how the grass was grown, treated, and many of the items that can be crafted. There is also a small exhibition at Castillo de San Juan. During the 19th century, Almeria even exported its esparto grass to places as far afield as London where it was used to make paper. The industry continued well into the 1960s.
Perfect semi-circle of golden sand
Overlooking Playa de los Cocedores
Enough with the history, back to the beach. It is only 150 metres from end to end, an almost perfect semi-circle of golden sand, with the open side facing south. Headlands to the east and west shelter the bay from all but the worst storms. The water is crystal clear and shallow, perfect for children. At the eastern end of the cove, an area has been partitioned off with stones to make a very sheltered paddling pool. Originally this was where the grass growers soaked the grass prior to simmering it in the cauldrons to make it pliable.
Cave shelters
Playa de los Cocedores eastern headland with shelters
The headlands are composed of petrified sand, sand that has not quite had enough time and pressure exerted on it to make sandstone. It is soft and easily eroded which accounts for the weird shapes some of the cliffs and stacks have formed. It also made it easy for those grass cutters to dig out caves to shelter them from the sun, house the cauldrons, and provide shelter for their mules and donkeys. Today they tend to become occupied by locals with all the paraphernalia needed for an extended family barbeque.
Chiringuito at Playa de los Cocedores
Esparto rig of the day
Behind the beach is a chiringuito that is only open during the summer and a huge area for car parking. Unfortunately dozens of mobile homes tend to congregate there and stay for weeks so turn up early.
Note: This article may contain affiliate/compensated links. That means that if you book through our link, we may earn a small commission (at no extra cost to you). For full information, please see our disclaimer here.
---
Do not miss visiting
Pulpi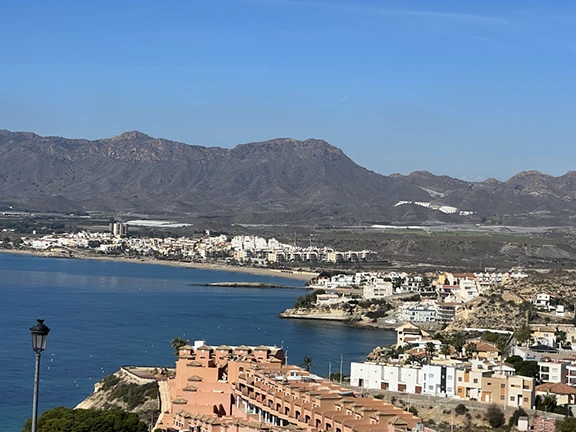 San Juan de los Terreros
Places to go in Pulpi
Pulpi Geode
Batería de San Juan de Terreros
---