Pradollano, winter sports in the Sierra Nevada
Pradollano or Sol y Nieve, is the place to go for winter sports in the Sierra Nevada, Granada Province, Andalucia, Spain
By Nick Nutter | Updated 25 Aug 2022 | Granada | Places To Go | Login to add to YOUR Favourites
or Read Later
This article has been visited 12,658 times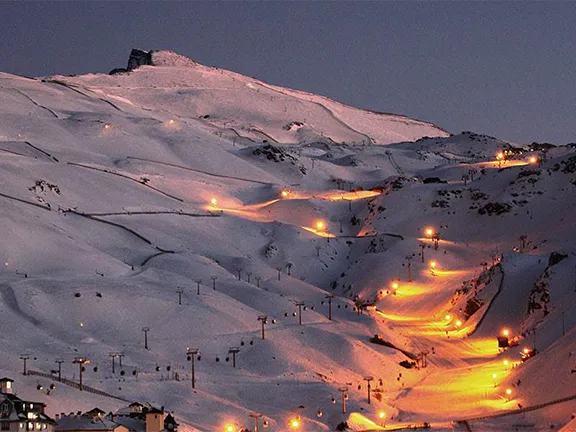 Night skiing
What do you fancy doing today, skiing, snowboarding, sledging, cross country skiing or winter mountain walking? Within an easy three hours drive from the Costa del Sol, you could be at Pradollano, you may sometimes hear it called Sol y Nieve, in the Sierra Nevadas, take your pick.
Sierra Nevada
Pradollano
The Sierra Nevada, at 86,208 hectares, is Spain's largest National Park. It also contains the highest mainland peak, Mulhacen, 3,482 metres, and 14 other peaks over 3,000 metres. 20,000 years ago, at the time of the last glacial maximum, the upper parts of the Sierra Nevada were covered in permanent ice. Since then less snow and ice has accumulated over the winter than has melted during the summer. This process accelerates as darker rock and earth is exposed for longer, causing the land to have a greater period of warming each year than when it is covered in snow and the sun's rays are reflected. The last vestiges of permanent ice disappeared from Mulhacen around 1990. Since then the trend has been for a shorter season of natural snow, and that at higher altitudes, each year. The extent of man's contribution to this natural warming is still very debatable but in Pradollano 300 snow blowers have been installed that, briefly, reverse the trend and extend the skiing season.
Mulhacen
When snow conditions are at their best there are 79 pistes with 23 lifts. Runs vary from undulating and wide for beginners to mogul fields for the insane. Most, however, are in the blue to red, easy to difficult, range. The ski lifts take you as far as the Borreguilles station but from here you can go further, deep into the mountains if you wish, on guided or non-guided cross country skiing trips or mountain walking. There is a particularly punishing 22-kilometre route from here that takes you to the top of Mulhacen.
Off the Piste
On the Piste
If you want some fun off the piste, particularly those with young children then drive out of Pradollano. Turn right at the car park outside town and follow the signs for Hoya de la Mora. This takes you up high above the town to a car park beyond which you cannot drive further. There are a couple of snack bars. From here you can take short walks to snow slopes (natural) beneath the Pico del Veleta (3,396 metres) that are not frequented by skiers, ideal for sledging. You can buy those plastic sledges that look like large shovels for a few Euros and hurtle down these slopes to your heart's content. Properly equipped (if you have to ask then this is not for you) it is only 5 km to the top of Veleta from which point you can see, seemingly and enticingly close, the higher peak of Mulhacen.
Astrotourism tours - on the roof of the world
Guided Skiing Routes
Over recent years the 'season' for the Sierra Nevada has been extended. A family leisure centre is open from July to September and mountain biking and walking is possible all year. Perhaps the most emotive experience available though is the Astrotourism tours. There is nothing quite as inspiring as standing on the roof of the world watching the sunrise or set over the surrounding peaks. On certain nights the Astrophysics Observatory, the highest in Europe, is part of the tour.
Ski Lifts
Note: This article may contain affiliate/compensated links. That means that if you book through our link, we may earn a small commission (at no extra cost to you). For full information, please see our disclaimer here.
---
See all the Sierra Nevada Parque Nacional articles here
More in the Sierra Nevada Parque Nacional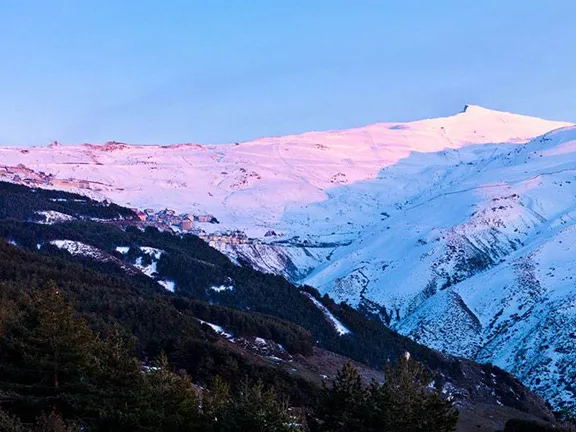 Sierra Nevada Parque Nacional
---