Puerto Banus luxury marina and exclusive holiday destination on the Costa del Sol
Puerto Banus is a luxury marina and exclusive holiday destination on the Costa del Sol in Marbella municipality, Malaga province, Andalucia
By Nick Nutter | Updated 29 Aug 2022 | Málaga | Villages | Login to add to YOUR Favourites
or Read Later
This article has been visited 17,853 times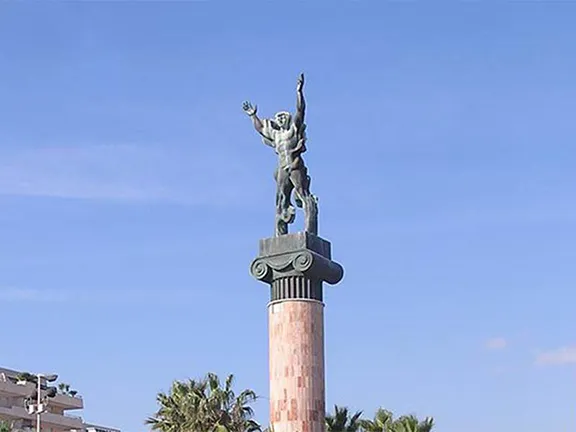 Puerto Banus
Until relatively recently Puerto Banus was a very exclusive holiday destination known only to the rich and famous and people from the local area. For the last dozen years though, Banus, only a few kilometres west of that other celebrated city of the stars, Marbella, has been trying to attract holiday makers of a different calibre from well to do business people to family groups.
Time then to see if Puerto Banus can provide entertainment for all ages.
With its own micro climate created by the sheltering mountains behind Banus, a typical year will have over 300 days of sunshine and average day temperatures of 19 degrees C. Ideal then for quality time on the beach, even during our so called winter. There are two beaches, one either side of the marina. Both have decent sand and the usual chiringuitos, sunbeds and umbrellas. The easterly beach has a group of slightly more upmarket establishments best described as beach restaurants, including one of the legendary El Pescadores fish restaurants where lobster will set you back 75 Euros per half kilo.
Fishing Village Transformed
Puerto Banus
Decades ago Puerto Banus was a small fishing village. It is very hard to imagine that now, but anybody that does remember those days will be amazed at the transformation.
The story starts in 1966 when Prince Alfonso de Hohenlohe invited the architect Noldi Schreck, who had participated in the design and build of Beverley Hills, to look at his plans for what became the Marbella's Golden Mile. This involved a meeting with Jose Banus, a local property developer who wanted to build high rise properties on top of a small local fishing village. Being a personal friend of Francisco Franco he may well have achieved this objective if Schreck had not persuaded him that a model Andalucian style village around a tasteful marina would make him more money. The resulting port became the first to be designed by a single architect and was named after its builder. The guest list for the opening ceremony in 1970 included such notables as the Aga Khan, Roman Polanski, Hugh Hefner, Prince Rainier and Princess Grace of Monaco. Julio Iglesias was hired for 125,000 pesetas (about 750 Euros) and 300 waiters from Seville served 22 kilos of Beluga caviar to a total of 1700 guests.
The Marina and Boutiques
Puerto Banus
The marina, once a beach with the local fishing boats pulled up on the sand, is now home to dozens of multi million euro boats owned by crowned heads of Europe and the Middle East, film stars and a sprinkling of self made multi-millionaires. It is a place where even the fenders wear fur coats and helicopters replace the ship's boat. For the vast majority of us these vessels are so unattainable that they are beyond envy. For that reason wandering around the marina is actually quite pleasurable and you never know who you will bump into. I am sure the middle-aged gentleman dripping with gold, wearing the open to the waist white shirt is somebody I have seen before, there again he could just as easily be a waiter from the fish restaurant.
Having gazed at the boats, cast your eyes inland as you walk up the jetties. Designer names nestle alongside restaurants with a scattering of souvenir shops among the cocktail and wine bars. Here you can buy a cheeky 'T' shirt for a few Euros or a fluffy mink beach bag for 6,000. There is no shortage of places to cool off with a drink or laze away a couple of hours over lunch just people watching and enjoying the view over the marina. Inexplicably the marina area is known as the Muelle Rivera, which translates as the easy or soft creek.
The Night Life
Puerto Banus
The narrow streets behind the marina only come alive at night. Here there are the pubs and clubs that have given Banus nightlife its worldwide reputation. Tapas bars provide an alternative meal choice and allow you to move from place to place having a nibble here and another there. All the while your ear drums are assaulted by the loud music emanating from open doors guarded by large heavy looking gentlemen. But this is a time and place for the younger generation and there are plenty of them about. Banus swings at night, all night.
Behind the Port
Just inland of the marina area you will find the fast food outlets, Burger King and the like and a shopping centre. There is a large square complete with an Irish Bar under which there is an underground car park. Behind that is El Corte Ingles. This celebrated store is renowned for stocking items the management fondly imagine are 'must haves' for the ex pat English community, the type and quality you would find 'back home'. The store at Puerto Banus is also geared towards the higher wealth bracket ex pat. I generally make a bee line to the Gourmet Section, not to buy, just to stare in wonderment at jars of baby habas for 12 Euros and bottles of wine that cost more than a small car. I sometimes buy a small item just to allow the staff to sneer at me as they put a jar of oil in a bag that probably costs more than the profit made. Then I return to reality and go to the supermarket on the ground floor, Hipercor. There is also a Starbucks if you fancy a coffee.
From the sublime to the Saturday flea market. The main part is on the inland side of the A7 (N340) with the odd overspill stall on the road leading to the port so for those who enjoy wandering round the stalls there is plenty to look at.
If you do get caught out on one of the few days each year that it rains then a visit to the cinema may be worthwhile. Check the website first though for the films that are in English, www.cinesgranmarbella.com. I remember a comedy film showing one December, it was definitely for the Spanish, it was called 'Donkey Xote' (Don Quixote – get it).
So, can Puerto Banus entertain the whole family? Yes it can, but for how long is another question. It is loud, it's brash, it's expensive and it's fun, in small doses.
Puerto Banus
Puerto Banus
Note: This article may contain affiliate/compensated links. That means that if you book through our link, we may earn a small commission (at no extra cost to you). For full information, please see our disclaimer here.
---
---