Sierra de Castril Parque Natural
The Parque Natural Sierra de Castril is in the southern part of the Sierra de Cazorla, Segura and Las Villas and has its own beauty and charm. not found in its larger neighbour.
By Nick Nutter | Updated 4 Sep 2022 | Granada | Parks | Login to add to YOUR Favourites
or Read Later
This article has been visited 3,673 times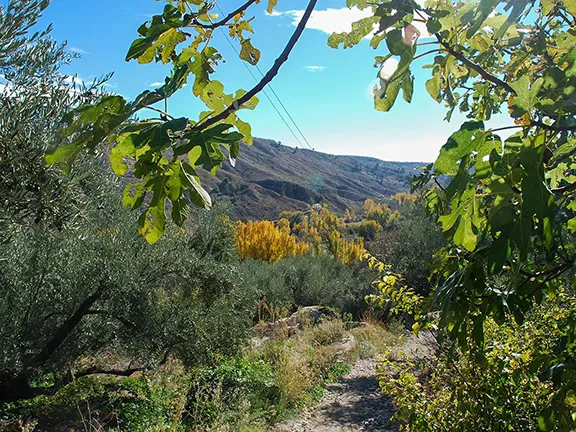 Sierra de Castril
Adjectives such as stunning, gorgeous, spectacular and others in the same vein fail to do justice to this park.
Autumn in Parque Natural Sierra de Castril
Embalse de Portillo Sierra de Castril
Autumn is the best time to visit when the colours of the leaves on the trees provide a display to rival that of Vermont in the USA. You will even find maple trees with deep orange and red foliage offset by the yellows of the gall oaks and the greenish grey of the junipers. Willows, poplars and elms complete the forest canopy alongside the river. Segura sheep graze on the light green grass. It truly is a breath-taking scenario.
The Rio Castril
Sierra de Castril
The Rio Castril emerges in the northern part of the park. It' s crystal clear waters serve as a refuge for common trout that, unlike other trout streams, have not been cross bred with other trout varieties. Over the millennia the river has carved itself a course through the limestone. Together with weathering caused by rain and wind, the valley is a karstic landscape with the bare, iron rich, rocks providing yet more colour above the trees. There are caves such as the Cave of Don Fernando that are still being explored by speleologists.
Fauna of the Parque Natural Sierra de Castril
Sierra de Castril
Otters are sometimes seen hunting for the trout and in the branches reaching over the rivers, kingfishers prey on the young fish. Dippers hop from stone to stone in the fast moving stream, occasionally entering the water to grab aquatic invertebrates and small minnows.
Sierra de Castril
Overhead you will see griffon vultures and, if you are lucky, bearded vultures. The bearded vultures are as a result of a re-introduction programme and the Parque Natural Sierra de Castril is reckoned to be the best place in Spain to see them. Spanish ibex are common on the higher peaks.
Access to Parque Natural Sierra de Castril
Sierra de Castril
The whole of the Parque Natural Sierra de Castril is accessible from the village of Castril and there are a number of well signposted walking routes through the park. The Visitors Centre at Castril has an excellent display and plenty of informative material about the park.
Note: This article may contain affiliate/compensated links. That means that if you book through our link, we may earn a small commission (at no extra cost to you). For full information, please see our disclaimer here.
---
See all the Sierra De Castril Parque Natural articles here
More in the Sierra De Castril Parque Natural
Castril
---