Fort Bravo Hollywood at Tabernas
Become a cowboy or girl for the day at Fort Bravo Hollywood, a western desert town in the Desert of Tabernas Natural Park in Almeria province, Andalucia, Spain,
By Nick Nutter | Updated 25 Aug 2022 | Almería | Places To Go | Login to add to YOUR Favourites
or Read Later
This article has been visited 19,206 times
Fort Bravo, Almeria
In the 1960s Hollywood decided that the desert area around Tabernas near Almería was a much more realistic setting for western films than any place in America. In the early 1970s, the Americans arrived and built a western town complete with a fort, a Mexican village and an Indian village.
Fort Bravo Hollywood
Riding into Fort Bravo
The Western set includes a gallows, bank, hotel, jail, blacksmith's shop and a Sheriff's office, all built in a style reminiscent of the American Old West era. This is Fort Bravo. The Mexican set features a church, a town square and pueblo-style houses, whilst the Indian village consists of tepees.
The spaghetti westerns of Sergio Leone
Gunfight at the saloon
Actors such as Clint Eastwood, Henry Fonda and Lee Van Cleef rode the plains, drank and played cards in the saloon and fought it out on the main street during the making of the spaghetti westerns of Sergio Leone, 'Once Upon a Time in the West', 'A Fistful of Dollars' and many more.
Ride the Plains
Mini Hollywood
Hire a horse and follow the trail of the 'Man With No Name', accompanied by suitable background music composed by Ennio Morricone played over the outdoor speaker system. The cowboys in the white hats and dust coats, watching through slit eyes as you pass by are the bad guys – don't be tempted to steal the horse. At 12.30pm and 2.30pm take a beer in the saloon. You may well become involved in the live entertainment, all the guns fire blanks but you can never be sure.
Fantasy Land
Fort Bravo
Today the sets are occasionally used for advertisements and films but the main attraction at Fort Bravo, Texas Hollywood, is the opportunity for grown men, and women, to act out their cowboy fantasies.
A Fistful of Dollars
Mini Hollywood
In 1977, a stuntman, Rafa Molina, bought the set for a fistful of dollars, 6,000 to be precise. His rationale was to encourage filming and thus his chances of employment. Hundreds of films and commercials have since been produced. Rafa's plot also worked. He has been hung, shot, blown up, dragged behind his horse, fallen off high buildings and been thrown through the saloon's batwing doors more times than is healthy for a grown man.
Apart from wandering around the sets, there is not a great deal for the younger child, it is definitely a man place, but a short distance back down the road towards Almería there is another attraction, Oasys Mini Hollywood.
Oasys Mini Hollywood
Oasys is a Western-style theme park. It was built for the film 'For a Few Dollars More' and includes an abandoned gold mine, saloon, stores and a bank. Mock bank raids occur several times each day, and Jesse James meets his maker every few hours. There is a Fun Barn for children's activities, a swimming complex in which to cool down and a zoo with big cats.
Last Film set at Oasys Mini Hollywood
After the filming of 'The Good, the Bad and the Ugly', the film extras purchased the set, for rather more than Rafa paid for his town, to promote it as a tourist attraction. They were later bought out by a hotel group.
Western Leone
If that is not enough for you then, on the A-92, north of Almería, you will find Western Leone. As the name suggests, it was built by Sergio himself. In addition to the regular wild west buildings, there is the original large red house that was a central location in 'Once Upon a Time in the West'. Shows take place in the saloon and on the street three or four times per day.
Museum of Film
Food and drink are available in the saloon and restaurant and, for those with a thirst for knowledge, there is a small film museum. Horses can be hired and, unlike at Fort Bravo, the rides are guided and take you into the surrounding desert where you will recognise many of the buttes and wadis, scenes of raids, ambushes and escapes in so many films. Sadly, there is no accompanying music
Check opening times for Fort Bravo here
How to get there
Fort Bravo: From Almería, take the A92 signposted Granada and Guadix. After 15 kilometres exit on the N340a signposted Sorbas. After about 5 kilometres you should see a dusty track on your left signposted Fort Bravo, Texas Hollywood. Drive along the trail for about 2 kilometres through buttes and canyons that have featured in hundreds of western films. You will emerge in a car park. www.fortbravo.org
Oasys Mini Hollywood: Leave Fort Bravo, return to the main road, turn right and drive for 4 kilometres. Oasys is on the left. www.oasysparquetematico.com/en/
Western Leone: Leave Oasys, turn left and join the A-92. Head north signposted Guadix. After 1 kilometre leave at the junction at kilometre 378.9. www.western-leone.es
Note: This article may contain affiliate/compensated links. That means that if you book through our link, we may earn a small commission (at no extra cost to you). For full information, please see our disclaimer here.
---
Do not miss visiting
Tabernas
Places to go in Tabernas
Castillo de Tabernas
See all the Desierto De Tabernas Paraje Natural articles here
More in the Desierto De Tabernas Paraje Natural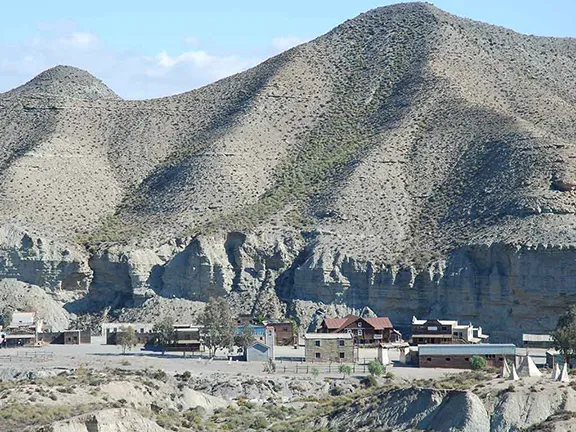 Desierto de Tabernas Paraje Natural
Tabernas
---