Gibraltar International Airport
Despite regularly appearing in lists of the scariest airfields in the world there have been surprisingly few incidents at Gibraltar airport.
By Nick Nutter | Updated 8 Sep 2022 | Gibraltar | Places To Go | Login to add to YOUR Favourites
or Read Later
This article has been visited 3,821 times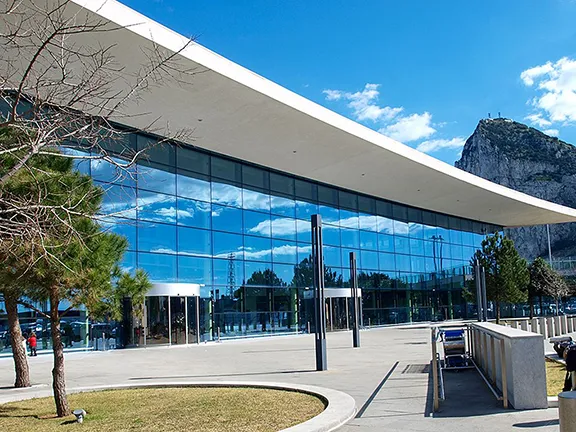 Gibraltar International Airport Terminal
Most of us suffer airports as a necessary place to transit on a journey. But then, most airports cannot claim to be tourist attractions.
The Rock from Gibraltar International Airport
Immediately after the frontier as you enter Gibraltar, on your left is the grandly named Gibraltar International Airport. The airport building you see today replaced the old terminal that dated back to 1959. The terminal's terrace was inaugurated by the Earl of Wessex Prince Edward, on the 13th June 2012 and the terminal itself opened for departures on the 26th September 2012. The old terminal was demolished in February 2014 to make way for the car park.
Viewing the Airfield
View from Queen Charlotte's Battery
There is a viewing platform and a café bar, open to the public, from which you can watch aircraft take off and land on this unique airfield. The view of the Rock and runway is superb.
Another great place to watch the comings and goings is from Queen Charlotte's Battery high up on the north face of The Rock. You will find yourself looking down on the aircraft as they take off and land.
Is Gibraltar one of the scariest runways in the world?
Easyjet Landing Gibraltar International Airport
Oh, yes, its reputation as one of the scariest runways in the world. It certainly presents a challenge to pilots. The runway is 1,800 metres long, plenty of room for an Airbus 320 that only needs 1,400 metres in order to land and somewhat less to take off. However, mistakes are frowned upon because both ends of the runway end up in the sea. Pilots tend to be cautious types and hit the reverse thrust hard as soon as the wheels are on the runway. That can be scary but is in fact perfectly safe and normal so long as you have your seat belt fastened.
Walking the runway at Gibraltar
The runway lies east to west. On its northern edge is The Rock, a definite hazard to navigation and responsible for unpredictable downdraughts; winds that whistle over the ridge and down towards the runway followed by an updraft as the wind 'bounces' off the ground. Pilots are aware of this phenomenon and are trained to deal with it. All the passenger feels is a sort of swoop down and then back up, like that experienced at the bottom of a dip on a roller coaster. Gibraltar is also prone, during easterly winds, to a Levanter cloud that sits over The Rock like a wet, grey, pillow.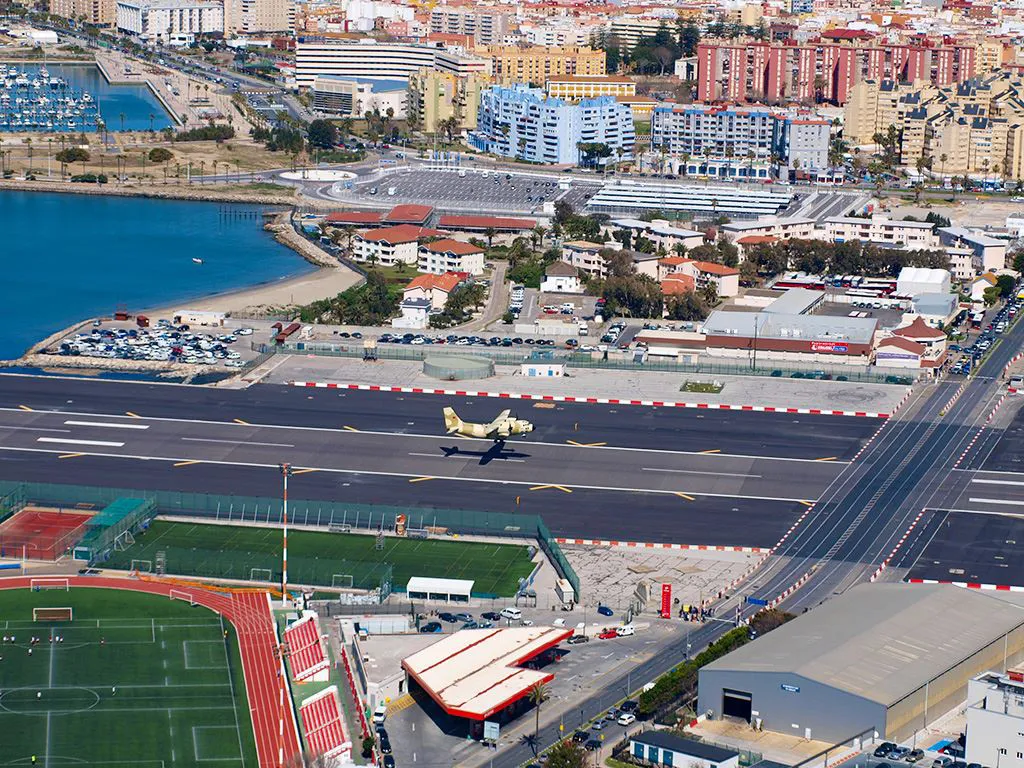 Spanish Airforce EADS CASA C295M landing at Gibraltar
Fog can also be a hazard and there are many passengers that have experienced the thrill of descending through a thick mist only to suddenly climb again into clear air and divert to Malaga airport.
Two Fatal Accidents
There have been very few flying accidents at Gibraltar airport, only two resulting in fatalities or injury and both were military, not civilian. The most famous, and first, was the crash soon after take off on the 4th July 1943 of a B42 Liberator carrying Lt. Gen. Wladyslaw Sikorski. The second occurred in August 1983 when a flight of three RAF Canberra jets took off and flew into cloud. One of the pilots became disorientated and crashed his aircraft into the sea.
Visit Gibraltar International Airport
Whether you are flying from or to Gibraltar International Airport or simply visiting Gibraltar, it is well worth spending an hour having a coffee, watching the comings and goings of aircraft, pedestrians and vehicles as they all compete for use of the runway all against the backdrop of that wonderful lump of limestone. Fascinating.
Note: This article may contain affiliate/compensated links. That means that if you book through our link, we may earn a small commission (at no extra cost to you). For full information, please see our disclaimer here.
---
Do not miss visiting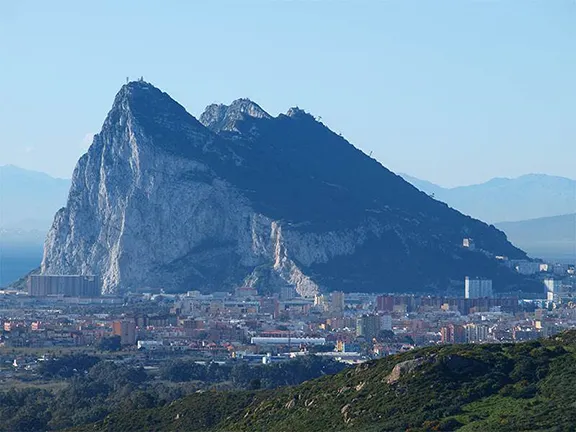 Gibraltar, a Overseas Territory
Places to go in Gibraltar
Gorhams Cave Viewing Platform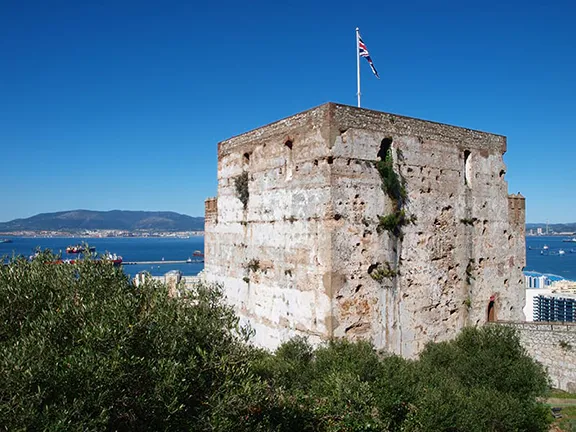 Tower of Homage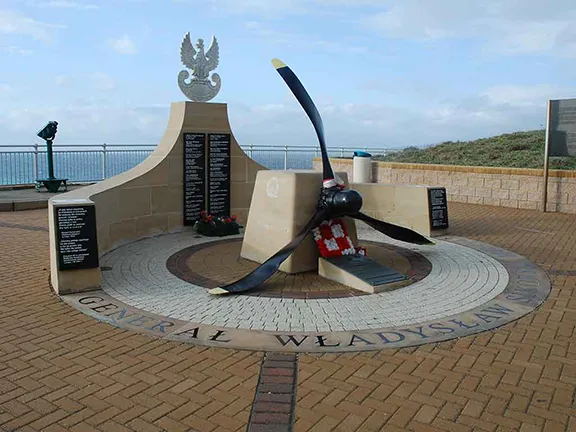 General Wladyslaw Sikorski Memorial
Museums and Galleries in Gibraltar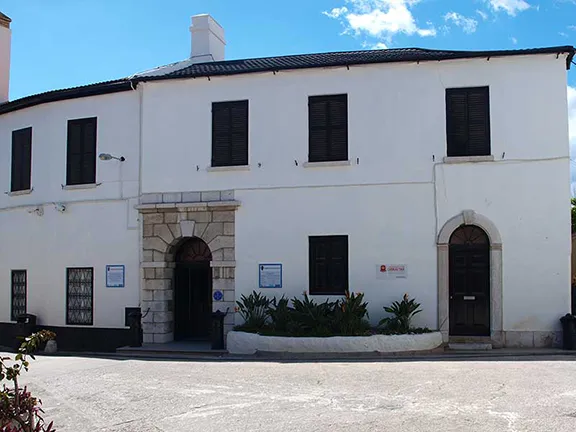 National Museum
---