Atajate, a small white village
Guide to Atajate in the Serranía de Ronda, the smallest municipality in Malaga province
By Nick Nutter | Updated 14 Sep 2022 | Málaga | Villages | Login to add to YOUR Favourites
or Read Later
This article has been visited 4,255 times
With a population hovering around 170, the white mountain village of Atajate, in La Serranía de Ronda is the smallest municipality in Malaga province.
El Castillo
High in the Genal valley, in the Serranía de Ronda, the area surrounding Atajate has been occupied since at least the Neolithic period. Polished stone axes, locally called thunderstones, are still occasionally found by farmers ploughing their land. The first permanent settlement seems to date back from the 8th century, during the Moorish period and occupied a hill once known as El Castillo, now called El Cuervo. The cemetery within a ruined church now occupies this hill.
Peninsula War
It was not until 19th century that the farming community at Atajate in any way made history. In 1810, during the Peninsular War, the villagers resisted the French occupation of their town because of which the French decided to destroy it together with the old church on El Castillo.
Smugglers Trails
The baroque style church you see today dominating the village, is called the Iglesias de San Roque San Jose and was built during the 19th century. The 19th century also saw the peak of the bandit activity for which the Serrenia de Ronda is famed. The valleys of the Genal are criss-crossed by smugglers and bandit trails, many of which make up good walking trails between the villages.
Sleepy White Village
Today, Atajate is a sleepy white village ideally placed for those that enjoy the outdoors. The 'Torcal of Atajate' is a famous walking destination, a karstic area smothered in Mediterranean vegetation.
Note: This article may contain affiliate/compensated links. That means that if you book through our link, we may earn a small commission (at no extra cost to you). For full information, please see our disclaimer here.
---
See the complete Road Trip From Estepona itinerary here
Next in the Road Trip From Estepona Itinerary
Atajate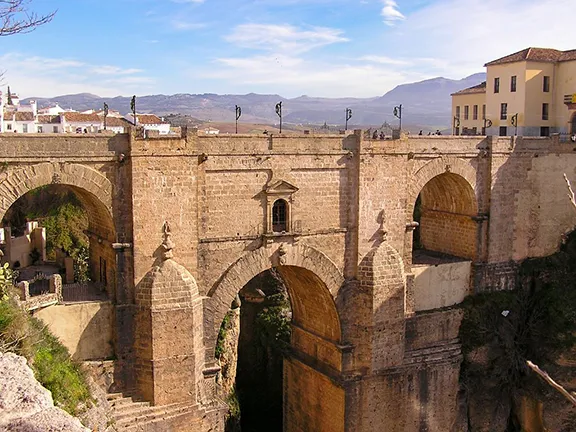 Ronda
---