Paragliding
Andalucia in southern Spain is one of the best paragliding areas you can find in Europe
By Nick Nutter | Updated 24 May 2022 | Andalucia | Extreme Sports | Login to add to YOUR Favourites
or Read Later
This article has been visited 4,761 times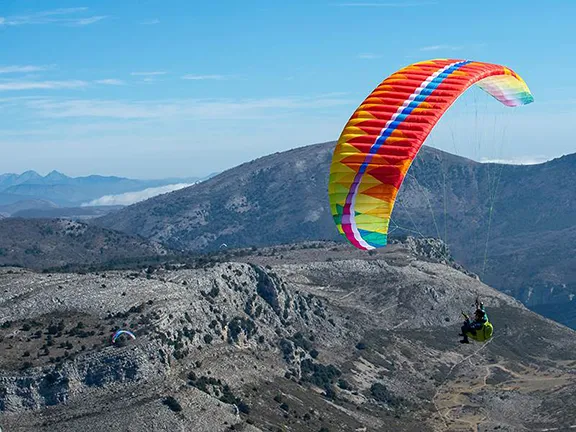 Andalucia is one of the best paragliding areas you can find in Europe. Paragliding is the sport of flying paragliders: lightweight, free-flying, foot-launched glider aircraft with no rigid primary structure. The pilot sits in a harness or lies supine in a cocoon-like 'speed bag' suspended below a fabric wing. Wing shape is maintained by the suspension lines, the pressure of air entering vents in the front of the wing, and the aerodynamic forces of the air flowing over the outside.
Paragliding Flights
Despite not using an engine, paraglider flights can last many hours and cover many hundreds of kilometres, though flights of one to two hours and covering some tens of kilometres are more the norm. By skilful exploitation of sources of lift, the pilot may gain height, often climbing to altitudes of a few thousand metres.
Paragliding in Sierra de la Lijar
One of the favourite areas in Andalucia for paragliding is the Sierra de la Lijar, centred on the village of Algodonales in Cadiz province. Nearby is the Sierra de Grazalema, a wilderness, home to Bonelli's eagle, Booted eagles and Golden eagles. You will be flying in good company.
Paragliding in Almeria
Less exploited, but if anything, more spectacular are the vast mountain ranges of Almeria that extend from far inland to the coast. They offer paragliders great launch points with flights presenting uninterrupted views of the magnificent landscapes and seascapes.
Most Popular Paragliding Areas in Andalucia
The most popular areas, divided by province are: in Malaga, Casarabonela and Teba, in Granada, Loja, Cenes de La Vega, and the Sierra Nevada, in Seville, Montellano, and in Cadiz Algodonales, El Bosque, and Vejer de la Frontera.
Unforgettable
Paragliding is an activity that everyone should experience at least once in a lifetime. The feeling of rising over the ground and then floating in the air being at the wind's will is simply unforgettable.
Note: This article may contain affiliate/compensated links. That means that if you book through our link, we may earn a small commission (at no extra cost to you). For full information, please see our disclaimer here.
---
More Extreme Sports in Andalucia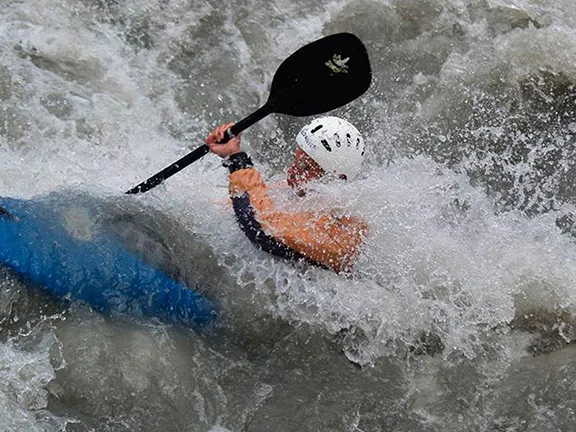 Kayaking and Canoeing
Kitesurfing
Skydiving
---