Surfing
The best surfing beaches in Andalucia are on the coast of Cadiz province
By Nick Nutter | Updated 5 Mar 2022 | Andalucia | Extreme Sports | Login to add to YOUR Favourites
or Read Later
This article has been visited 5,559 times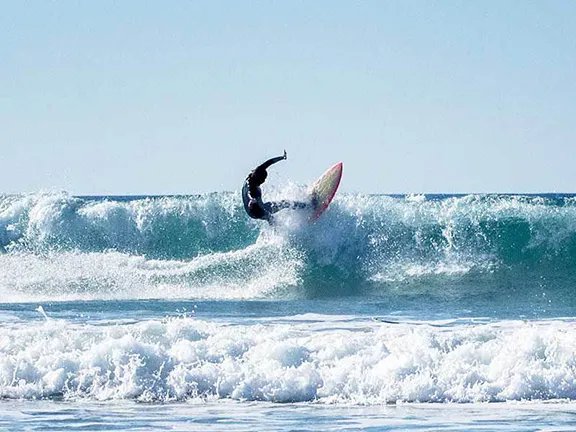 The best surfing beaches in Andalucia are on the coast of Cádiz province. There is nothing between them and the coast of North America, somewhere in the vicinity of Newport News, apart from 6,000 kilometres of Atlantic Ocean. Beaches such as Los Lances in Tarifa, de Caños de Meca in Barbate or La Fontanilla in Conil de la Frontera are famous among surfing lovers.
Surfing beaches in Cádiz province
Los Lances de Tarifa
This beach is the destination for surf lovers from all over the world. The strong wind through the Straits creates high waves.
Bateles Beach, Conil de la Frontera
Sandy beaches facing the Atlantic. This beach has several surfing schools in the area.
Cortadura Beach
Sandy beaches, no currents and slightly softer waves. Medium tides and northerly winds give the best conditions.
Yerbuena Beach, Barbate
A perfect beach for surfers with wind created waves, experts only.
El Palmar Beach, Vejer de la Frontera
With waves over 3 metres high, it is not surprising this beach sees the largest numbers of surfers in Spain. The surfing culture extends into the bars and shops in the town.
Caños de Meca Beaches, Barbate
Caños de Meca has some of the best surfing beaches in Andalucia. They tend to be rocky with several types of surfable waves very close to the shore. They are perfect beaches for mid- and high-level surfers but are not suitable for beginners.
Playa del Carmen, Barbate
Beginners should head for the nearby beach of Playa del Carmen in Barbate itself. Sandy, without currents and with long, gentle waves, this beach is a good option for beginners and mid-level surfers.
Playa de la Fontanilla, Conil de la Frontera
Playa de la Fontanilla in Conil de la Frontera is where the score tests for the Championship of Spain have been held for years. Cliffs protect the beach from the wind and it offers good right and left peaks. It does not often have tube waves.
Surfing beaches in Huelva province
Punta Umbria Beach
The coastline of Punta Umbría is ideal for practicing surfing. Many competitions are held here throughout the year, including bodyboard contests. The strong winds of the Atlantic Ocean and its general weather conditions turn this place into a surfers paradise. There are several beach bars and bars in the area that are frequented by surfers creating a fantastic atmosphere.
Mazagón Beach
Another very popular beach with good waves, sand underfoot and sheltered from inland by sand dunes.
Surfing beaches in Granada province
Playa Punta del Rio, Salobreña
Playa de Punta del Río is one of Costa Tropical's surfing points. It is a shallow beach at the mouth of the River Guadalfeo. Perfect for beginner and mid-level surfers. The waves, that occur almost every day, do not usually rise higher than one and a half metres and break very close to the shore.
Playa de la Chucha, Motri
Playa de la Chucha on the Costa Tropical, is perfect for surfing. If offers waves of mid- to high-level difficulty and tube waves like the famous ones in Hawaii.
Surfing beaches in Málaga province
Santa Amalia Beach, Fuengirola
A sort of Mecca for surfers with lots of shops selling surfboards and accessories.
Cabopino Beach, Marbella
Sandy beach, gentle rollers, ideal for beginners, kids and paddle surf.
Atalaya Beach, Estepona
Probably the best waves in the Mediterranean.
Note: This article may contain affiliate/compensated links. That means that if you book through our link, we may earn a small commission (at no extra cost to you). For full information, please see our disclaimer here.
---
More Extreme Sports in Andalucia
Climbing
Jet Skiing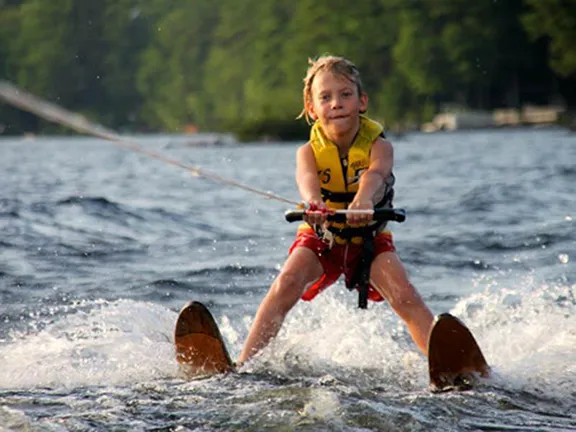 Water skiing and Wakeboarding
---