Rute gateway to the Sierra Subbética Natural Park
Rute is famous for its chocolate nativity scenes and is a gateway to the Sierra Subbética Natural Park.
By Nick Nutter | Updated 25 Aug 2022 | Córdoba | Villages | Login to add to YOUR Favourites
or Read Later
This article has been visited 4,131 times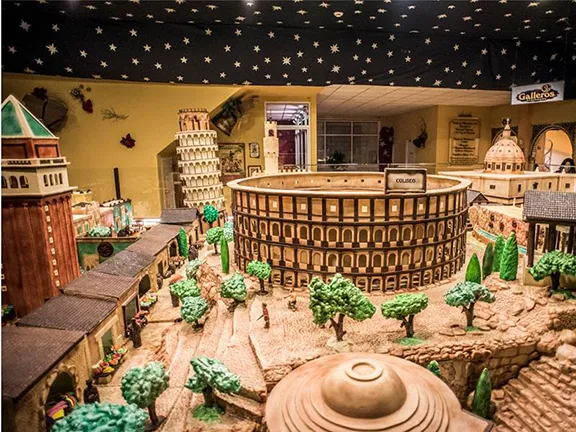 Chocolate belen
Famous for its liqueurs and brandies, Rute is a gateway to the Sierra Subbetica Natural Park. The village consists of steep streets with whitewashed houses. Take the kids to the Sugar Museum for a special treat at Christmas and then show them the largest chocolate nativity scene in the world (between mid October and the 5th January).
History of Rute
Anis Museum
Roman headstones and graves have been found in the village bearing testimony to its antiquity, and there are two prehistoric sites nearby: La Cueva Negra with Neolithic remains and El Camorro.
Rute was under Moslem control until 1240, when it was conquered by Ferdinand III. It was subsequently lost and reconquered by Alfonso XI, who colonised the village with Christians. During the Castilian civil wars around the year 1315, the village was left unprotected and consequently attacked and captured by Ozmir, who held it until 1341. It was later lost yet again before being conquered for the last time by Ramir Sanchez de Barrionuevo, to whom it was awarded by King John II in 1434.
Ramir Sanchez moved the site of the village to its present-day location.
Ramir Sanchez's son lost control over Rute through his disloyalty to the Crown, and in 1466, Henry III gave the village to Diego Fernandez de Cordoba, Count of Cabra, in return for his support in the capture of Ecija; Juan Fernandez of Cordoba, dean of Cordoba Cathedral, received the village as an entailed estate along with the Lord of Baena and the Counts of Cabra and Sesa.
Rute
Rute is definitely the place to go if you have a sweet tooth.
Museo del Anis
Rute
The distillery dates back to 1908 and the museum within has fully functioning stills and a history of anisette. Rute is one of the homes of anis.
Museos del Aguardiente Anisado de Rute y España
Turron
The museum looks at the history of a drink that is made in over 3,000 towns and villages all over Spain, in more than 10,000 distilleries and, of course, with over 20,000 different brands of anisette.
The basis of the museum is the exhibition of 8,000 items and 6,000 brands of anisette, although visitors may get to see new pieces at any time, because only 25% of everything they have relating to this unique drink is currently on display.
The Museos del Aguardiente Anisado de Rute y España also have something different to offer: the history of Spanish posters, the history of the bottle, lithographic labels, lithographers, graphic arts and advertising (what we now know today as marketing). Among other curious exhibits you'll find the first poster made in Spain with an unprecedented date for historians: 1820; orders for aguardiente (a generic term for distilled alcoholic beverages) in Reales de Vellón, the oldest known (1846); and the oldest bottle of pure wine aguardiente (made by distilling the molasses left over after treading the grapes) currently existing in the world.
La Flor de Rute Museo de Azúcar
Jamon Museum
The Flor de Rute sugar museum is a treat to be saved for Christmas, especially for the kids.
Founded over fifteen years ago, the museum has more than thirty models made of sugar, some of considerable size, including reproductions of Andalusian monuments, the Disneyland Paris Castle and St. Peter's Basilica. These sugary buildings are accompanied by life-size figures of the Duchess of Alba and painters such as Picasso and Dalí. There is even a sugary World Cup football.
At Christmas you will see the "mantecado" (cakes eaten at Christmas) factory and be able to taste samples.
Belén de Chocolate de Rute
You must also visit the Galleror Artesanos de Rute between mid October and the 5th January. Here you will find the largest chocolate nativity scene in the world. It is produced every year and is a tradition dating back 90 years. The scene in 2019 was 65 square metres in area and included a river of caramel.
Museo del Turrón Artesano
Turrón is a nougat confection made with honey, sugar and egg white with toasted almonds or other nuts. It is very much Moorish in both senses of the word.
Casa Museo del Jamón
"… and if you suffer convalescence, some slices of ham from Rute, will be your salvation", Miguel de Cervantes "El Casamiento Engañoso". If it is good enough for Spain's most renowned writer then it is good enough for me. This museum was founded by the Jiménez family of sherry fame. It has collected the tools and techniques used to cure jamón since time immemorial. There are also several beautiful ceramic mosaics representing scenes relating to this activity, such as the slaughter of the pigs, created by the artist Tomás Egea Azcona.
Note: This article may contain affiliate/compensated links. That means that if you book through our link, we may earn a small commission (at no extra cost to you). For full information, please see our disclaimer here.
---
See all the Sierras Subbéticas UNESCO Global Geopark articles here
More in the Sierras Subbéticas UNESCO Global Geopark
Doña Mencia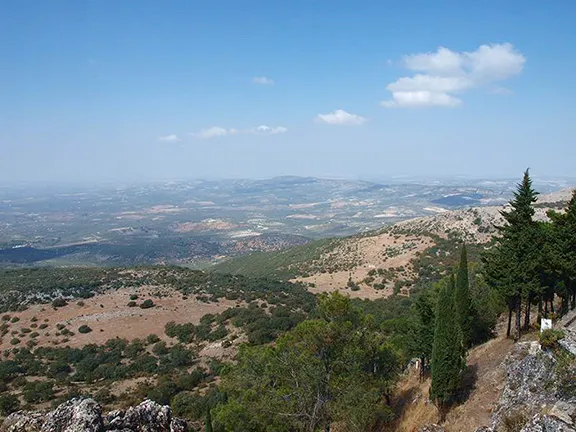 Sierras Subbeticas UNESCO Global Geopark
Cabra
---