Three Kings Festival
Until the influence of northern Europeans, Three Kings or Los Reyes Mago was the most eagerly awaited festival for Spanish children.
By Nick Nutter | Updated 28 Dec 2022 | Andalucia | Events | Login to add to YOUR Favourites
or Read Later
This article has been visited 1,955 times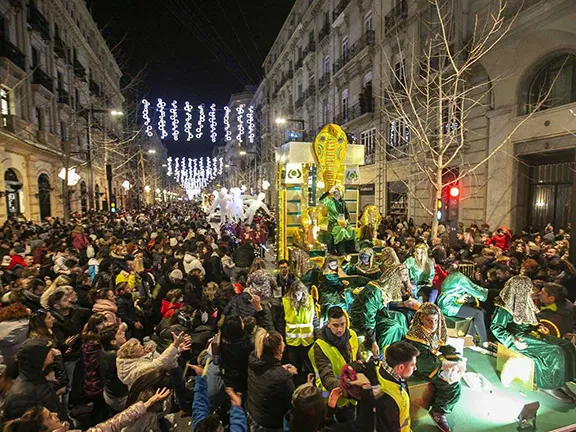 Procession of the Three Kings
Three Kings – Epiphany – Los Reyes Mago
Until recently, Epiphany, the 6th January, was the big day for Spanish families when gifts were exchanged and families got together to eat. Nowadays, most families split the gift exchanging between the 25th December and the 6th January when the three Kings, Melchior from Persia, Gaspar (also called "Caspar" or "Jaspar") from India, and Balthazar from Arabia, arrived in Bethlehem carrying gifts of frankincense, myrrh and gold.
5th January
The suspense starts at dusk on the 5th January when just about every hamlet, village, town and city, have cabalgata, parades, when the three Kings parade through the streets, on foot or on the back of decorated lorries. I actually witnessed one, many years ago, where the Kings were on real camels. The Kings toss sweets to the children as they pass.
Back home, the children are supposed to leave their shoes at the door to receive their gifts, presumably after the Kings have done their rounds with sweets.
6th January
The following day, the 6th January, starts with a breakfast of Roscón de Reyes, three Kings cake. This sweet bread, decorated with dried fruits and sugar, is sold in huge numbers from bakers and supermarkets during the early days of January. Then the families gather for another extended Christmas lunch and the exchange of gifts.
Did the 3 Wise Men Come from Andalucia?
Pope Benedict XVI, was elected in 2005 and retired in 2013. He holds a number of records, he is the first pope to resign since Gregory XII in 1415, and the first to do so on his own initiative since Celestine V in 1294. On the 4th September 2020, Benedict XVI became the longest-lived person to have held the office of pope, at 93 years, 4 months, 16 days, surpassing Leo XIII, who died in 1903. He is particularly loved by Andalucians because he proclaimed that the Three Wise Men came from Andalucia. Well, he should know.
Cabalgatas de Reyes (Three Kings Parades) in the provincial capitals of Andalucia
Three Kings Parade in Almeria
The Three Kings Parade in Almeria starts about 7pm from Rambla Obispo Orbera.
Three Kings Parade in Cádiz
Cádiz always tries to be different. In 2022, the Three Kings Parade featured a 'wonky bear' that received more press than any other feature. The parade starts about 5.30pm from Parque Genoves.
Three Kings Parade in Córdoba
The Cabalgatas de Reyes in Córdoba starts about 5pm in Plaza de Santa Teresa.
Three Kings Parade in Granada
Over 30 floats take part in this magical cabalgatas in Granada. It starts at 5pm from Salida Pal. Deportes and wends its way north to finish about 10pm at Llegado a Mondragones.
Three Kings Parade in Huelva
The Cabalgatas de Reyes in Huelva starts early at 3.30pm on Explanada del Santuario de la Cinta.
Three Kings Parade in Jaén
The Three Kings Parade in Jaén starts at 7pm from Plaza de Santa Maria.
Cabalgatas de Reyes in Málaga
The Cabalgatas de Reyes in Málaga starts at 6pm on Avenida Cervantes.
Three Kings Parade in Seville
The Three Kings Parade in Seville is the longest in Spain and lasts six hours. Over 30 floats slowly parade through the streets starting from the Universidad de Sevilla about 4.30pm.
Note: This article may contain affiliate/compensated links. That means that if you book through our link, we may earn a small commission (at no extra cost to you). For full information, please see our disclaimer here.
---
More Events in Andalucia province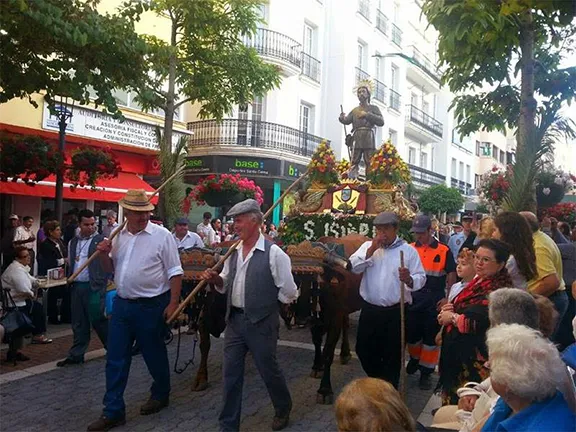 Festival of San Isidro Labrador - 15th May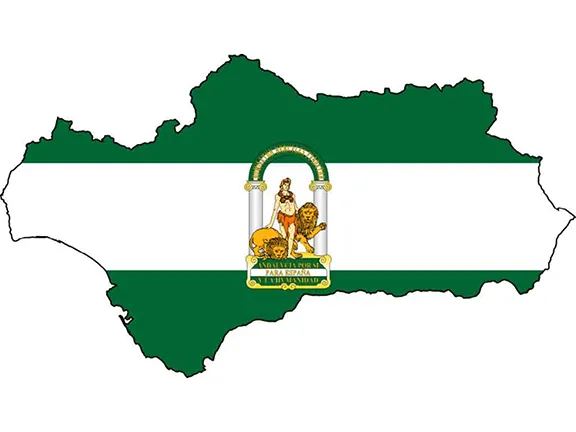 Dia del Andalucia - 28th February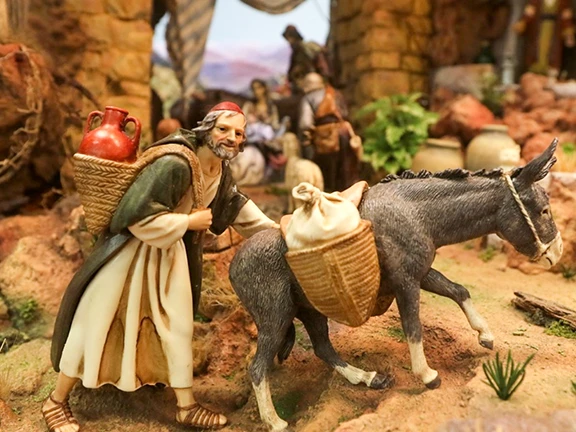 Navidad - Christmas in Andalucia
---