Visitors Guide to Huelva City
The city of Huelva is on the Atlantic coast of Andalucia in southern Spain. It is an ancient city with a decidedly modern look that makes a great base from which to explore the nearby Doñana National Park, Palos de la Frontera from which Columbus sailed on his first voyage to the Americas, the Sherry Triangle where you will find the best sherry in the world, and the Rio Tinto mining area.
By Nick Nutter | Updated 23 Sep 2022 | Huelva | Cities | Login to add to YOUR Favourites
or Read Later
This article has been visited 2,233 times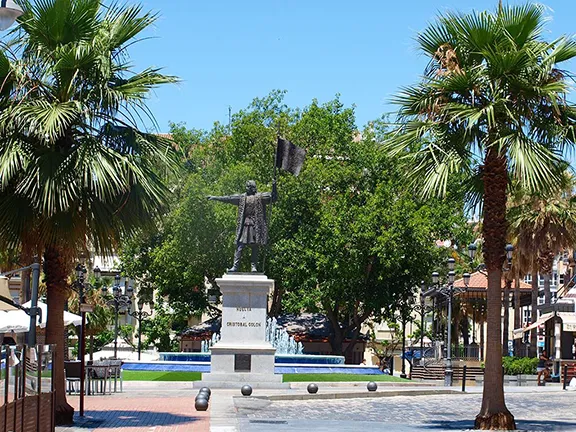 Huelva city centre
Huelva city is off the main tourist trail which is a pity. It is a welcoming, clean, modern city that surprises those who venture there. Huelva has enough attractions to keep any visitor busy for a few days.
Muelle del Tinto
Muelle del Tinto and Huelva harbour
Every visitor wonders about the gigantic metal pier built into the Rio Odiel just south of the harbour at Huelva. The Muelle del Tinto was built in the 19th century by the Rio Tinto Mining Company Ltd, a British Company that was exploiting the mineral ores in the Rio Tinto area. It was an ore loading dock in its day and is now converted into an unusual promenade that has become a favourite place for a stroll.
Barrio Reina Victoria
Barrio Reina Victoria
In fact there are signs of the British involvement all over the city. Close to the city centre you find Barrio Reina Victoria. This urban area is an English Victorian suburb with a quirky mix of Victorian colonial building, built in Huelva to house the management of the Rio Tinto Company. This unique barrio has been declared a 'Site of Historical Interest'.
Plaza de las Monjas
Plaza de las Monjas
The palm shaded square of Plaza de las Monjas is the social centre of Huelva. Coffee shops, bars and restaurants provide refreshment in what was once the 18th century Convento de las Madres Agustinas. A statue of Christopher Columbus guards the immaculately clean, colonnaded plaza.
Playa el Espigón
Odiel Marismas
This has to be one of the quietest beaches in Andalucia, on weekdays at any rate. It is within the Paraje Natural de las Marismas del Odiel so you are also handily placed for some decent bird watching. This Paraje Natural is famous for its flocks of flamingos that fly in during the spring.
The beach itself is a long expanse of golden sand backed by dunes with the cool clear waters of the Atlantic Ocean lapping the shore. You have to leave Huelva via the bridge over the Rio Odiel at Corrales and then head south on the road to the Faro (lighthouse) de El Espigón. The road takes you the length of a naturally occurring sandspit or flecha as they are known in Spain. Along the way there are a few observatories from which to observe the wildfowl that live in the marismas. The journey is worth it for the scenery alone.
Gran Teatro
Monument to Miners
Huelva's Gran Teatro, inaugurated in 1923, is another legacy of the Rio Tinto Mining Company and is still open. It is at its most lively during the carnival season in February. Local groups called Chirigotas, perform musical and political satire. You may not understand the innuendo but it is a colourful, often hilarious, display.
Casa de Colon
Another place where you should catch an event or exhibition is at Casa de Colon. The Casa de Colón, also known as the Columbus House, first opened its doors as a hotel in 1883.
This historic building has a design reminiscent of the plantation houses in America's southern states, with its wrought-iron balconies and a central courtyard – which comes as no surprise, being associated with the man who discovered America.
The hotel was purchased by the Rio Tinto Mining Company in 1892 to house personnel to manage the railway and pier.
When the Company left Huelva, the Casa deColon was transformed into an exhibition centre.
Parque Zafra
Parque Zafra is a wonderful, open park full of sculptures, colourful and immaculately kept gardens and fountains. A super place for a cool, quiet stroll, right in the middle of a bustling city.
Parque Moret
Parque Moret is a total contrast. This is the park where families come to picnic on the grass, buskers entertain and wildfowl scavenge for scraps to amuse the kids.
Eating and drinking in Huelva
Huelva is not a heaving tourist destination so you are not faced with questionable culinary delights in dozens of 'restaurants' that feel the need to extol their identical virtues in pictures on noticeboards. Start at Plaza de las Monjas and the streets leading from it. You will find tapas restaurants alongside high class restaurants that serve imaginative dishes based on local ingredients. Huelva won the title of Spanish Capital of Gastronomyin 2017.
Fish is obviously on the menu and, in Huelva, you will eat fish from the Atlantic. Try the cod served with gratinated tomatoes with an almond and asparagus mayonnaise, or a plate of the white shrimps. The sweet taste and unmistakeable texture of these shrimps makes them incredibly moreish. Skate in paprika, and wedge clams served in a simple sauce of olive oil, garlic, parsley and white wine will excite the nostrils as well as the palate. For dessert you will not go far wrong with Huelva strawberries from the Lepe region where they are grown and picked year round.
Shopping in Huelva
Finally, shopping. You will find the larger department stores such as El Corte Ingles outside the centre of the town but, in the pedestrianised streets around Plaza de las Monjas there are boutiques and delicatessens to cater for every taste. It is a bustling, lively area with a great atmosphere.
Note: This article may contain affiliate/compensated links. That means that if you book through our link, we may earn a small commission (at no extra cost to you). For full information, please see our disclaimer here.
---
More about Huelva
Historical Guide to Huelva City
Museums and Galleries in Huelva
Archaeological Museum
See all the Marismas Del Odiel Paraje Natural articles here
More in the Marismas Del Odiel Paraje Natural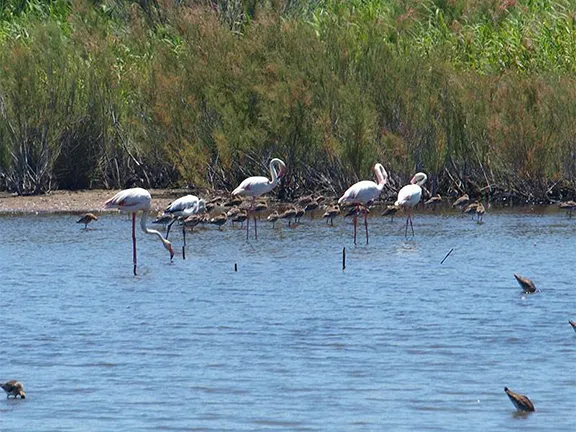 Marismas del Odiel Paraje Natural
---