Where to Stay in Seville: Uncovering the Best Neighbourhoods and Places to Stay
This guide on where to stay in Seville has all the essential information on the best neighbourhoods and areas for visitors to stay in, plus hotel recommendations!
By Liza S. | Updated 26 Sep 2023 | Seville | Where To Stay | Login to add to YOUR Favourites
or Read Later
This article has been visited 104 times
Seville Historic Centre
Deciding where to stay in Seville can make all the difference in your trip to this Andalucian gem. With its rich history, lively culture, and diverse neighbourhoods, Seville offers something for every type of traveller.
Whether you're on a tight budget, seeking luxury, or wanting to be in the heart of it all, this guide to the best places to stay in Seville will break down the city's top areas to help you choose the ideal base for your Sevillian adventure.
What to Consider Before Booking a Place to Stay in Seville
When searching for accommodation in Seville, it's crucial to think beyond just securing a bed for the night. Finding a place that complements your itinerary, suits your budget, and enhances your overall travel experience can profoundly influence your stay.
Here are some factors to keep in mind when browsing Seville hotels and neighbourhoods for the best places to stay.
Proximity to Key Attractions
Seville is a city steeped in history, hosting iconic landmarks such as the awe-inspiring Seville Cathedral and the illustrious Alcázar.
If exploring these historic marvels is a priority for your trip, choosing a centrally located accommodation can be a game-changer. Not only will it minimise your commute to these sights, but it could also save you a significant amount in transport costs. When considering a potential Seville stay, evaluate its location and its proximity to the attractions you're most eager to visit.
Budget
Your budget is undeniably a major determining factor when choosing where to stay. Seville offers a vast range of options, from cosy, budget-friendly hostels to opulent boutique hotels.
While everyone has a different comfort threshold when it comes to spending, it's wise to set a clear budget from the outset. Also, bear in mind that sometimes, investing a bit more in a central location can offset costs elsewhere, like on transportation.
The good news is that there are plenty of accommodation choices available in Seville for budget-conscious travellers. Be sure to book your room or bed in advance to secure the best deal!
Type of Experience
Seville, in all its vibrancy, can offer diverse experiences based on where you stay.
If you're someone who wants to delve deep into local culture and day-to-day life, neighbourhoods like Triana might appeal to you. In contrast, history enthusiasts might find themselves drawn to the maze-like alleys of Santa Cruz, a district echoing tales of the city's past.
So before booking, it's valuable to ask yourself: what kind of Sevillian experience am I after?
Accessibility
Whether you're a seasoned traveller or a newbie, the convenience of accessibility can't be overstated.
If you're the type to embark on multiple day trips or have a late-night flight, being close to key transport hubs can make a world of difference. Areas such as El Arenal are renowned for their connectivity, streamlining your commutes and making your travel experience that bit smoother.
Duration of Stay
Lastly, the length of your stay in Seville can influence your choice of neighbourhood.
For those breezing through the city on a short break, a central location like Santa Cruz ensures you squeeze the most out of every moment. But if you're setting up camp for a more extended period, you might enjoy the tranquillity of a quieter neighbourhood such as La Macarena, offering a balanced mix of local life and touristy highlights.
In the end, Seville, with its endearing blend of tradition and modernity, promises a delightful stay regardless of where you choose. But with a little thought and research, you can ensure your chosen spot truly enhances your Andalucian adventure.
Where to Stay in Seville: Best Areas & Places to Stay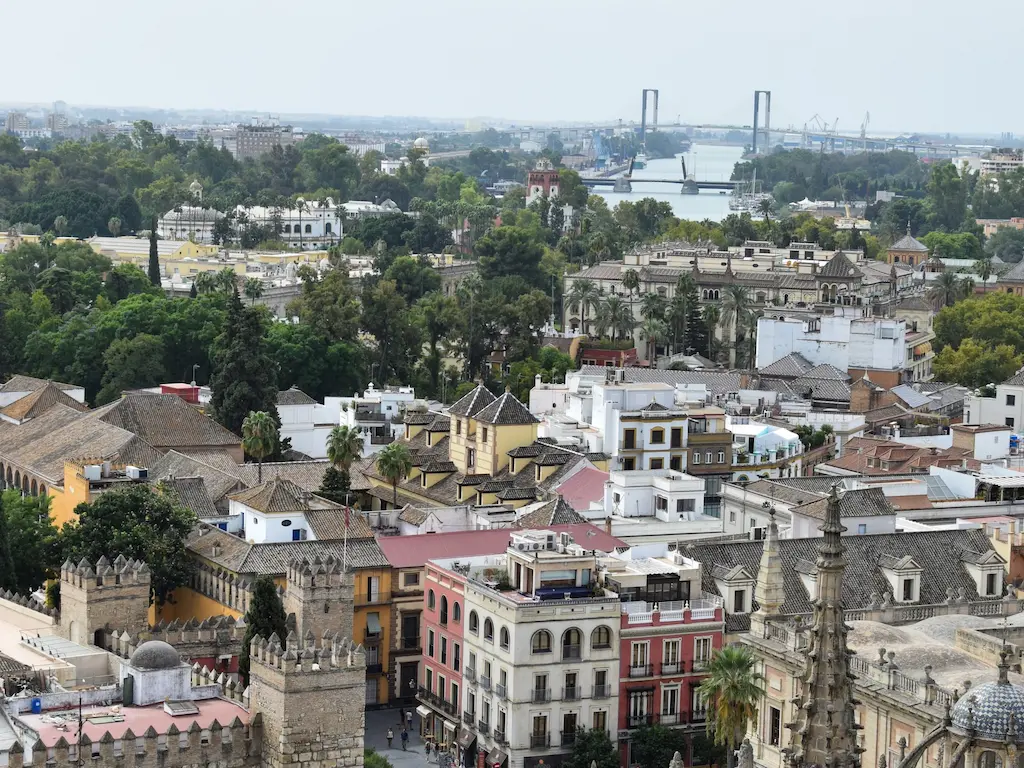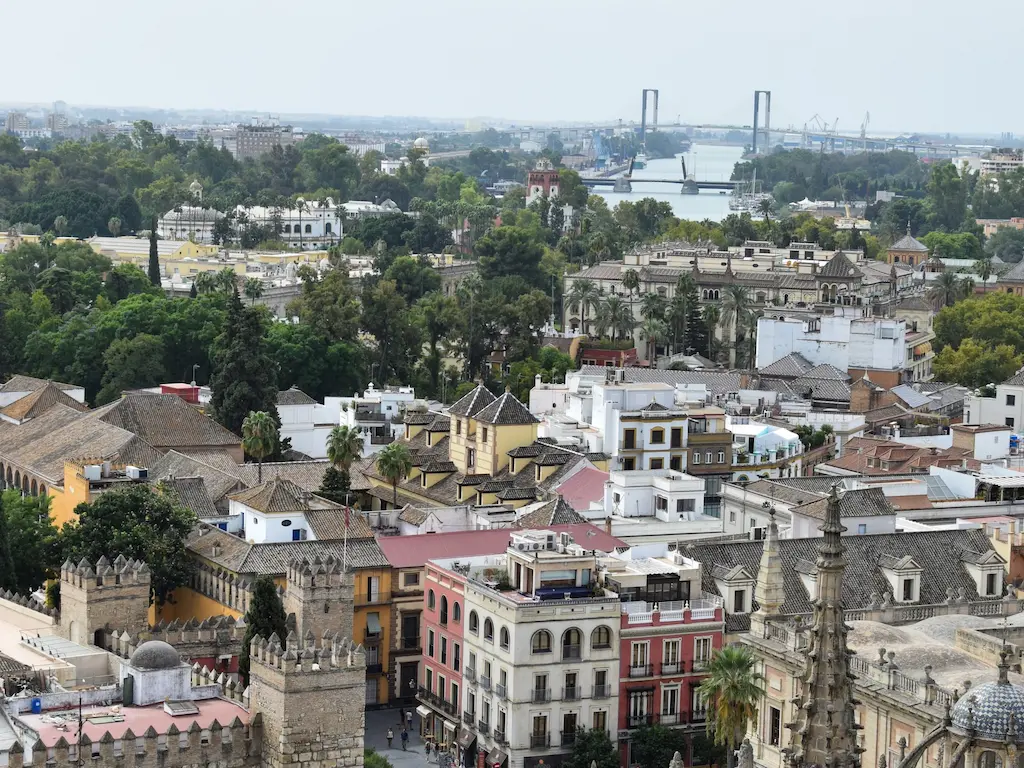 View of Seville's historic centre
Seville has its own unique rhythm, a melange of Moorish past and vibrant present. As Spain's fourth-largest city, it boasts diverse neighbourhoods, each with its own charm.
From the history-soaked alleys of Santa Cruz to the flamenco beats of Triana, there's a corner of Seville tailored for every traveller. Whether you're seeking luxury amidst historic palaces, affordable stays in bustling locales, or a quiet retreat in local barrios, our Seville neighbourhood guide will navigate you through Seville's best areas, hostels, and hotels, ensuring your stay is as enchanting as the city itself.
Let's dive in!
Santa Cruz
Santa Cruz is the heartbeat of Seville's historic centre. With its labyrinth of narrow alleys, whitewashed buildings adorned with blooming bougainvillaea, and an atmosphere rich in history and legends, it's a must-visit for those wanting to feel the essence of Seville.
Formerly Seville's Jewish quarter, Santa Cruz is a tapestry of tales. Every corner, plaza, and courtyard whispers stories of the past. The area is best suited for travellers seeking a deep historical connection, those who wish to be at the centre of cultural attractions, or simply those who enjoy losing themselves in picturesque, winding streets.
Santa Cruz is not just a neighbourhood; it's an experience. Staying here ensures you're immersed in the city's history, culture, and undeniable charm.
I chose to stay in Santa Cruz on my first visit to Seville and it was a fantastic decision as it put me in the heart of the city's historic centre. It was super easy to get around and I felt immersed in Seville's vibe. So if you're a first-time visitor to Seville, Santa Cruz is, in my opinion, the best area to stay. This is also a great neighbourhood if you're only in Seville for a short visit.
Neighbourhood Highlights:
Seville Cathedral: This colossal Gothic cathedral, with its iconic Giralda tower, offers panoramic views of the city.
Alcázar: A royal palace of stunning Mudéjar architecture, where intricate tilework and lush gardens await exploration.
Barrio Santa Cruz: Simply wandering through its streets, discovering hidden squares like the Plaza de Doña Elvira, is an experience in itself.
Recommended Hotels in Santa Cruz
Budget
Onefam Catedral: Perfect for backpackers, this hostel boasts a sociable atmosphere and is a stone's throw away from major attractions.
Mid-range
Hotel Amadeus: A charming, musically themed hotel with rooftop views of the cathedral and a serene Andalusian courtyard.
Luxury
Hotel Casa 1800: A luxurious retreat nestled in a 19th-century mansion, offering rooftop pool views of the Giralda and exquisite rooms that blend tradition with modern comfort.
El Arenal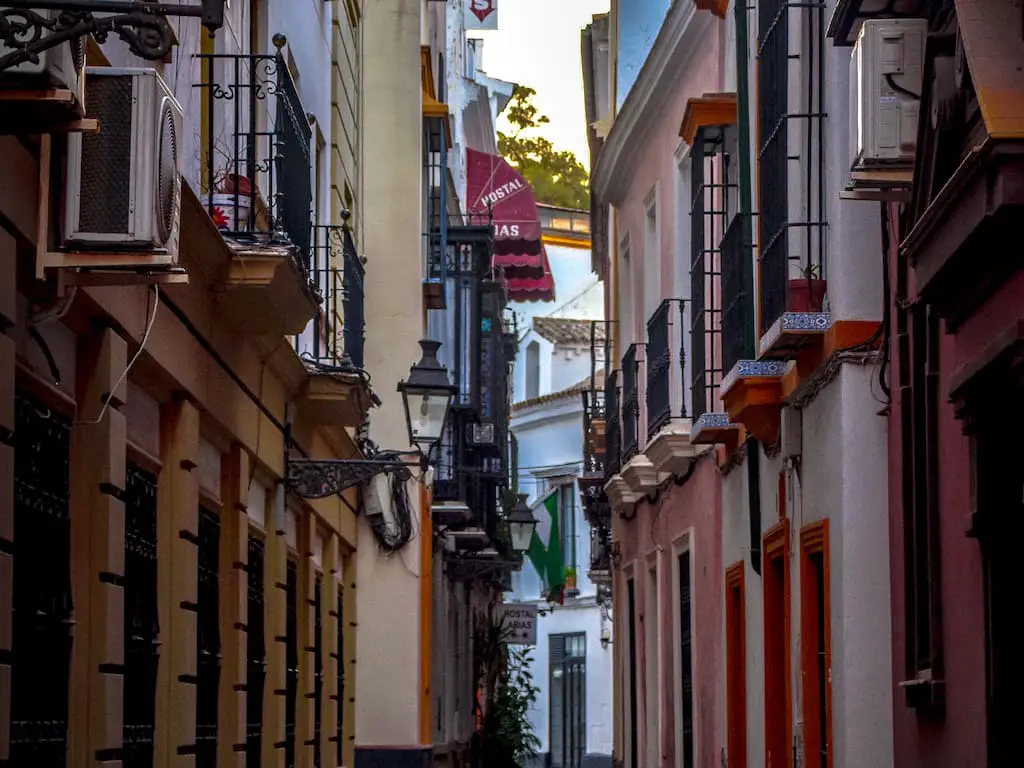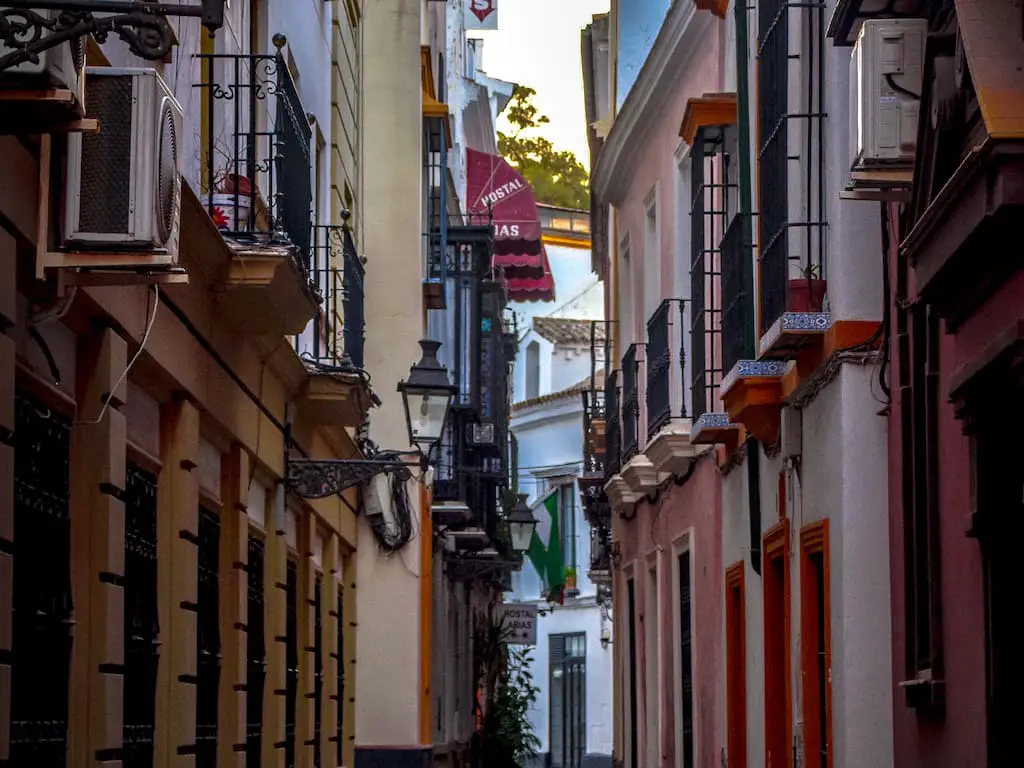 Streets of Sevilla
El Arenal, once the bustling port area during the Age of Exploration, is now a lively neighbourhood characterised by its energetic atmosphere, bullfighting traditions, and riverside allure. Lying between the cathedral and the Guadalquivir River, it's a place where Seville's maritime past fuses effortlessly with contemporary vibes.
In bygone days, El Arenal was the hub of trade, where ships sailing to the New World would anchor. Today, the area is renowned for its cultural venues, inviting tapas bars, and riverside walks. If you are the kind of traveller seeking both history and a vibrant street life, or you're keen on experiencing Seville's famed bullfighting culture, El Arenal is the place for you.
A stay in El Arenal puts you at the heart of some of Seville's most iconic sights while offering a genuine taste of local life. The proximity to the river gives this neighbourhood a fresh ambience, making it an ideal spot for both sightseeing and relaxation.
I've stayed in El Arenal and found it to be a great area to stay in Seville. Accommodations here are slightly more affordable than those in Santa Cruz yet you're still just minutes from the city's main attractions. I also love being near the river.
Neighbourhood Highlights:
Plaza de Toros: The historic bullring offers tours that dive deep into Spain's bullfighting traditions.
Torre del Oro: This dodecagonal military watchtower provides splendid views of Seville and is a testament to the city's Moorish past.
Guadalquivir Riverfront: Stroll along the riverside, soaking in the views, and perhaps embark on a river cruise for a different perspective of Seville.
Recommended Hotels in El Arenal
Budget
La Banda Rooftop Hostel: A favourite among solo travellers, this vibrant hostel is known for its rooftop terrace with panoramic views of Seville's skyline, perfect for socialising and sunset watching. (Personal recommendation)
Mid-range
Hotel Bécquer: Located within traditional Sevillian architecture, this hotel offers modern comforts and a rooftop pool that overlooks the city's skyline.
Luxury
Hotel Mercer: A 5-star haven that combines contemporary design with historical architecture, guests are treated to rooftop views, a pool, and an elegant gastronomic experience.
Triana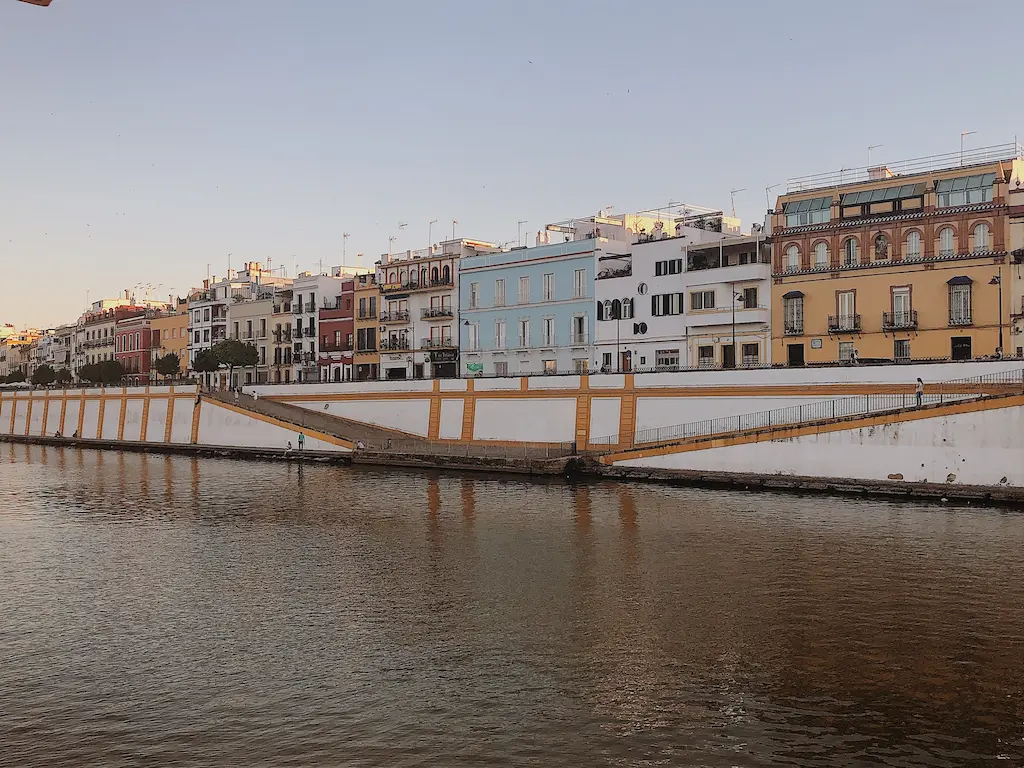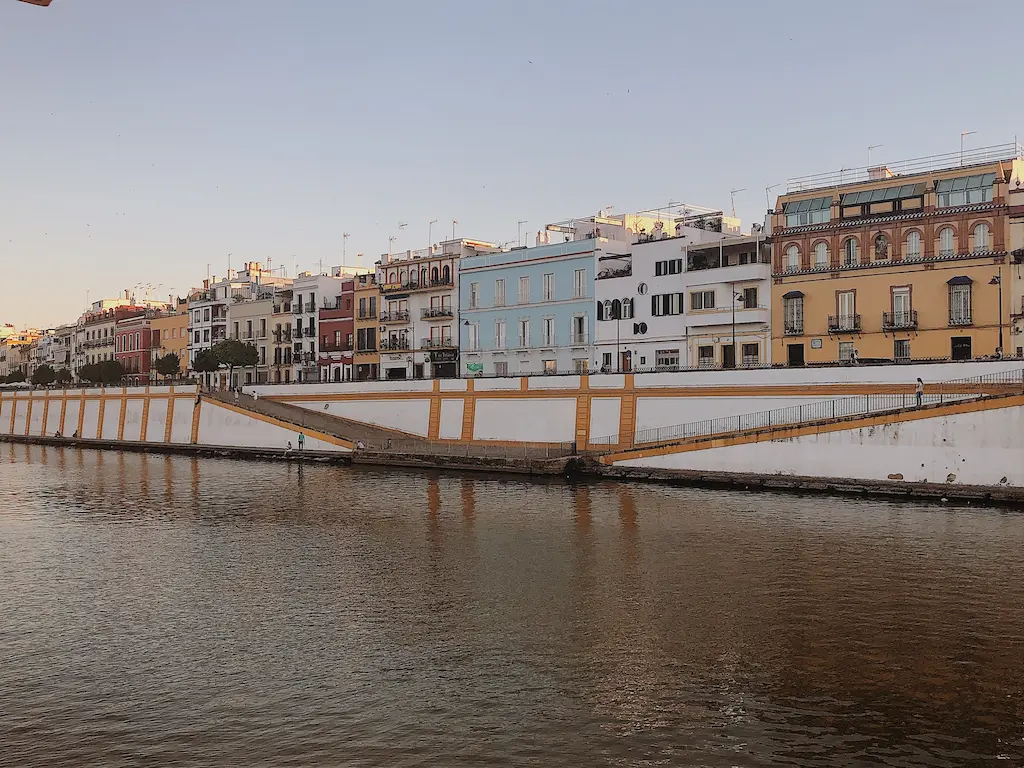 Triana neighbourhood in Seville
Across the shimmering waters of the Guadalquivir River lies Triana, Seville's fiercely proud and independent neighbourhood. Historically, Triana was the home of sailors, bullfighters, and flamenco artists, and even today, it dances to its own rhythm, embodying a deeply-rooted Andalucian spirit.
Once separated from the main city by the river, Triana developed its own distinctive character and traditions. The neighbourhood's ceramic workshops, flamenco bars, and historic streets speak volumes of its rich cultural tapestry. If you're an enthusiast of authentic experiences, traditional crafts, and the passionate art of flamenco, Triana will capture your heart.
By choosing to stay in Triana, you not only immerse yourself in an area steeped in tradition but also enjoy splendid views of the cityscape, especially during sunset. It's an ideal place to experience Seville as a local, away from the primary tourist hustle, yet close enough to the city's main attractions.
Depending on where you stay in Triana, you may still be within walking distance to the historic centre so if you love racking up those days while sightseeing, staying in Triana isn't an issue. And of course, there are buses that connect Triana and the city centre as well as taxis for convenience.
Neighbourhood Highlights:
Castillo de San Jorge & Triana Market: Once a fortress, the ruins of this castle now lie beneath a bustling market, offering a blend of history and fresh local produce.
Calle Betis: A picturesque riverside street lined with eateries and bars, it's the perfect spot to enjoy the Seville skyline and vibrant nightlife.
Centro Cerámica Triana: Dive into Triana's pottery tradition at this ceramic centre and museum, showcasing the art and history of the region's iconic craft.
Recommended Hotels in Triana
Budget
Hostel Triana Backpackers: A warm and welcoming hostel in the heart of Triana, offering budget travellers a taste of traditional Seville with its Andalusian patio and close proximity to local attractions.
Mid-range
Monte Triana Hotel: A comfortable and modern hotel that boasts spacious rooms and is situated just a short walk from the iconic Triana Bridge, connecting guests to Seville's main sights.
Luxury
Ribera de Triana Hotel: An upscale choice that provides guests with luxury amenities including a rooftop pool, spa, and breathtaking views of the river and Seville's historic centre.
La Macarena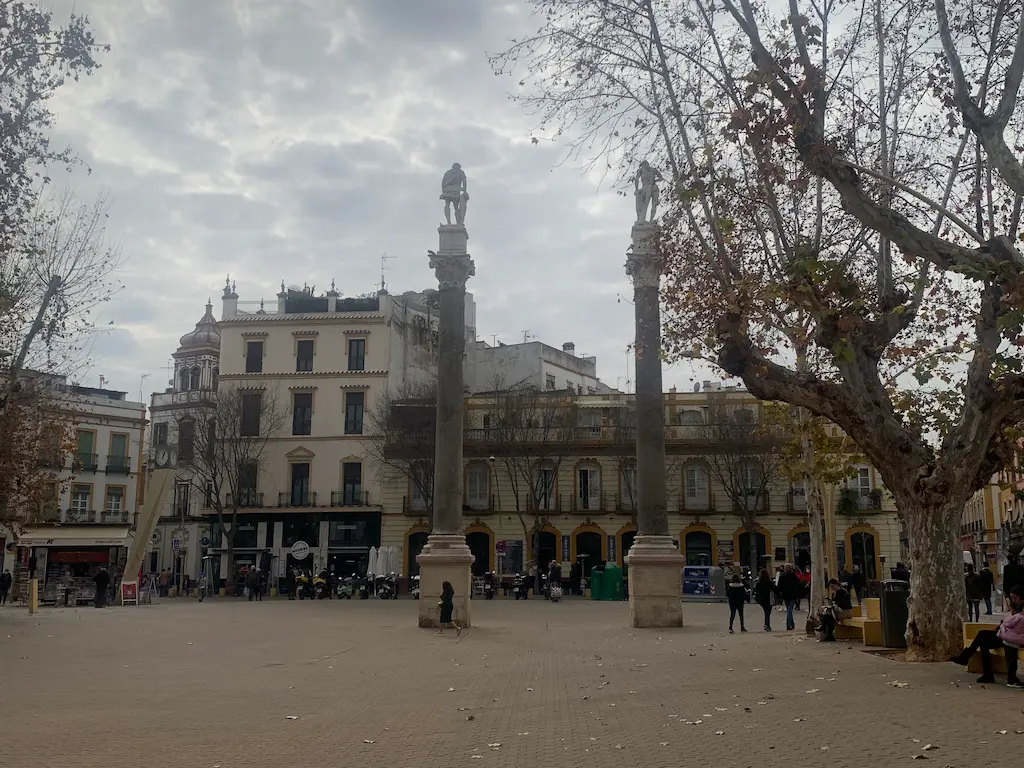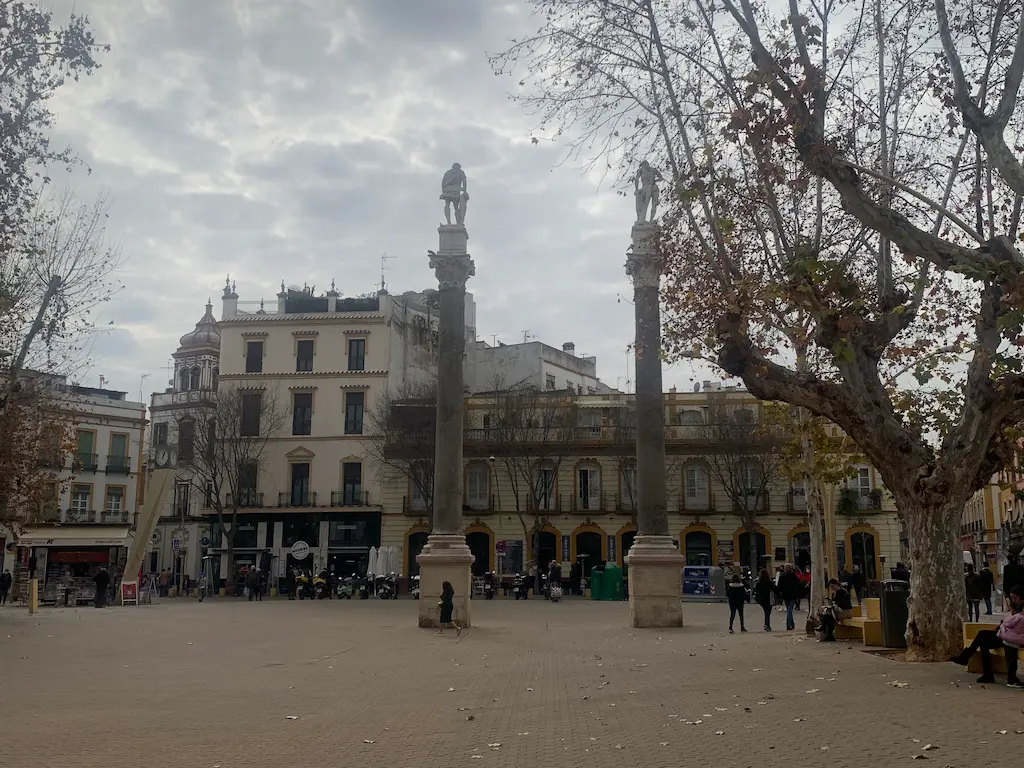 Alameda de Hercules in La Macarena neighbourhood
Bordering the northern edge of Seville's historic centre, La Macarena stands as a lively testament to the city's multifaceted history. Known for its bohemian vibe and raw charm, La Macarena is a delightful mix of Roman relics, baroque churches, and contemporary urban culture.
The neighbourhood gets its name from the revered Virgen de la Macarena, Seville's most loved Madonna figure. La Macarena, with its cobblestone streets and vibrant community spirit, offers a more laid-back and authentic Sevillian experience compared to the more tourist-centric parts of the city. It's a neighbourhood where traditional tapas bars sit alongside avant-garde art centres, providing a stimulating blend for culture seekers.
Choosing La Macarena as your base in Seville allows for a deep dive into the city's character. Here, you can observe everyday life play out in traditional markets, local bars, and tranquil squares, all while being within a short walk from the city's major sights.
La Macarena is my favourite area in Seville for long stays. You're still within walking distance to the main historic sights but this neighbourhood is more residential and local. You'll find fewer tourists here and it's easy to enjoy a peaceful slice of Sevillian daily life here.
Neighbourhood Highlights:
Basilica de la Macarena: Home to the venerated image of the Virgen de la Macarena, this basilica draws pilgrims and visitors from around the world, especially during Holy Week.
Alameda de Hércules: An expansive, tree-lined square teeming with restaurants, cafes, and bars. It's a popular spot for both locals and visitors, exuding a lively atmosphere, especially in the evenings.
Espacio Santa Clara: Once a monastery, this historic building is now a cultural space hosting exhibitions, concerts, and other events, epitomising the neighbourhood's blend of old and new.
Recommended Hotels in La Macarena
Budget
The Nomad Hostel: A lively and modern space, catering to backpackers and young travellers. Its communal areas and activities make it easy for guests to connect and share their Seville adventures.
Mid-range
Patio de la Alameda: Set in a historic 19th-century manor, this hotel offers a beautiful central courtyard and is just steps away from the bustling Alameda de Hércules.
Luxury
Hotel Colón Gran Meliá: Providing an opulent experience, this hotel boasts refined rooms, a rooftop terrace, and a luxurious spa, all while being closely connected to La Macarena's rich history and culture.
Special Accommodation Options in Seville
Beyond standard hotels, Seville presents some unique stays that cater to specific preferences, allowing visitors to enhance their Sevillian experience in special ways.
Maybe you're looking for a one-of-a-kind stay in an historic mansion. Or perhaps you're either travelling with family, going solo, or planning a couples' getaway. If this sounds like you, read on for some specific hotel recommendations to fit your needs!
Historic Stays in Seville: Traditional Mansions or Renovated Palaces
Palacio Pinello: Located in the heart of the city, this 16th-century palace has been transformed into a luxury hotel, preserving its historical essence with contemporary comforts.
Hotel Alfonso XIII:Splurge on a stay in this luxurious hotel is housed in a historic building that dates back to 1928. Its grand architecture and sumptuous interiors make it one of the most prestigious places to stay in the city..
Hotel Las Casas de la Juderia: A maze of historic houses and palaces interconnected by patios and passageways, it's like stepping back in time.
Seville Hostels for Solo Travellers: Budget-friendly and Sociable
Oasis Backpackers' Palace Seville: Renowned for its young and lively atmosphere, this hostel offers rooftop parties and various communal activities, making it a fantastic place for solo travellers to meet like-minded individuals.
La Banda Rooftop Hostel: Situated in a prime location, this hostel is celebrated for its rooftop terrace, boasting panoramic views of Seville's skyline. Regular dinners and events ensure guests have ample opportunities to socialise and share experiences.
Black Swan Hostel Sevilla: This modern and clean hostel stands out for its friendly environment. They organise free daily activities, ranging from flamenco shows to city walking tours, fostering a true sense of community among guests.
Seville Family-friendly Hotels: Amenities Catered for Kids and Families
Hotel Fernando III: With family rooms, a pool, and close proximity to major attractions, it ensures a comfortable and engaging stay for all ages.
Melia Sevilla: Located near Maria Luisa Park, this hotel boasts spacious family rooms, a kids' club, and a pool area perfect for a family day in.
Family Suit Nervión - Encantos de Sevilla: A modern and spacious suite in the Nervión district, this accommodation provides all the comforts of home, including a fully-equipped kitchen, making it perfect for families wanting a self-catered stay in Seville.
Romantic Retreats in Seville: Perfect for Couples Looking for Something Intimate
Hotel Boutique Corral del Rey: Nestled in the old quarter of Barrio Alfalfa, this boutique hotel provides romantic rooftop views, intimate settings, and luxurious rooms for couples.
Hotel Casa Del Poeta: With its tranquil central courtyard and classical music evenings, it offers couples an intimate escape in the heart of Seville.
EME Catedral Hotel: Located right across the iconic Seville Cathedral, this chic boutique hotel boasts a rooftop terrace with a pool and bar, offering couples a romantic backdrop of the city's skyline, especially during sunset.
Places to Stay in Seville: Final Thoughts
Choosing the right place to stay in Seville can greatly enhance your visit. As you can see, each neighbourhood has its distinct charm and attractions, catering to varied travel preferences.
And if you love scoring a good deal, be sure to check out the latest hotel deals in Seville below!
Whether you prioritise history, nightlife, or authentic local experiences, there's a spot in Seville that's perfect for you. I hope this guide has helped you make an informed choice, ensuring a comfortable and memorable stay in this vibrant Andalucian city.
Buen viaje!
Where to Stay in Seville: Frequently Asked Questions (FAQs)
What is the best area in Seville for nightlife?
El Arenal and Alameda de Hércules are popular areas known for their vibrant nightlife. With a plethora of bars, clubs, and flamenco venues, these neighbourhoods are bustling with activity once the sun sets.
Are the hotels in Seville expensive?
Seville offers a wide range of accommodation options catering to various budgets. While there are luxurious and high-end hotels, plenty of mid-range and budget-friendly options are available, especially when booked in advance.
Which neighbourhood is best for first-time visitors?
For first-time visitors, staying in Santa Cruz or El Arenal is recommended. Both are central, close to major attractions, and provide a good feel of Seville's history and culture.
Can I find family-friendly accommodations in Seville?
Yes, many hotels in Seville cater to families, offering amenities like family rooms, kids' clubs, and pools. Neighbourhoods like La Macarena and El Arenal have numerous family-friendly options.
Is Seville suitable for solo travellers?
Absolutely! Seville is a popular destination for solo travellers. The city is friendly, and there are numerous hostels and social events to help solo visitors connect with others.
What's the best area in Seville for authentic Andalusian cuisine?
While you can find authentic Andalusian cuisine throughout the city, Triana and La Macarena are particularly known for their traditional tapas bars and eateries.
Are there any romantic getaways in Seville for couples?
Yes, Seville, with its charming streets and romantic ambiance, offers many boutique hotels and retreats specially tailored for couples. Areas like Santa Cruz and Triana have hotels that offer intimate settings perfect for a romantic getaway.
Can I easily find English-speaking staff in Seville hotels?
In most mid-range to luxury hotels, and in hostels popular with international tourists, you'll find English-speaking staff. However, in smaller, family-run accommodatio
More on Seville
Check out our other articles on Seville to help plan your visit:
Seville Map: Where to Stay
Note: This article may contain affiliate/compensated links. That means that if you book through our link, we may earn a small commission (at no extra cost to you). For full information, please see our disclaimer here.
---
---