Visitors Guide to Seville City
Seville is the Capital City of Andalucia and the third most-visited city in Spain after Madrid and Barcelona. Get all the information you need for a memorable visit to Seville.
By Liza S. | Updated 5 Aug 2023 | Seville | Cities | Login to add to YOUR Favourites
or Read Later
This article has been visited 15,214 times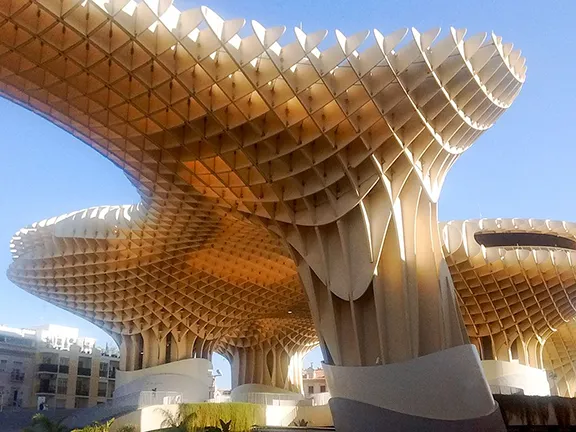 Setas De Seville
The Capital City of Andalucia
If you're planning a trip to Andalucia, Seville is a city that should not be missed. Known for its stunning architecture, vibrant culture, and delicious food, the capital city of Andalucia is a must-visit destination in Spain. With a rich history that dates back to Roman times, the city has a lot to offer visitors. Seville is home to some of the most beautiful buildings in Spain and it's also known for its rich culture and vibrant food scene.
Whether you're interested in history, architecture, or food, Seville is a city that has something for everyone. Read on to learn everything you need to know about visiting the Andalucian capital city.
Brief History of Seville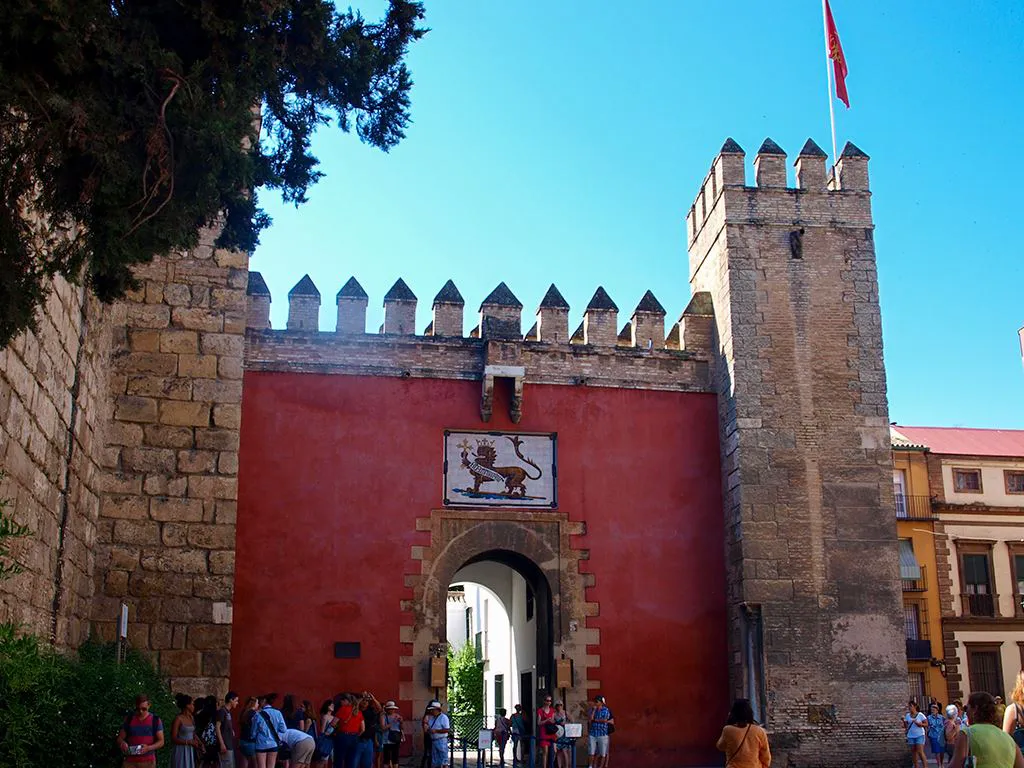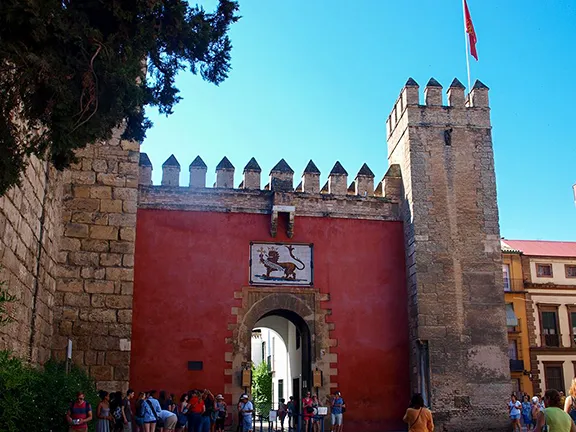 The Real Alcazar Seville
Seville, also known as Sevilla in Spanish, is a city in the southern region of Andalucia, Spain. The city has a rich and diverse history that spans thousands of years, making it one of the most culturally significant cities in Spain.
Seville's history can be traced back to the Roman era, when it was known as Hispalis. During the Roman period, the city flourished and became an important administrative center of the province of Baetica.
After the fall of the Roman Empire, Seville was ruled by the Visigoths, followed by the Moors in the 8th century. The Islamic period was a time of great prosperity for Seville, and the city was known as Isbiliya. The Moors left a significant impact on the city's architecture, culture, and traditions, which can still be seen today.
In the 13th century, Seville was conquered by the Christian forces of King Ferdinand III of Castile. The city experienced a period of Gothic architecture and culture during this time, with the construction of the magnificent Seville Cathedral and the Giralda tower.
The Renaissance period saw Seville become a major center of trade and commerce, with the city's port playing a significant role in the discovery of the New World. Seville's cultural and artistic achievements during this period are still celebrated today, with the city's numerous museums and art galleries.
Today, Seville is a vibrant and bustling city that attracts millions of visitors every year. Its rich history and cultural heritage make it a must-visit destination for anyone interested in architecture, history, and culture.
For more on Seville's history, read our historical guide to Seville.
How to Get to Seville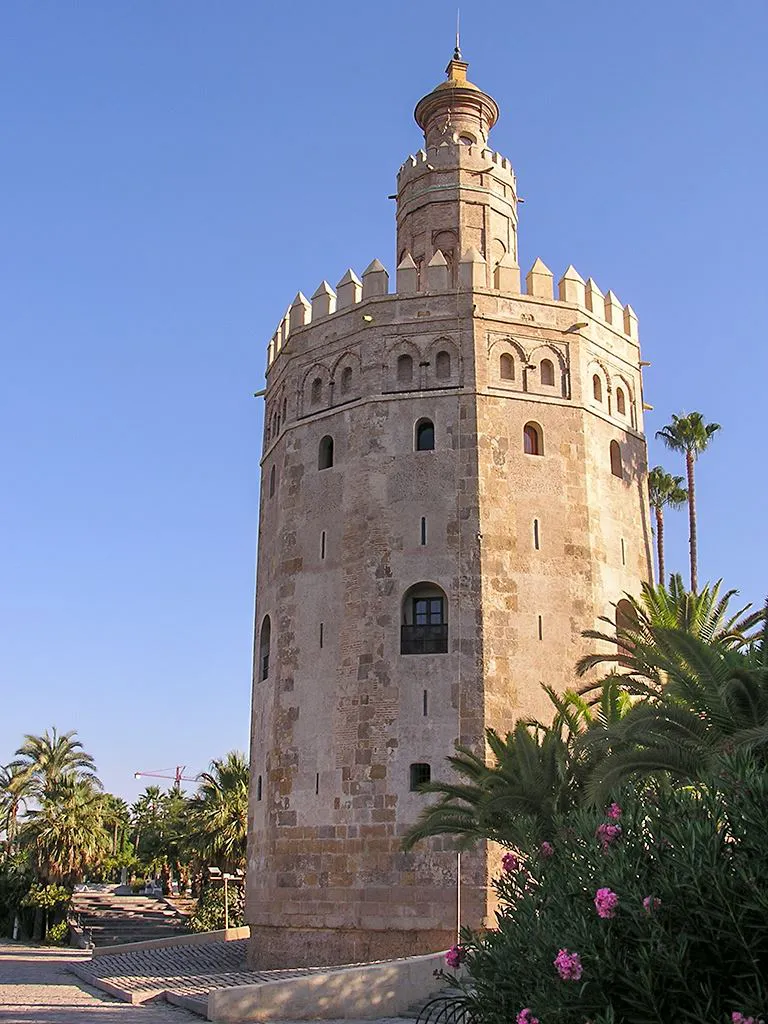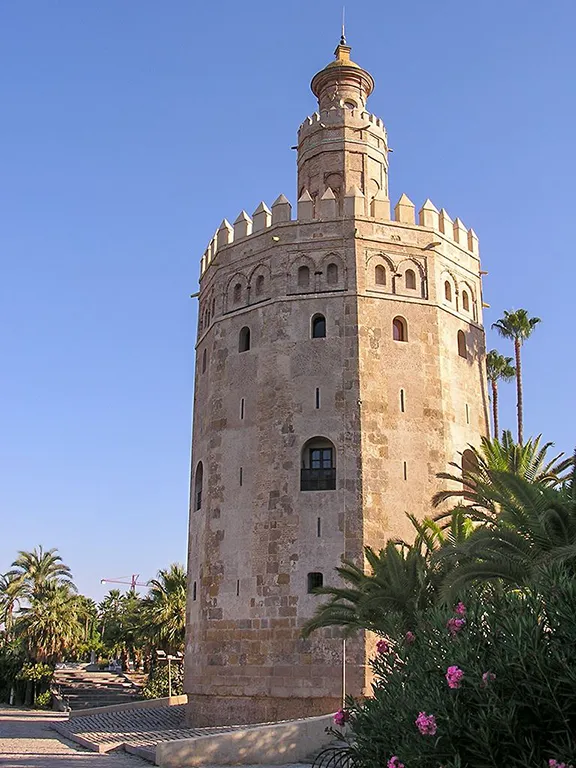 The Torre del Oro
As the capital of Andalucia, Seville is a transportation hub in the region so you have several options for getting there, including by plane, train, bus, or car.
By Plane
Seville has its own airport, Seville Airport (SVQ), which is located about 10 kilometres from the city centre. Many airlines offer flights to Seville from various European cities, including Madrid, Barcelona, London, Paris, and Frankfurt. The airport is well-connected to the city centre by public transport, including buses and taxis.
The Seville airport is quite small and only offers basic amenities so don't expect too much. When I've travelled via Seville airport, I haven't had any problems and it's pretty easy to get to the city centre from there.
Seville Cathedral
By Train
Seville has excellent train connections with many cities in Spain, including Madrid and Barcelona.
The main train station in Seville is Santa Justa Station, which is located about 2 kilometres from the city centre. The station has a high-speed train service, which can take you to Madrid in just 2.5 hours. You can also take a regional train to Seville from other parts of Andalucia.
I've personally taken the train to-and-from Seville many times and it's my favourite way to get to the city if I'm coming from within Spain. The Renfe trains are super comfortable and the journey is pleasant. I highly recommend booking your train tickets to Seville as soon as possible so that you can secure your preferred timing and secure the best price.
By Bus
If you are on a budget, taking a bus to Seville might be a good option for you. Many bus companies offer services to Seville from various cities in Spain, including Madrid and Barcelona.
The main bus station in Seville is Plaza de Armas, which is located in the city centre. The station has connections to other cities in Andalucia as well.
Travel Tip:
It's a good idea to compare prices, schedules, and travel times when deciding the best way to get to Seville. Using
Omio
is an easy way to compare different modes of transport and prices in one place.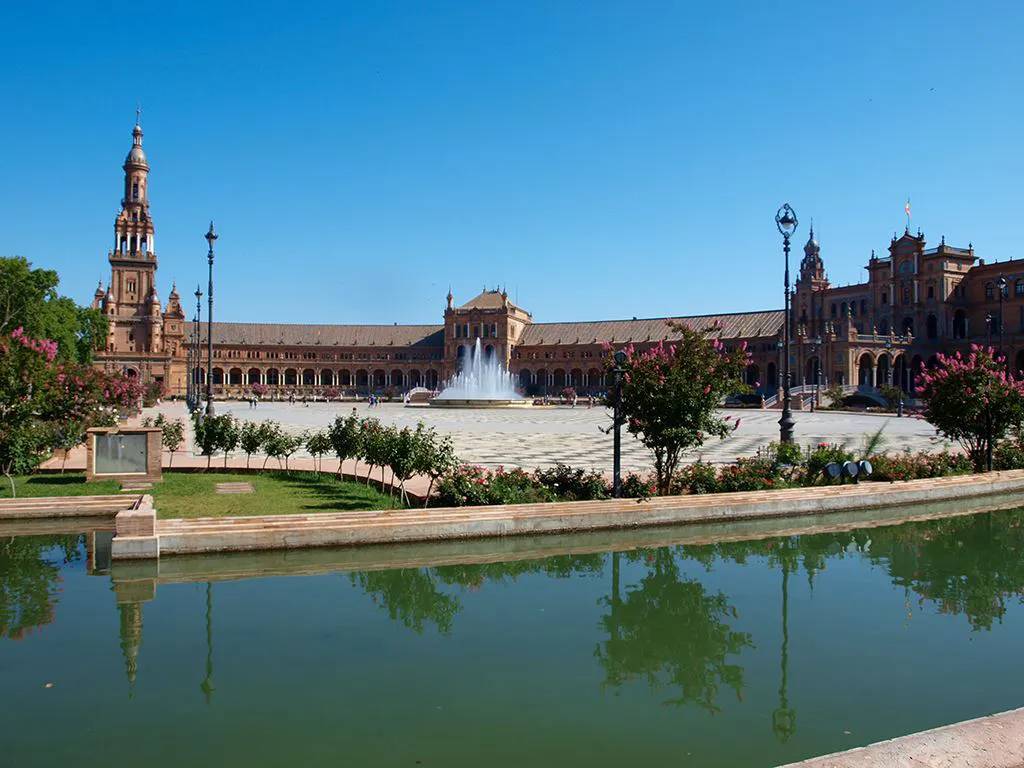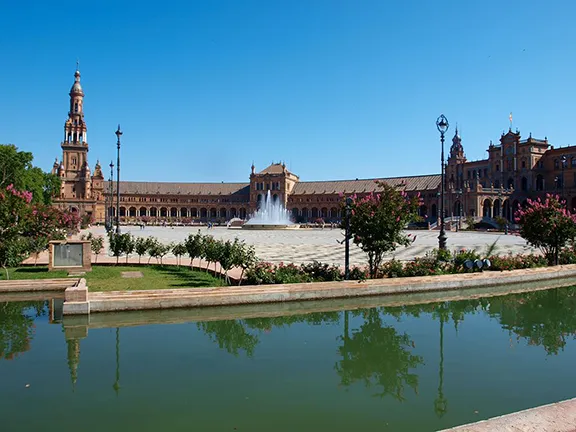 Plaza de España
By Car
For the ultimate flexibility, you can rent a car and drive to Seville from other parts of Spain. Seville is well-connected to other cities in Andalucia by motorways so driving is the perfect option if you're visiting Seville as part of a larger road trip around Spain.
That said, driving in the city centre can be challenging, especially if you are not used to narrow streets and heavy traffic. If you have a car, it's best to park it somewhere outside the city centre for the best parking rates and then explore Seville on foot, by bike, or with public transportation.
Getting Around Seville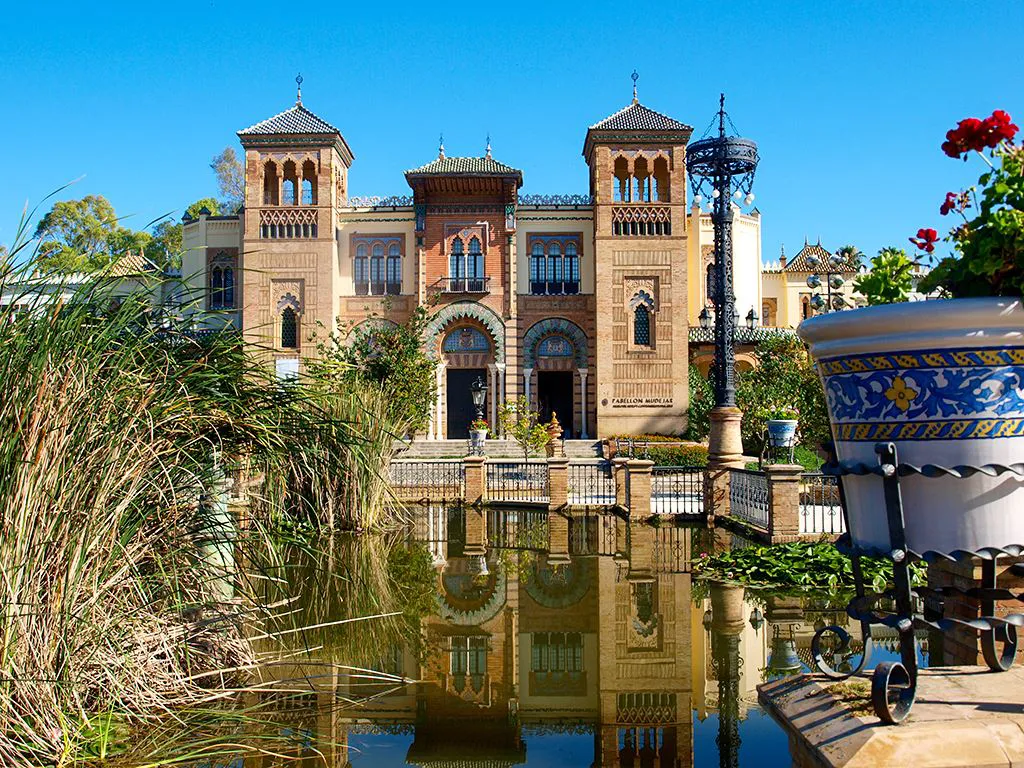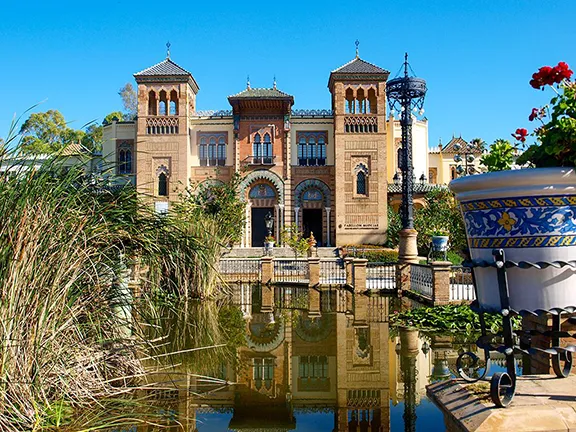 Archaeological Museum in Parque De Marie Luisa
Getting around Seville is easy and convenient, with a well-developed transport network that includes buses, metro, and taxis.
Walking is also a great way to explore the city, with many attractions located within easy walking distance of each other. Prefer two wheels? There are short-term bicycle and electric scooter rentals around the city which is a fun way to explore. You'll find dedicated bike lanes on larger streets but none within the historic center.
Walking
I personally feel that walking is the best way to explore Seville, especially in the historic centre. Most of the attractions are located within easy walking distance of each other, and the city is flat and easy to navigate. Seville is a great city for walking, with many pedestrianised streets and beautiful parks.
Be sure you're wearing comfortable walking shoes and be mindful that some areas have uneven cobblestoned streets. To get around, simply fire up your favourite map app (Google Maps works well for me) or you can get a physical map from your hotel or the tourist information office.
Buses in Seville
As a visitor, you'll find Seville's buses are the best public transportation option as an extensive bus network that covers the entire city. If you're arriving by plane or train, the bus is the cheapest option to get to the city centre.
The buses in Seville are modern and comfortable, and they operate from early morning until late at night.
If you plan to use the bus extensively, it may be worth it to buy a rechargeable transport card, Tarjeta Multiviaje. Each journey costs less than a single-journey ticket when you use this card. You can buy and recharge a card at kiosks and estancos (tobacconists).
Visit the TUSSAM website for more information on buses in Seville.
Tram in Seville
To get around the city centre, you may find the tram in Seville useful. Covering the short distance between Plaza Nueva and the San Bernando train there, there are just 4 stops on the T1 tram, including one next to the Alcazar.
You can get tickets on the train platform or use the Tarjeta Multiviaje card, if you have one.
Taxis in Seville
Taxis in Seville are plentiful and easy to find. You can hail a taxi on the street or find one at one of the many taxi ranks located throughout the city. Taxis are metered, and the fares are regulated by the city council.
It is important to note that taxis in Seville do not accept credit cards, so make sure you have cash on hand. There are additional charges for weekends, holidays, night journeys, and for carrying luggage.
A taxi from the airport to the center of Seville will cost around €20.
Seville Metro
As a tourist, it's unlikely you'll use it but it's good to know that Seville has a modern metro system that operates from 6:30am to 11.00pm on weekdays and until 2 am on weekends.
The metro is a convenient way to get around the city, with trains running every few minutes. The network consists of a single line that connects the city centre with the suburbs. Tickets can be purchased at the ticket machines located at the metro stations.
When to Visit Seville
Seville is a great city to visit year-round, but the best time to go depends on your preferences.
Spring (March to May) is the most popular time to visit the Andalucian capital, as the weather is mild, the city is in full bloom, and it's festival season in the city.
Summer (June to August) can be hot and crowded, but it's also when many of Seville's festivals take place.
Fall (September to November) is a great time to visit for cooler temperatures and fewer crowds.
Winter (December to February) is the off-season, with lower hotel rates and fewer tourists, but it can also be chilly and rainy.
Seville is one of the five hottest cities in Spain during July and August. The other four are Granada and Córdoba, both in Andalucia, Badajoz in Extremadura and Murcia. I personally avoid Seville in the summer as daytime temperatures can reach up to 40°C. If you do visit during these months, it's a good idea to stay indoors during the hottest time of the day and be sure to stay hydrated.
For me, fall is the best time to visit Seville as you still get long hours of daylight to explore the city and the weather is much more comfortable than in the summer. I also enjoy Seville in winter as the city slows down a bit and there are less crowds.
In general, the best times to visit Seville are from October through until June.
Top 10 Things to Do in Seville, Spain
Seville is a city that offers a wide variety of activities and attractions. Here are the top 10 things to do in Seville that you don't want to miss.
Visit the Alcázar: This UNESCO World Heritage Site is a royal palace that features beautiful gardens, intricate architecture, and stunning courtyards.
Visit the Seville Cathedral: This Gothic cathedral is the largest in the world and houses the tomb of Christopher Columbus.
Climb the Giralda Tower: This bell tower is part of the Seville Cathedral and offers breathtaking views of the city.
Explore Barrio de Santa Cruz: This charming neighbourhood is filled with narrow streets, colourful buildings, and hidden courtyards.
See a Flamenco Show: Experience the passion and energy of this traditional Andalusian dance at one of Seville's many flamenco clubs.
Stroll around Plaza de España: This public park features a beautiful fountain and a large plaza surrounded by stunning buildings.
Discover Triana: This neighbourhood across the Guadalquivir River is known for its vibrant nightlife, delicious tapas, and lively markets.
Visit the Metropol Parasol: This modern structure in the heart of the city offers panoramic views of Seville and features an archaeological museum.
Explore the Arenal: This neighbourhood is home to some of Seville's best restaurants and bars, as well as the Torre del Oro, a 13th-century watchtower.
Take a Day Trip to Cordoba: This historic city is home to the Mezquita, a unique mosque-cathedral that is a must-see attraction in Spain.
For a full list of things to do in Seville that you can't miss, read our guide on what do and see in Seville.
Looking for activities and tours in Seville? Here are the most popular ones
Festivals in Seville
The Andalucian capital city is known for its lively and festive spirit, and there are several fiestas and festivals that attract visitors to Seville.
Semana Santa
Semana Santa, or Holy Week, is one of the most important religious events in Seville. It takes place in the week leading up to Easter Sunday and consists of processions of religious brotherhoods carrying floats depicting scenes from the Passion of Christ.
The processions are accompanied by music and incense, and the streets are lined with spectators. It is a deeply emotional and spiritual experience, and one that is not to be missed.
Feria de Abril
The Feria de Abril is a week-long festival that takes place two weeks after Semana Santa. It is a celebration of Sevillian culture, tradition, and Andalucian pride.
The festival is held in a large fairground on the outskirts of the city, and it features hundreds of casetas, or tents, where people gather to eat, drink, and dance. The women wear flamenco dresses, and the men wear traditional suits. It is a colourful and lively event, and one that is sure to leave a lasting impression.
Read more about Feria de Abril here.
Other Festivals in Seville
In addition to Semana Santa and Feria de Abril, there are several other festivals that take place in Seville throughout the year. These include:
Corpus Christi procession
Each festival has its own unique character and flavour, and they all contribute to the vibrant and diverse culture of Seville.
Where to Stay in Seville
When planning your trip to Seville, choosing the right neighbourhood and hotel is crucial to making the most of your stay. In this section, we'll explore the best neighbourhoods and hotels in Seville to help you plan your perfect trip.
Seville has several neighbourhoods that are ideal for visitors, each with its own unique vibe and attractions.
Santa Cruz
Santa Cruz is the most popular neighbourhood in Seville, and for good reason. It's located in the heart of the city and is home to many of Seville's top attractions, including the Alcazar Palace and the Seville Cathedral.
The neighbourhood is filled with narrow streets, charming plazas, and traditional Andalucian architecture. It's a great neighbourhood for those who want to be close to the action and don't mind the crowds. You may also find that accommodations in this Seville neighbourhood is more expensive but you can find a good deal if you book further in advance!
Triana
Located across the Guadalquivir River from the city centre, Triana is known for its bohemian vibe and lively nightlife. It's a great neighbourhood for those who want to experience a different side of Seville and enjoy live music, flamenco shows, and tapas bars. Triana is also home to many ceramic shops and workshops, making it a great neighbourhood for those interested in traditional crafts.
If you don't mind being a bit further away from the historic center, Triana is a lovely area to stay and you may be able to find some great accommodation deals here.
Alameda de Hercules
My favourite neighbourhood to stay in when I'm in Seville is Alameda de Hercules, which is situated north of the historic centre.
Here, you'll find many local restaurants, bars, and cafes and it feels more residential and quiet. Yet you're just a 15 to 20-minute walk from the heart of the action in Santa Cruz! For me, Alameda de Hercules offers the best of both worlds: a more local stay while being within walking distance to the city's main attractions.
The Latest Deals in Seville
Browse below for the latest deals in Seville!
Money-Saving Tips for Visiting Seville
Seville can be an expensive city to visit, but there are ways to save money without sacrificing comfort. Here are some money-saving tips for your trip to Seville.
Visit in the off-season (November to February) for lower hotel rates and fewer crowds.
Book your hotel in advance to take advantage of early-bird rates.
Use public transportation or walk instead of taking taxis to save on transportation costs.
Take advantage of free attractions like the Plaza de España and the Metropol Parasol.
Do budget-friendly activities like a free Seville walking tour, strolling along the Guadalquivir River, and discovering Seville's neighbourhoods.
More on Seville
Note: This article may contain affiliate/compensated links. That means that if you book through our link, we may earn a small commission (at no extra cost to you). For full information, please see our disclaimer here.
---
More about Seville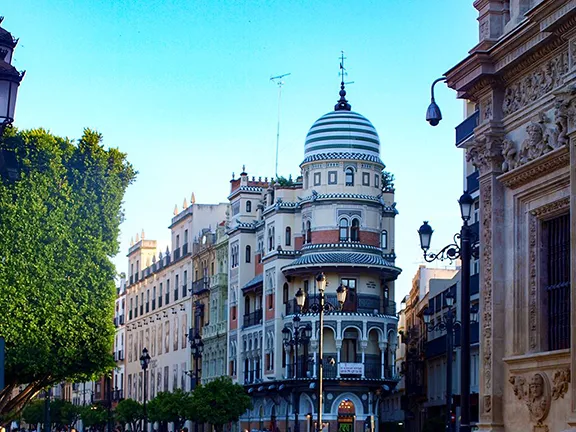 Historical Guide to Seville City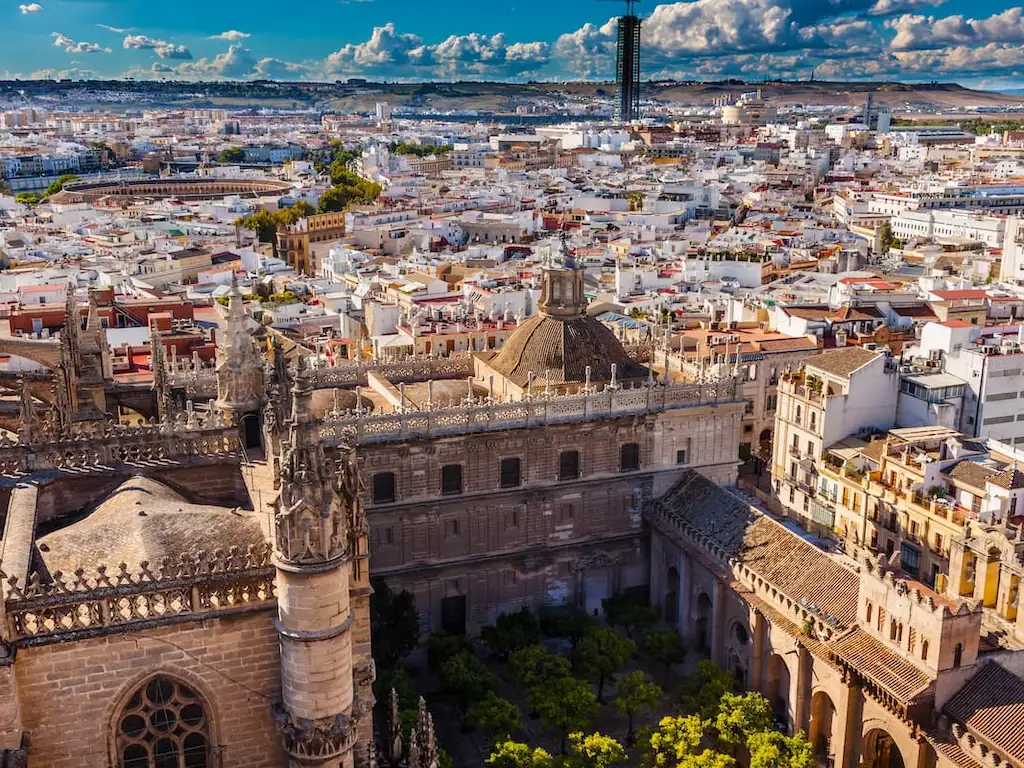 Best Things to Do in Seville
Places to go in Seville
See Seville from the Guadalquivir
Seville Cathedral
Almohad Hammam
Museums and Galleries in Seville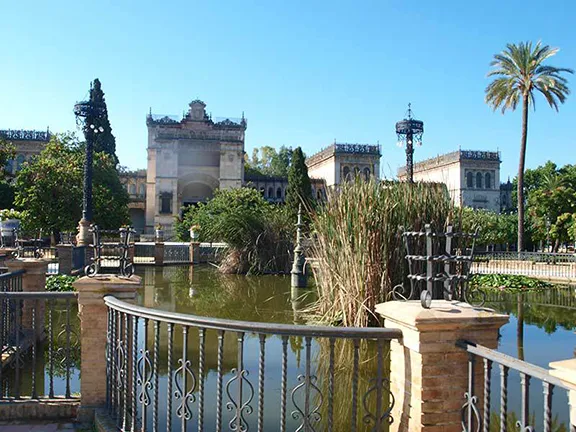 Archaeological Museum
---