Feria de Sevilla 2024
La Feria de Sevilla, Feria de Abril or simply Sevilla feria, takes place two weeks after Semana Santa and lasts an entire week from the 14th to the 20th April 2024 during which normal life in Seville virtually stops.
By Nick Nutter | Updated 25 Aug 2023 | Seville | Events | Login to add to YOUR Favourites
or Read Later
This article has been visited 35,841 times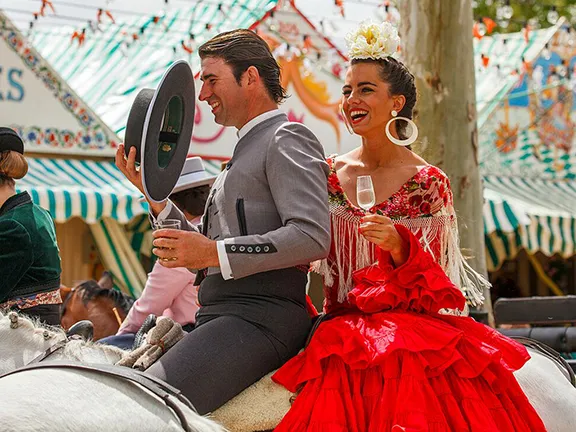 Feria Sevilla
The Feria de Sevilla, often called the Feria de Abril, is probably the largest, most elaborate and most colourful event in the calendar in Andalucia. The event attracts visitors to the city in their thousands. It takes place two weeks after Semana Santa and lasts an entire week during which normal life in the city virtually stops. If you missed it this time round, then start planning for next year.
In 2024, Feria de Sevilla will be held on 14th to the 20th April 2024.
Real de la Feria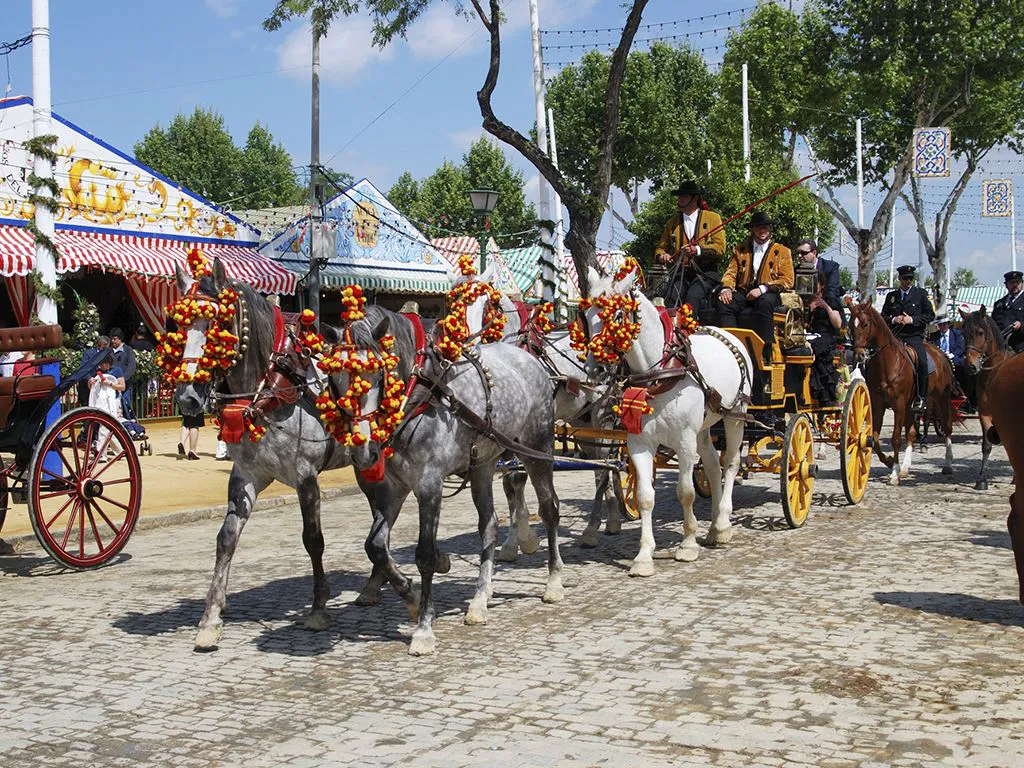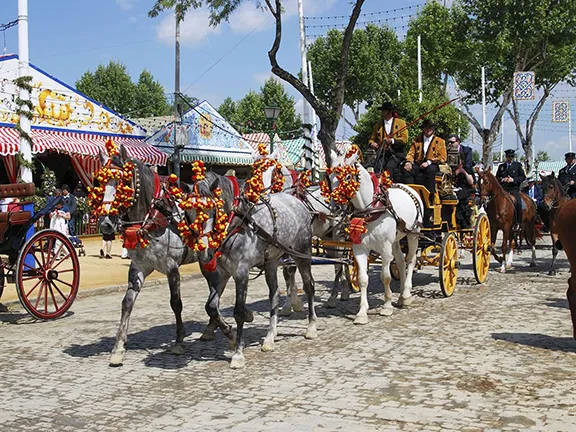 The event centres around the Real de la Feria, the gigantic fairground just outside the city centre in the Los Remedios neighbourhood. Over 1000 casetas, hospitality tents, are erected by local businesses, notable families, clubs and political parties. Most require an invitation to enter but there are a few that are open to all. The casetas are traditionally green and red striped canvas with more elaborate decorations applied by the host.
Casetas at Feria de Sevilla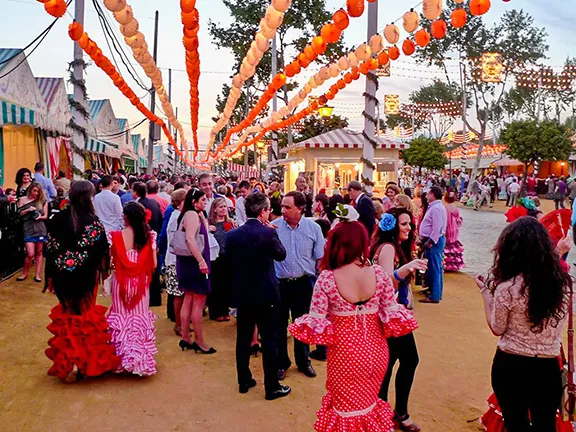 Each of the six districts of Seville host a 'free' casetas and there is one especially for tourists. Many of the hotels and the tourist information office are supplied with invitations to this caseta. You can expect a bar, music, entertainment and lots of traditional food. The ladies dress in traditional flamenco dresses whilst the gentlemen wear the traditional short jacket and broad rimmed hat.
Showing off the Horses at Feria Sevilla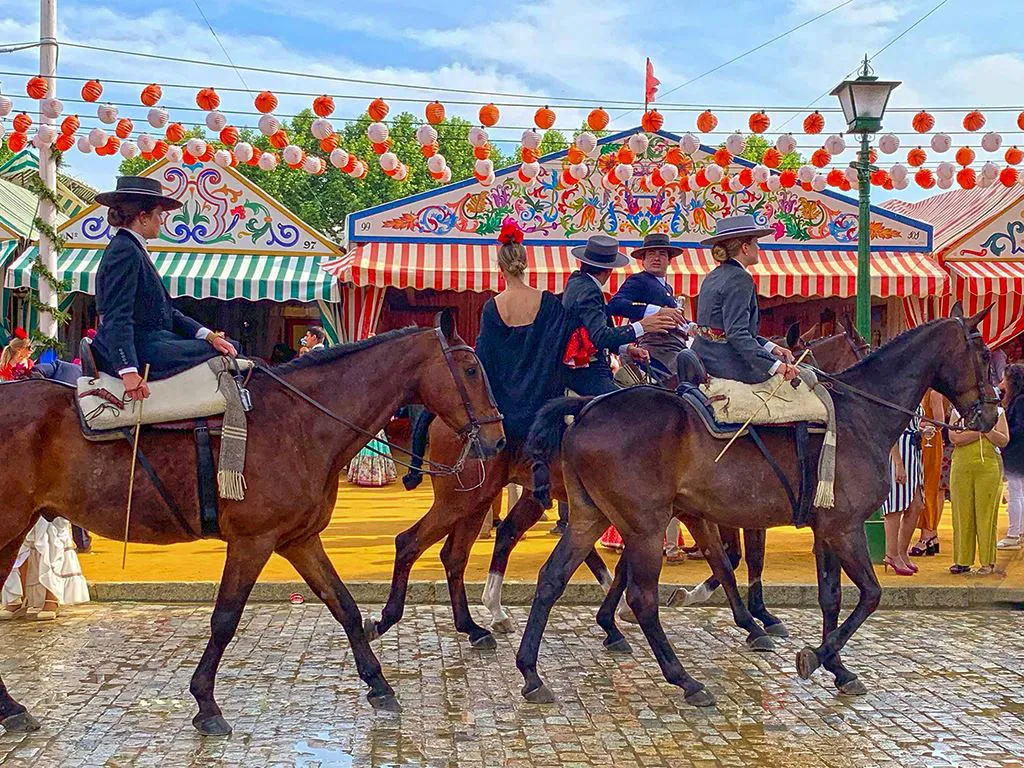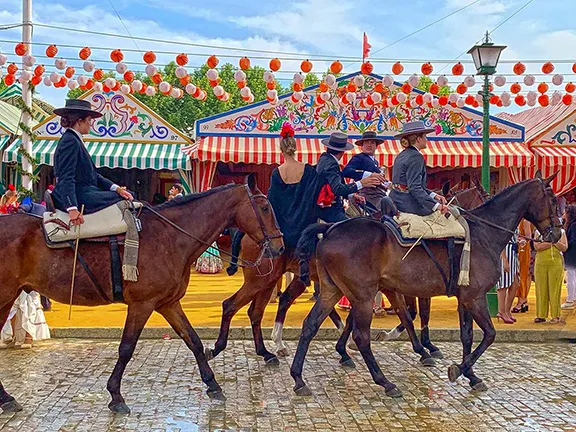 Many parade around the city and the Real de la Feria on horseback or in elaborately decorated and polished, horse drawn carriages. The feria gets going about noon each day and the celebrations continue until the early hours of the morning. There is a bullfight every day for those so inclined.
Calle del Infierno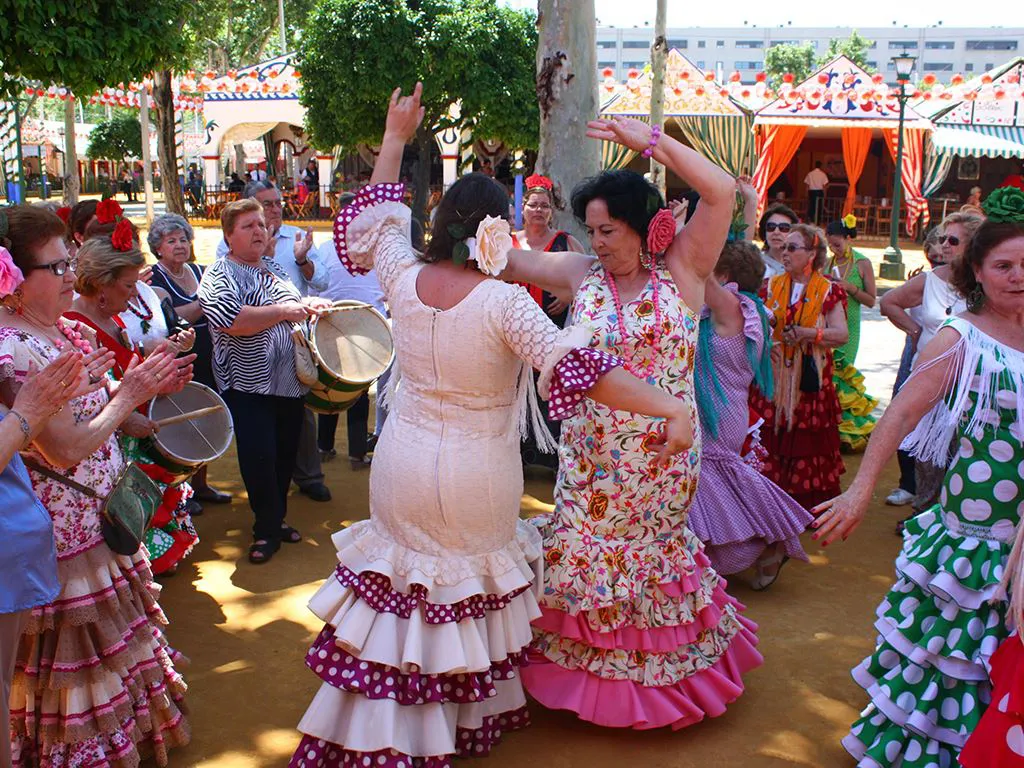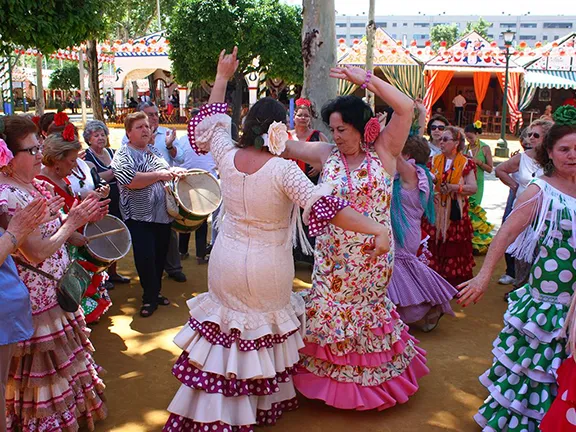 Alongside the area set aside for casetas is the fairground. There are the normal rides and attractions suitable for every age.
Feria de Sevilla Street Parties
La Feria de Abril in Seville is a very Spanish fiesta and not confined to the Real de la Feria. Street parties spring up, seemingly at random, and the bars and restaurants in the centre all participate. There are daily processions of carriages and riders through the city. A good place to get into the spirit of the fiesta is the Parque De Marie Luisa and nearby Plaza de Espana.
More on Seville
Other than participating in the Feria de Abril activities and events, there are many other things to see and do in Seville during your visit. Read our comprehensive Seville visitor's guide to plan your dream visit.
Here are some of Seville's unmissable attractions:
Where to Stay in Seville
Feria de Abril in Seville attracts thousands of visitors so if you're planning to attend, it's best to book your accommodations in advance to avoid disappointment.
Santa Cruz/Historic Center
Triana
Alameda
Or check out the best deals in Seville below.
Recommended Spain Travel Resources
Travelling to/around Spain and need some help? Here are our favourite travel resources.
We usually use Booking.com to look for hotels or apartment rentals. Lots of choice & you can unlock more discounts with their Genius loyalty programme!
To research transportation options around Spain, we like using Omio. It's an easy way to compare different modes of transport and prices in one place.
For last-minute holiday deals, check out Expedia UK.
Looking for things to do? Viator has a huge catalog of activities and tours across many cities in Spain. We also love Get Your Guide!
Guruwalk is our favourite platform to find the best free walking tours in a city.
For money transfers or spending overseas in foreign currency, Wise is our favorite borderless banking service.
Travel insurance is a must to protect against emergencies and unexpected incidents. Get a quote from SafetyWing here.
Click here to check the dates of the Feria of Seville
Note: This article may contain affiliate/compensated links. That means that if you book through our link, we may earn a small commission (at no extra cost to you). For full information, please see our disclaimer here.
---
More Events in Seville province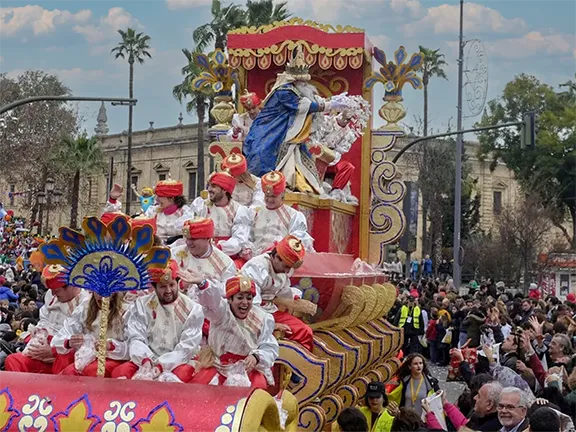 Three Kings Procession in Seville - 5th January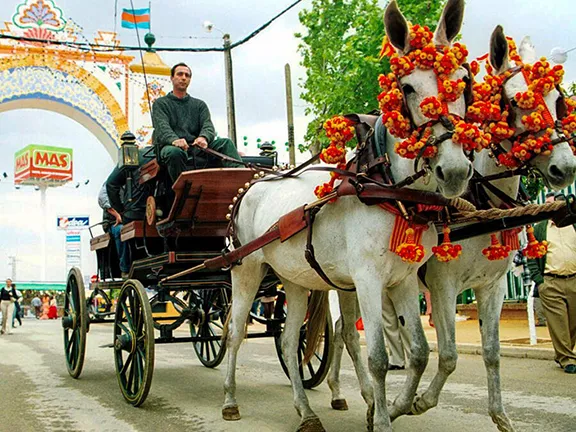 Mairena del Alcor Fair 11th - 15th April 2024
---