25+ Things to Do in Seville for an Unforgettable Visit
Discover the best things to see and do in Seville, Spain including the Cathedral, Alcázar and Archivo de Indias in Seville which were inscribed by UNESCO in 1987.
By Liza S. | Updated 25 Aug 2023 | Seville | Cities | Login to add to YOUR Favourites
or Read Later
This article has been visited 128 times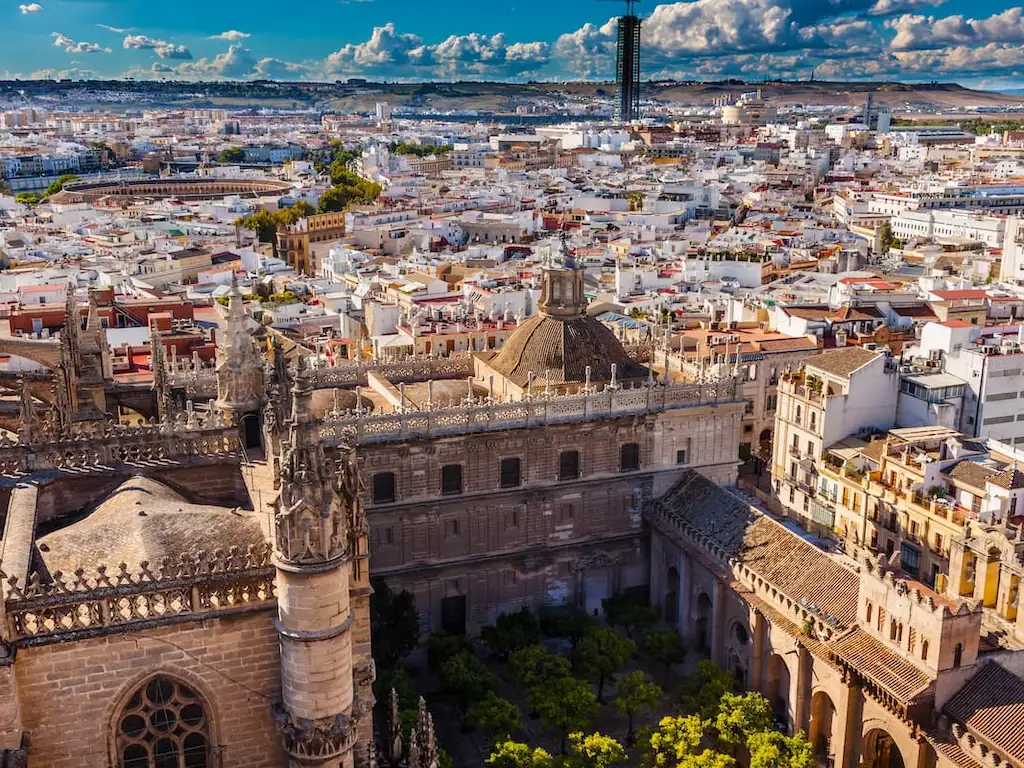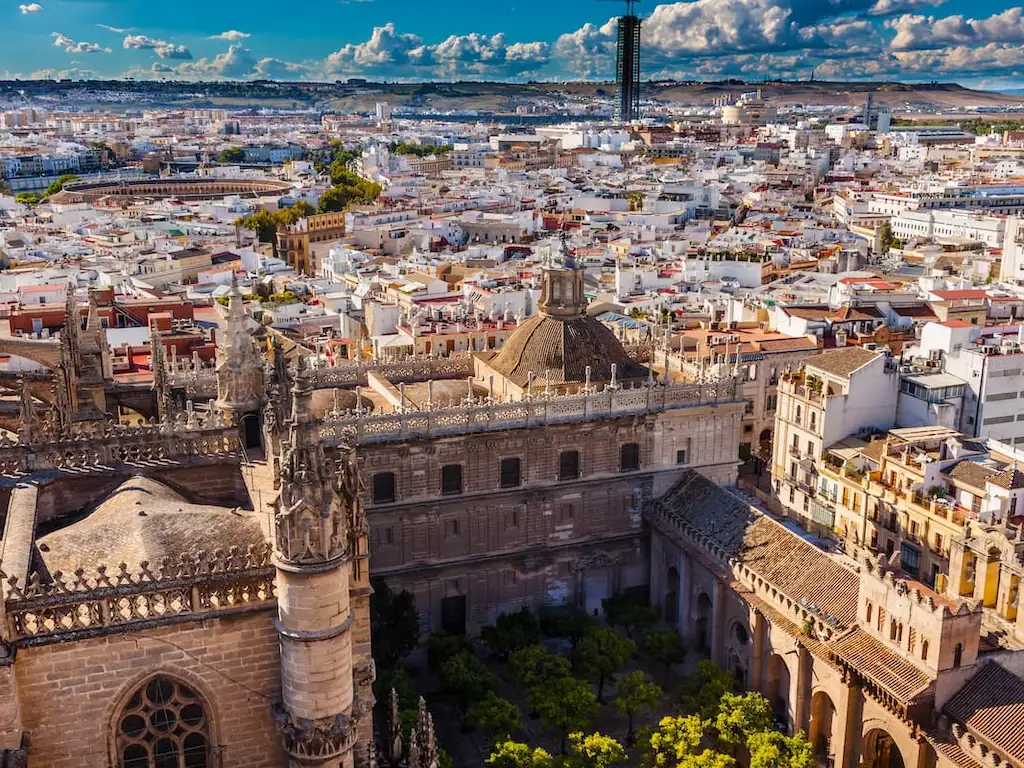 Aerial view of Seville
Welcome to Seville, the Capital of Andalucia
If you're planning a trip to Andalucia, you won't want to miss the beautiful capital city of Seville. A city rich in culture, history, and architecture, Seville offers something for everyone. In this article, we've curated over 20 top things to do in Seville that will make your trip truly remarkable.
From iconic landmarks like the Alcazar and the Seville Cathedral to savoring the city's delectable tapas culture, we've got you covered. Whether you're a history enthusiast, an art lover, or simply looking for the best local haunts, this guide provides practical insights to ensure your trip is unforgettable.
Get ready to explore Seville's best attractions and immerse yourself in its vibrant spirit – let's make your visit extraordinary!
Best Things to Do in Seville: Quick Answer
Visit the Real Alcazar
Marvel at the Seville Cathedral
Explore the Charming Barrio de Santa Cruz
Wander around Plaza de España
Enjoy Parque de Maria Luisa
Take a Walking Tour of Seville
Discover Seville on a Bike Tour
Stroll along the Guadalquivir
Visit Torre del Oro
See a Different Side of Seville at Metropol Parasol (Setas de Sevilla)
Eat Your Way Through Seville on a Tapas Tour
Take a Cooking Class in Seville
Cross the Guadalquivir to Explore Triana
Experience an Authentic Flamenco Show
See How Spanish Nobility Lived at Palacio de las Dueñas
Admire the Architecture of Casa de Pilatos
Visit Seville's Museums
Learn About the Art of Bullfighting
Shop in Seville
Have a Local Shopping Experience
Indulge Your Inner Child at Isla Magica
Enjoy the Nightlife in Seville
Relax at an Arab Bath
Celebrate Andalucian Culture at the Seville Fair
Take a Day Trip from Seville
Read on to learn more about each attraction/activity!
Visit the Real Alcazar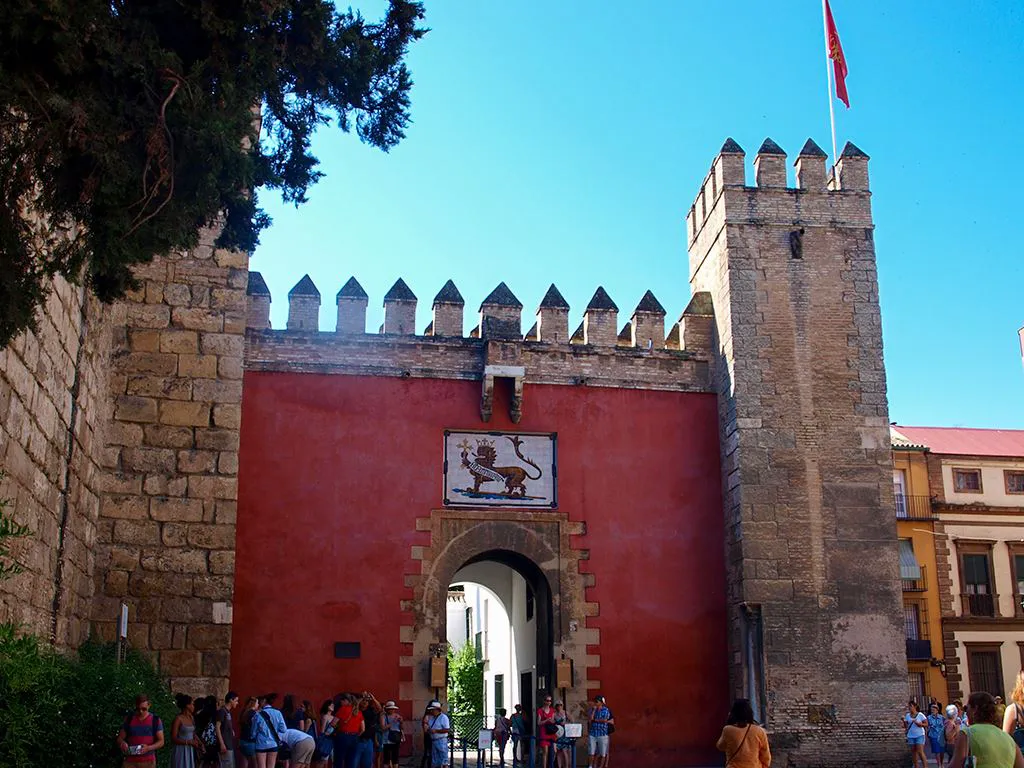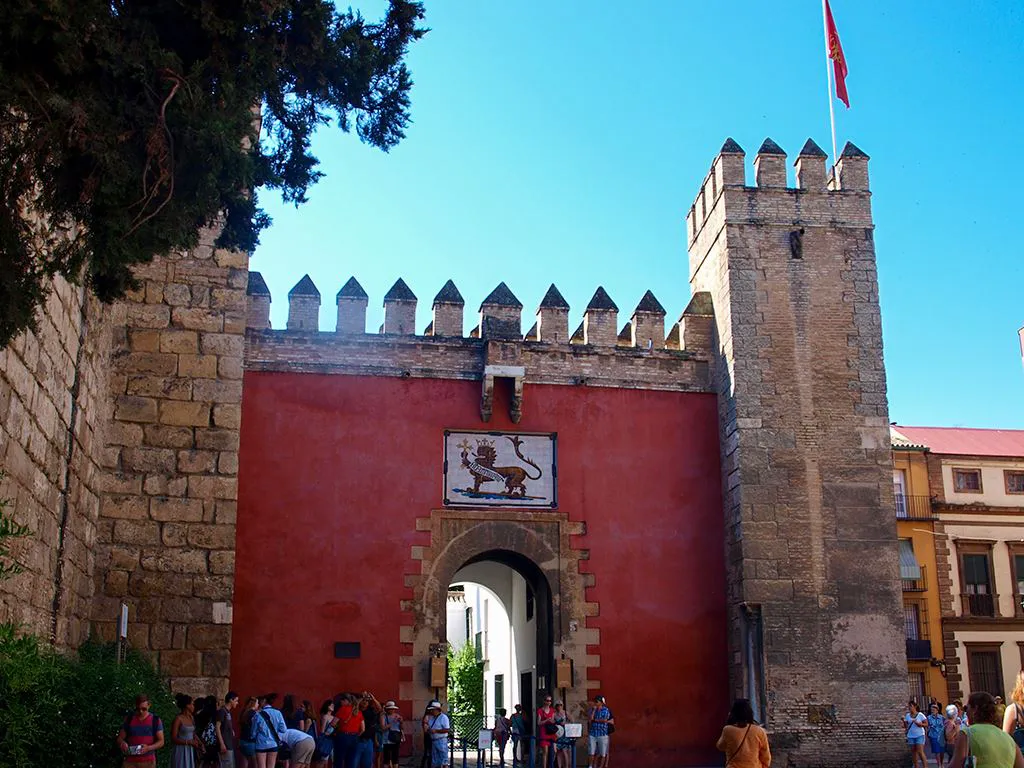 Real Alcazar
If you're interested in history, Seville is the perfect destination for you. The city is home to some of the most impressive historical landmarks in Spain. One must-visit historical attraction in Seville is the Real Alcazar.
Seville's Real Alcazar is a stunning palace complex that has been in use for over 1,000 years. The Alcazar was originally built as a fortress by the Moors, but it was later expanded and renovated by Christian monarchs. Today, it's a mix of different architectural styles, including Gothic, Renaissance, and Mudéjar, which makes it a fascinating monument to visit.
My favourite part of the Alcazar is the Patio de las Doncellas (Courtyard of the Maidens). This courtyard exudes romantic vibes with its blend of Moorish and Renaissance architectural styles. Take some time to admire the intricate arches, delicate columns, and stunning tiled walls - the workmanship and level of detail are incredible!
Also notable is the Salón de los Embajadores, a grand hall adorned with magnificent golden domes, elaborate plasterwork, and intricate geometric patterns. The breathtaking ceiling, featuring a central star-shaped design, creates an atmosphere of celestial beauty and represents the pinnacle of Nasrid art.
Once you're done touring the interior, don't forget the palace gardens!
The Alcazar boasts enchanting gardens that are as beautiful as they are diverse. From the vibrant colors of the Jardín de la Danza (Garden of the Dance) to the tranquil ambiance of the Jardín de la Galera (Garden of the Galley), the gardens offer a serene escape. Each garden showcases distinct features, including fountains, fragrant flowers, intricate hedges, and secluded pathways, making them a delight to explore.
The Real Alcazar is one of the most popular attractions in Seville, and there's almost always a long line to enter (yes, I've been stuck in that line before!). To save time, it's a good idea to buy your tickets in advance. And if you're a history-lover like me, it's worth investing in a guided tour so that you can learn more about the palace's history and the personalities who lived in it.
Check ticket availability for your visit date below.
Marvel at the Seville Cathedral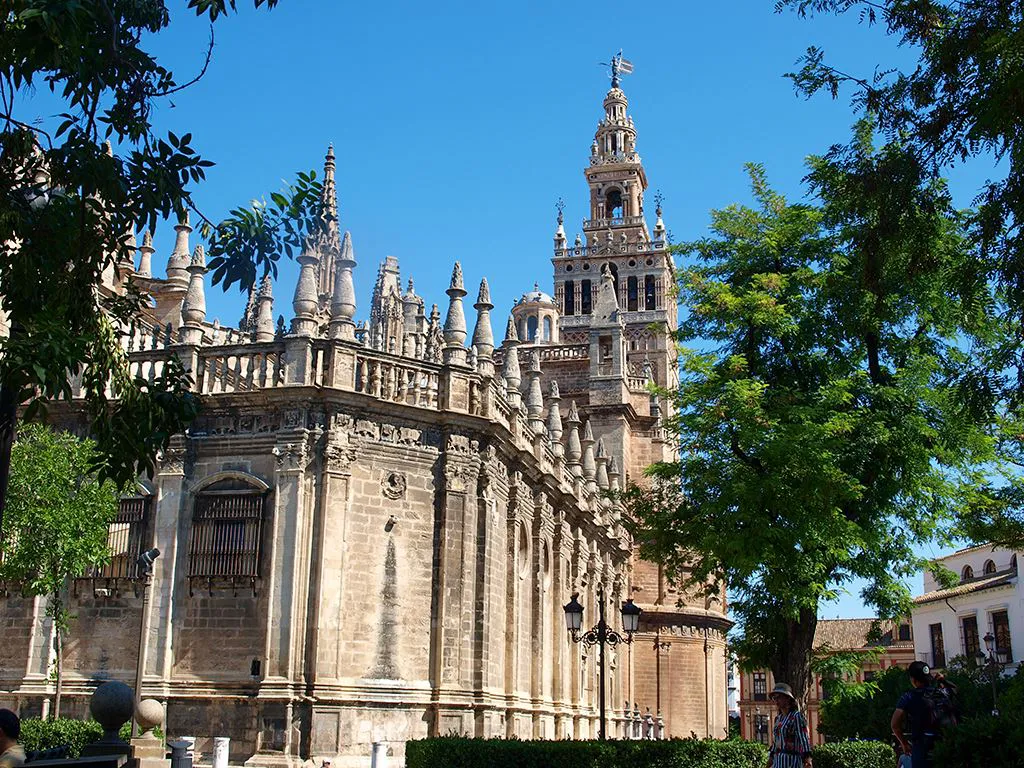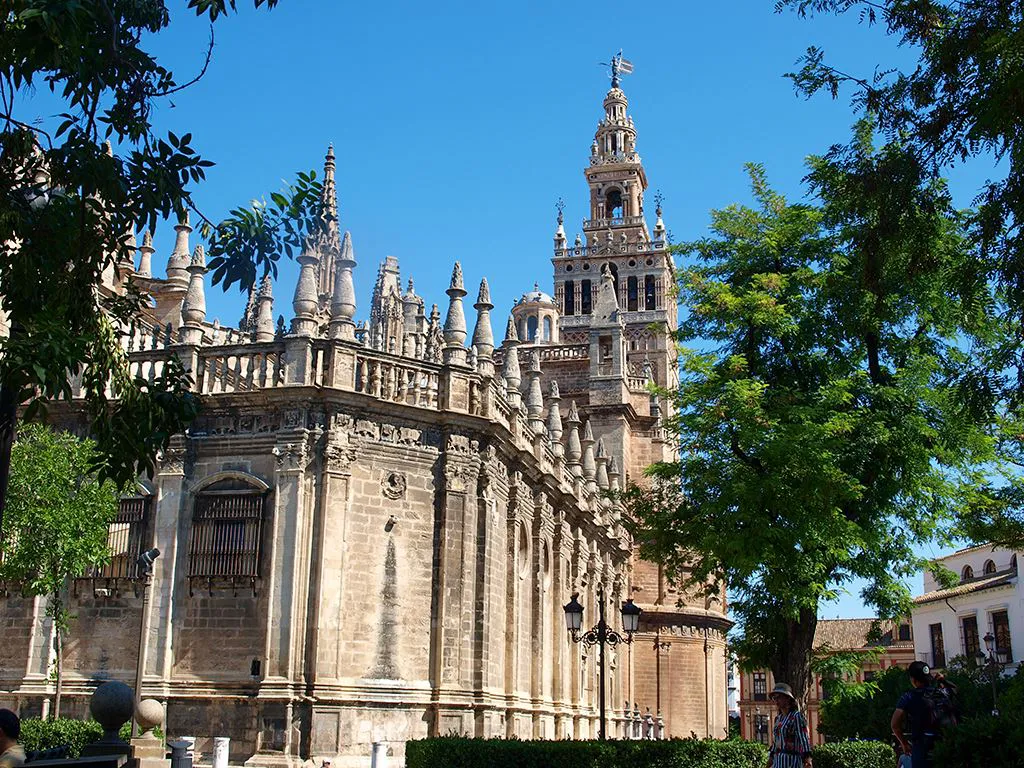 Seville Cathedral
Seville Cathedral is one of the most impressive Gothic cathedrals in the world. It is, in fact, one of the largest Gothic cathedrals in the world (Sevillianos will say it is the largest!).
Before entering, it's worth it to circle around the building and take in its architectural details and sheer size. Built in the 15th century on the site of a former mosque, the Seville Cathedral is home to the tomb of Christopher Columbus, as well as a stunning collection of religious art and artefacts.
The cathedral's bell tower, La Giralda, is also a must-see attraction.
The tower was originally built as a minaret for the mosque, but it was later converted into a bell tower. It also has an interesting feature: to ascend the tower, there are a series of ramps, not steps. This unique architectural feature was designed to allow the muezzin (the person who calls Muslims to prayer) to ride a horse to the top to perform the call to prayer, as horses cannot climb traditional stairs.
Today, these ramps make it easier to ascend the tower, which has been appreciated by countless visitors over the centuries. The ascent is relatively gentle, and the reward at the top is a breathtaking panoramic view of Seville's cityscape.
Like the Alcazar, the Seville Cathedral is hugely popular so I recommend buying your ticket online (includes entrance to La Giralda) or getting a guided tour of the Cathedral and Giralda.
Another great option is a combined tour of the Alcazar and the cathedral so that you can tick off both sites on your sightseeing checklist in one go!
Explore the Charming Barrio de Santa Cruz
Barrio de Santa Cruz is the historic heart of Seville. This neighbourhood is home to the Alcazar and Cathedral but beyond these UNESCO World Heritage Sites, there's still lots to explore.
Barrio de Santa Cruz is also Seville's old Jewish quarter and it retains its mesmerizing tangle of narrow lanes and quaint squares. Its historic essence is felt in every step. Meandering through the charming alleys, you'll stumble upon cozy plazas shaded by orange trees.
Highlights of the Santa Cruz neighbourhood include:
Plaza de Santa Cruz: A charming square with a central cross and surrounding cafes.
Hospital de los Venerables: A historic baroque building with beautiful courtyards and art exhibitions.
Plaza de los Refinadores: A small square showcasing traditional Andalusian architecture.
Jardines de Murillo: Gardens named after the painter Bartolomé Esteban Murillo, featuring statues and shaded walkways.
Callejón del Agua: A picturesque alley known for its cooling effect during hot summers.
As evening sets in, the neighborhood's tapas bars come to life, serving up local flavors. Head to Calle Mateos Gago, choose a local restaurant to dine in, and join the vibrant atmosphere.
While it's lovely to simply wander around Barrio de Santa Cruz and see what you discover, it's also worthwhile to take a walking tour of the neighbourhood. I learned so much more about what I was seeing and heard many local stories and legends on the tour I joined!
Wander around Plaza de España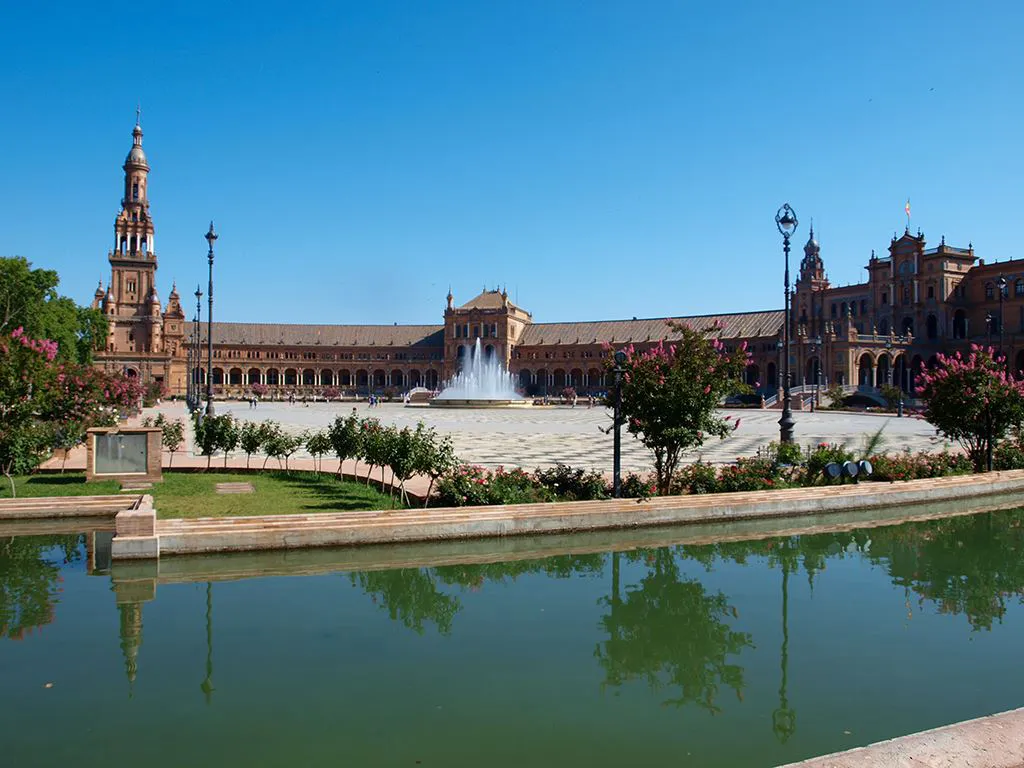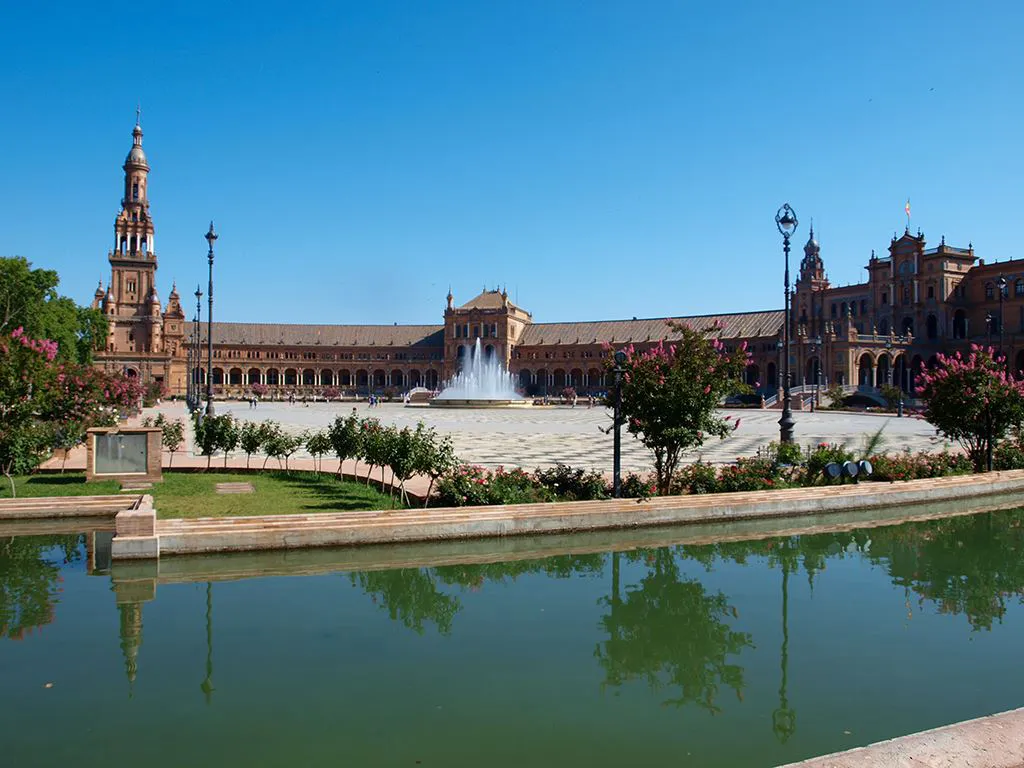 Plaza de España
A visit to Seville wouldn't be complete without seeing the iconic Plaza de España. Known for its stunning architecture and beautiful tile work, this beautiful square was built in 1928 for the Ibero-American Exposition. It was meant to impress… and almost 100 years laters, it's still a sight to behold.
Simply put, Plaza de Espana is not like any other plaza in Spain. This semi-circular square is a stunning example of Renaissance Revival style mixed with elements of Moorish and Spanish architecture.
Its most striking feature is a semi-circular building with a series of bridges spanning over a moat, symbolizing Spain's historic embrace of its former colonies. This building is adorned with ornate tiles, depicting scenes from different Spanish provinces and showcases vibrant colors and intricate ceramic work.
The square's open space is adorned with lush gardens, decorative benches, and a central fountain, creating an inviting atmosphere for both tourists and locals. As the sunlight dances upon the ceramic tiles, the Plaza de España stands as a testament to Seville's architectural prowess and historical significance.
You can take a stroll around the square, rent a boat to paddle around the canal, or simply sit and enjoy the view. Plaza de Espana is also a popular filming location for movies and TV shows.
I stop by Plaza de Espana on every visit to Seville and it never fails to wow me.
Enjoy Parque de Maria Luisa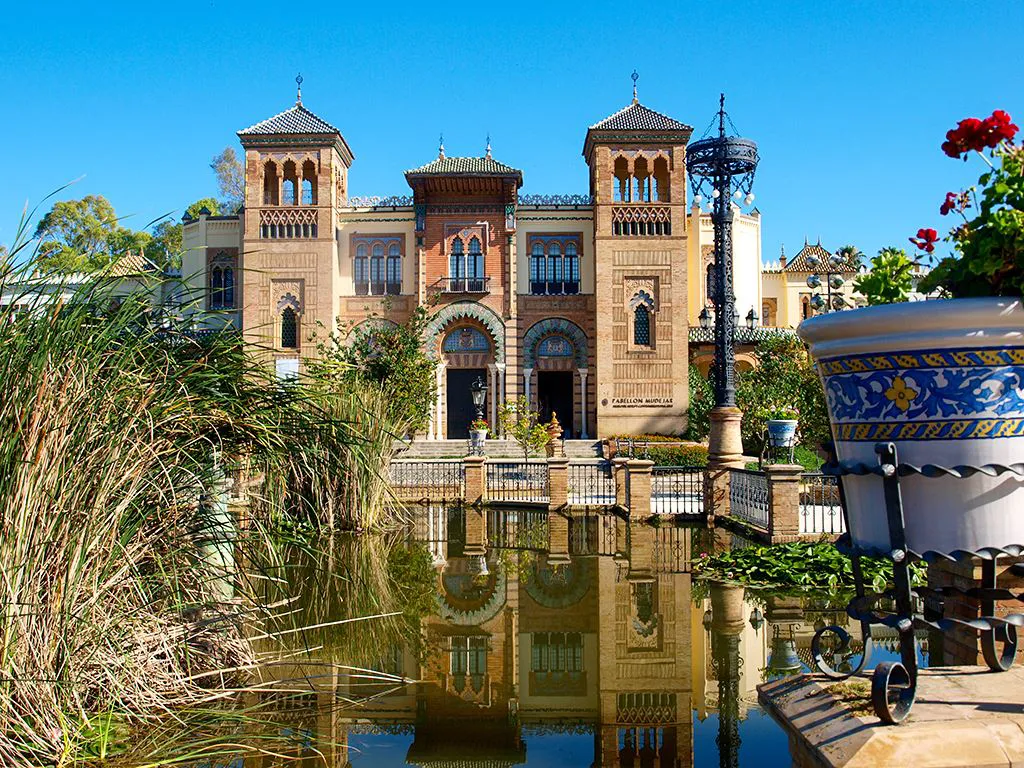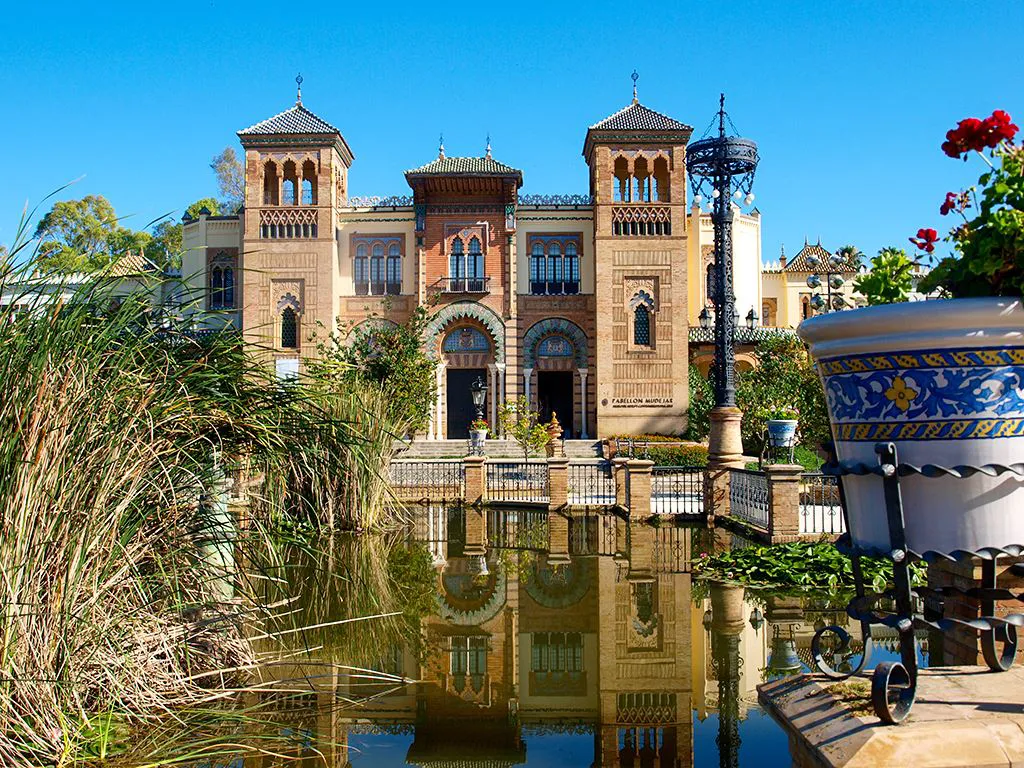 Parque de Maria Luisa
Opposite Plaza de España is a huge park, Parque de Marie Luisa. In 1893, Princess Maria Luisa donated half the gardens of the Palace of San Telmo to the city. In 1929, again for the Exposition, they were modified to what you see today.
Kilometres of paths wind through formal and less formal gardens. There are orange trees that are 100 years old, masses of flowering shrubs and flowers, fountains, ponds and lakes. It seems that most of the pigeons of Seville call the park home, along with a surprising selection of other birds for a location in the centre of a city.
Keep your eyes open for the Roman style statues on 15-metre-high columns giving a real 'Imperial' feel to the area. They, together with the horse-drawn carriages, (no cars allowed), transport you back to a less frantic era.
Take a Walking Tour of Seville
One of my favourite ways to enjoy a new city is to take a walking tour and Seville is no exception! I use Guruwalk to find the best free walking tours that suit my interests and schedule.
A walking tour is an awesome way to orientate yourself to the city, get some historical context, and snag some insider tips from your local guide. It's also a good way to see some of the city's major sights in an efficient way, when you're short on time.
Discover Seville on a Bike Tour
Want to explore Seville on two wheels? Then a bike tour might just be the thing for you.
The advantage of a bike tour is that you'll be able to cover more ground and see more than just the historic center. It's also a fun way to be more active. There are several bike tour options that you can choose from. This 3-hour bike tour takes place every day and starts at 10.00am. There's also a sunset bike tour if you prefer an evening timeslot. Want something equally fun but less strenuous? Check out this electric bike tour.
Stroll along the Guadalquivir
The Guadalquivir River, the lifeblood of Seville, has shaped the city's history and culture. From ancient trade routes that brought prosperity to the city, to being the backdrop of architectural marvels like the Torre del Oro, this river symbolizes Seville's vibrant spirit.
Today, it remains a highlight in Seville, popular with both locals and tourists. It's relaxing and lovely just walking along the river and taking in the sights of the city. Along the way, you'll find people just hanging out, some cafes and restaurants, and local parks.
There are many activities you can do on the river. Cruises on the Guadalquivir are a fun and relaxing way to see Seville. For more active travellers, you can try kayaking or paddleboarding.
In the evening, the riverbanks come alive with bars and restaurants, making it a great place to go for a night out.
Visit Torre del Oro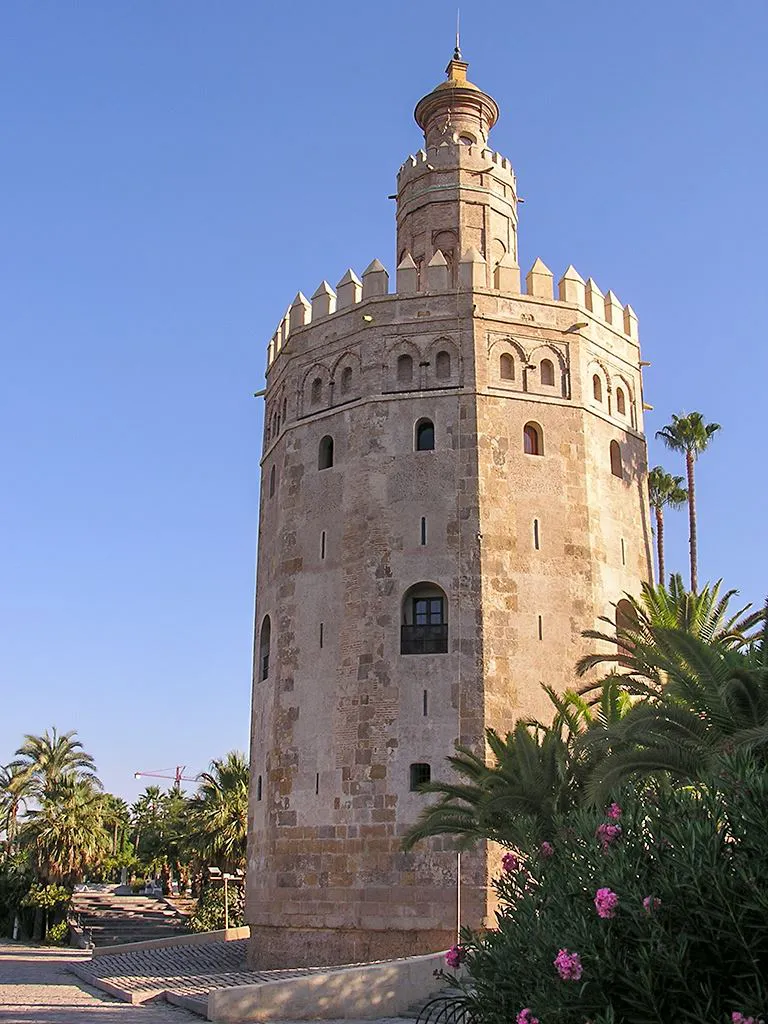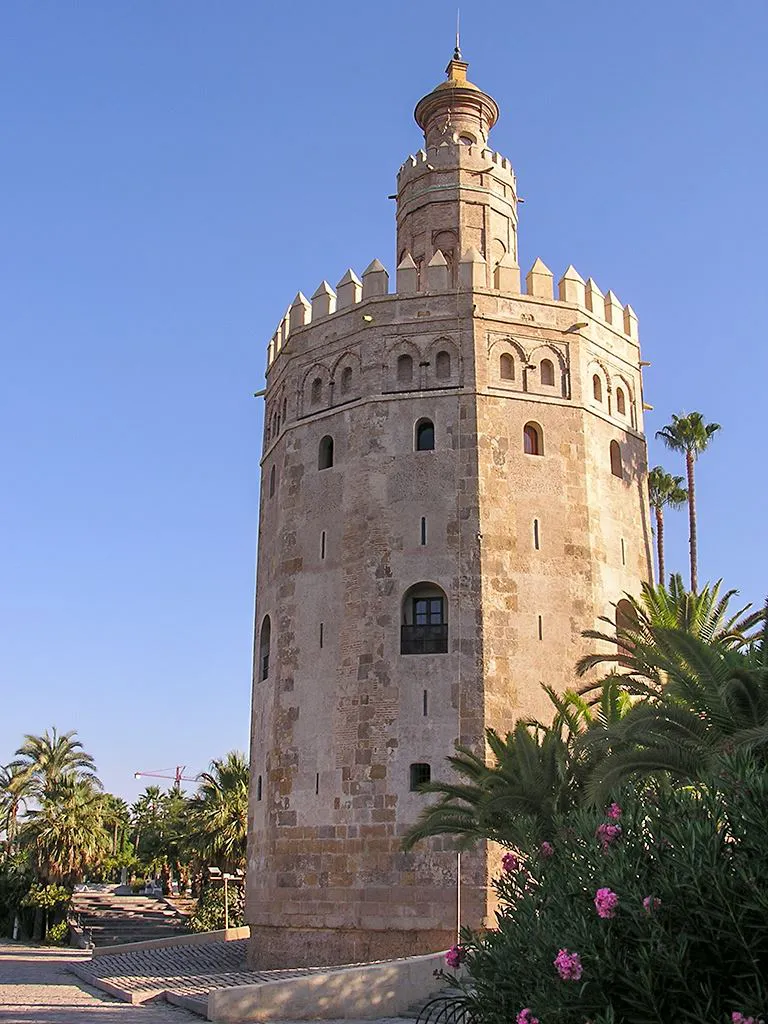 Torre del Oro
When you're by the river, you won't miss Torre del Oro, an enchanting 13th-century tower that stands guard over the Guadalquivir.
Its distinct golden appearance and Moorish design highlight its significance as a former defensive structure and naval museum. Inside, exhibits unveil Seville's maritime history. You can also climb the tower for great views of the river and the city.
There's a small fee to enter the Torre. The naval museum is disappointing considering Seville's connection to the Americas so don't expect too much from it. I'd say that seeing the tower from the outside is good enough.
See a Different Side of Seville at Metropol Parasol (Setas de Sevilla)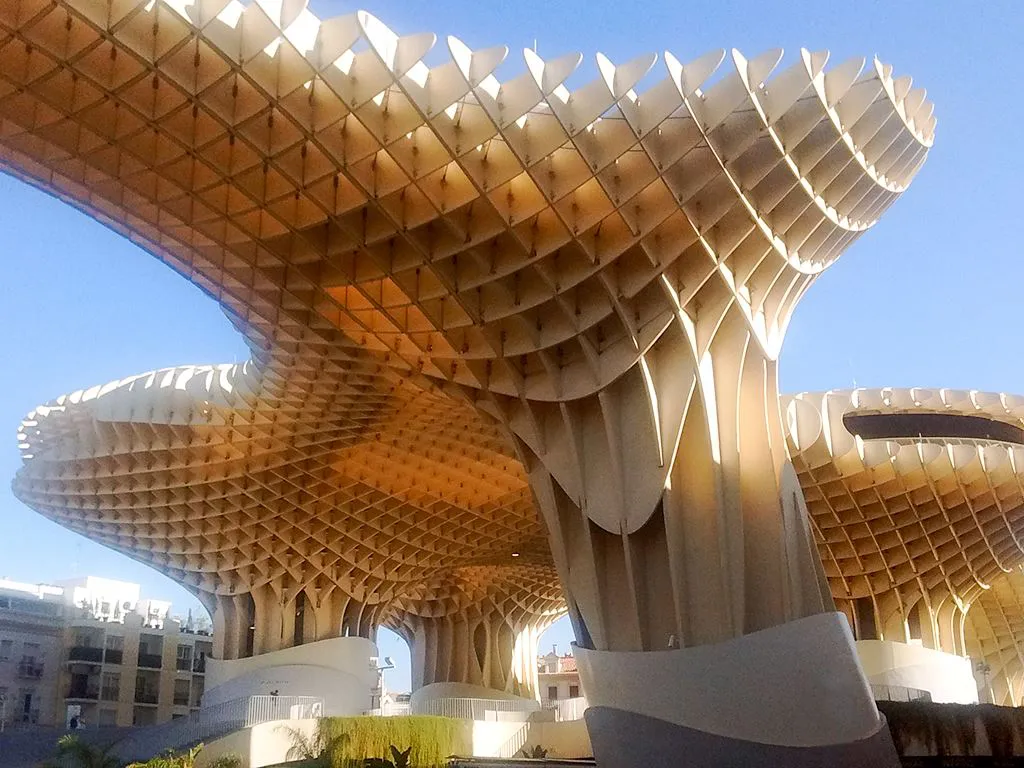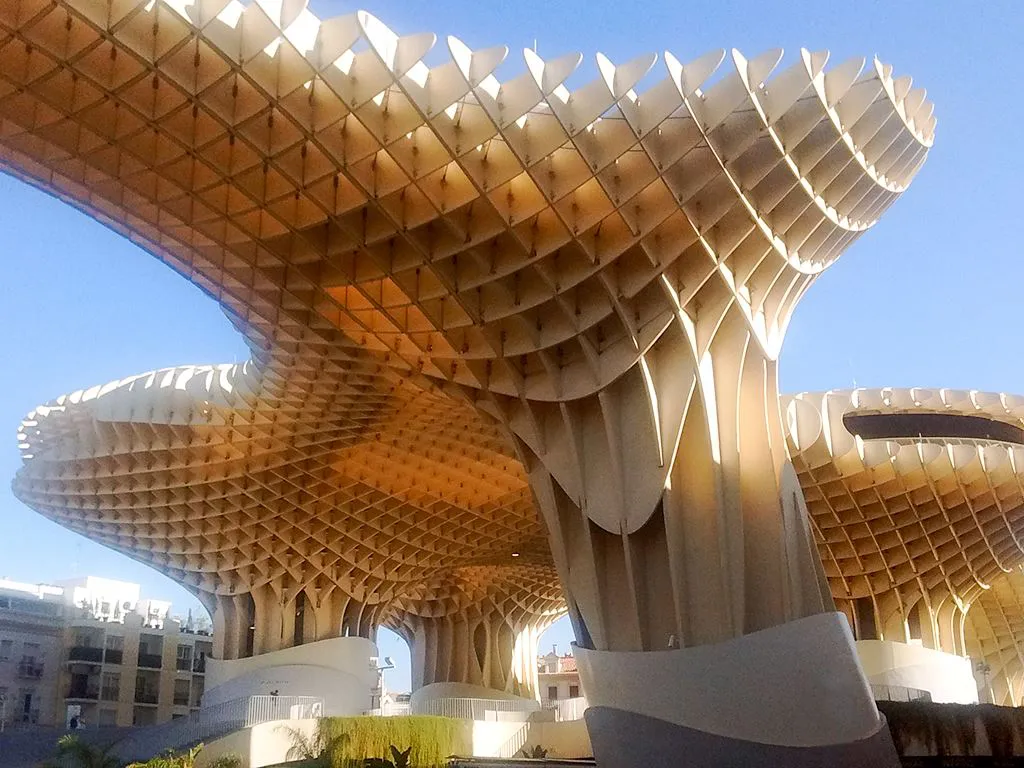 Setas de Seville
After seeing the historic side of the city, this Seville attraction displays its modern site. Completed in 2011, the Metropol Parasol claims to be the largest wooden structure in the world. It consists of six parasols in the form of mushrooms, hence 'Setas de Sevilla'. The intriguing shape of the structure and its sheer size is impressive!
The Setas are organized in four levels. The underground level houses the Antiquarium, where Roman and Moorish remains discovered on site are displayed in a museum. Level 1 is the Central Market. The roof of Level 1 is the surface of the open-air public plaza, shaded by the wooden parasols above and designed for public events. Levels 2 and 3 are the two stages of the panoramic terraces (including a restaurant), offering a view of the city centre.
The Setas have become a bit of a local hangout and it's a nice place to just sit and relax. For a special experience, it's worth going to the rooftop restaurant for a drink during sunset. But if not, there are plenty of restaurants and cafes in the area, if you need a bite or drinks.
Eat Your Way Through Seville on a Tapas Tour
Foodies, you'll be glad to know that Seville is well-known for its delicious food and drink! The gastronomy in Seville is a mixture of traditional Andalusian cuisine and modern culinary trends. If you're a foodie, you'll love exploring the many different dishes and flavours that Seville has to offer.
One of the best ways to experience the gastronomy in Seville is by taking a tapas tour. A tapas tour is a guided tour where you visit several different bars and restaurants and sample a variety of tapas dishes. Food tours are a great way to learn more about a city's culinary history while discovering local spots and specialities. If you're travelling solo, it's always a good way to meet fellow travellers!
I've taken this tapas and flamenco tour and loved the experience. I tried dishes I wouldn't have otherwise and discovered new eating spots that I didn't know of! If you want just a purely food experience, then try this tapas crawl.
Take a Cooking Class in Seville
If you want to learn how to make some of the delicious dishes that you've been trying on your tapas tour, then taking a cooking class is a great option. You get to learn the recipes and enjoy your favourite dishes in your own home!
This cooking class includes a visit to the Triana market where you'll learn about local produce and buy your supplies for the class. Then you'll prepare a menu of 4 local dishes (including paella) which you'll get to enjoy (with 2 complimentary drinks) after cooking!
Prefer to whip up some tapas? Then check out this cooking class instead.
A cooking class is a fantastic way to get hands-on and take a piece of Andalucia home with you.
Cross the Guadalquivir to Explore Triana
Once you're done exploring the historic center, I highly recommend hopping over the river to visit Triana and discovering another facet of the city. Cross the Puente de Isabel II (stop to take in the views of the river!) to enter the neighborhood and enjoy its charms.
Triana is known as the artistic soul of Seville. It's the birthplace of many flamenco artists and home to ceramic artisans and workshops. Stroll through its narrow streets to discover colorful houses adorned with ceramic tiles, reflecting its pottery heritage. The Triana Market showcases fresh produce, local products, and a lively atmosphere. Visit the Castillo de San Jorge, a historic castle with exhibits on the neighborhood's history.
At night, Triana comes alive with its tapas bars and flamenco venues, particularly along Calle Betis. Plus, the riverfront promenade offers stunning views of Seville's skyline.
Experience an Authentic Flamenco Show
Flamenco is a traditional Spanish dance that originated in Andalucia, and Seville is one of the best places to experience this passionate and emotional dance form. There's really nothing that compares to seeing a live flamenco performance; the artistry, passion, and soul of it will stay in your heart.
You can find several flamenco shows throughout the city, from small intimate venues to larger theatres. Casa de la Memoria puts up a great show that still feels intimate.
If you prefer a smaller venue, then I suggest going to a flamenco tablao in Triana. I've personally watched flamenco at Tablao Pure Essencia in Triana. It's a one-hour performance in a small, intimate venue (one drink included) and it was a fantastic experience!
Want to get hands-on? Try this 90-minute flamenco class and get a taste of the magic of flamenco.
See How Spanish Nobility Lived at Palacio de las Dueñas
Here's a hidden gem in Seville that you should add to your itinerary after you've seen the main attractions.
Palacio de las Dueñas is a historic palace and a magnificent example of Andalucian architecture. The palace dates back to the 15th century when it was originally built for the Pineda family, and its name, "Dueñas," is derived from the Spanish word for "ladies-in-waiting," as it was once owned by the Duchess of Alba. In fact, the palace gained prominence as a residence of the Alba family, one of Spain's most prestigious aristocratic families.
The palace features a blend of architectural styles, including Gothic, Renaissance, and Mudéjar influences. During your visit, you can explore the courtyards, gardens, galleries, and elegant rooms adorned with intricate details, beautiful tiles, and ornate ceilings.
Palacio de las Dueñas is not only an architectural gem but also a repository of art and culture. You'll find a remarkable collection of paintings, sculptures, furniture, and artifacts that reflect the palace's historical and artistic significance.
I visited Palacio de las Dueñas only on my third visit to the city and I was surprised by how much I enjoyed the visit! A visit here allows you to step back in time and explore the opulent lifestyle of Spanish nobility and experience another piece of Seville's cultural heritage.
You can buy tickets here (includes an audioguide).
Admire the Architecture of Casa de Pilatos
Another architectural gem in Seville that you shouldn't miss is Casa de Pilatos.
This well-preserved Andalucian palace is renowned for its unique blend of architectural styles, combining Mudéjar, Gothic, Renaissance, and Spanish Baroque elements. This fusion of influences creates a captivating visual experience that reflects the evolution of architectural trends over the centuries.
Casa Pilatos was constructed in the 16th century by the Enríquez and Ribera families and today it remains partly inhabited by the noble Medinacelli family. A visit here, similar to Palacio de las Dueñas, will give you a glimpse into the life of luxury of Spanish aristocrats.
Today, Casa de Pilatos is a designated cultural heritage site in Seville. You'll understand why when you visit: the artistic and architectural details of the palace are stunning! There are intricate stonework, beautiful tiles, ornate ceilings, and a diverse collection of sculptures and artwork from various periods.
The patio at Casa Pilatos is beautiful and impressive and, for me, is the highlight of the palace. Also notable are the gardens that feature fountains, statues, and meticulously landscaped greenery, offering visitors a tranquil space to explore.
The palace's harmonious blend of styles, rich history, and captivating design make it a must-see attraction for those interested in art, history, and culture. Book your tickets online here .
PS. If you only have time for one, I recommend visiting Casa Pilatos over Palacio de las Dueñas.
Visit Seville's Museums
If museums are your thing, here are the two best museums in Seville to visit.
Museo de Bellas Artes is one of Spain's most significant art museums, renowned for its exceptional collection of Spanish paintings from the Gothic period to the early 20th century.
Housed in a former convent, the museum features works by renowned Spanish artists such as Murillo, Velázquez, and Zurbarán. The collection encompasses religious art, portraits, still life, and more. The museum's elegant architecture and carefully curated displays offer an immersive journey through the evolution of Spanish art. Entrance is free for EU residents.
Archivo de Indias (General Archive of the Indies) is a UNESCO World Heritage site and a treasure trove of historical documents related to Spain's overseas expansion and colonial history.
Housed in a stunning Renaissance building, the archive contains millions of documents, maps, and records that provide insights into Spain's colonial administration and interactions with the New World. It's a vital resource for historians and a fascinating exploration for visitors interested in uncovering the global impact of Spain's colonial era. Entrance is free for all.
Both of these museums offer unique experiences, shedding light on different aspects of Spanish history, culture, and art. Whether you're an art enthusiast or a history buff, these museums provide captivating insights into Seville's rich heritage.
Want more museums? Within the Parque de Maria Luisa, there are a number of museums: Museum of Arts and Popular Customs, the Royal Pavilion and the Archaeological Museum. The latter has a magnificent display of gold jewelry and ornaments collectively called the Tartessian Treasure hoard and one of the best graphical 'timelines' with example artifacts covering the Prehistoric to Roman periods in Andalucia. These museums are free for EU residents.
Learn About the Art of Bullfighting
Bullfighting is a controversial tradition in Spain, but it is an integral part of the country's culture. If you want to learn more about this tradition, you should visit the Bullfighting Museum in Seville.
Located in the Real Maestranza bullring, the museum is one of the oldest and most prestigious bullrings in Spain. It houses a vast collection of bullfighting memorabilia, including bullfighting costumes, paintings, and sculptures.
Shop in Seville
For those more inclined to shopping, then this city is a paradise. Walking a gentle spiral outward from the cathedral takes you through narrow streets, most are pedestrian-only, shaded at roof level by great swathes of muslin during the summer, in which you find all the 'big name' stores as well as smaller specialist and artisan shops.
In this area, you can't miss Calle Sierpes, the main shopping street. It is an entirely narrow pedestrian street full of shops, many of which have preserved their appearance for years. This street is known for its fashion boutiques, jewellery stores, and souvenir shops. You'll find everything from handmade fans to flamenco dresses to leather goods.
If it's a shopping mall you're after, then head to the Nervion neighbourhood for Nervion Plaza that offers a variety of shops, restaurants, and entertainment options. The mall is home to over 100 stores, including Zara, H&M, and Primark. You'll also find a cinema, a bowling alley, and a food court that offers both local and international cuisine.
Have a Local Shopping Experience
If you're looking for a more traditional shopping experience, head to the Mercado de Triana. Located in the Triana neighbourhood, it's known for its fresh produce, seafood, and meat. You'll also find a variety of stalls selling ceramics, textiles, and other souvenirs. The market is a great place to experience the local culture and cuisine.
Another local market to explore is Mercado de la Encarnación located underneath Metropol Parasol which mainly sells fresh produce.
Indulge Your Inner Child at Isla Magica
If you're visiting with young ones or simply want to reconnect with your inner child, then head to Isla Magica, Seville's theme park.
The park's design draws inspiration from the Age of Exploration, taking visitors on a journey back in time to the 16th century when Seville was a bustling port city. The park is divided into themed zones, like "Amazonia," "Puerto de Indias," and "La Guarida de los Piratas, each representing a different part of the world during the Age of Discovery. Each zone is meticulously designed to immerse visitors in the culture, architecture, and atmosphere of that era.
Here, you'll find roller coasters, water rides, live shows, and interactive experiences. Some of the popular rides include "Anaconda," a thrilling roller coaster, and "El Jaguar," a river rapids ride. There are also street performances, and themed parades.
Adjacent to Isla Mágica is Agua Mágica, a water park that offers a refreshing escape with water slides, pools, and aquatic attractions.
Isla Mágica offers a blend of entertainment and education, allowing visitors to enjoy thrilling rides while also gaining insights into the historical context of Seville's past. It's a unique theme park experience that combines fun, history, and adventure in one captivating destination.
You can buy your tickets to Isla Magica online.
Enjoy the Nightlife in Seville
Seville is known for its vibrant nightlife, which is an essential part of the city's culture. Whether you are looking for a quiet drink or a wild night out, Seville has something for everyone.
Alameda is the most popular district for social gatherings and nightlife in Seville. This lively district is always full of young people, especially on weekends. Alameda offers a host of bars, both tapas and drinks, as well as a choice of dance clubs, sparking life into the nights of Seville.
Here are some of the best places to visit in the Alameda district:
Bar Antojo: A popular bar that offers a wide range of drinks and tapas. The atmosphere is lively and perfect for a night out with friends.
La Carboneria: This laid-back bar is famous for its flamenco shows and live music. It's a great place to experience the local culture while enjoying a drink.
El Garlochi: A unique bar that is known for its unusual decor. The bar is adorned with religious statues and has a unique atmosphere that you won't find anywhere else.
Triana is another popular district for nightlife in Seville. This district has a more traditional feel than Alameda and it's famous for its flamenco shows and traditional bars.
Here are some of the best places to visit in the Triana district:
Casa Anselma: A traditional bar that is famous for its flamenco shows. The atmosphere is lively and perfect for a night out with friends.
Blanco Cerillo: A popular bar that offers a wide range of drinks and tapas. The atmosphere is laid-back and perfect for a relaxing evening.
El Faro de Triana: A seafood restaurant that is famous for its delicious food and stunning views of the river. The restaurant is perfect for a romantic dinner or a special occasion.
Relax at an Arab Bath
All that sightseeing tired you out? How about some R&R with a historic spin?
Trying an Arab bath in Seville offers a unique and culturally rich experience that allows you to immerse yourself in the historical and soothing tradition of the Arab baths, also known as hammams. The Arab baths pay homage to Seville's heritage by offering an experience that reflects the bathing rituals and traditions of the Moors who once inhabited the region.
If you've never been to an Arab bath before, Seville is a fantastic place for a first-time experience -- take it from me!
Arab baths are designed to promote relaxation, well-being, and rejuvenation. The combination of warm and cold pools, along with various thermal experiences and massages, can help release tension, improve circulation, and reduce stress. The ambiance of Arab baths, with their soft lighting, aromatic scents, and calming music, creates a tranquil and meditative environment. It's a space where you can disconnect from the outside world and focus on relaxation.
There are a number of hammams in Seville. I can personally recommend Aire Ancient Baths in Santa Cruz. On my visit, I chose the bath option that includes a massage and it was an absolutely decadent experience. The baths themselves were quiet, atmospheric, and very relaxing. The service was top-notch and the entire experience was absolutely rejuvenating.
Going to an Arab bath is a unique and memorable activity for visitors to Andalucia. It's a chance to do something out of the ordinary and create lasting memories of your time in Seville.
Capacity in the hammams is typically limited to preserve the quality of the experience and slots are often snapped up quickly. So if you're keen to add this to your visit, be sure to make a reservation in advance!
Celebrate Andalucian Culture at the Seville Fair
For a once-in-a-lifetime experience, come join in the Seville Fair, also known as the Feria de Abril, one of the most popular cultural events in Seville. The fair takes place in April and lasts for a week.
During the fair, the city is transformed into a colourful and lively spectacle, with thousands of people dressed in traditional Spanish costumes, dancing, singing, and enjoying the local food and drink. If you want to experience the true essence of Seville's culture, you should not miss the Seville Fair.
Read more about Feria de Abril here.
Take a Day Trip from Seville
One last amazing thing to do is to take day trips from Seville. And the good news is that there are several easy Seville day trip options.
Here are 3 popular day trips from Seville.
Known for its splendid blend of Moorish and Spanish architecture, Córdoba is a cultural gem located just a short train ride away from Seville (just 45 minutes!). The star attraction is the Mezquita-Catedral, a stunning mosque-cathedral with its iconic red and white arches. Wander through the historic Jewish Quarter (Judería), explore the Alcázar de los Reyes Cristianos, and stroll across the Roman Bridge for panoramic views. Córdoba's charming streets, patios, and cultural heritage make it a must-visit destination.
Perched dramatically on a gorge, Ronda offers breathtaking views and a rich history. Its iconic Puente Nuevo (New Bridge) spans the El Tajo Gorge, offering spectacular vistas. Explore the historic old town with its Moorish and Spanish influences, visit the bullring (Plaza de Toros), and immerse yourself in the town's romantic ambiance. Ronda's picturesque beauty and unique location make it a perfect day trip destination. Ronda is best visited by car.
The historic coastal city of Cádiz boasts beautiful beaches, charming streets, and a lively atmosphere. Explore the historic quarter, wander along the seafront promenade, and visit the cathedral and Torre Tavira for panoramic views. Cádiz's maritime heritage and vibrant culture offer a refreshing contrast to the inland attractions of Seville. There are frequent train and bus connections between Seville and Cadiz.
These day trips from Seville offer a blend of history, architecture, natural beauty, and local culture, providing you with a well-rounded experience of the region's diverse offerings.
Where to Stay in Seville
Looking for a place to stay in Seville? Here are 3 of my favourite neighbourhoods in Seville and suggestions on where to stay for different budgets.
Santa Cruz/Historic Center
Triana
Alameda
More on Seville
Check out our other articles on Seville to help plan your visit:
Note: This article may contain affiliate/compensated links. That means that if you book through our link, we may earn a small commission (at no extra cost to you). For full information, please see our disclaimer here.
---
More about Seville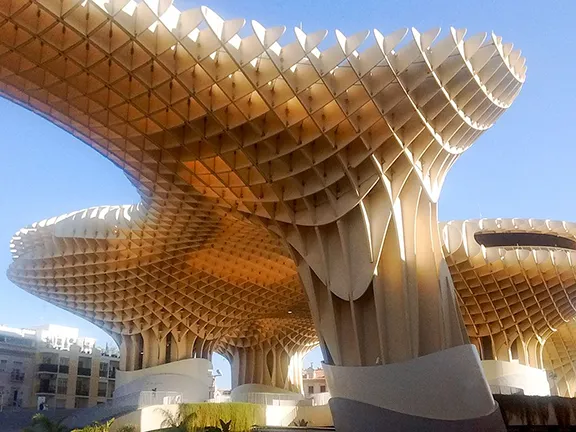 Visitors Guide to Seville City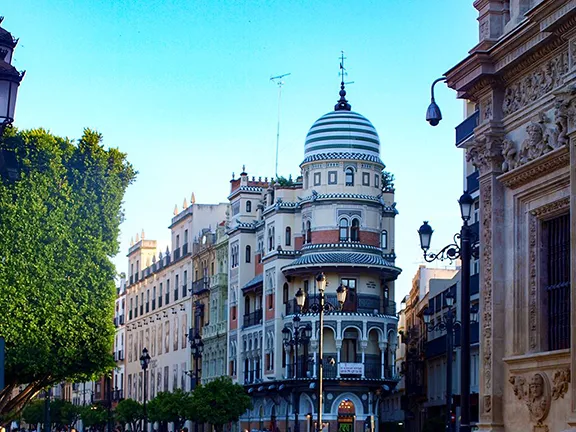 Historical Guide to Seville City
Places to go in Seville
Seville Cathedral
Real Alcazar Seville
Archivo General de Indias
Museums and Galleries in Seville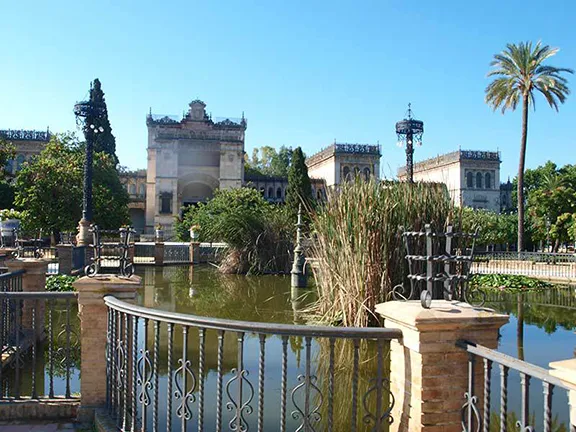 Archaeological Museum
---