The Perfect 2-Day Seville Itinerary
Just have 48 hours in Seville? You'll see the best of the Andalucian capital in this ultimate 2-day Seville itinerary.
By Liza S. | Updated 27 Oct 2023 | Seville | Cities | Login to add to YOUR Favourites
or Read Later
This article has been visited 64 times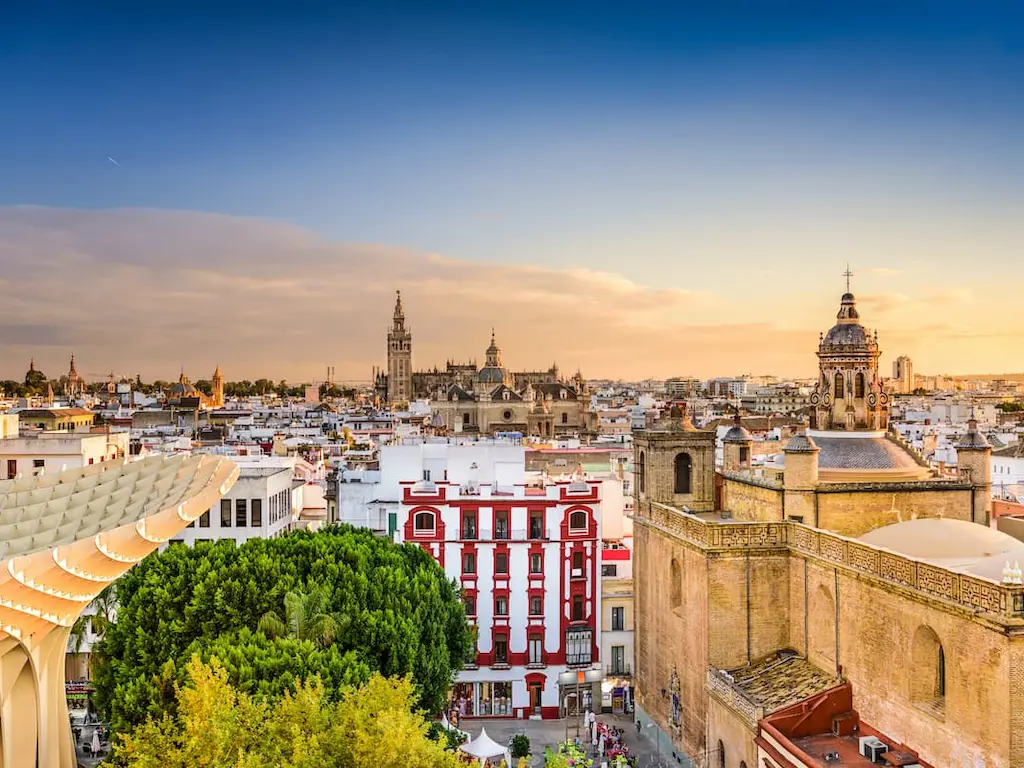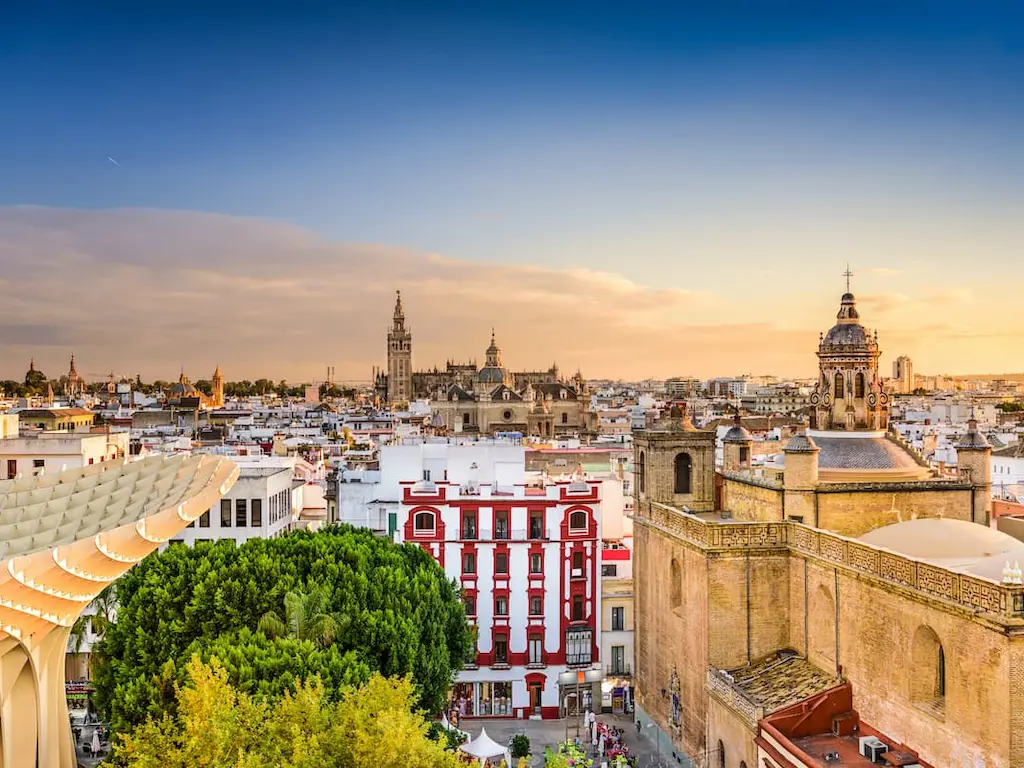 Aerial view to the Seville historic center
Seville, the capital of Spain's Andalucia region, is a city that effortlessly blends history, culture, and modernity. With its stunning architecture, vibrant neighbourhoods, and a rich tapestry of traditions, Seville is a must-visit destination for any traveller.
If you're planning a whirlwind trip to this enchanting city and want to make the most of your time, I've crafted the perfect 2-day itinerary for you based on my personal experience. Let's dive in!
See the Best of Seville in 2 Days: Quick Answer
Here's a quick overview of my suggested Seville 2-day itinerary. I've designed this based on my own personal experience visiting Seville and what I would do if I only had two full days to see the city's highlights.
Is two days in Seville enough? In my opinion, it's worth staying in Seville more than 2 days if you have the time… but if not, if you're just visiting Seville as a weekend trip or you already have a packed Andalucian itinerary, you can certainly see the city's highlights in just 48 hours!
Day 1 in Seville:
Morning: Real Alcazar
Afternoon: Santa Cruz & the Seville Cathedral
Evening: Flamenco & Food Tour
Day 2 in Seville:
Morning: Metropol Parasol and Market
Afternoon: Plaza de Espana and the Guadalquivir River
Evening: Triana and Tapas
Of course, you can do more… or less, but this itinerary will hopefully allow you to experience the best of Seville without having to go at a breakneck pace and tiring yourself out. You'll still be able to enjoy each site and discover why so many people love Seville!
Seville Itinerary Day 1: Exploring Seville's Historic Heart
Seville's historic centre is fairly compact so the best way to get around is by foot. The Seville Day 1 itinerary is quite focused in the center so you won't be covering large distances but the Day 2 itinerary does have more walking as you venture a bit further away from the Cathedral and the Real Alcazar. It's definitely still do-able by foot but if needed, you can always amend the itinerary to suit your needs or consider taking a taxi to get from one point to another.
Bikes and e-scooters are also easily rentable so they're a fun option to cover longer distances more quickly.
The Royal Alcazar of Seville
Morning: Real Alcazar of Seville
Start your day with a traditional Andalucian breakfast at a local café (or at your hotel, if breakfast is included in your stay!). Enjoy some churros dipped in chocolate or a tostada with tomato and olive oil.
Kick off your adventure at the awe-inspiring Real Alcazar, a UNESCO World Heritage site. Its origins trace back to the 10th century when it was initially built as a fort for Muslim rulers. Over the centuries, it evolved, with Christian monarchs adding their own architectural styles, resulting in a unique blend of Mudejar, Gothic, Renaissance, and Baroque influences.
It has served as a royal palace for Spanish monarchs to this day. As you step inside, you'll be awestruck by the intricate beauty that surrounds you. The Alcazar boasts a series of stunning courtyards, each with its own character.
The Patio de las Doncellas, with its delicate arches and ornate stucco work, is a true gem. Don't forget to explore the Hall of Ambassadors, a majestic room where Columbus met with Queen Isabella and King Ferdinand to discuss his famous voyage to the New World.
Before you leave, don't miss the enchanting gardens, where the sounds of trickling fountains and the scent of blossoming flowers create a serene atmosphere. The English Gardens offer a peaceful escape from the bustling city.
The Royal Alcazar of Seville is undoubtedly one of the city's top attractions so it's best to buy your tickets in advance and avoid the long lines to enter (I've been caught in them before and it wasn't any fun…). I recommend buying a combined ticket for the Alcazar and the Seville Cathedral (which is next on your 2-day Seville itinerary) as it'll save you time and money.
Consider taking an Alcazar guided tour to gain deeper insights into the palace's history and architecture. Visiting with a knowledgeable guide can unlock the secrets of this magnificent place! If you want, there's also a combined guided tour of the Alcazar and the Seville Cathedral which is both an efficient way to visit both monuments and very informative!
Afternoon: Santa Cruz and the Seville Cathedral
After a captivating morning at the Royal Alcazar, it's time to continue your exploration of Seville's historic heart.
In the afternoon, you'll delve into the charming Santa Cruz neighbourhood, indulge in some mouthwatering tapas, and marvel at the grandeur of the Seville Cathedral and the iconic Giralda Tower.
Before you dive into the Santa Cruz neighbourhood, it's time for a lunch break where you'll treat your taste buds to the delights of Spanish cuisine. Santa Cruz is peppered with tapas bars that offer an array of small, flavorful dishes.
Here are three restaurant suggestions for a delightful tapas lunch:
El Pasaje: Known for its traditional Spanish tapas. Try their patatas bravas and the classic tortilla española. The cosy atmosphere and friendly service make it a local favourite.
Bodega Santa Cruz Las Columnas: A historic gem, this bodega is famous for its sherry and serves excellent tapas. Savour the olives and Jamón ibérico while enjoying the lively atmosphere. Don't forget to pair your tapas with a glass of local wine.
La Azotea Santa Cruz: For a more modern take on tapas, head to La Azotea. Their menu features creative dishes with a twist. Try the octopus with truffle oil or the Iberian pork cheeks. The rooftop terrace offers stunning views of the Giralda.
After satisfying your tastebuds, it's time to wander through the labyrinthine streets of Santa Cruz. This historic district is a maze of narrow alleys, whitewashed buildings, and colourful bougainvillaea that drapes over balconies. Keep an eye out for hidden squares and fountains as you soak in the Andalucian charm.
As you wander through the winding streets of Santa Cruz, be on the lookout for Callejón del Agua. This charming alleyway is adorned with colourful tiles, potted plants, and small fountains. It's one of those hidden corners of Santa Cruz that's perfect for a quiet moment of reflection.
Don't miss Plaza de Santa Cruz which is at the heart of the Santa Cruz neighbourhood. It's surrounded by quaint buildings, outdoor cafes, and orange trees. A central feature of the square is a beautiful wrought-iron cross.
Another notable site in Santa Cruz is Hospital de los Venerables. This historic building, once a residence for retired priests, is a stunning example of Baroque architecture. Even if you don't go inside, take a moment to admire the intricate facade with its ornate stone carvings and grand entrance. The exterior alone is a masterpiece. If you have the opportunity to explore the interior, you'll find a beautifully restored chapel and courtyards.
End your afternoon adventure at the magnificent Seville Cathedral and the Giralda Tower, both of which are just a stone's throw away from Santa Cruz.
As you step into the cathedral, you'll be standing in the largest Gothic cathedral in the world. The interior is an architectural marvel, with soaring vaulted ceilings and intricate stained glass windows. Be sure to visit the tomb of Christopher Columbus, an impressive monument.
A highlight of the cathedral visit is ascending the Giralda Tower. Instead of stairs, you'll climb a series of gently sloping ramps. Once at the top, you'll be rewarded with panoramic views of the city. It's a climb worth every step!
The cathedral can get crowded, so I suggest visiting later in the afternoon to avoid the rush. Be sure to buy a skip-the-line ticket for the Cathedral and Giralda!
For this 2-day Seville itinerary, it's definitely more convenient to get a combined ticket to the Alcazar and Cathedral. Check the availability for your visit date below.
The passion of flamenco
Evening: Flamenco and Tapas Tour
As the sun sets over Seville, the city's historic heart takes on a different kind of magic: the fiery passion of flamenco and the culinary delights of Spanish tapas.
You can DIY your evening by making separate plans for dinner and a flamenco show but I highly recommend taking this Seville Tapas and Flamenco Tour by Devour Tours. I've personally done this tour and I had a fantastic experience!
The tour combines two of the city's great passions. Under the hands of a local guide, you'll stroll through cobbled streets of Old Town Seville. This culinary adventure allows you to savour the diverse flavours of Spanish cuisine while immersing yourself in the lively atmosphere of the city at night.
The tour includes three stops at local tapas bars and eateries, each offering a unique selection of tapas. From crispy patatas bravas to succulent Jamón ibérico, you'll have the chance to taste a variety of traditional dishes while learning more about Seville's food history.
After your second stop, it's time for a mesmerising flamenco show held in the heart of Seville's Old Town. It's a small, intimate venue and you'll be spellbound by the intricate footwork, the haunting melodies, and the sheer intensity of the performance.
Following the flamenco show, your evening continues with the final stop for the night where you'll cap off the experience with more food and drinks and conversation about food and flamenco.
On my tour, our guide was a local flamenco professor and he was incredibly passionate about sharing information about the art! And needless to say, the food was absolutely superb. They very kindly accommodated my food restrictions and I had the chance to try some dishes that I never had before.
This food tour is an excellent way to discover some of the best places to eat and experience the vibrant nightlife of Seville. It's a perfect way to end your first day in the city, surrounded by the passionate sounds of flamenco and the delightful tastes of Spanish tapas.
Seville Itinerary Day 2: Discovering Seville's Modern and Cultural Side
Las Setas in Seville
Morning: Metropol Parasol, Mercado de la Encarnación and Antiquarium
On your second day in Seville, you'll explore the city's modern side and delve into its intriguing history. Your morning will be filled with architectural wonders, a bustling market, and a journey underground.
This morning, you'll discover a different side of Seville by visiting the intriguing Metropol Parasol, also known as Las Setas (The Mushrooms).
But before that, head to the Mercado de la Encarnación. This bustling market, located right beneath the Metropol Parasol, is a food lover's paradise. It offers an array of fresh produce, seafood, meats, cheeses, and more.
Take a leisurely stroll through the market, interact with local vendors, and perhaps even sample some delicious local snacks. Try local specialties like fried fish, grilled sardines, and oysters. It's an excellent place to experience the lively atmosphere of a Spanish market.
With your appetite satisfied, it's time to visit the Metropol Parasol This modern architectural marvel stands in stark contrast to the historic heart of Seville. Designed by architect Jürgen Mayer, it's an extraordinary wooden structure resembling giant mushroom-shaped parasols.
Take an elevator to the top for breathtaking panoramic views of Seville (included in your entrance fee). As you gaze out over the city, you'll gain a new perspective on its layout and landmarks. It's a wonderful spot for photos and a serene way to start your morning.
After descending from the Metropol Parasol, venture deeper into the historical layers of Seville by visiting the Antiquarium. The Antiquarium offers a unique opportunity to explore the foundations of the city, and its exhibits are thoughtfully curated to provide historical context.
Located beneath the Metropol Parasol, this underground museum showcases the city's archaeological treasures, providing a fascinating glimpse into its Roman and Moorish past. You'll walk through well-preserved ruins, viewing ancient mosaics, pottery, and artefacts that tell the story of Seville's rich history. Allow about an hour for your visit.
If you'd like to stay in this area for lunch, consider dining at La Bartola, a highly-rated restaurant near the Metropol Parasol. La Bartola offers a delightful mix of traditional and modern Andalucian cuisine. From Iberian ham to seafood paella, their menu is a celebration of local flavours. Don't forget to try their famous salmorejo, a cold tomato soup. Another great lunch option is El Rinconcillo which is known for being the oldest tapas bar in the city!
Alternatively, I suggest heading to the neary Plaza de la Pescaderia where you'll find a number of local restaurants.
Plaza de Espana
Afternoon: Plaza de España and the Guadalquivir River
As your second day in Seville unfolds, the afternoon takes you to two iconic locations - the magnificent Plaza de España and the serene banks of the Guadalquivir River. Get ready for architectural splendour, scenic walks, and a tranquil riverside break.
Take a leisurely walk through Seville's historic centre to reach the iconic Plaza de España. From Las Setas, it's a 30-minute walk but it'll take you through the city's shopping area along Calle Sierpes, past the City Hall and Cathedral, and then other beautiful buildings like the historic Hotel Alfonso XI and the Tobacco Factory.
(If you're short on time or the walk is too long, then taking a taxi is the best way to get to Plaza de España)
Plaza de España in Seville is not just an ordinary Spanish square; it's a monument to the Spanish Renaissance and a testament to Seville's cultural heritage.
Built for the Ibero-American Exposition of 1929, it showcases a unique blend of Art Deco, Neo-Mudejar, and Renaissance Revival styles. The square represents Spain's embrace of the nations of Latin America, celebrating their shared cultural ties.
The central building of the Plaza de España is a sight to behold, adorned with ornate tiles depicting scenes from Spain's history. Walk along its balustraded bridges and marvel at the exquisite craftsmanship. There are usually buskers around and if you're lucky, you may spot a passionate flamenco performance.
Take time to explore the 48 tiled alcoves representing Spain's provinces. Each alcove features unique ceramic artwork and provides insights into regional culture and history.
In the summer months, you can rent a rowboat to navigate the canals that meander around the square. It's a charming way to explore the square's architecture from a different perspective.
Once you're satisfied with your exploration of Plaza de España, you'll escape to the serenity of the Guadalquivir River. There are several ways to get to the river but the loveliest is to walk through Parque de María Luisa. Once you reach the riverside, take the right so that you're walking back towards the historic centre.
The Guadalquivir River has been a vital artery of trade and exploration throughout Seville's history. It played a pivotal role during the Age of Exploration, serving as the gateway for Spanish expeditions to the New World. Today, the river remains at the heart of Seville as a place for locals to gather, relax, and enjoy the day.
A leisurely walk along the riverbanks offers tranquil scenery and provides a pleasant escape from the city's hustle and bustle. You'll appreciate the gentle breeze and the sound of the flowing river.
For a delightful afternoon break, head to Muelle New York, a laid-back riverside bar on the Guadalquivir River. (It is a bit more expensive but it's a lovely place!) Relax with a cup of Spanish coffee or sip on a refreshing glass of sangria while taking in the beautiful surroundings. It's the perfect spot to rejuvenate before continuing your exploration.
Alternatively, consider taking a relaxing river cruise to rest your feet, enjoy the river, and learn more about the sights along the riverbanks. Some cruises offer live music and informative commentary about Seville's history.
As you stroll along the riverbank, you won't miss the sight of Torre del Oro, staying guard over the river. This iconic "Golden Tower" was built during the 13th century as a defensive structure and later served as a treasury for riches brought from the Americas.
You can walk further along the river and enjoy the vibe or pick a comfortable spot along the riverbank to sit, rest, and take in the views of the river.
The Triana neighbourhood in Seville
Evening: Triana and Tapas
As the sun dips below the horizon and Seville's lights begin to twinkle, your evening adventure takes you across the Isabel II Bridge to the lively and historic Triana neighbourhood.
Traditionally known as the neighbourhood of potters and sailors, Triana is famous for its ceramic workshops, flamenco history, and vibrant atmosphere. Strolling through its narrow streets is like stepping back in time.
To get to Triana, simply walk along the river until you get to the ornate Triana Bridge. Also known as Puente de Isabel II, this iconic iron bridge connects Triana to the city centre of Seville. It's a historic and architectural landmark that dates back to the mid-19th century.
Walk across the bridge and enjoy stunning views of the Guadalquivir River, Torre del Oro, and the cityscape of Seville. The bridge is particularly picturesque during sunset, offering a romantic setting for an evening stroll.
On the Triana side of the bridge, explore the lively Plaza del Altozano, where you can find restaurants, cafes, and local shops. Calle Betis, which parallels the river bank on the Triana side. is also lovely to walk along as it offers views of the river and Seville's city centre.
If you have the time and energy, you may also want to consider exploring the nearby Calle Pureza. Triana has a long-standing tradition of pottery and ceramics production, and Calle Pureza is at the heart of this legacy. Walking along this charming street, you'll discover numerous ceramic workshops and boutiques.
Browse the artisan workshops and boutiques to admire and purchase handmade ceramics, including colourful tiles, pottery, and decorative items.
Since you're already on this side of Seville, I highly recommend staying here for dinner just to experience a different side of the city. Plus, there are some great restaurants in Triana.
Taberna Sol y Sombra is a traditional Andalucian taberna that's a local favorite, known for its authenticity and warm ambiance. Try their grilled seafood and house-made sangria. The intimate setting makes it a perfect spot for couples.
For a taste of classic Spanish cuisine with a modern twist, Las Golondrinas is an excellent choice. Their menu features a wide range of tapas, including innovative dishes like Iberian ham croquettes with truffle oil. The restaurant's contemporary design and friendly service create a welcoming atmosphere.
If you're looking for a taste of flamenco with your meal, La Tertulia offers just that. This historic venue combines traditional Spanish dishes with live flamenco performances. Make a reservation to secure your spot.
Triana is also the nightlife hub of Seville so you're feeling up to it, end off your 2 days in Seville with a night to remember!
Calle Betis by the riverside is lined with bars, clubs, and restaurants, offering a variety of options to suit different tastes. Whether you want to dance to live music or simply sip cocktails with a view of the river, Calle Betis has something for everyone.
If you want more flamenco or didn't get the chance to catch a performance on your first night, Triana is a hotspot for authentic flamenco performances. I've personally attended a show at Tablao Pure Essencia in Triana and can highly recommend it. It's a small, intimate venue with passionate performers and you get a free drink with your ticket.
For a unique and unforgettable experience, visit Casa Anselma. This small, traditional bar is famous for its spontaneous and lively flamenco performances. The atmosphere is electric, and you're likely to find yourself clapping and dancing along with the locals.
2 Days in Seville: Where to Stay
For a 2-day visit to Seville, staying in or close to the historic centre is the best way to make the most of your stay. You won't have to waste time commuting and can maximise your sightseeing. Staying within the historic centre also makes it easy to return to your hotel during siesta time!
Here are some recommendations for great places to stay in Santa Cruz and the historic centre.
Another possible option is to stay north of the historic centre in the trendy neighbourhood of Alameda. It's still within walking distance of the main tourist area but Alameda is a bit more residential and has a local feel which I love. There are also loads of shops, cafes, and restaurants here. If you prefer an apartment rental, this is also a good location to look at.
For more recommendations on where to stay, check out our Seville neighbourhood and hotel guide.
You can also browse the latest deals in Seville below.
Tips for a Perfect Seville Visit in 2 Days
Here are my personal tips to making the most of your two days in Seville.
Prioritise Must-See Attractions: With limited time, focus on must-see attractions like the Alcazar, Seville Cathedral, and Plaza de España. Plan your itinerary around these landmarks to ensure you don't miss them.
Use Skip-the-Line Tickets: Consider purchasing skip-the-line tickets for popular sites like the Alcazar and the Cathedral. I recommend this combined ticket. This will save you valuable time, especially during peak tourist seasons.
Explore on Foot: Seville's historic centre is best explored on foot. Wear comfortable shoes and be prepared for a lot of walking. Many attractions are close to each other, making it convenient to explore without relying on transportation.
Try Tapas Dining: Embrace the local dining culture by enjoying tapas. Opt for traditional Andalucian dishes and visit local tapas bars. Don't forget to pair your meals with local wines or sangria.
Stay in a Central Location: Choose accommodation in or near the city centre to minimize travel time between attractions. The Santa Cruz/Arenal and Alameda neighbourhoods are excellent options for a central stay.
Plan Evening Entertainment: Seville comes alive at night. Consider booking an evening activity like a flamenco show or a tapas and wine tour to make the most of your evenings.
Learn Basic Spanish Phrases: While many locals in Seville speak English, knowing a few basic Spanish phrases can go a long way in enhancing your experience and interacting with locals. Simple greetings and polite phrases are appreciated.
Respect Siesta Time: Be mindful of the Spanish siesta, a midday break when many shops and restaurants close. Plan your activities accordingly and enjoy a leisurely lunch during this time.
With this 2-day Seville itinerary, I hope that you'll be able to immerse yourself in the city's history, culture, and cuisine even if you just have a weekend or two days to take it in. Enjoy your time in this remarkable city, and may it be the start of a lifelong love affair with Seville!
More on Seville
Check out our other articles on Seville to help plan your visit:
Seville Hotels: Map
Note: This article may contain affiliate/compensated links. That means that if you book through our link, we may earn a small commission (at no extra cost to you). For full information, please see our disclaimer here.
---
Places to go in Seville
Isla Magica
Seville Cathedral
Archivo General de Indias
Museums and Galleries in Seville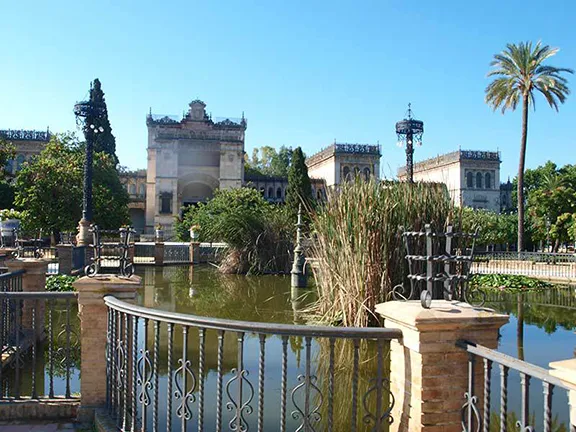 Archaeological Museum