Visitors Guide to Córdoba, a UNESCO World Heritage Site
Córdoba, the capital of the province of the same name, lies in the southern foothills of the Morena mountains, on the banks of the Rio Guadalquivir, about 130 kilometres upstream from Seville.
By Liza S. | Updated 25 Aug 2023 | Córdoba | Cities | Login to add to YOUR Favourites
or Read Later
This article has been visited 15,073 times
Roman Bridge in Cordoba
Welcome to Cordoba, one of the most beautiful and historic cities in Spain! With its rich history, stunning architecture, and vibrant culture, Cordoba is a must-see destination for anyone traveling to Andalucia.
Whether you're interested in exploring the city's many historical sites, tasting its delicious cuisine, or simply soaking up the vibrant atmosphere of its streets and squares, Cordoba has something for everyone. In this travel guide, we'll provide you with all the essential information you need to plan a great visit to Cordoba, from the best time to visit to the top attractions to see and the best places to stay.
So, whether you're a first-time visitor or a seasoned traveller, let's dive in and discover all that Cordoba has to offer.
Brief History of Cordoba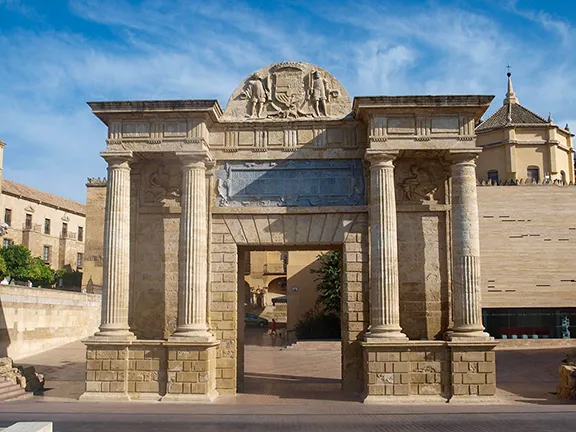 Bridge Gate, Cordoba
When you visit Córdoba, you'll be stepping into a city with a rich and diverse history. Located in the heart of Andalucia, Córdoba has been inhabited by various cultures throughout the centuries, each leaving their mark on the city's culture, art, and architecture.
The city's history dates back to the Iberian Peninsula, where it was originally a Roman settlement from around 152 BCE. During the Roman era, the city prospered and became an important hub for olive oil production. Many of the city's buildings, including the famous Roman Bridge, still stand today as a testament to this era.
After the fall of the Roman Empire, Córdoba was conquered by the Visigoths, who ruled until the arrival of the Moors in the 8th century. The Islamic conquest of Córdoba marked the beginning of a golden age for the city. Under the rule of the Moors, Córdoba became a centre of learning and culture, with a thriving arts and sciences scene.
One of the most iconic structures from this era is the Mezquita of Córdoba, also known as the Mezquita-Catedral. This stunning mosque-cathedral is a testament to the Islamic architecture of the time, with its intricate columns and arches.
In the 13th century, Córdoba was conquered by the Christian Kingdom of Castile. The city underwent significant changes during this time, with many of its Islamic buildings being converted into Christian places of worship. Despite this, many of the Islamic influences can still be seen in the city's architecture and culture.
Today, Córdoba is a UNESCO World Heritage Site and a popular tourist destination. Visitors can explore the city's old town, with its narrow streets and picturesque patios, or visit the nearby ruins of Medina Azahara, a once-thriving medieval city.
For more on the city's interesting history, read our historical guide to Cordoba.
How to Get to Cordoba
If you're planning a trip to Córdoba, you'll need to know how to get there. Luckily, the city is well-connected to the rest of Spain, making it easy to reach by plane, train, bus or car. Here's a breakdown of the transportation options available to you.
By Plane
Córdoba does have its own airport, but there are no passenger flights serving the airport as it is mostly used for general aviation.
So if you're arriving by air, you'll likely need to fly into Seville or Malaga, which are both around 2 hours away from Cordoba. From there, you can drive or take a train or bus to Córdoba. I would recommend flying into Seville airport as it's a bit nearer and there are frequent train connections to Cordoba.
By Train
Córdoba is a major stop on the high-speed AVE train line, which connects Madrid and Seville. If you're travelling from Madrid, the journey takes around 2 hours, while the journey from Seville takes just 45 minutes.
There are also regular trains to Córdoba from other cities in Andalucia, such as Granada and Malaga.
I love travelling in Spain by train so in my opinion, if there's a direct connection from your departing city, this is the best way to get to Cordoba.
By Bus
There are regular bus services fto Cordoba rom cities across Spain, including Madrid, Seville, Granada and Malaga. The journey times vary depending on the origin city, but most trips take between 2-3 hours.
Taking the bus is often cheaper than the train so this is a great option if you're on a budget. Buses in Spain are reliable and pretty comfortable so it's not a bad way to travel.
Travel Tip:
It's a good idea to compare prices, schedules, and travel times when deciding the best way to get to Cordoba. Using
Omio
is an easy way to compare different modes of transport and prices in one place.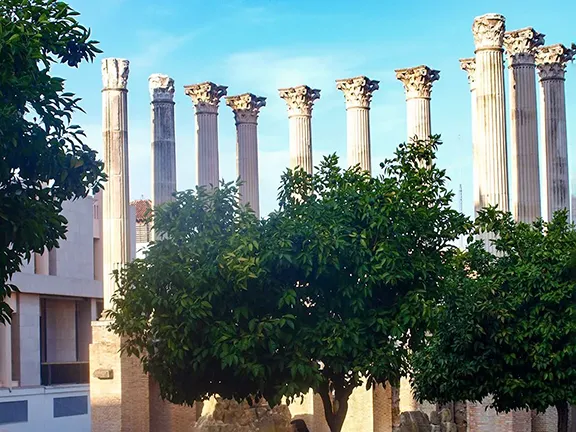 Roman Temple, Cordoba
By Car
If you're driving to Córdoba, you'll find the city is well-connected to the rest of Spain by a network of highways. The journey from Seville takes around 1 hour and 40 minutes, while the journey from Malaga takes around 1 hour and 45 minutes. If you're travelling from Madrid, the journey takes around 4 hours.
One thing to note is that parking is tough in the historic centre so you're better off parking outside of the centre and then just walking and using public transportation within Cordoba itself.
Getting Around Cordoba
Cordoba is a compact city, and most of its attractions are located within walking distance from each other.
Walking is the best way to explore the city's historic centre, including the Jewish Quarter, the Mosque-Cathedral, and the Alcazar. Walking also allows you to discover the hidden gems of Cordoba, such as its charming streets, plazas, and parks.
If you're looking for a fun and eco-friendly way to explore Cordoba, consider renting a bike. There are several bike rental shops in the city, and you can choose from a range of bikes, including city bikes, mountain bikes, and electric bikes. Biking allows you to cover more ground than walking while enjoying the city's sights and sounds.
Another fun way to explore Cordoba is by Segway. A Segway tour allows you to visit the city's main attractions while gliding through its streets and alleys. Segway tours are led by knowledgeable guides who will provide you with information about Cordoba's history, culture, and architecture.
For a romantic and nostalgic way to explore Cordoba, consider taking a horse carriage ride. Horse carriages are available in the city centre, and they offer a unique perspective of Cordoba's landmarks, such as the Mosque-Cathedral and the Alcazar. Horse carriage rides are also a great option for families with children or elderly travellers who may find walking or biking challenging.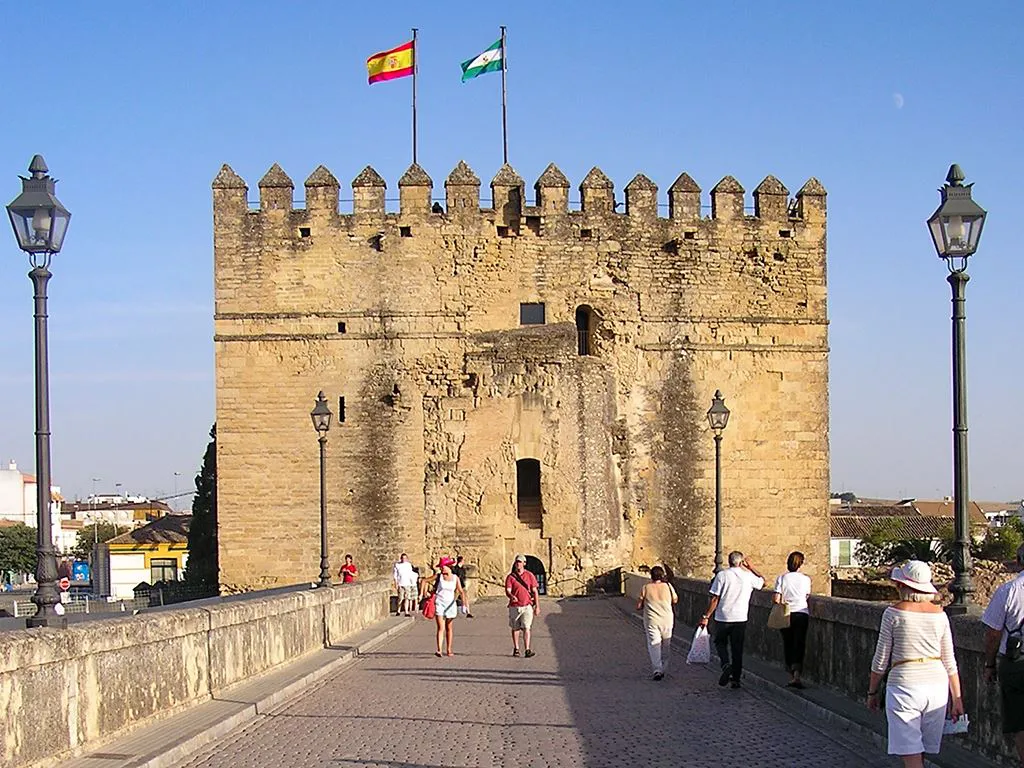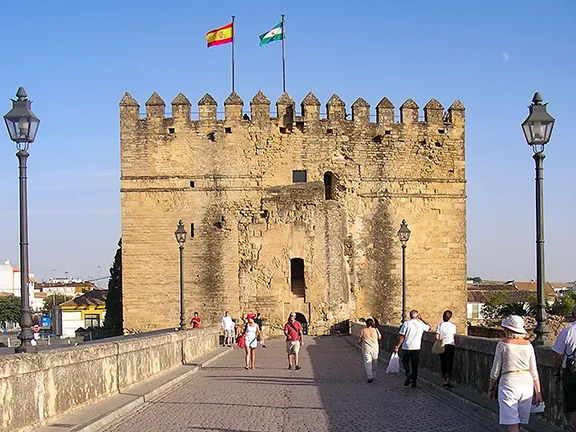 Calahorra Fort Cordoba
Public Transportation in Cordoba
Cordoba has an efficient public transportation system that includes buses and taxis. The bus network covers most of the city, including the main train and bus stations, and you can buy tickets at kiosks or on the bus itself.
Taxis are also widely available and you can hail them on the street or book them in advance. They're more expensive than buses but are a convenient option for short distances or when you're in a hurry.
When to Visit Cordoba
The best time to visit Cordoba, Spain is during the spring or fall seasons.
The months of April, May, September, and October are ideal times to visit Cordoba because the weather is mild and pleasant. During these months, the average temperature ranges from 15°C to 25°C, making it comfortable to explore the city's many attractions.
In addition to the comfortable weather, visiting Cordoba during the spring or fall means avoiding the crowds that come during the peak summer season. This allows you to enjoy popular attractions such as the Mezquita-Catedral and the Alcazar de los Reyes Cristianos without the large crowds that can make it difficult to fully appreciate the beauty and history of these sites.
Visiting Cordoba during the spring or fall offers a perfect balance of comfortable weather, smaller crowds, and the opportunity to fully appreciate the city's many attractions.
Top 10 Things to Do in Cordoba, Spain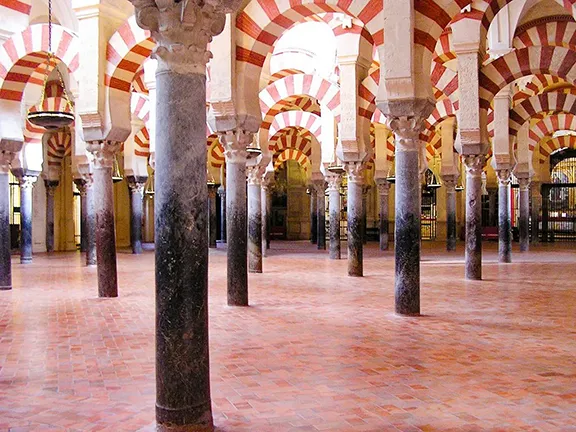 Mezquita, Cordoba
Christian, and Jewish influences blend together seamlessly in an unforgettable way. In my opinion, the Mezquita (which is a UNESCO World Heritage Site) is one of the most fascinating monuments in the world and visiting it alone would make a trip to Cordoba worth it!
But beyond the mosque-cathedral, Cordoba has lots to offer. Here are the top 10 things to do in Cordoba, Spain.
Visit the Mosque-Cathedral of Córdoba - This is the most famous attraction in Cordoba and the reason why so many tourists flock here. And it's well worth the visit!
Explore the Old Town - The old town of Cordoba is a UNESCO World Heritage Site. It's a great place to wander around and explore the narrow streets and beautiful buildings.
Wander around the Jewish Quarter of Cordoba (La Judería) - This is the heart of the historic center where you'll discover labyrinth-like streets, white-washed houses, and beautiful patios.
Discover the Alcázar de los Reyes Cristianos - This palace-fortress built in the 14th century is famous for its beautiful gardens and stunning views of the city.
Visit the Medina Azahara - This is an archaeological site that was once the capital of Al-Andalus. It's a great place to learn about the Moorish history of the city and the region.



La Juderia Cordoba

Explore the Roman Bridge - This beautiful bridge that dates back to the Roman era, a great place to take a walk and enjoy the views of the city.
Visit the Calahorra Tower - This 12th century tower is home to a museum that tells the story of the city's history.
Discover Cordoba's Beautiful Patios - Cordoba's patios and courtyards are one of the best Andalucian traditions and they will wow you!
Take a Free Walking tour of Cordoba - See the highlights of the city and learn more about its fascinating history on a free walking tour
Visit the Bell Tower - This is the tallest tower in the city and offers stunning views of the city.
Discover all the amazing things to do in Cordoba in our guide to what to see and do in Cordoba.
Here are some top experiences and activities in Cordoba.
Where to Eat & Drink in Cordoba
One of the reasons I love this city is because some of the best places to eat are in the two emblematic squares in the city where there is always something going on.
There is the Plaza de las Tendillas with its water jets and fountains, illuminated at night. The huge square is surrounded by monumental buildings. Then there is Plaza de la Corredera, probably the more famous of the two squares because of its colonnaded arcades around all four sides, unique in Andalucia. This was and is the social hub of Córdoba where in days gone by you may have enjoyed a bullfight, a party or even, during the Inquisition, a public execution.
A recently opened venue is the Mercado Vistoria on Puerto de la Victoria, just outside the old town on the west side. Open from breakfast through to late evenings, this is a food hall par excellence. The choice of food is huge, fish, meats, vegetarian, Italian, Spanish, Moroccan and more. The choice of drinks is massive. Just choose what you want, take it to a free table, indoors or out, and eat whilst people watching. A couple of the bars also have live entertainment in the evenings. Busy throughout the week and rammed at weekends.
Festivals in Cordoba
Like most of Andalucia, Cordoba has a vibrant festival scene that showcases the city's rich culture and history. Here are some of the most popular festivals in Cordoba.
The Courtyards Festival of Cordoba
Happening in May each year, The Courtyards Festival of Cordoba is one of the city's most famous festivals. During this two-week festival, locals open up their homes to visitors, showcasing the beautiful flower-filled courtyards that are a hallmark of Cordoba's architecture.
This festival is a must-see for anyone interested in Andalucian culture and architecture.
Read more about the Cordoba Patio Festival.
The Fair of Cordoba
Another major festival in the city is the Fair of Cordoba. It's a week-long celebration that takes place in late May or early June, usually two weeks after the Seville Fair.
During the fair, the fairground is transformed into a colorful and lively village, with hundreds of casetas (marquees) set up for the occasion. You can enjoy rides, games, and food stalls, as well as traditional music and dance performances. If you're looking to experience the lively atmosphere of a Spanish fair, the Fair of Cordoba is not to be missed.
Click here to learn more about the Cordoba Fair.
Semana Santa
Celebrated all around Spain, Semana Santa, or Holy Week, is a religious festival that takes place in the week leading up to Easter.
Cordoba is one of the best places to experience Semana Santa in Andalucia, with elaborate processions featuring ornate floats and religious statues. The atmosphere during Semana Santa is solemn and respectful, making it a unique and moving experience for visitors.
Learn more about Semana Santa in Andalucia.
Festival de la Guitarra
Music lovers, you'll be interested in Cordoba's Festival de la Guitarra!
This music festival takes place in July and features performances by some of the world's best guitarists, as well as flamenco dancers and other musicians.There are also workshops, masterclasses, and exhibitions, providing visitors with the opportunity to learn more about the guitar and its history, as well as to meet and learn from some of the world's most talented guitarists.
Festival de la Guitarra de Cordoba is a must-see event for anyone interested in music and guitar culture, and is a great way to experience the vibrant and cultural atmosphere of the city of Cordoba.
Day Trips from Cordoba
If you're staying in Cordoba for a few days, you definitely want to take advantage of the city's central location in Andalucia and explore some of the nearby destinations. There are several day trips from Cordoba that are well worth a visit, including beautiful whitewashed villages, natural parks, and other famous cities.
Medina Azahara
Located just outside of Cordoba city and easily accessible by bus, the archaeological site of Medina Azahara is a must-see for history buffs. This ancient city was built in the 10th century and was the capital of the Umayyad Caliphate. You can explore the ruins of the palace, the mosque, and the gardens, and learn about the fascinating history of Islamic Spain.
Priego de Cordoba
If you have a penchant for Baroque churches, then a day trip to Priego de Cordoba is a must. This charming town is known to have the most beautiful collection of such buildings in Spain. The town also boasts a castle, a medieval quarter, and several fountains and gardens. You can stroll through the narrow streets, admire the stunning architecture, and enjoy the local cuisine.
Seville
Seville is one of the most famous and beautiful cities in Spain, and it's less than an hour away from Cordoba by train. The city is known for its stunning cathedral, the Alcazar palace, and the Plaza de España. You can also explore the narrow streets of the Santa Cruz neighbourhood, visit the Metropol Parasol, and enjoy the local tapas.
Natural Park of the Sierras Subbéticas
If you're looking for some outdoor adventure, then a day trip to the Natural Park of the Sierras Subbéticas is perfect for you. The park is full of rugged mountains, mysterious caves, and stunning landscapes. You can go hiking, cycling, or horseback riding, and explore the local flora and fauna.
Montoro
Just a 40-minute drive from Cordoba, this charming whitewashed village near Cordoba offers a rich history, stunning natural landscapes, and warm hospitality. Visitors to Montoro can explore the town's many historical sites, including the Castle of Montoro and the Church of San Bartolome, or take a stroll along the Guadalquivir River.
Where to Stay in Cordoba
While many travellers visit Cordoba on a day trip, it's well worth it to stay a night or two to truly discover the city's many charms.
La Juderia is the Jewish Quarter and the most charming area in Cordoba. It is also the most popular area for tourists to stay in. Here you will find narrow streets, whitewashed buildings, and beautiful patios. There are plenty of bars and restaurants in the area, making it an excellent choice for foodies.
The Cordoba city centre is also a great neighbourhood to stay in if you want to be close to all the action. Here you will find a mix of modern and historic buildings, as well as plenty of shops, bars, and restaurants.
Want to escape the crowds? Then choose San Basilio, a quieter neighbourhood located just outside the city centre. San Basilio is home to some of the best hotels in Cordoba, many of which are housed in historic buildings.
I personally prefer to stay in or near the historic center and with so many choices, you'll be able to find a place that suits your travel style and budget. Here are some hotels to consider.
Or check out the latest deals in Cordoba below.
More on Cordoba
Recommended Spain Travel Resources
Travelling to/around Spain and need some help? Here are our favourite travel resources.
We usually use Booking.com to look for hotels or apartment rentals. Lots of choice & you can unlock more discounts with their Genius loyalty programme!
To research transportation options around Spain, we like using Omio. It's an easy way to compare different modes of transport and prices in one place.
For last-minute holiday deals, check out Expedia UK.
Looking for things to do? Viator has a huge catalog of activities and tours across many cities in Spain. We also love Get Your Guide!
Guruwalk is our favourite platform to find the best free walking tours in a city.
For money transfers or spending overseas in foreign currency, Wise is our favorite borderless banking service.
Travel insurance is a must to protect against emergencies and unexpected incidents. Get a quote from SafetyWing here.
Note: This article may contain affiliate/compensated links. That means that if you book through our link, we may earn a small commission (at no extra cost to you). For full information, please see our disclaimer here.
---
More about Córdoba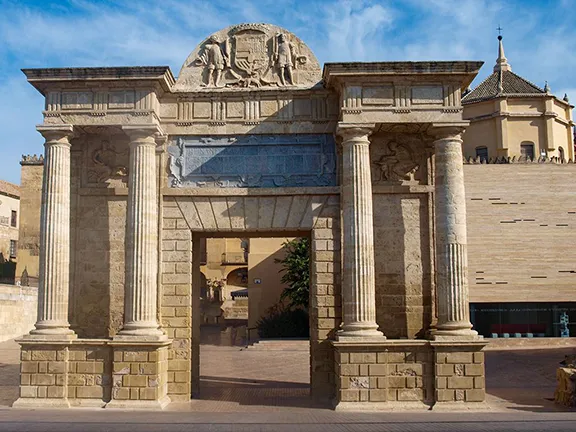 Historical Guide to Córdoba City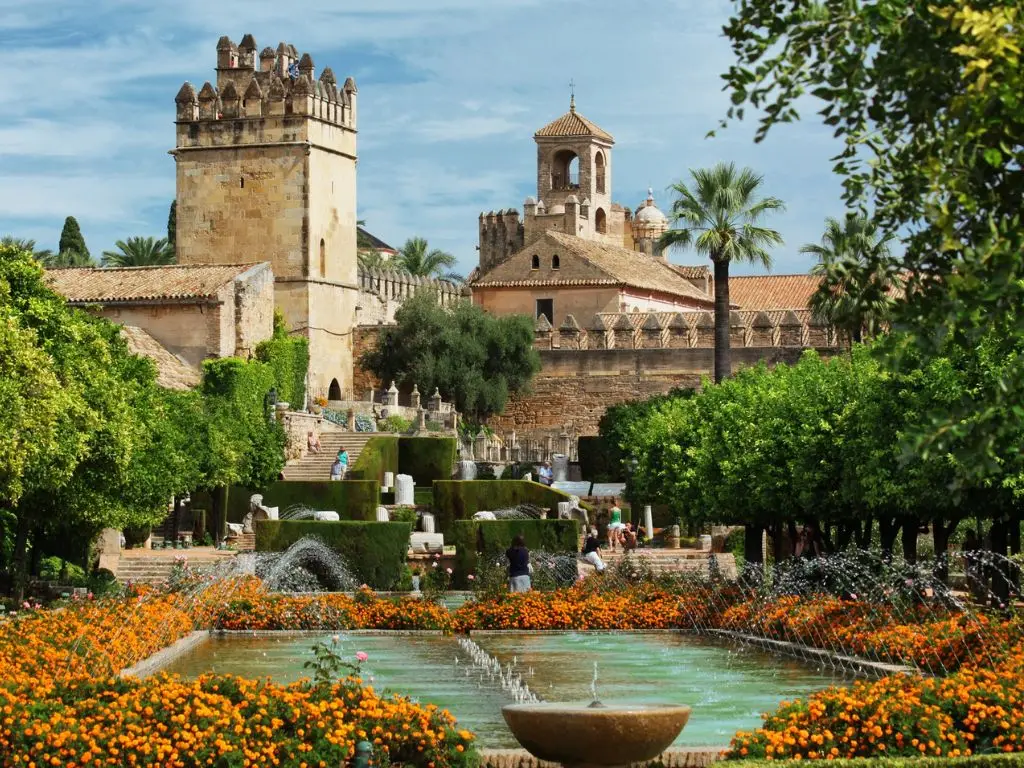 Things to Do in Cordoba
Places to go in Córdoba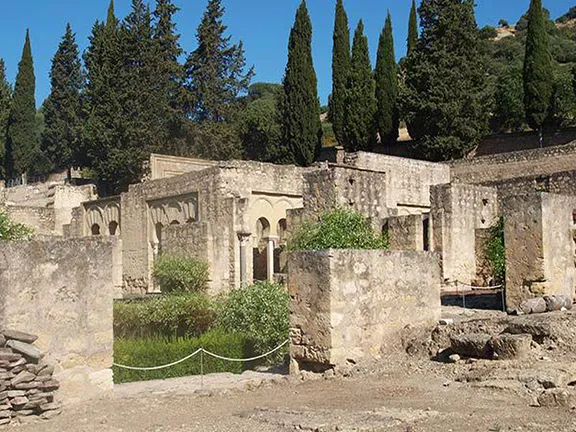 Madinat al-Zahra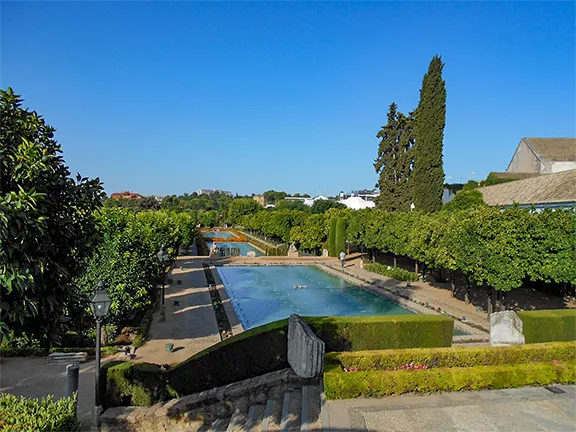 Alcazar of Córdoba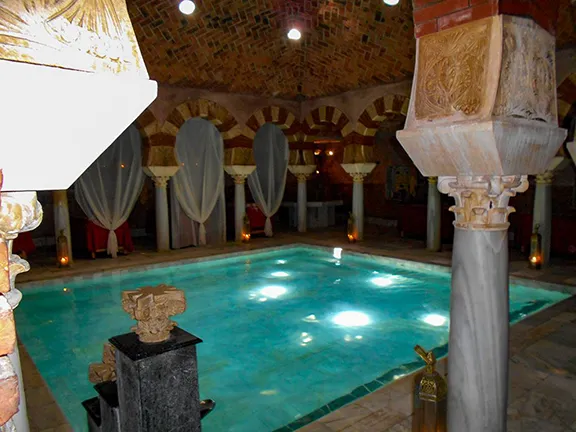 The Arab Baths
Museums and Galleries in Córdoba
Archaeological Museum of Córdoba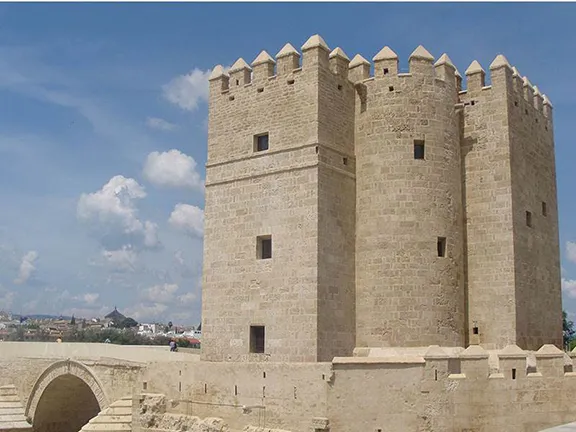 Museo Vivo de Al-Andalus
---