World Jamon Competition in Estepona (8th to 15th August 2023)
Estepona will once again become the world capital of Iberian ham in August 2023 with this gastronomic and cultural activity, which has established itself as one of the great tourist attractions of the summer
By Nick Nutter | Updated 7 Aug 2023 | Málaga | Events | Login to add to YOUR Favourites
or Read Later
This article has been visited 14,263 times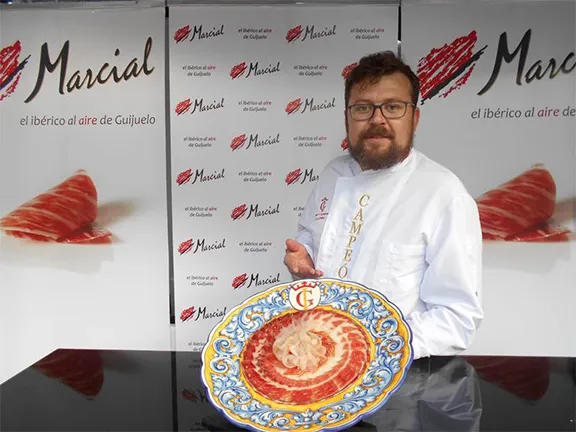 VI World of Jamon Pop Up Festival 2019
The World Jamon Competition could be compared to a match between Celtic and Rangers, although the Spanish take this even more seriously. Wars have been fought for less and everybody has his or her own opinion. I am, of course, talking about the subjective question, 'Which tastes better, Serrano or Iberico'. For a week in August in Estepona, you have the rare opportunity to sample dozens of different brands and grades of both for a price that will not break the bank. Then you can make up your own mind.
Over 50 Jamon Vendors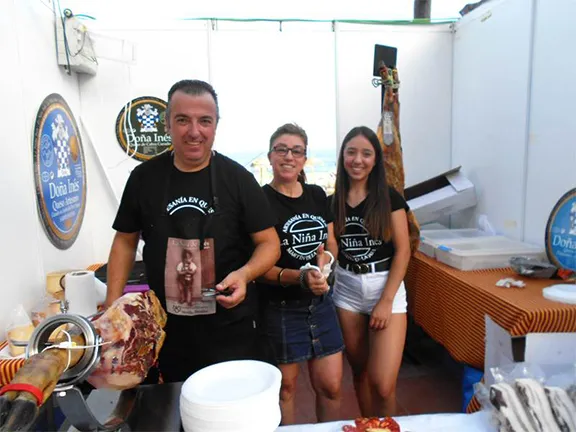 VI World of Jamon Pop Up Festival 2019
The jamon stalls are set up at the western end of the paseo at Estepona. You will find over fifty vendors from all over southern, western and northern Spain presenting the best jamon from their regions in the Jamon Festival of Estepona, now also billed as Certamen Mundial del Jamón (World Ham Contest).
You can sample everything from jamon purchased in supermarkets to be used as a seasoning to the finest connoisseur's bellota that should only be consumed as it is with a fine wine and perhaps a strong cheese and some olives.
Spanish Cheeses
VI World of Jamon Pop Up Festival 2019
The number of stalls increases each year, many also have a selection of Spanish cheeses to accompany the jamon. The Queso de Oveja Reserva we found during the last event compares to the best aged cheddar.
History of the Jamon Festival in Estepona
VI World of Jamon Pop Up Festival 2019
The Jamon Festival has been growing. It started off in 2013 as less than a dozen stalls just for a couple of evenings. Now it is a full blown seven nights out. The large stage set up over the beach hosts a different group every evening. Nor will you go thirsty with bars set up at regular intervals down the paseo.
About Jamon Serrano
VI World of Jamon Pop Up Festival 2019
Jamon Serrano has been produced in Spain since Roman times and the process has remained unchanged since. Hams from white pigs are covered in sea salt and left for a few days. The salt draws out moisture from the meat. Then the hams are hung in sheds to be cured. Originally the sheds were high in the mountains (sierras hence serrano).
Nowadays the curing sheds can be anywhere and are atmospherically controlled. They are then hung and aged for one year by which time they will weigh at least one third less than before they were cured.
Traditionally the ham curing process starts in early November when the pigs are slaughtered. In the remote villages the occasion is usually treated as a festival and all over Spain the ritual of killing the pigs is called 'matanza' which actually means sacrifice and reflects the very different attitude and respect the Spanish have for the animal compared to the English word 'slaughter'.
Jamon Serrano is still made in the traditional way at Trevélez, a small village in the Sierra Nevada mountains in Granada province.
About Jamon Iberico
VI World of Jamon Pop Up Festival 2019
Jamon Iberico is reckoned to be the finest Spanish jamon and the finest in the world.
Iberico pigs are black and are the original breed of swine in Spain. There are cave paintings depicting this animal. Free to roam the mountain pastures and eat acorns (bellota) from the oak forests these black hooved, hence 'pata negra', pigs are larger than the white pig and much fatter although with more slender legs, reflecting their need for increased agility in a mountain environment. Well, that is the romantic version.
Nowadays, Jamon Iberico is produced from the Iberico pig that has been fed corn and other pig feed. They are semi wild in as much as they can roam a large pasture but are no longer free to gambol in the mountains. The villages and towns in the Sierra de Aracena, Cumbres and Cortegana, are where you need to be to try this jamon.
Jamon Iberico de Bellota - the Best Jamon in the World
Jamon Iberico de Bellota is produced from the Iberico pig that has, for the last three to four months of its life, been allowed to feed freely in the dehesa.
Centuries ago, by Royal decree, every village in western Spain maintained a pasture studded with holm and cork oaks that was used communally for firewood, making cork and feeding cattle and pigs on the acorns. This typically western Spanish landscape is called the dehesa. The ham produced in this fashion is the most expensive, most exquisite, most flavoursome, fattiest ham you will ever enjoy.
Jabugo in the Sierra de Aracena in Huelva province is the place to go to sample Jamon Iberico de Bellota.
Recognising Good Jamon
Unless you are buying whole hams, then the labels and badges attached are of little use. After sampling too many plates of jamon at the last Estepona Festival, I am going to tell you how to recognise good jamon.
First, the packet. It should be labelled Jamon Serrano, Jamon Iberico or Jamon Iberico Bellota. Within each broad section, you are looking for a dark red meat with yellow fat, cut razor thin. The darker the meat and the more yellow the fat, the better will be the taste and texture and the price should reflect that.
Bright red meat and white fat indicate a somewhat chewy, less intense flavoured ham perfectly suited to cooking. Try it with broad beans, the famous 'habas y jamon' dish served all over Spain as a tapa.
The dark, almost black meat richly marbled with golden yellow fat is too precious to use in cooking. This is a treat on its own accompanied by some strong cheese and a dish of olives.
More on Estepona
If you're coming for the World Jamon Competition, be sure to save some time to explore Estepona itself as it's a lovely coastal town. Learn more about Estepona's main attractions and tourist sights here.
Where to Stay in Estepona
If you're staying the night in Estepona to maximise your jamon-eating experience, here are some hotels and apartments in Estepona to consider.
Or check out the latest deals on places to stay in Estepona below.
Recommended Spain Travel Resources
Travelling to/around Spain and need some help? Here are our favourite travel resources.
We usually use Booking.com to look for hotels or apartment rentals. Lots of choice & you can unlock more discounts with their Genius loyalty programme!
To research transportation options around Spain, we like using Omio. It's an easy way to compare different modes of transport and prices in one place.
For last-minute holiday deals, check out Expedia UK.
Looking for things to do? Viator has a huge catalog of activities and tours across many cities in Spain. We also love Get Your Guide!
Guruwalk is our favourite platform to find the best free walking tours in a city.
For money transfers or spending overseas in foreign currency, Wise is our favorite borderless banking service.
Travel insurance is a must to protect against emergencies and unexpected incidents. Get a quote from SafetyWing here.
How to get there
Estepona Paseo
Note: This article may contain affiliate/compensated links. That means that if you book through our link, we may earn a small commission (at no extra cost to you). For full information, please see our disclaimer here.
---
---