Canyoning
Andalucia has huge areas of karstic mountains, riven with gullies and canyons, ideal for canyoning
By Nick Nutter | Updated 5 Mar 2022 | Andalucia | Extreme Sports | Login to add to YOUR Favourites
or Read Later
This article has been visited 6,098 times
Guadalmina - great for kids
This adrenaline fuelled sport has everything. Heart stopping descents of waterfalls, swimming down cascades and leaps into the unknown to land in deep pools. What more could you ask? The sport is canyoning.
Andalucia has huge areas of karstic mountains, riven with gullies and canyons, ideal for canyoning. The routes vary from easy to extreme, some are suitable for anybody over the age of 5 years (so long as they are of a size to wear a wetsuit), some should only be attempted by experienced abseilers and competent canyoners. We have chosen a selection, varying in technicality, the best of the canyons in Andalucia.
Canyoning in Almeria province
Paterna del Rio, Laujar de Andarax – Grade1
High in the iron rich grounds of the Alpujarra almeriense on the southern flanks of the Sierra Nevada, the Paterna del Rio gorge offers a canyoning route of about 4 kilometres. There are 12 drops of varying height, none more than 5 metres. The route is usually broken about half way at an exit, an iron working path, known as a via ferrata. This canyon is suitable for beginners.
Canyoning in Cádiz province
Garganta Verde, Zahara de la Sierra – Grade 1.5
This canyon is in the beautiful Sierra de Aracena. Even though it is suitable for beginners there are some breath-taking jumps into pools and some great, natural water slides. The trip takes about 3 hours.
Canyoning in Córdoba province
The Genilla Gorge in Priego de Córdoba – Grade 2
The Genilla Gorge is one of the most beautiful places in the Sierra Subbética National Park. The maximum abseiling height is 15 metres and the maximum jump only 4 metres so it is suitable for everybody.
Canyoning in Granada province
Trevelez Canyon – Grade 4
In Granada province we have chosen a canyon with a decent technical level for those in good physical condition and with some previous experience. Trevelez is one of the Meccas for canyoning enthusiasts who have already had several experiences of canyoning descents, have physical abilities and are familiar with abseiling. There are about 14 abseils along the route. It is not a canyon for everybody although it is one of the best canyons in Spain in terms of technical quality. For this reason it is a popular canyon.
Rio Verde Canyon, in Otivar – Grade 3
Our next top canyon in Granada province is the Rio Verde in its lower section version or Rio Verde x-pro that covers the entire length of this magnificent canyon. Crystal clear waters, an intense turquoise pool, white foam under the waterfalls, natural water slides and many jumps are the words that immediately come to mind when we talk about this gorgeous canyon. Rio Verde is considered one of the best canyons in Spain. The normal route is recommended for ages 9 yrs and older, whilst the pro route is for those prepared to try the 16 metre natural water slide and abseil beneath a waterfall, those who have some experience of canyoning.
Canyoning in Jaén province
Cerrada del Utero, Cazorla – Grade 2
This canyon is in the top reaches of the Rio Guadalquivir in the magnificent Natural Park of Sierras de Cazorla, Segura y Las Villas. The route is suitable for everybody of reasonable fitness with low water jumps and crystal clear pools.
Canyoning in Málaga province
Guadalmina Canyon, between Benahavis and Marbella – Grade 1
The canyon of Guadalmina is technically called 'Cañón de Las Angosturas' or 'Narrowest canyon' due to the narrowness of several of its sections. Guadalmina is the name of the river that crosses the village of Benahavis and ends in the coast area of Marbella. The pitch of 'Las Angosturas' has an approximate length of 1.2 kilometres, starting in the 'Charca de las Mozas' and ending in the pool of 'El Canalón' where the new wooden bridge of 28 meters that crosses the river is located. This canyon is suitable for everybody with jumps up to 5 metres, an abseil of 4 metres and pools up to 100 metres long. There is a beautiful scenic narrow section in the middle where the walls are only an arm stretch apart and the sky is hidden. This section is known as La Cueva.
Buitreras Canyon, in Colmenar de la Frontera – Grade 2.5
Buitreras is a unique canyon in terms of the spectacular geological scenery. The nickname of 'The Cathedral' is well deserved. Located between two walls that reach more than 100 meters in some sections, it is undoubtedly the most beautiful canyon in Andalucia. Buitreras offers two mandatory rappels of 5 and 6 metres, a self-pulling rope plus a rappel (or jump) of 6 meters. There are also optional jumps of 3 meters and 9 meters in the first section and jumps in the last pool of up to 9 metres.
Sima del Diablo, Juzcar – Grade 1.5
This 4 hour trip takes you through an incredible ravine with plenty of jumps, abseiling and slides. The Rio Genal runs through a thick riverbank forest. You will find three rappels, the largest of 9 metres and a slide of 5 metres. This canyon does not have so many jumps as Guadalmina (also level 1, 1.5) but it is still an adventure in a completely different environment. Technically, slightly more taxing than Guadalmina, the minimum recommended age is 8 years.
Canyoning in Seville province
Calzadillas Canyon, Almaden de la Plata – Grade 1.5
Located in the Natural Park of the Sierra Norte de Seville, Calzadilas Canyon is one of the few granite canyon of Andalucia. It is specially recommended in autumn, winter or spring, when this canyon has a good water flow and the abseiling experience under the three waterfalls is quite exciting. It is recommended whether you are a beginner in this sport or more experienced.
Risco Blanco, Almaden de la Plata – Grade 3
Next door to Calzadillas canyon, Risco Blanco is just a little more technically challenging than the Rio Verde pro route. It is in an area of special protection and permission is required from the Sierra Norte de Sevilla Natural Park Management. For that reason it is best to obtain the services of a local guide.
Note: This article may contain affiliate/compensated links. That means that if you book through our link, we may earn a small commission (at no extra cost to you). For full information, please see our disclaimer here.
---
More Extreme Sports in Andalucia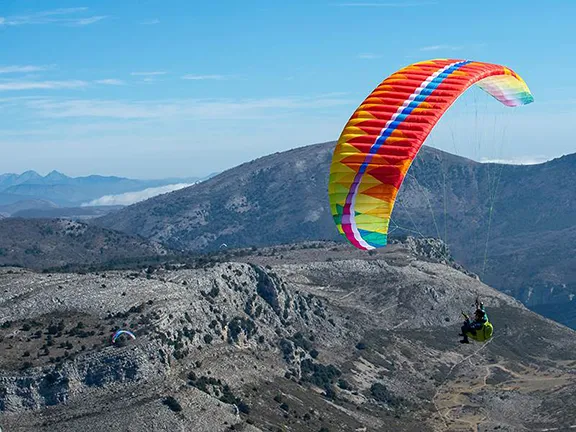 Paragliding
Bungee Jumping
Windsurfing
---