Feria de Huércal-Overa 18th - 23rd October 2023
Not many ferias celebrate the arrival of drinking water to a town and then become the focal point for a huge part of the provincial population.
By Nick Nutter | Updated 7 Feb 2023 | Almería | Events | Login to add to YOUR Favourites
or Read Later
This article has been visited 1,103 times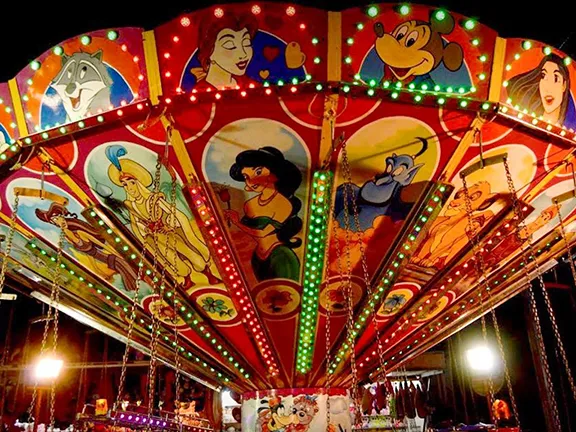 Feria Huercal-Overa
The October fair and festival in Huércal-Overa transforms the town. People from all over the province of Almeria attend every year and it has become a focal point for family and friend reunions.
The program includes a wide variety of activities, where international artists as well as the best bullfighting personalities participate in the concerts.
The festivities begin on Wednesday, October 18, 2023 with the traditional opening of the feria, the Proclamation, at the Teatro Villa. After which the fairground lights are switched on, an extraordinary display for a small town.
In the fairground, the Municipal Booth is one of the main attractions and in the rest of the booths you can taste the local gastronomy and dance from noon until late at night. There are attractions, entertainment shows and a host of activities plus all the usual fairground rides.
The Huércal-Overa fair started as a cattle fair and dates from 1818 with a brief period between 1833 and 1882 when it stopped. This period in Spanish history was one of great political upheaval. In 1833, the Spanish mainland was divided into thirteen 'historic regions' (plus the Balearic and Canary Islands). However, these were merely honorary and classificatory: there was no level of administration between the central government and the provinces. These "historic regions" had no powers, no administrative organs and no common jurisdiction over the provinces grouped within them. Each province had a governor appointed by the central government who had absolutely no powers. Huércal-Overa, on the far edge of Almeria province, almost on the border with neighbouring Murcia, was one of many towns left rudderless and neglected.
The feria was re-introduced in 1882 to commemorate the arrival of drinking water to Huércal-Overa.
Note: This article may contain affiliate/compensated links. That means that if you book through our link, we may earn a small commission (at no extra cost to you). For full information, please see our disclaimer here.
---
---