7 Stunning Paradors in Andalucía for an Unforgettable Stay
Looking for a one-of-a-kinda stay for your Andalucian holiday? Look no further than the beautiful paradors in Andalucia!
By Liza S. | Updated 6 Oct 2023 | Andalucia | Where To Stay | Login to add to YOUR Favourites
or Read Later
This article has been visited 86 times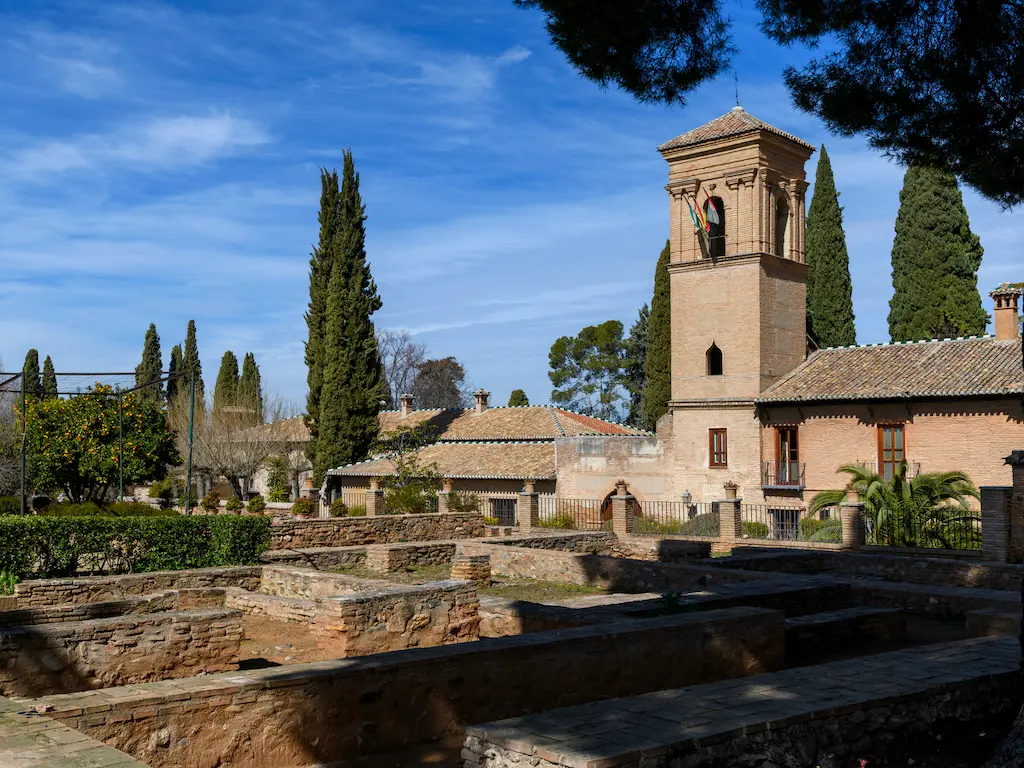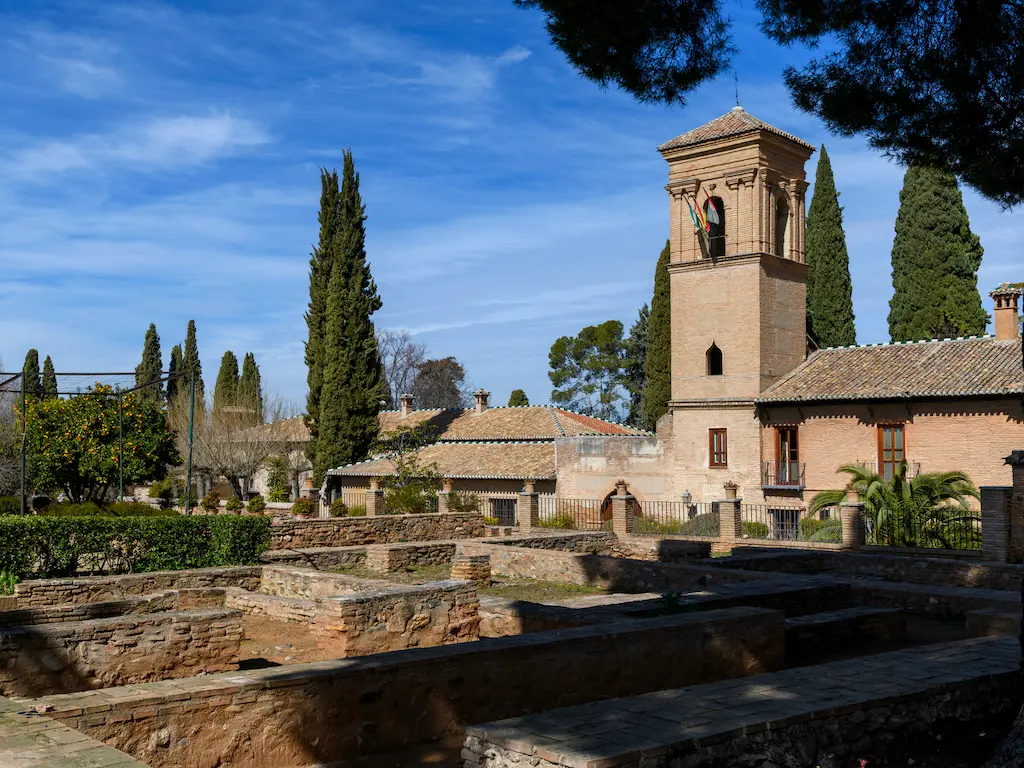 Parador de Granada
Andalucía captivates with its sun-kissed landscapes, flamenco rhythms, and architectural wonders. Adding to its allure are its iconic paradors: state-managed hotels nestled in historical gems, from medieval fortresses to palatial retreats.
If you're looking to embrace Andalucía's past while indulging in modern luxury, there's no better choice than to stay in a parador! In this guide, we spotlight the top paradors in Andalucia that promise more than just a stay – they offer an experience.
Dive in to discover the best paradors in Andalucia for a truly unforgettable retreat.
Paradors in Spain: A One-of-a-Kind Blend of History and Hospitality
Spain's 'paradors', or 'paradores', represent a unique initiative by the Spanish government. These are not just luxury hotels; they're historic landmarks turned into accommodations. Established in the early 20th century, the 'parador' concept aimed to promote tourism in Spain while preserving its grand castles, monasteries, and palaces.
Today, there are over 90 paradors across Spain, each offering guests an opportunity to stay in buildings of historical significance.
Beyond their architectural charm, paradors in Spain also provide modern amenities, ensuring a luxurious stay. Their locations often provide stunning views, be it of a bustling city square, serene countryside, or rugged coastline. Moreover, many paradors in Spain place a strong emphasis on regional cuisine, giving guests a taste of local dishes.
Opting to stay in a parador doesn't just mean choosing a hotel; it's about experiencing a part of Spain's rich heritage.
The Unique Appeal of Paradors in Andalucia
In a region as diverse and rich in history as Andalucía, staying in a regular hotel might not always do justice to the experience one seeks.
Enter the Paradors of Andalucía, which offer a doorway into Spain's captivating past. While each Parador boasts its own distinct flavour, they all share a common theme: a commitment to preserving Spain's rich cultural legacy while ensuring guests enjoy modern amenities and comforts.
What makes these Paradors uniquely appealing is their storied backgrounds.
From ancient fortresses that once defended cities against invasions to regal palaces that hosted royalty, each Parador is a slice of history, meticulously restored and repurposed. The thick stone walls, ornate ceilings, and courtyards adorned with fountains speak of times when Andalucía was a melting pot of Christian, Moorish, and Jewish cultures.
But it's not just about history. The locations of these Paradors are often unparalleled. Whether perched atop a hill offering panoramic views of undulating landscapes or nestled within the labyrinthine alleys of ancient cities, they offer guests a vantage point like no other.
And while the settings transport you to another era, the services are very much rooted in the present. Fine dining restaurants serving local Andalucian delicacies, modern spa facilities juxtaposed against historic backdrops, and rooms equipped with contemporary luxuries ensure the past and present harmoniously coexist.
Given their locations and the unique experiences they offer, Paradors often provide excellent value. While some are on the pricier side, many are surprisingly affordable, especially when considering the experience they provide.
What's more, paradors often involve restoring and repurposing old structures, which means they play a part in architectural conservation and sustainable tourism.
Staying in an Andalucían Parador isn't just about finding a place to sleep—it ensures a stay that's both memorable and deeply intertwined with the local culture and history, making it a unique experience compared to regular hotels or apartments.
7 Best Paradors in Andalucia
1. Parador de Granada, Granada
Located within the iconic Alhambra complex, the Parador de Granada is a converted 15th-century convent, offering a unique blend of Moorish charm and modern luxury. It's one of the most sought-after accommodations in Granada, mainly due to its unparalleled location right in the heart of Spain's most celebrated Moorish fortress.
The building that now houses the Parador was originally the Convento de San Francisco. Over the years, it has witnessed significant historical events and has undergone various architectural changes, retaining a mix of Renaissance and Moorish elements.
Why Stay in This Parador:
Stunning Views: Rooms on the upper floors offer breathtaking views of the Generalife gardens, the Sierra Nevada mountains, and parts of the city of Granada.
Great Dining: The Parador's restaurant provides traditional Andalusian cuisine, with a particular emphasis on Granadian dishes. Dining here with the Alhambra as your backdrop is an experience in itself.
Gardens & Courtyards: The hotel boasts serene gardens and courtyards, offering guests a tranquil space to relax after a day of sightseeing.
Guests often praise this Andalucian parador for its unique location, attentive staff, and the unforgettable experience of staying within the Alhambra's walls. The blend of historic charm and modern amenities is frequently highlighted as a standout feature.
Ideal for those keen on history and architecture, Parador de Granada offers a once-in-a-lifetime experience. Being able to walk the Alhambra grounds after the tourists leave, or witnessing the sunrise over this ancient fortress, are moments that you'll cherish long after your stay.
In my opinion, the parador in Granada is one of the best paradors in Spain given its magnificent location. Where else can you stay in such an important ancient monument? In fact, staying in this Granada parador is on my Andalucia bucket list!
Click here to check prices on Booking.com
Parador de Ronda
2. Parador de Ronda, Ronda
Positioned right on Ronda's famous Tajo gorge, the Parador de Ronda offers unparalleled views of the deep ravine and the Puente Nuevo bridge. Housed within Ronda's former Town Hall, this Andalucian parador boasts a perfect combination of traditional charm and contemporary elegance.
Its central location makes it an ideal starting point to explore Ronda, a town celebrated for its dramatic views and its iconic bullfighting ring.
Why Stay in This Parador:
Scenic Overlooks: With its terrace perched above the gorge, you can enjoy some of the most iconic views in all of Andalucia.
Historical Setting: The parador seamlessly combines history with modern luxury, offering guests the unique experience of staying in a historic building with all the amenities of a contemporary hotel.
Gastronomic Excellence: The hotel's restaurant showcases Andalucian cuisine with a special focus on local Ronda dishes, complemented by panoramic views.
Guests often rave about the Parador de Ronda's unmatched location, its luxurious facilities, and the dining experience with the stunning gorge as the backdrop.
For those seeking to immerse themselves in Ronda's dramatic landscapes while enjoying the comforts of a top-tier hotel, the Parador de Ronda is the perfect choice. Waking up to the dramatic landscape of Ronda and experiencing the city's vibrant culture makes for a memorable Andalucian trip!
Click here to check prices on Booking.com
3. Parador de Cádiz, Cádiz
Situated in the historic city of Cádiz, the Parador de Cádiz, often referred to as the "Hotel Atlántico", is a contemporary hotel offering sweeping views of the Atlantic Ocean. This modern, sustainable building represents a fresh take on Andalucian luxury, blending seamlessly with the ancient charm of the surrounding city.
This Andalucian parador showcases cutting-edge architecture, yet it's nestled among some of the oldest structures in Europe, making it an intriguing blend of old and new.
Why Stay in This Parador:
Stunning Sea Views: Nearly all rooms provide guests with expansive views of the sea, ensuring a serene and picturesque stay.
Modern Amenities: From its innovative spa to the infinity pool, this parador in Andalucia offers top-notch facilities for relaxation and leisure.
Proximity to History: Located within walking distance of Cádiz's historic old town, it's an excellent base for exploring the city's centuries-old monuments and vibrant streets.
Guests at the Parador de Cádiz frequently laud its design aesthetics, the top-tier facilities, and the unparalleled ocean views, making it a standout among the city's accommodations.
If you're looking for a blend of modern luxury in a city steeped in history, Parador de Cádiz promises an unforgettable experience, all while being lulled by the gentle sounds of the Atlantic.
Click here to check prices on Booking.com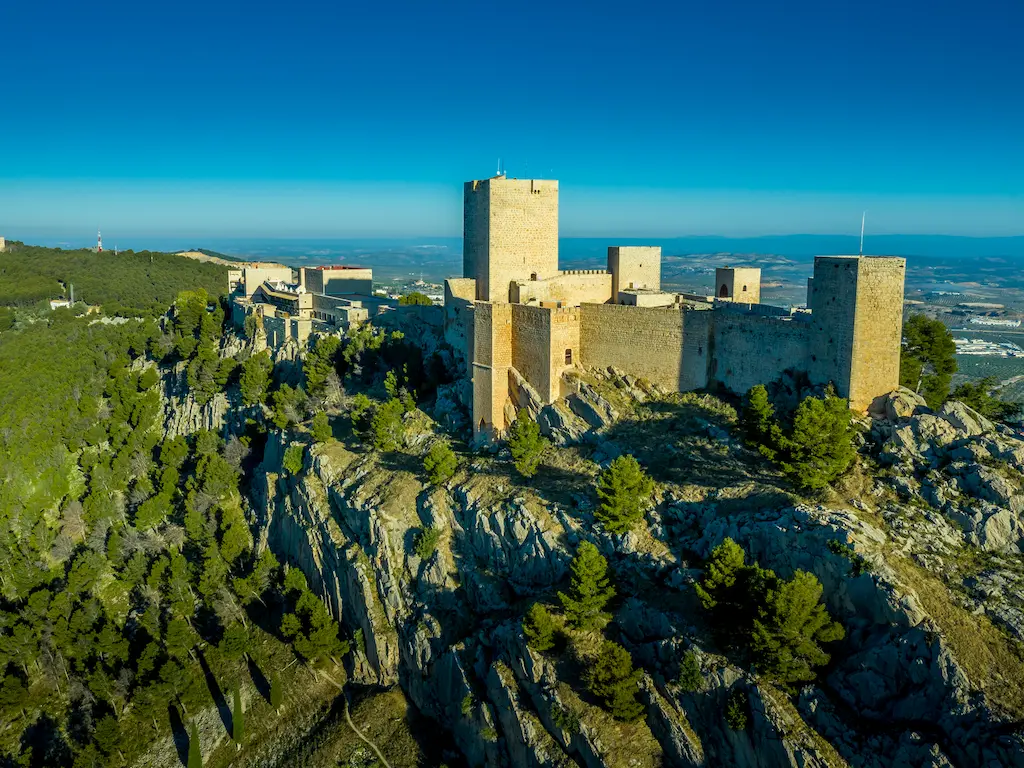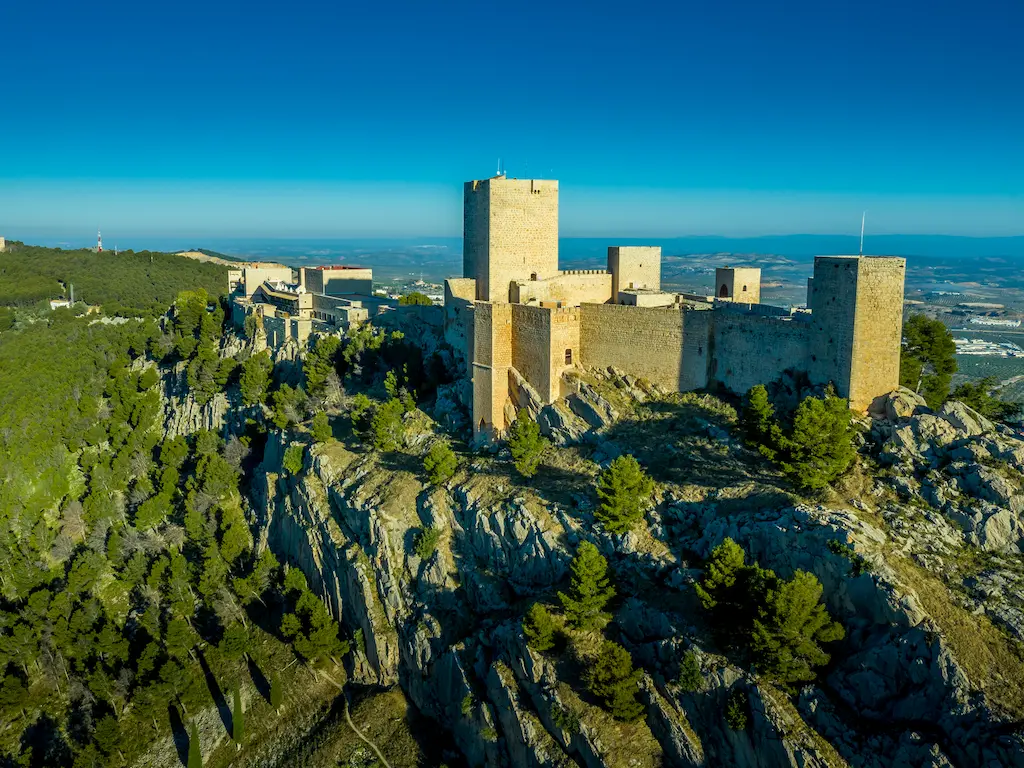 Parador de Jaen
4. Parador de Jaén, Jaén
Perched high atop Santa Catalina Hill, the Parador de Jaén stands as a majestic fortress casting its watchful gaze over the city below. Formerly the Castle of Santa Catalina, this parador offers an enchanting blend of medieval grandeur with modern comforts, presenting an atmosphere reminiscent of a bygone era.
The stone walls and regal archways of this 13th-century Arab fortress provide a stark contrast to the lush landscape of the Andalucian countryside that stretches out beneath it.
Why Stay in This Parador:
Historic Charm: With its cobbled courtyards and vaulted ceilings, this parador offers an authentic castle experience.
Breathtaking Views: From its privileged vantage point, you'll get to enjoy amazing panoramic views of Jaén and the distant olive groves.
Gastronomic Delights: The in-house restaurant is famed for its traditional Andalciian cuisine, with special emphasis on the region's famed olive oil.
Guests consistently highlight the Parador de Jaén's unique setting, historical charm, and the sense of tranquillity it offers, making it stand apart from typical hotel stays.
For travellers yearning to step back in time while still enjoying contemporary amenities, the Parador de Jaén provides the perfect blend of history, culture, and luxury in the heart of Andalucia.
Click here to check prices on Booking.com
5. Parador de Carmona, Carmona
The city of Seville doesn't have its own parador, so if you really want to stay in a parador in Seville, then you'll have to venture out to the town of Carmona, located about an hour and a half away.
Residing atop a hill and overlooking the quaint town of Carmona, the Parador de Carmona is a converted 14th-century Moorish fortress known as the Alcázar del Rey Don Pedro. Its majestic walls and towers echo tales of the region's rich history while offering guests a taste of royal living.
Why Stay in This Parador:
Historical Majesty: Get the opportunity to immerse themselves in the ancient ambiance of the fortress, with its intricate Moorish designs, grand courtyards, and stunning ramparts.
Panoramic Views: From its elevated position, the parador provides breathtaking views of Carmona and the countryside beyond.
Authentic Cuisine: The parador's dining experience focuses on traditional Andalucian gastronomy, with dishes inspired by the region's Moorish and Christian heritage.
Past guests at the Parador de Carmona often praise its distinctive blend of history and comfort, the awe-inspiring vistas it offers, and its ability to transport guests back in time.
For travellers seeking a genuine historical experience without sacrificing modern amenities, the Parador de Carmona emerges as a destination that's both evocative and luxurious.
Click here to check prices on Booking.com
6. Parador de Cazorla, Cazorla
Tucked away in the heart of the Cazorla Nature Reserve, the Parador de Cazorla is a serene refuge amidst one of Spain's most esteemed natural landscapes. Designed in harmony with its surroundings, this Andalucian parador evokes a sense of rustic tranquility, offering guests an escape from the bustle of city life.
Why Stay in This Parador:
Nature Enthusiast's Dream: The Cazorla Nature Reserve, on the doorstep of the parador, offers vast landscapes, mountain ranges, and diverse wildlife. Perfect for trekking, bird-watching, or just to enjoy the scenery.
Authentic Ambience: With its traditional Andalusian architecture, the parador has a charming, down-to-earth feel, further enhanced by its secluded setting.
Culinary Delights: Drawing inspiration from local ingredients, the parador's restaurant serves up classic Andalusian dishes with a modern twist.
Guests at the Parador de Cazorla often speak of its calming atmosphere, the multitude of nature-based activities available, and the genuine warmth of the staff.
Ideal for nature lovers and those wanting a slice of authentic Spanish countryside, the Parador de Cazorla promises an enriching experience steeped in natural beauty and local tradition.
Click here to check prices in Booking.com
7. Parador de Málaga Gibralfaro, Málaga
The Parador de Málaga Gibralfaro is strategically positioned atop Mount Gibralfaro, adjacent to the renowned Gibralfaro Castle. This location played a pivotal role during the Reconquista, making it a key historical site in Málaga.
Offering both a glimpse into the city's past and breathtaking views over the city's bay, this parador in Andalucia seamlessly combines historical significance with the conveniences of modern hospitality.
Why Stay in This Parador:
Stunning Vistas: The parador's elevated position offers fantastic views of the Mediterranean Sea and the historical Alcazaba fortress, especially beautiful at sunset.
Proximity to Attractions: Just a stone's throw from the Gibralfaro Castle and a short walk from Málaga's lively city centre, you can explore the city easily.
Seafood Delights: Given its coastal location, the parador's restaurant specialises in delectable seafood dishes, celebrating the region's marine bounty.
Past guests have commended the parador for its serene ambience, despite being close to the city's action. The blend of breathtaking views, cultural proximity, and modern comforts has left an indelible mark on many.
For travellers who appreciate an ideal blend of historical intrigue and coastal charm, the Parador de Málaga Gibralfaro promises a memorable experience.
Click here to check prices on Booking.com
Booking Tips for Paradors in Andalucía, Spain
Staying in a parador in Andalucia, Spain offers a unique experience that blends history, culture, and modern luxury. As these establishments are often situated in remarkable locations and historic buildings, they tend to be popular and may require some planning for a seamless booking process.
Here are some booking tips to ensure you secure your preferred parador:
Book in Advance: Paradors, especially those in iconic locations, can get fully booked months in advance, especially during peak tourist seasons. To get the best rooms and views, consider planning your trip well in advance.
Leverage the 'Amigos de Paradores' Program: Joining this loyalty program can get you special offers, discounts, and even free nights. It's a smart move for anyone planning to stay in multiple paradors in Spain. Click here for learn more about the programme.
Travel During the Off-Peak Season for Discounts: Traveling during the off-peak season? Keep an eye out for special rates and discounts. Besides saving money, you'll enjoy a less crowded experience.
Enjoy Multiple Night Stays: Some paradors offer discounts for extended stays. If you're considering a longer trip, check for multi-night promotions.
Consider Package Deals: Paradors occasionally provide packages that combine accommodation with activities or meals. These can offer excellent value, especially if you want to indulge in local experiences.
Note the Cancellation Policies: Given their popularity, Paradors may have stricter cancellation policies compared to other hotel chains. Always read the fine print and understand the terms before finalizing your booking.
With a little research and planning, you can make the most of your parador stay in Andalucía.
Stay in a Parador in Andalucia on Your Next Trip
Discovering Andalucía through its paradors is a journey through time, culture, and unparalleled luxury. Whether nestled within a historic fortress, perched atop scenic cliffs, or enveloped in a nature reserve, each parador in Andalucia offers a distinctive experience.
As you map out your travels across this captivating region, these beautiful paradors promise not just a stay but a story, adding depth and authenticity to your Andalucian adventure. Dive into history, soak up the views, and let the magic of Andalucía's paradors make your trip truly memorable.
Buen viaje!
FAQs: Staying in Paradors in Andalucía
What is a parador?
A parador is a luxury accommodation in Spain, usually situated in a historic building like a monastery, fortress, or palace. They offer unique experiences by blending the country's rich history with modern comforts.
Are paradors in Spain expensive?
While Paradors are considered luxury accommodations, they offer various rates, often providing great value considering their historic significance and amenities. Look for seasonal deals or special promotions to get the best rates.
Is it necessary to book paradors in advance?
Given their popularity and limited rooms, it's advisable to book in advance, especially during peak tourist seasons.
What makes Andalucía's paradors unique?
Andalucía's paradors stand out for their historic relevance, architectural grandeur, and their locations – whether it's within a UNESCO World Heritage site, overlooking scenic vistas, or embedded in nature reserves.
Do paradors in Spain cater to families?
Yes, many paradors are family-friendly, offering amenities for children and larger room options. However, always check in advance to ensure they meet your family's needs.
Is there a loyalty or rewards programme for frequent parador guests?
Yes, the 'Amigos de Paradores' programme offers special rates, late check-outs, and other benefits for members. Click here for learn more about the programme.
Do paradors in Spain have restaurants?
Most paradors feature onsite restaurants that often serve local and regional specialties, allowing guests to immerse themselves in the gastronomic heritage of the area.
Are all paradors located in historic buildings?
While many are set in historic or culturally significant buildings, there are also modern paradors designed to showcase Spain's contemporary architecture, still set in picturesque locations.
How accessible are paradors for those with mobility issues?
Many Paradors, especially the ones in historic buildings, have been updated for accessibility. It's best to check directly with the Parador to understand the available facilities.
Is there a best time to visit paradors in Andalucía?
Andalucía is a year-round destination, but the ideal time depends on personal preferences. Spring and autumn offer mild temperatures. Summers can be hot, which could be perfect for coastal Paradors, while winter brings a quieter, more relaxed ambiance.
More Andalucia Accommodation Guides
Planning a trip to Andalucia and looking for the best places to stay? Check out our accommodation guides:
Note: This article may contain affiliate/compensated links. That means that if you book through our link, we may earn a small commission (at no extra cost to you). For full information, please see our disclaimer here.




---

See the complete Castles Of Andalucia itinerary here

Next in the Castles Of Andalucia Itinerary

Paradors in Andalucia

Castellar de la Frontera

Castillo Sohail

---