Where to Stay in Malaga: Insider Guide to the Best Areas & Places to Stay in Malaga
A comprehensive guide to the best areas & neighbourhoods in Malaga for visitiors, plus specific recommendations for the best places to stay in Malaga City!
By Liza S. | Updated 25 Sep 2023 | Málaga | Where To Stay | Login to add to YOUR Favourites
or Read Later
This article has been visited 125 times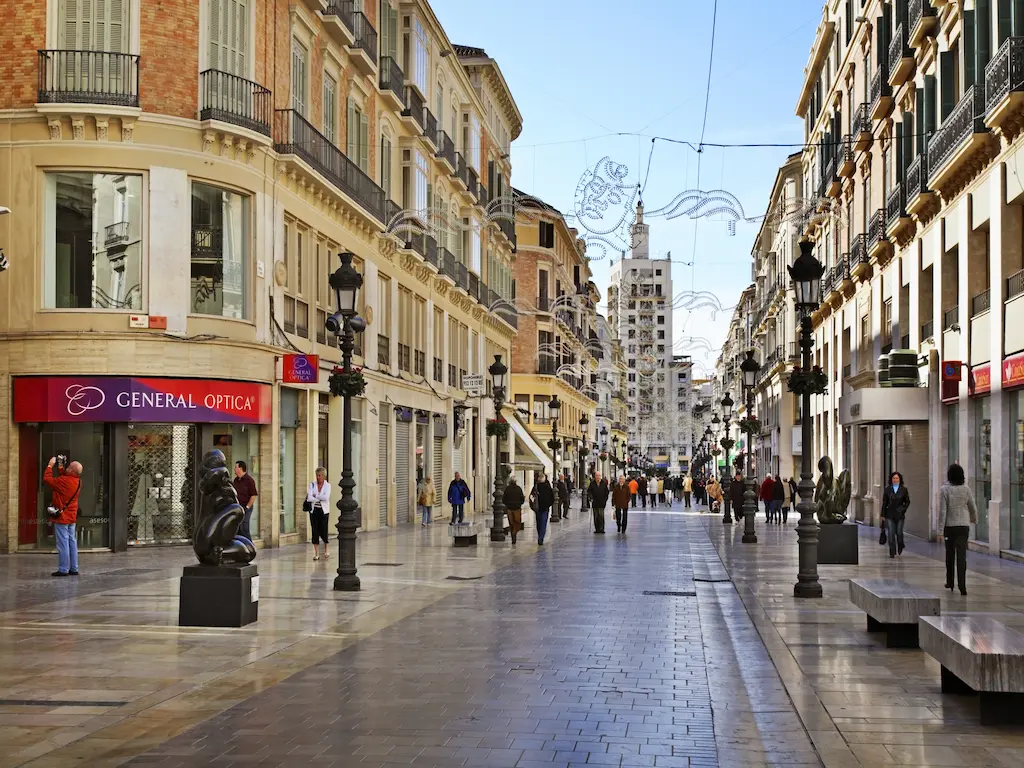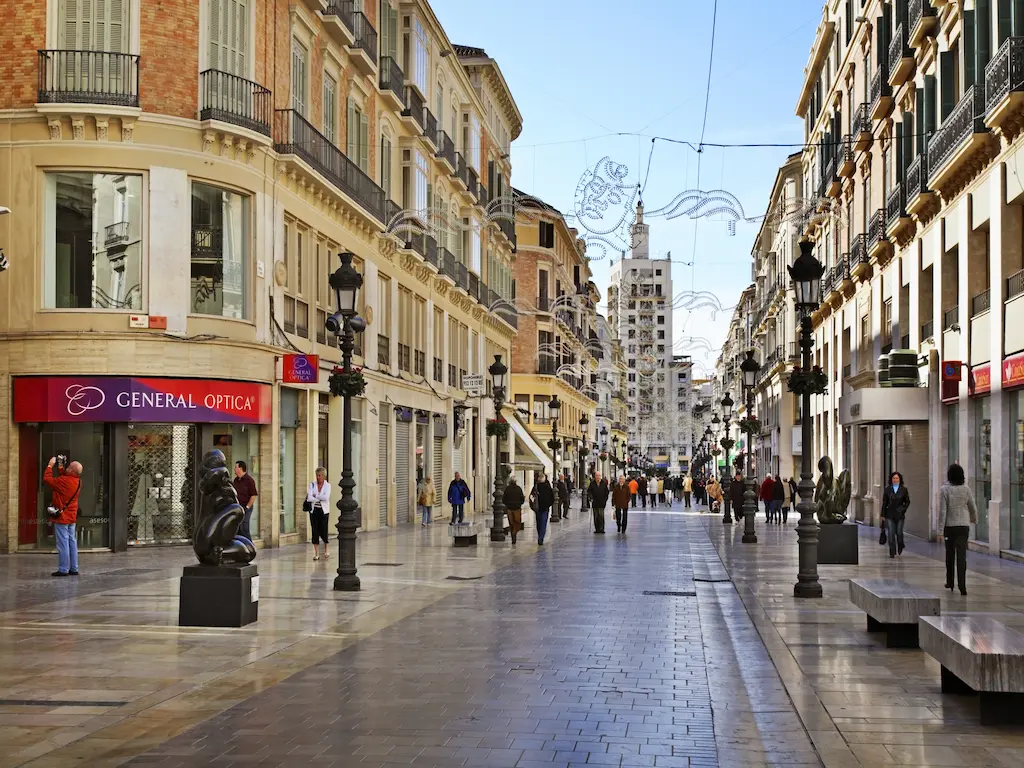 Pedestrian street in Malaga, Spain
Nestled along Spain's sun-drenched Costa del Sol, Málaga is a captivating blend of history, culture, and Mediterranean beauty. To truly soak up everything this charming city has to offer, finding the right place to lay your head is crucial.
In this guide on where to stay in Málaga, we'll explore the city's best neighbourhoods and offer various accommodation recommendations so that you can find the best place to stay that suits your taste and budget. From the historic charm of El Centro to the beachside allure of La Malagueta, let's find your perfect home-away-from-home in Málaga.
What to Consider Before Booking a Place to Stay in Malaga
Malagueta Beach
Before you hit that "Book Now" button, there are several factors to consider to ensure that your stay in Málaga aligns with your travel goals and preferences. Here's what to keep in mind.
Budget
Your budget is arguably the most crucial factor that will determine where you'll stay. Málaga offers a wide range of accommodation options to fit various budgets, from luxury hotels to affordable hostels. Decide how much you're willing to spend per night, and keep in mind that location and amenities often correlate with cost.
Another factor when considering how much to spend is when you're visiting Malaga. If you plan to visit during low season, you're more likely to find great deals and get better value for your money as there is lower tourist demand during this time. For a trip during peak tourist season, you may have to pay more for your desired choice -- and of course, it's recommended that you book your stay way in advance.
Travel Group Size
The number of people you're travelling with can significantly impact your choice of accommodation. If you're going solo or as a couple, a boutique hotel or even a hostel could be a good fit. For larger groups or families, an apartment or holiday let can provide the space and amenities you need for a comfortable stay.
Type of Holiday
Your ideal vacation type—be it a beach getaway, a cultural exploration, or a luxury retreat—will also dictate the sort of place you'll want to stay.
For instance, if you're all about the beach, you might want to look for accommodations near La Malagueta or Pedregalejo. If it's culture and history you're after, El Centro might be more your speed.
Proximity to Attractions
Think about what you plan to do during your visit. If you're keen on museum-hopping, you may want to stay close to the historic centre. If you want to explore multiple areas, consider a central location with good public transport links. Check maps and calculate distances to key attractions from your shortlisted accommodations.
Accessibility
This point is especially important for those with mobility issues or those relying on public transport. Check whether the accommodation offers facilities like lifts, ramps, and is close to public transport options like buses or metro stations.
By paying attention to these considerations, you'll be able to choose an accommodation that aligns with your travel plans, making your Málaga trip truly unforgettable.
Where to Stay in Malaga: Best Areas & Places to Stay
In Málaga, each neighbourhood boasts its own unique charm and attractions, making the choice of where to stay a crucial part of your travel experience.
Our Malaga neighbourhood guide is designed to help you find the area that best matches your interests and travel style. Whether you're keen to explore historical landmarks, relax on sun-kissed beaches, or dive into the city's vibrant arts scene, we've got insights into the most appealing neighbourhoods to stay in Malaga.
Read on to discover your ideal Málaga home base!
El Centro (Historic Centre/Old Town)
Malaga Old Town
El Centro is the heartbeat of Málaga, where history, architecture, and local life seamlessly converge. Cobblestone streets, iconic landmarks like the Málaga Cathedral, and numerous tapas bars define this area. It's the ideal spot for culture vultures, history buffs, and foodies who want to be right in the middle of all the action.
If you're a first-time visitor in Malaga or just have a short time to take in the city's attractions, I highly recommend staying in the Old Town as it's the most convenient location for sight-seeing and getting a taste of Malaga's charm.
You can't go wrong with a stay in the Malaga Old Town!
Neighbourhood Highlights:
Málaga Cathedral: An architectural marvel dating back to the Renaissance era, known locally as "La Manquita" due to its unfinished second tower.
Alcazaba: A Moorish fortress offering panoramic views of the city.
Picasso Museum: Celebrating one of Málaga's most famous sons, this museum houses an impressive collection of Picasso's work.
Calle Larios: This is the main shopping street, filled with international brands and local boutiques, as well as numerous dining options.
Recommended Hotels in Malaga's Old Town
Budget
Hotel Sur Málaga: A simple yet comfortable hotel situated in a convenient location, offering easy access to major attractions and public transport.
The Lights Hostel: A vibrant, youthful hostel offering social events and walking tours, ideal for solo travellers or young couples.
Mid-Range
Apartamentos Casapalma Centro: Offers a small variety of well-designed, stylish apartments in different sizes and amenities. The hosts are friendly, multi-lingual, and super helpful. (Recommended by a Visit-Andalucia FB group community member)
Petit Palace Plaza Málaga: Situated near the cathedral, this hotel offers modern amenities and is family-friendly, featuring family rooms and even bike rentals.
Hotel Don Curro: A traditional Spanish hotel with a touch of elegance, offering an on-site restaurant and a gaming room for entertainment.
Luxury
Hotel Palacio Solecio: This is a luxury boutique hotel that merges traditional Andalucian architecture with modern comforts, offering a unique, high-end experience.
Parador de Málaga Gibralfaro: Located on a hilltop, the hotel offers spectacular views of the city and beach below, with luxurious amenities such as a rooftop pool and fine dining options.
La Merced
Plaza de la Merced in Malaga
La Merced is one of Málaga's most eclectic neighbourhoods, offering a rich blend of traditional and modern influences. Known for its bustling squares, vibrant nightlife, and diverse culinary scene, it's an area that's pulsating with energy at almost any time of day.
This neighbourhood is perfect for young adults, night owls, and foodies who want a lively and dynamic atmosphere. La Merced offers a lively atmosphere, teeming with cultural landmarks, dining options, and a nightlife that captures the essence of modern-day Málaga.
Neighbourhood Highlights:
Plaza de la Merced: One of the main squares in Málaga, often filled with street performers, artists, and open-air cafés.
Picasso's Birthplace: The historic building where Picasso was born is now a museum and foundation.
Teatro Cervantes: Catch a live performance at this historic theatre, ranging from concerts to plays.
Mercado de la Merced: A bustling market offering gourmet foods, local produce, and various crafts.
Recommended Hotels in La Merced in Malaga
Budget
Hotel Del Pintor: Offers boutique-style rooms with bold, artistic decor, and offers easy access to galleries and trendy eateries, making it perfect for art lovers and foodies alike. (Recommended by a Visit-Andalucia FB group community member)
Mid-range
Luxury
Hotel Palacete de Alamos: Combines old-world charm with modern luxuries, elegantly designed rooms and a convenient location near key cultural landmarks, perfect for travellers seeking a sophisticated stay.
XPCE TEATRO SQUARE: This four-bedroom apartment offers sleek, contemporary design and is just steps away from the Cervantes Theatre and other cultural hotspots, making it a top pick for art and culture enthusiasts.
SoHo
SoHo, not to be confused with its London or New York namesakes, is Málaga's up-and-coming arts district.
Famed for its graffiti art, trendy boutiques, and lively atmosphere, Soho is perfect for young couples, art enthusiasts, and solo travellers looking for an alternative experience. It's a hub for urban culture, where local and international artists have left their mark on the walls, and where you'll find a variety of independent shops and quirky cafés.
This is the ideal neighbourhood in Malaga for art lovers, night owls, or simply anyone looking for a unique, off-the-beaten-path experience. Do note that hotels in SoHo are mostly in the mid-range to luxury price points. For budget travellers, you'll find better deals elsewhere.
Neighbourhood Highlights:
Street Art: Wander through the neighbourhood to witness some of Málaga's best street art, including pieces by world-renowned artists.
SoHo Theatre: Modern performance space known for showcasing a variety of arts, from independent theatre productions to contemporary dance.
CAC Málaga: The Contemporary Art Centre of Málaga offers exhibitions from modern artists and is a cultural highlight of the area.
Shopping in SoHo: Browse through independent bookstores, independent clothing brands, and quirky shops!
Recommended Hotels in SoHo, Malaga
Mid-Range
Room Mate Valeria: A chic, designer hotel with a rooftop pool, offering panoramic views of the city and a luxurious stay in SoHo.
Hotel Alameda Málaga: Offers modern amenities and provides quick access to top attractions and dining, making it ideal for exploring Malaga.
Luxury
Molina Lario Hotel: Offers high-end amenities including a rooftop pool and bar, perfectly situated for enjoying all that Soho and the surrounding areas have to offer.
AC Hotel by Marriott Málaga Palacio: This hotel overlooks the port and features luxurious amenities such as a rooftop restaurant and pool, providing a lavish stay in close proximity to Soho.
La Malagueta
La Malagueta is a vibrant neighbourhood located along the eastern side of Málaga's city centre. Known for its beautiful beach of the same name, it offers a laid-back, sun-soaked atmosphere perfect for beach lovers and families.
The area is filled with beachside chiringuitos (beach bars), and restaurants offering local seafood dishes. Its proximity to the historic centre also makes it a great base if you're looking to combine beach time with cultural exploration.
Ideal for families, beach lovers, and those wanting to stay close to historical landmarks, La Malagueta offers a relaxed yet engaging environment.
Neighbourhood Highlights:
La Malagueta Beach: Spend your day sunbathing, swimming, or partaking in water sports.
Muelle Uno: A modern open-air shopping and dining complex located by the sea.
Paseo del Parque: A lush botanical garden perfect for leisurely strolls.
Pompidou Centre: A branch of the famous Parisian museum featuring contemporary art.
Recommended Hotels in La Malagueta
Budget
Hotel California: A well-located hotel that combines affordability with proximity to both the beach and Málaga's historic centre.
Mid-range
Hotel MS Maestranza: Features a rooftop terrace with panoramic views of the city and the sea, along with a well-equipped spa for relaxation.
Luxury
Gran Hotel Miramar: This opulent hotel offers luxurious rooms, a full-service spa, and multiple dining options, all within steps of the beach.
Pedregalejo
Pedregalejo is a former fishing village that has transformed into one of Málaga's most charming neighbourhoods.
Located to the east of the city centre, it offers a more laid-back, local atmosphere. With its narrow streets, old fisherman's cottages, and seafront promenade lined with chiringuitos, Pedregalejo is perfect for travellers seeking a quieter, more authentic experience away from the tourist crowds.
Here, you'll experience a unique blend of local charm and seaside tranquillity, making it a fantastic place to stay in Malaga to escape the hustle and bustle while still enjoying the best of the city.
Neighbourhood Highlights:
Pedregalejo Beach: A local favourite, this beach is less crowded than La Malagueta and offers calm waters, ideal for swimming or paddleboarding.
Seafront Promenade: Enjoy a leisurely stroll along the promenade, stopping for seafood at one of the many chiringuitos.
El Palo Market: A bustling market where you can pick up local produce and fresh seafood.
Baños del Carmen: An old bathhouse turned into a café and event space, offering great views over the sea.
Recommended Hotels in Pedregalejo
Budget
Hostal Elcano: A modest and clean guesthouse that offers a glimpse into local life, located a short walk from the beach.
La Moraga de Poniente Malaga Inn: A budget-friendly option featuring simple, functional rooms and situated near the seafront.
Mid-range
Hotel La Chancla: Located right on the beach, this hotel features a sun terrace and a lounge bar, ideal for guests who want to relax by the sea.
Luxury
Casa Esperanza: Comfort and homely two-bedroom apartment near the beaches of Pedregalejo. Ideal if you're looking for a relaxing holiday home (requires a minimum 6-night stay).
El Palo
El Palo
El Palo is a former fishing village turned local hotspot, located to the east of Málaga's city centre. With its long seafront promenade, traditional chiringuitos, and fewer tourists, it offers an authentic Andalusian experience.
This area is perfect for those who want to immerse themselves in local culture, away from the hustle and bustle of more central areas. Families and travellers seeking a quieter beach holiday will find El Palo particularly appealing. You can enjoy a more relaxed and authentic atmosphere, while still having the option to easily explore the rest of what Málaga has to offer.
Neighbourhood Highlights:
El Palo Beach: Less crowded than La Malagueta, this beach is a haven for sunbathing, swimming, and enjoying freshly grilled sardines at local chiringuitos.
Pedregalejo: A neighbouring area that's also worth exploring, known for its old fishermen's cottages and quieter beaches.
El Palo Market: This local market offers an array of fresh produce and is an excellent place to sample regional specialities.
Nuestra Señora de las Angustias Church: A charming church in the area, reflecting the local community's deep-rooted traditions.
Recommended Hotels in El Palo, Malaga
Budget
Hostal Moscatel: A small and simple guesthouse, offering basic amenities and a convenient location near the beach.
Mid-range
Luxury
Villa La Bicicleta Azul: Offers tastefully decorated rooms, lush gardens, private pool, and close proximity to the beach, making it ideal for a serene and stylish getaway.
Hotels Near Málaga Airport
Just need a place to stay in Malaga for the night before your flight? Hotels near Málaga Airport offer a convenient option for those with early morning flights, short layovers, or late-night arrivals.
While you won't get the full local experience that other neighbourhoods offer, you will find an array of accommodations designed for convenience and efficiency. This area is best for business travellers, transit passengers, or those who prioritise accessibility over local flair.
Whether you're in transit, catching an early flight, or arriving late, staying near Málaga Airport provides the convenience you need for a smooth travel experience.
Neighbourhood Highlights:
Parque del Oeste: A green oasis close to the airport, ideal for a relaxed stroll or a quick jog.
Los Álamos Beach: Not too far from the airport, this beach offers a nice escape if you have a longer layover.
Plaza Mayor: A shopping and leisure centre where you can catch a movie, do some last-minute shopping, or grab a bite to eat.
Recommended Hotels Near Malaga Airport
Budget
Mid-range
Campanile Málaga Airport: Offers modern rooms and a restaurant, and is located just a short drive from both the airport and the beach.
Luxury
Málaga Nostrum Airport: Located between the airport and the city centre, this hotel offers a rooftop pool and a stylish design for a comfortable, luxurious stay.
Special Accommodation Options in Malaga
While the various Malaga neighbourhoods offer a range of choices for all kinds of travellers, some accommodations are particularly well-suited for specific types of stays. Each of these special accommodation options has unique features that make them most suitable for particular types of travellers, helping you make the most of your Málaga experience.
Whether you're planning a romantic getaway, a family vacation, or an extended stay, here are some curated options tailored to your needs.
Where to Stay in Malaga for Families
Barceló Málaga: Located near the city centre, this hotel offers family rooms and a variety of children's activities, making it a convenient and entertaining option for families.
Sol Guadalmar by Meliá: Situated close to the beach, the hotel features kid-friendly amenities like a children's pool, a playground, and spacious rooms to accommodate families.
Novotel Suites Málaga Centro: Offering spacious suites with a separate living area, this hotel gives families the space they need, along with amenities like microwaves and fridges for easy meal preparation.
Where to Stay in Malaga for Romantic Getaways
Hotel Boutique Teatro Romano: Located in the heart of El Centro, this boutique hotel offers romantic packages that include champagne and late check-out, setting the stage for a love-filled escape.
Parador de Málaga Gibralfaro: With its hilltop location providing panoramic views of the city, this hotel offers a romantic ambiance, complete with fine dining options for a candle-lit dinner.
Hotel Room Mate Valeria: Designed for couples, this hotel offers romantic amenities like room service breakfast-in-bed and a rooftop pool with stunning views of the city and sea.
Long-Term Stays in Malaga
Livin4Málaga Apartments: These fully-equipped apartments offer a home-away-from-home experience, with options for one-bedroom or larger units, ideal for long-term stays.
Soho Bahía Málaga: Offering discounted rates for extended stays, this hotel features kitchenettes in some rooms and is centrally located for easy access to local amenities.
Residencia Universitaria Málaga Centro: Particularly suitable for students or young travellers, this residence offers long-term stay options with study areas, an on-site gym and convenient access to the city centre.
Places to Stay in Malaga: Final Thoughts
Choosing the right place to stay can significantly enhance your Málaga experience.
Whether you're drawn to the historic charm of El Centro, the beachside allure of La Malagueta, or the local vibes in Pedregalejo, I hope that our guide has helped you find your ideal base. As you've seen, Málaga offers accommodation for every type of traveller, from budget hostels to luxury hotels and everything in between.
And if you love good deals (as I do!), you can also check out the latest Malaga deals below.
May your stay in this enchanting Andalucian city be as memorable as the sights, sounds, and flavours you'll encounter. Buen viaje!
Where to Stay in Málaga: FAQs
Still got some questions about where to stay in Malaga? Here are some frequently asked questions about picking a place to stay in Malaga.
What is the best area to stay in Málaga for first-time visitors?
For first-time visitors, I personally recommend El Centro (Historic Centre) a it provides easy access to major landmarks, museums, and dining options, offering a comprehensive Málaga experience.
Are there any areas that should be avoided when choosing a place to stay in Malaga?
Málaga is generally a safe city, but like any urban area, it's wise to be cautious. Areas far from the city centre or poorly lit districts may not be the best choices, especially for solo travellers or those unfamiliar with the city.
Where should I stay in Málaga for the best beach access?
For beach lovers, La Malagueta and Pedregalejo offer the best beach access. These areas are near the sea and offer a range of beachfront accommodations.
Is it better to stay in the Malaga city centre or by the beach?
This depends on your travel interests. If you're keen on historical landmarks and museums, the city centre is ideal. If you're looking for a relaxed, beachside holiday, consider staying closer to the beach.
What are some budget-friendly areas to stay in Málaga?
Soho and La Merced offer some budget-friendly options, including hostels and guesthouses. These areas are also centrally located, offering a balance between affordability and convenience.
What are the best neighbourhoods in Málaga for nightlife?
La Merced and Soho are known for their vibrant nightlife, offering a range of bars, clubs, and live-music venues.
What are the best areas for foodies to stay in Málaga?
La Merced and El Centro are foodie havens, teeming with tapas bars, gourmet markets, and a wide range of international cuisines.
More on Malaga
Need help planning your Malaga visit? Check out our other articles:
Malaga Map: Where to Stay
Note: This article may contain affiliate/compensated links. That means that if you book through our link, we may earn a small commission (at no extra cost to you). For full information, please see our disclaimer here.
---
---