Visitors Guide to Málaga City
Málaga, the all-round city, is one of the most visitor friendly in Andalucia. It has been in existence for over 3000 years
By Liza S. | Updated 28 Sep 2023 | Málaga | Cities | Login to add to YOUR Favourites
or Read Later
This article has been visited 12,155 times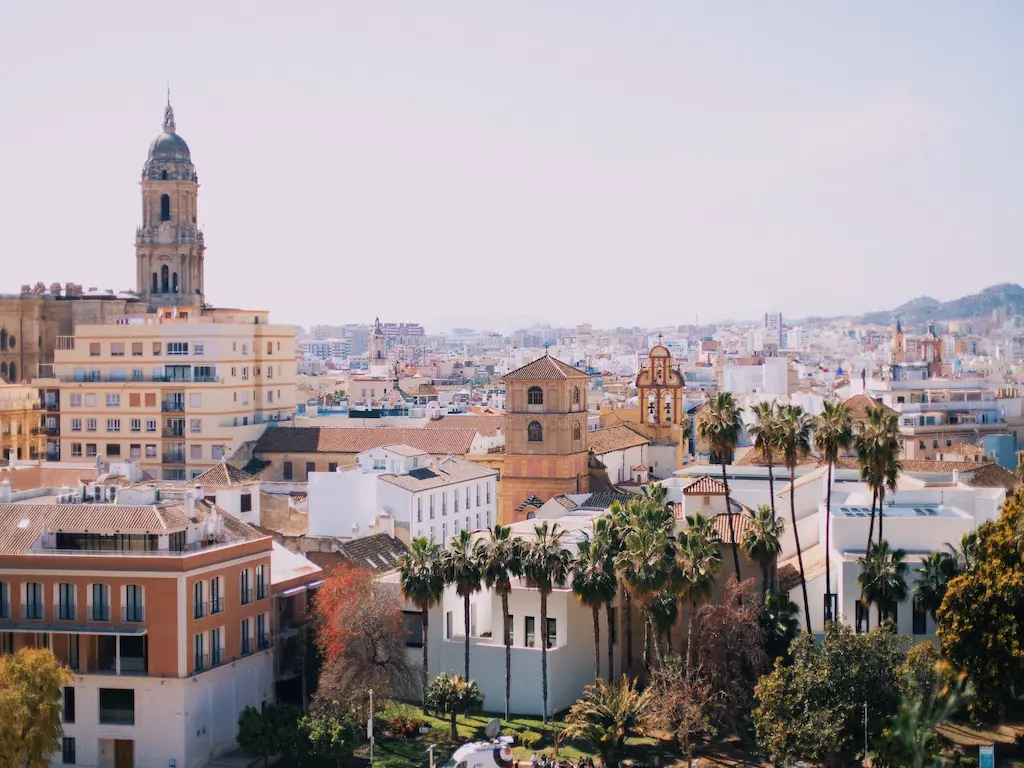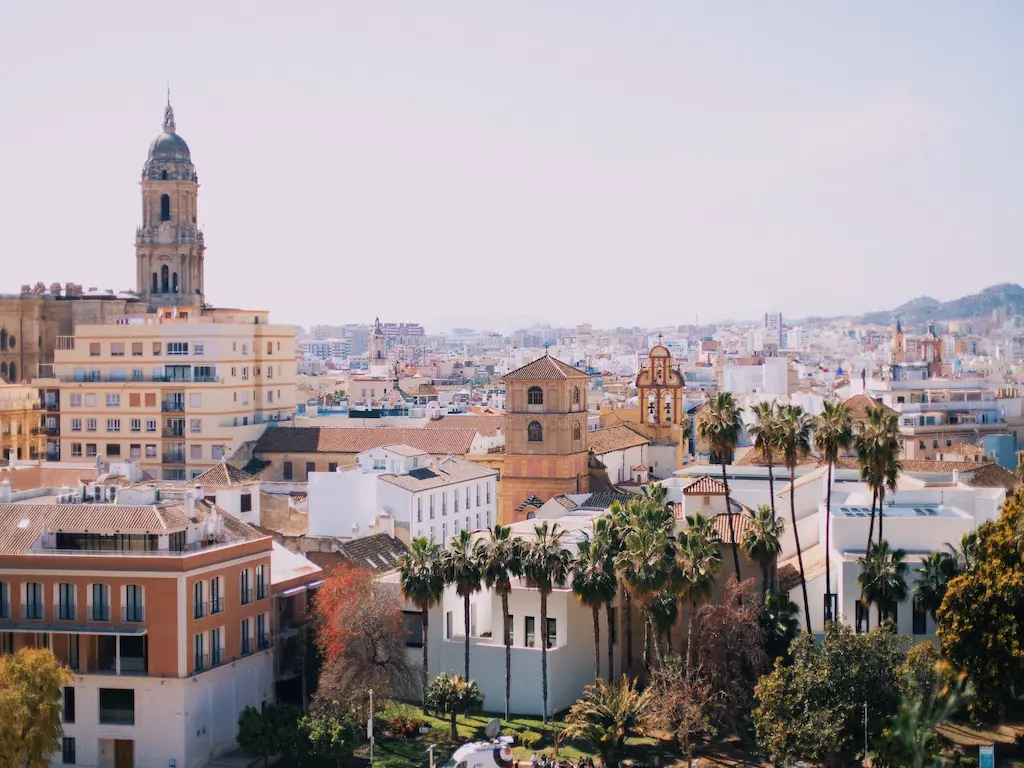 Aerial view of Malaga City
If you're planning a trip to Andalucia, make sure to add Malaga to your itinerary. This coastal city has something for everyone, from historic landmarks to stunning beaches. With over 300 sunny days a year, Malaga is a great destination all year round.
Here's all the essential information you need to know to plan your visit to Malaga.
Brief History of Malaga
Malaga is a city that has a rich and diverse history. Having been inhabited by many different cultures over the centuries, each leaving their mark on the city, it's no surprise that Malaga boasts of a rich and diverse history.
The Phoenicians were the first to settle in Malaga around 3,000 years ago. They called the city Malaca and used the harbour as an important centre for salting fish. The Phoenicians were followed by the Romans, who built a theatre that can still be seen in the city today. Another mark of Malaga's connection to the Romans is the Roman Amphitheatre, another important historical site in Malaga that dates back to the 1st century AD.
During the Islamic period, Malaga was an important centre for trade and culture. The Moors built the Alcazaba, an impressive fortress that still stands today and is one of the city's most important monuments. The fortress was built in the 11th century and was used as a palace by the Nasrid dynasty.
In 1487, the Catholic Monarchs Ferdinand and Isabella conquered the city during the Reconquista. Malaga became an important centre of the Inquisition, which saw many non-Christians persecuted and killed. The city experienced a period of decline during the 16th and 17th centuries.
In the 19th century, Malaga experienced a period of growth and development. The city became an important centre for industry and commerce, and many of the buildings and infrastructure that can be seen in the city today were built during this time.
Malaga is also famous for being the birthplace of Pablo Picasso, one of the most influential artists of the 20th century. The Museo Picasso Málaga houses a collection of his works, as well as works by other artists who were important to him.
Interested in Malaga's history? Click here to read our historical guide to Malaga.
How to Get to Malaga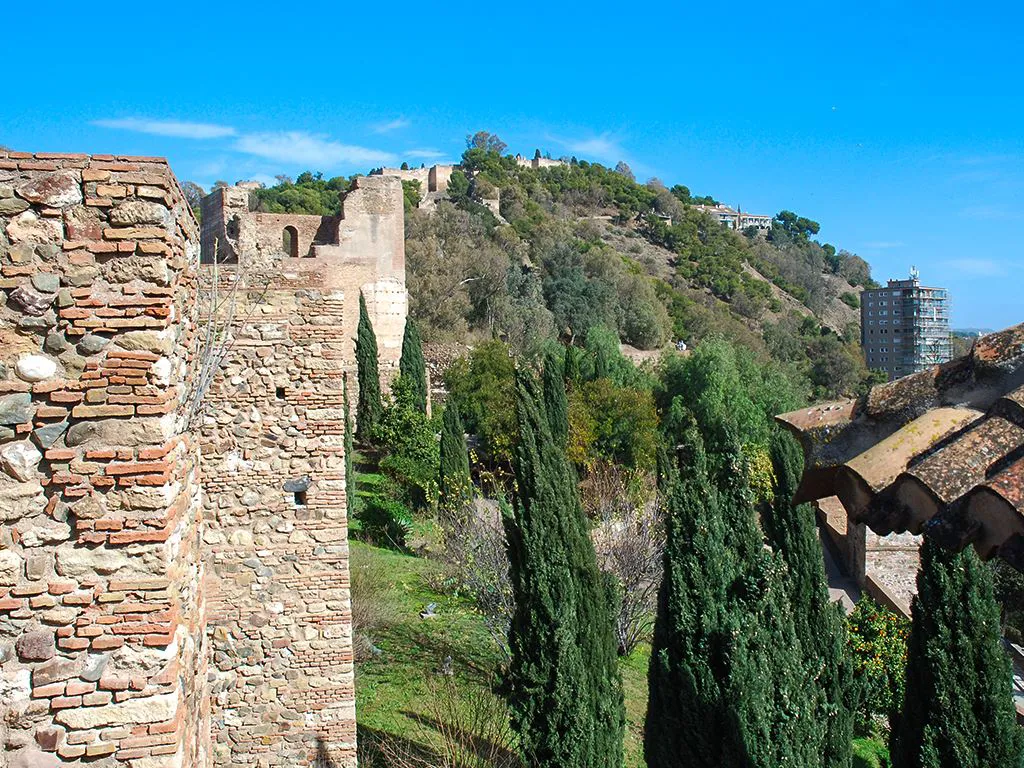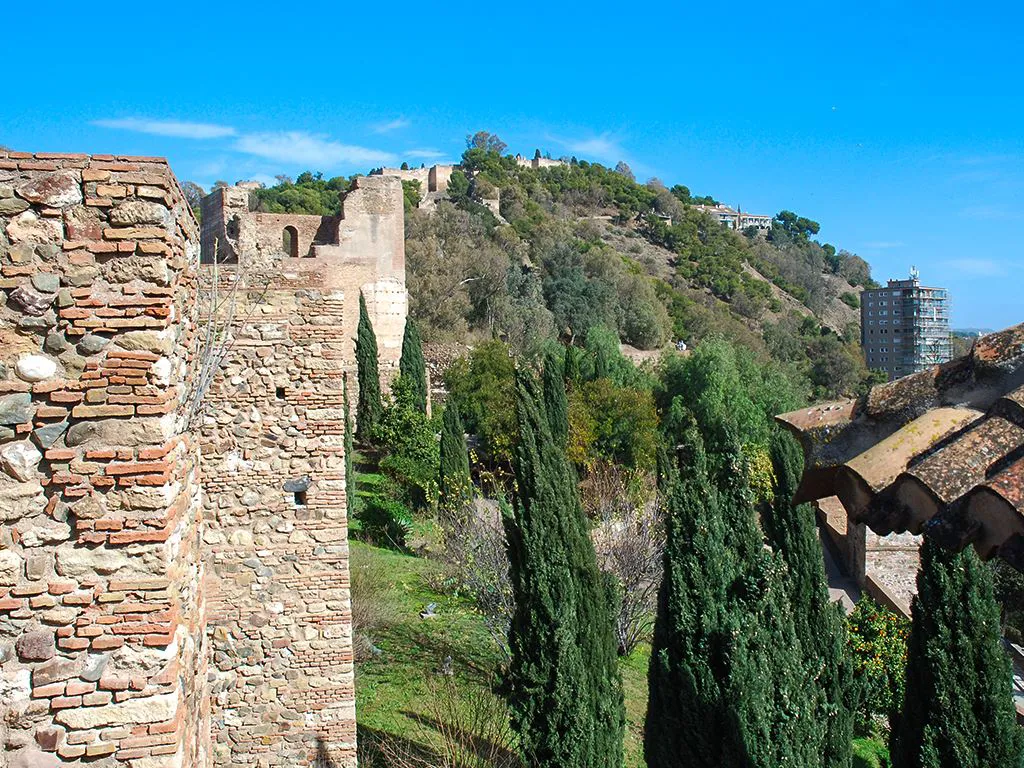 Gibralfaro from Alcazabar
Málaga is a primary transport hub in southern Spain. Whether by air, rail, or road, accessing the city is straightforward whether you're arriving from within Spain or from overseas. Read on for directions and tips for a hassle-free arrival.
By Plane
Malaga's airport (AGP) is officially called Malaga - Costa del Sol Airport and is located 10 km south of the city centre.
As its name indicates, it is the main airport serving the famous Costa del Sol region of Andalucia. The Malaga airport is Spain's 4th busiest airport, so you should have no trouble finding flights from major cities across Europe.
If you're flying from the UK, you can easily find flights to Malaga from London, Manchester, Birmingham, and other major airports. Airlines that fly to Malaga from the UK include Ryanair, easyJet, British Airways, and Jet2.
Malaga also receives many flights from other major European airports, including from budget airlines like Ryanair, Vueling, easyJet, and Iberia.
Arriving from outside of Europe? It may be better to fly into a bigger airport such as Madrid or Barcelona and then connect to Malaga from there.
Once you arrive at the Malaga airport, it's fairly easy to get to the city centre. Here are your options.
Train: The Cercanías C1 line connects the airport to Málaga's city centre. The journey takes about 12 minutes to Málaga-Centro Alameda station. The train station is conveniently located near the terminal. Fare: about €2 to €3 depending on the exact station and zone.
Bus: The Airport Express Line A (Linea A Express) runs between the airport and the city. The trip takes 15-25 minutes. Fare: €3.00 per journey.
Taxi: Taxis are available outside the arrivals hall. A trip to the city centre typically costs €20 to €25, though prices can vary based on traffic and time of day.
By Train
Málaga's main train station, Málaga María Zambrano, serves as a significant rail hub that connects the city with other destinations in Spain. The station is located in the city centre, making it easy to get to your accommodation once you arrive.
If you're coming from Madrid, you can take the high-speed AVE train, which will get you to Malaga in just over 2.5 hours. Other destinations that you can reach by train from Malaga include Seville (2 hours), Granada (1h 45min), and Cordoba (1 hour).
It's recommended to book AVE tickets in advance, especially during peak travel times, as they can sell out.
Cercanías trains link Málaga with nearby towns and resorts, including Fuengirola and Torremolinos. The RENFE medium-distance trains also connect Málaga with other Andalusian cities like Cadiz, Ronda, and Algeciras.
Opting for train travel in Spain is not only environmentally friendly but also offers scenic views of the country's diverse landscapes, making your journey to Málaga a part of the overall experience.
By Bus
Málaga's central bus station, Estación de Autobuses de Málaga, connects the city with other destinations in Spain and Europe. The station is located next to the train station, making it easy to switch between modes of transport.
Numerous bus companies operate routes that connect Málaga with major Spanish cities and regions. For instance, a bus ride:
From Madrid to Málaga might take around 6-8 hours
From Seville to Málaga usually lasts approximately 2.5-3 hours
From Granada to Málaga is about 2 hours
If you're coming from other countries in Europe, Málaga is connected with various European cities by long-distance buses and you can expect services from cities such as Paris, Brussels, and Amsterdam.
While it's possible to buy tickets directly at the bus station, booking in advance online or through bus company offices can guarantee seats and often provide better rates, especially during peak seasons.
Overall, travelling by bus to Malaga is often affordable and comfortable, making it a top option especially if you're on a budget.
Travel Tip:
It's a good idea to compare prices, schedules, and travel times when deciding the best way to get to Malaga. Using
Omio
is an easy way to compare different modes of transport and prices in one place.
By Car
Planning to explore the Costa del Sol region? Renting a car is a good option.
Malaga is well-connected to other cities in the region via the A-7 motorway, which runs along the coast. The A-45 links Málaga with the Andalucian interior, including cities like Antequera and Córdoba. It's also a straightforward drive from cities such as Madrid and Barcelona.
If you're coming from other countries in Europe, you can expect good connections via the AP-7 motorway, which runs from France to Malaga.
The Málaga city center can be busy, so it's advisable to research parking options in advance. There are various public parking lots, underground garages, and some street parking. It's worth noting that blue-zoned areas indicate paid street parking.
Málaga's city center is well-signed, and modern GPS devices or smartphone navigation apps can help guide you to your exact destination.
Getting Around Malaga
Lovely street in Malaga
Malaga is a charming and compact city, which makes getting around quite easy. There are various options to choose from, depending on your preference and budget.
On Foot
One of the best ways to explore Malaga is on foot. Most of the main tourist attractions in Malaga are within walking distance of each other, and the historic centre is car-free, making it great for strolling.
Walking is also a great way to discover hidden gems and soak up the local atmosphere. I also recommend taking a walking tour. Not only is it a great way to learn more about the city's history and culture, it's an easy way to orient yourself to the city. I like using Guruwalk to find free walking tours that suit my schedule and interests.
Bike Rental
If you prefer to cover more ground, renting a bike is a good option. Malaga has a bike-sharing scheme called "Málaga Bici" with over 800 bikes available at various stations throughout the city. You can rent a bike for as little as €1 per day and explore the city at your own pace.
There are also several bike rental companies in the city, offering a range of bikes for rent.
Málaga has a growing network of bike lanes, and many areas are pedestrian-friendly.
Public Transportation in Malaga
Málaga boasts an efficient and affordable public transport system, making it easy for visitors to explore the city and its surrounding areas.
Buses in Malaga
Managed by EMT (Empresa Malagueña de Transportes), city buses cover extensive routes within Málaga. You'll find regular services connecting the city centre, suburbs, beaches, and key attractions.
Tickets can be purchased directly from the bus driver or at select kiosks. For frequent riders, consider the rechargeable Tarjeta Monedero card, which offers discounted fares.
Trains in Malaga
The suburban Cercanías trains link Málaga's city centre with nearby towns and the airport. The main stations in Málaga are Málaga-Centro Alameda and Málaga-María Zambrano. Tickets are available at train station counters, machines, and online via the RENFE website.
Metro in Malaga
Málaga's metro system, though still in development, has lines connecting the western and southwestern parts of the city. Clean, modern, and efficient, the metro can help you skip the city traffic. You can purchase tickets from automated machines at metro stations. Various ticket types are available, including single-journey and day passes.
Taxis in Malaga
Taxis are readily available throughout the city. They can be hailed on the street, booked via phone, or picked up at designated taxi ranks.
Navigating Málaga using public transport is not only cost-effective but also a sustainable way to experience the city, ensuring you soak in its charm without the hassles of driving and parking.
What's the Best Time to Visit Malaga?
Roman Theatre in Malaga
Malaga is a year-round destination with a Mediterranean climate, making it an excellent place to visit whenever you go. However, the best time to visit Malaga depends on your preferences and what you want to do during your trip.
High Season (June to September)
If you're looking for a vibrant atmosphere, sunny beaches, and a lively nightlife, then high season of June to September is the best time to visit Malaga.
During this period, the city is bustling with tourists from all over the world, and the beaches are packed with people. The weather is hot and sunny, with temperatures ranging from 25°C to 30°C. However, keep in mind that prices for accommodation and flights are higher during this time.
Mid-Season (March to May and October to November)
The mid-season is a great time to visit Malaga if you want to avoid the crowds and still enjoy warm weather. The temperatures are comfortable, ranging from 20°C to 25°C, and the city is less crowded than during the high season. This is the perfect time to explore the city's cultural attractions, such as the Alcazaba and the Roman Theatre, without the crowds.
Low Season (December to February)
On a budget? Then the low season from December to February is the best time to visit Malaga.
During this period, the city is less crowded, and prices for accommodation and flights are lower. Although the weather is cooler, with temperatures ranging from 10°C to 15°C, it's still mild compared to other European cities. Also, the city is beautifully decorated during the holiday season, making it a great place to spend Christmas or New Year's Eve.
Carnival Season (February)
If you're looking for a unique experience, then the Carnival season is the best time to visit Malaga. This festival takes place in February and is one of the most popular events of the year. During this period, the city is filled with colourful parades, music, and dancing. The Carnival season is a great time to experience the local culture and traditions of Malaga.
How Many Days in Malaga?
When planning a trip to Malaga, one of the first questions you may ask yourself is, "How many days should I spend in Malaga?" The answer to this question depends on your travel style, interests, and budget.
If you are short on time, you can still see the highlights of Malaga in just one or two days. However, if you have more time to spare, you can easily spend a week or more exploring the city and its surroundings.
Here's a brief guide to help you gauge how many days might be ideal for your trip.
Quick Visit (1-2 Days)
Day 1: Explore the historic city center, the Alcazaba, Málaga Cathedral, and take a stroll along the port area, Muelle Uno.
Day 2: Visit the Picasso Museum, indulge in local Andalusian cuisine, and relax on the Malagueta Beach.
Extended Stay (3-4 Days)
Day 3: Dive deeper into Málaga's art scene by visiting the Centre Pompidou Málaga, the Carmen Thyssen Museum, and enjoy some shopping or a show at the Cervantes Theatre.
Day 4: Day-trip options abound. Consider visiting nearby towns like Ronda or Nerja, or explore the Montes de Málaga Natural Park.
Long Stay (5 Days and More)
Delve into lesser-known gems, vibrant local markets, and the city's contemporary side. Take cooking classes, indulge in tapas tours, or attend local festivities.
Allocate time for relaxation, beach-hopping, and exploring the diverse neighbourhoods of Málaga.
Additional day trips, such as to the Caminito del Rey or the white villages of Andalusia, can also be added.
While Málaga can be experienced in a short visit, spending more days allows for a richer understanding of its cultural tapestry, picturesque landscapes, and vivacious spirit. Adjust according to your preferences and enjoy all that this Mediterranean gem has to offer!
Top 10 Things to Do in Malaga, Spain
Malaga is a city with a rich cultural heritage, stunning architecture and a vibrant atmosphere. Here are the top 10 things to do in Malaga that you don't want to miss.
Visit the Picasso Museum: Malaga is the birthplace of Pablo Picasso, and the Picasso Museum is a must-see attraction for art lovers. The museum houses an impressive collection of Picasso's works, including paintings, sculptures, and ceramics.
Explore the Alcazaba: The Alcazaba is a Moorish fortress-palace that dates back to the 11th century. It is one of the most well-preserved fortifications in Spain and features eight fortified gates and watchtowers.
Walk around Soho: Soho is a trendy neighbourhood in Malaga that is known for its street art, galleries, and trendy restaurants. It's the perfect place to soak up the local culture and enjoy a leisurely stroll.
Take in the views from Gibralfaro Castle: Gibralfaro Castle is a 14th-century castle that sits atop a hill overlooking Malaga. It offers stunning views of the city and the sea.
Marvel at Malaga Cathedral: Malaga Cathedral is a stunning example of Renaissance architecture and is one of the most iconic landmarks in the city. It's nicknamed "La Manquita" (the one-armed lady) due to its unfinished second tower.
Relax on Malaga's beaches: Malaga has a number of beautiful beaches, including Playa de la Malagueta and Playa del Palo. They offer crystal-clear waters and plenty of opportunities for sunbathing and swimming.
Shop at Mercado Central: Mercado Central is a bustling food market that is a must-visit for foodies. It's the perfect place to sample local delicacies and pick up some souvenirs.
Visit the Pompidou Centre: The Pompidou Centre is a contemporary art museum that showcases works by some of the most famous artists of the 20th and 21st centuries. It's a must-visit for art lovers.
Stroll along Muelle Uno (Port Area): A vibrant waterfront promenade lined with boutiques, eateries, and stunning sea views, perfect for a relaxed evening stroll.
Taste local cuisine in Atarazanas Market: Dive into a sensory feast at this bustling market, where you can sample fresh produce, local delicacies, and witness daily Spanish life in action.

Looking for popular activities in Malaga? Here are our top choices.

Festivals in Malaga

Malaga is a city of festivity, and it is no surprise that many fairs, events, and festivals take place throughout the year. The locals are enthusiastic about commemorating every festival with equal zest and energy, be it the local harvest or the national festivals.

Besides the national festivals, nearby villages and towns celebrate many cultural festivals and events with colourful parades, fiestas, and live music. You can check out the festivals in Malaga province here.

One of the most notable festivals in Malaga happens in February. Málaga Carnival is a vibrant celebration preceding Lent, featuring colourful parades, flamboyant costumes, lively music, and traditional performances, reflecting the city's rich cultural heritage and festive spirit.

Semana Santa (Holy Week) is celebrated in Malaga in the week leading up to Easter Sunday. This is a significant religious festival, and the city is filled with processions, floats, and religious icons. The festival is a great opportunity to experience the traditional culture of Malaga, and you can witness the locals dressed in traditional attire and carrying candles and flowers.

Another popular festival in Malaga is Feria de Malaga. This festival takes place in August and is a week-long celebration of the city's culture and traditions. During this festival, the streets of Malaga are filled with music, dancing, and food. The festival is an excellent opportunity to experience the traditional flamenco show, which is an integral part of Andalucian culture.

Other notable festivals in Malaga include the Cabalgata de los Reyes Magos, which is celebrated on January 5th and 6th, and the Festival de Cine de Malaga, which is a film festival that takes place in March.

Noche en Blanco is another popular festival that takes place in May, and it is a night-long celebration of art and culture. Families and Christmas-lovers will love Malaga's spectacular Christmas Lights which are switched on to celebrate the festive season.

Day Trips from Malaga

Malaga is a great base for exploring the surrounding areas of Andalucia. Here are some of the most popular day trips from Malaga.

Granada

Known for its stunning Alhambra palace, Granada is a must-visit city in Andalucia and if it's not already on your itinerary, you can visit it as a day trip from Malaga.

On a day trip here, a visit to the Alhambra, which is a UNESCO World Heritage Site and one of the most visited attractions in Spain, the #1 thing to do. You can also visit the historic Albaicin neighbourhood which is also a UNESCO World Heritage Site.

You can go to Granada from Malaga by train (it takes under 2 hours) or by car. For a stress-free option, join a guided tour from Malaga which includes transportation, tour of the Alhambra, and some free time to explore Granada on your own.

Seville

Seville is another beautiful city in Andalucia and is known for its stunning architecture and rich history. The city is home to many historic sites, including the Alcazar of Seville, the Cathedral of Seville, and the Plaza de Espana, all of which you can easily see in a day trip from Malaga.

Like Granada, Seville is about 2 hours away by train from Malaga or you can drive if you have a car. A guided day trip from Malaga to Seville is also a great option.

Costa del Sol

The Costa del Sol is a popular tourist destination and is known for its beautiful beaches and warm climate. There are many towns and villages along the coast that you can visit, including Marbella, Torremolinos, and Fuengirola. You can spend the day relaxing on the beach, swimming in the sea, and enjoying the local cuisine.

Costa del Sol is best explored by car and renting one in Malaga is pretty affordable. Click here to check and compare prices to find the best deals.

Caminito del Rey

Looking for a Malaga day trip that's a bit more active?

Just an hour's drive from Málaga, Caminito del Rey offers a thrilling trek along a cliffside pathway, once dubbed "the world's most dangerous walkway." Now safely restored, this 7.7-km trail winds through breathtaking gorges and offers panoramic views of Andalucian landscapes.

Ideal for adventure seekers and nature enthusiasts, a day trip to Caminito del Rey promises both adrenaline and awe, making it a must-visit when in the Málaga region.

You can DIY your day in Caminito del Rey by renting a car or join a guided experience so that you don't have to make the drive yourself.

Ronda

A scenic 1.5-hour drive from Málaga transports you to Ronda, a historic town dramatically perched atop a deep gorge. Famous for its Puente Nuevo, a stone bridge spanning the El Tajo gorge, Ronda marries natural beauty with centuries-old architecture.

Wander its ancient streets, explore its Moorish legacy, and marvel at sweeping views of the Andalusian countryside.

If you prefer to join a guided tour, this day trip also includes a visit to Setenil de las Bodegas, one of my favourite pueblo blancos, where you'll find their whitewashed houses built into the surrounding cliffs.

Cordoba

Just under a 2-hour drive from Málaga lies Córdoba, a city with a rich tapestry of Roman, Moorish, and Christian influences.

Its crowning jewel, the Mezquita-Catedral, showcases stunning Islamic architecture with a Christian cathedral nestled inside. The city's narrow cobblestone streets, the old Jewish quarter, and the blooming patios during springtime make it a captivating day trip.

The best way to get to Cordoba from Malaga is by AVE train as it takes only an hour to get there. Or you can opt for a guided tour from Malaga.

Where to Stay in Malaga

Choosing the right base in Málaga can greatly enhance your experience. Depending on your preferences – be it proximity to major attractions, beachfront luxury, or local neighbourhoods – the city has something for everyone.

Best Areas to Stay
Historic City Center: Perfect for first-time visitors who want to be within walking distance of major attractions and vibrant nightlife.
La Malagueta: Beach lovers should head here. It's close to the city center yet offers a beautiful beach and promenade.
Pedregalejo: Malaga's historic fishing district turned trendy beachside enclave, known for its charming promenade and seafood eateries.
SoHo: Málaga's bohemian quarter, best suited for art lovers and those looking for a hip vibe.
Hotels in Malaga
Luxury:
Mid-range:
Hotel Larios: Art-deco style hotel located on Málaga's main shopping street.
Molina Lario: Elegant rooms and a rooftop pool with a view of the cathedral.
Budget:
The Lights Hostel: A lively, centrally located hostel perfect for backpackers and solo travelers.
Hotel Sur Málaga: A simple, clean option in the heart of the city, offering excellent value for money.
Apartments can be a great choice if you prefer self-catering options or are travelling with family or a larger group.
Apartamentos Nono: Stylish apartments located in SoHo, ideal for longer stays.
Málaga Beach House: A beachside location with 2 bedrooms and modern amenities, just metres from Las Acacias Beach. Perfect for families.
Remember, it's always best to book ahead, especially during peak seasons, to secure your preferred choice of accommodation. Wherever you decide to stay, Málaga's compact nature ensures you're never too far from its key attractions
For a full neighbourhood guide to Malaga and more recommendations on the best places to stay, click here for our "Where to Stay in Malaga" guide.
Unique Malaga Experience: Stay on a Yacht
Málaga, with its beautiful port area, Muelle Uno, has seen a rise in luxury yacht accommodations in recent years. These yachts are often moored in the city's marina and offer a unique, upscale lodging experience. You can opt to stay aboard these yachts, which often come equipped with all the luxury amenities you'd expect, such as plush cabins, sundecks, and sometimes even a crew to cater to your needs.
Staying on a luxury yacht provides an unusual and memorable experience, especially for those who want waterfront views and a touch of opulence. It's also an excellent choice for those who wish to experience the nautical side of Málaga. However, it's important to note that prices for such accommodations can be quite steep, especially during peak tourist seasons.
If this option intrigues you, it's advisable to browse through platforms like Airbnb or specialised boat rental sites where private yacht owners list their vessels for accommodation. Always read reviews, understand the amenities provided, and communicate with the host or owner to ensure your stay is as comfortable and luxurious as you'd imagine.
Malaga Travel Tips
Here are some travel tips to help you make the most of your visit to Malaga.
Much like the rest of Spain, many shops and smaller establishments in Málaga close for siesta, typically between 2 pm and 5 pm. Plan your shopping or visits accordingly.
In some traditional bars in Málaga, ordering a drink can often come with a free tapa. It's a great way to taste the local flavors without spending extra.
Málaga boasts over 300 days of sunshine a year. Always use/carry sunscreen, especially if you're visiting the beach or planning to walk around during midday.
The Málaga city card offers unlimited use of public transportation and discounts at various museums and attractions. It can be a cost-effective way to explore if you're staying for a few days.
If you're visiting in August, be prepared for the city's biggest festival, Feria de Málaga. It's a week-long celebration with music, dance, and lots of activities. Accommodations can be scarce and pricier, so book in advance.
Málaga's beaches can get crowded, especially in summer. Remember to respect personal space, avoid playing loud music, and always clean up after yourself.
Many of Málaga's museums are closed on Mondays. Plan your cultural outings keeping this in mind to avoid any disappointments.
More on Malaga
I hope this Malaga travel guide has provided you with all you need to know to plan your trip! For more on Malaga, check out our other articles:
Recommended Spain Travel Resources
Travelling to/around Spain and need some help? Here are our favourite travel resources.
We usually use Booking.com to look for hotels or apartment rentals. Lots of choice & you can unlock more discounts with their Genius loyalty programme!
To research transportation options around Spain, we like using Omio. It's an easy way to compare different modes of transport and prices in one place.
For last-minute holiday deals, check out Expedia UK.
Looking for things to do? Viator has a huge catalog of activities and tours across many cities in Spain. We also love Get Your Guide!
Guruwalk is our favourite platform to find the best free walking tours in a city.
For money transfers or spending overseas in foreign currency, Wise is our favorite borderless banking service.
Travel insurance is a must to protect against emergencies and unexpected incidents. Get a quote from SafetyWing here.
Note: This article may contain affiliate/compensated links. That means that if you book through our link, we may earn a small commission (at no extra cost to you). For full information, please see our disclaimer here.
---
More about Málaga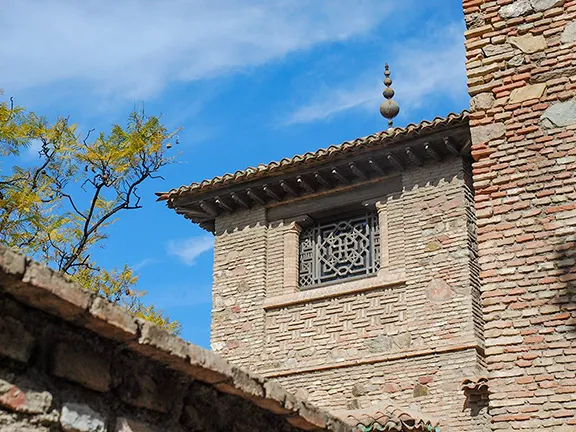 Historical Guide to Málaga City
Places to go in Málaga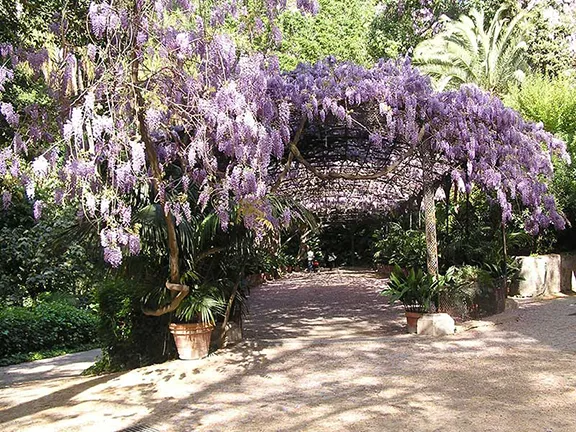 La Concepción Gardens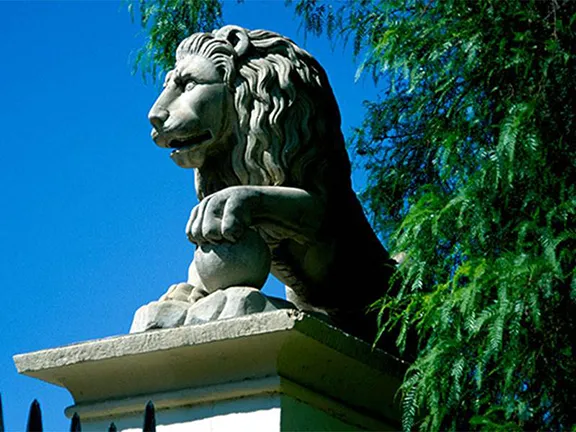 The English Cemetery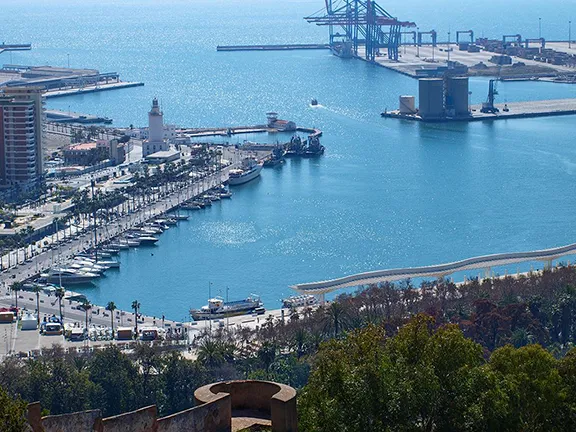 The Port of Málaga
Museums and Galleries in Málaga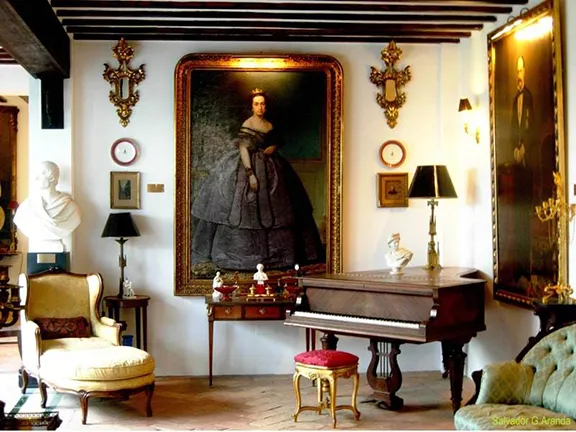 Glass Museum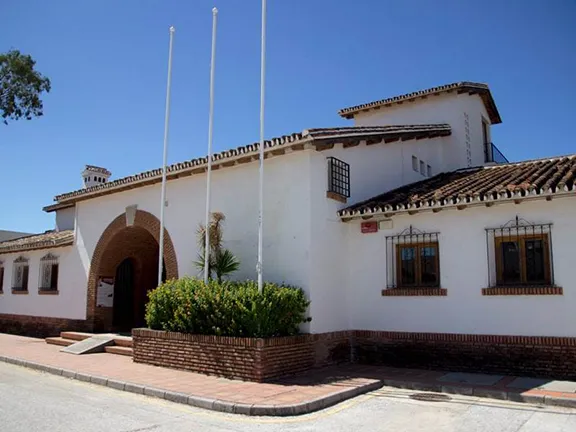 Airport Museum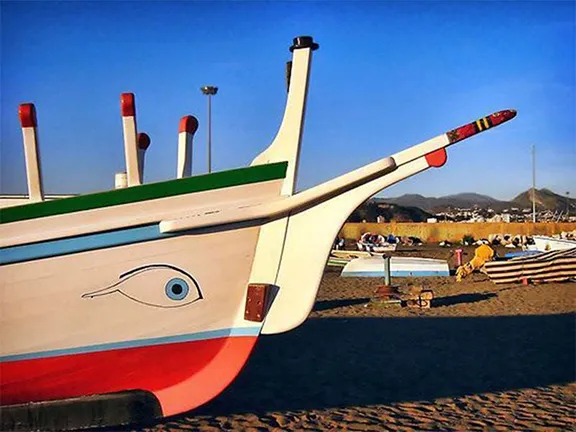 Astilleros Nereo
---